Deciding between Ahrefs Keyword Explorer and KWFinder is a difficult decision. Each keyword research tool offers exceptional features and can really take your site to a new level. Either keyword tool will help you rank higher, keep an eye on your competition, and gain a competitive advantage. The only difference is that Ahrefs does it slightly better.
While the choice is ultimately yours, and it will be solely based on your company's needs, businesses will appreciate the competitive advantage Ahrefs Keyword Explorer has to offer – as long as your site is fully optimized and running smoothly. If not, then you may have some work ahead of you.
As we go into a detailed list outlining the benefits of each brand, consider the level of your current website and what it needs to rank higher. High-ranking keywords are great and beneficial to your brand. However, if your site is the culprit for your low rankings, then all the keyword optimization in the world will not help you until you fix this issue.
The Contenders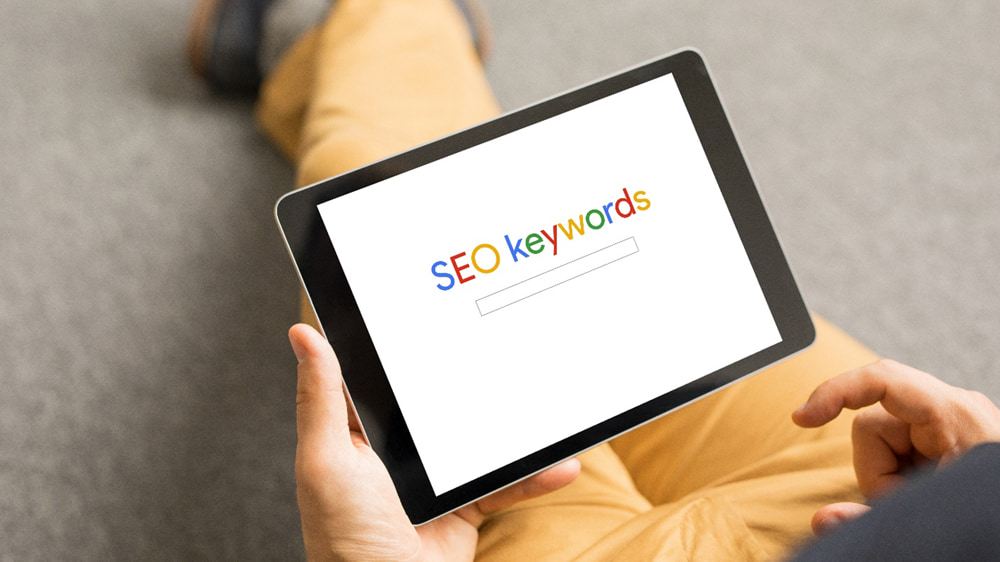 Both Ahrefs Keyword Explorer and KWFInder are tight when it comes to delivering the best in keyword rankings. In terms of features, they are close overall in terms of what they offer. The research tool you select will depend on how in-depth you want to delve into keyword analytics and whether you need/want information on your competition.
Ahrefs: Keyword Explorer
Located in Singapore, Ahrefs is a multinational team. This company is a start-up that generates easy-to-use and meaningful products to help customers stay ahead of their competition.
Ahrefs Keyword Explorer illustrates:
Keyword Difficulty – It shows you the keyword difficulty for a particular word and how many backlinks you will need for it to rank in the top 10 for that particular Google keyword.
Search Volume – This will highlight whether it is a popular keyword, and it allows you to see the trending results. Since some items/words will trend better at certain times of the year, it will allow you to see the optimal time to incorporate that keyword for the best results.
Provides Insights on Clicks and Cost Per Click (CPC) – Keyword Explorer will highlight paid and organic traffic results by month, showing you which months it trended higher in terms of traffic.
Global Volume – This shows you the keyword ranking per country. It allows you to select the location and see which words will help you rank higher.
Tech Specs
Ahrefs collects, stores, and processes a vast amount of data for those involved in search marketing. It crawls the internet 24/7, storing website information like how keywords link to one another and which ones are used.
The features of Ahrefs include:
2,400 servers
Discovers 30-million new pages each day
View metrics for 420-million pages daily
Contains 11.6 billion keywords
Uses 10 search engines in 229 countries
Search traffic index is 456 million keywords in 155 countries
Largest index of backlinks that are life
Pros:
Complete SEO tool
Great for competitor research
Contains relevant data information on broken links
Updated index
Cons:
Difficult to use at first
Lacks content optimization
KW Finder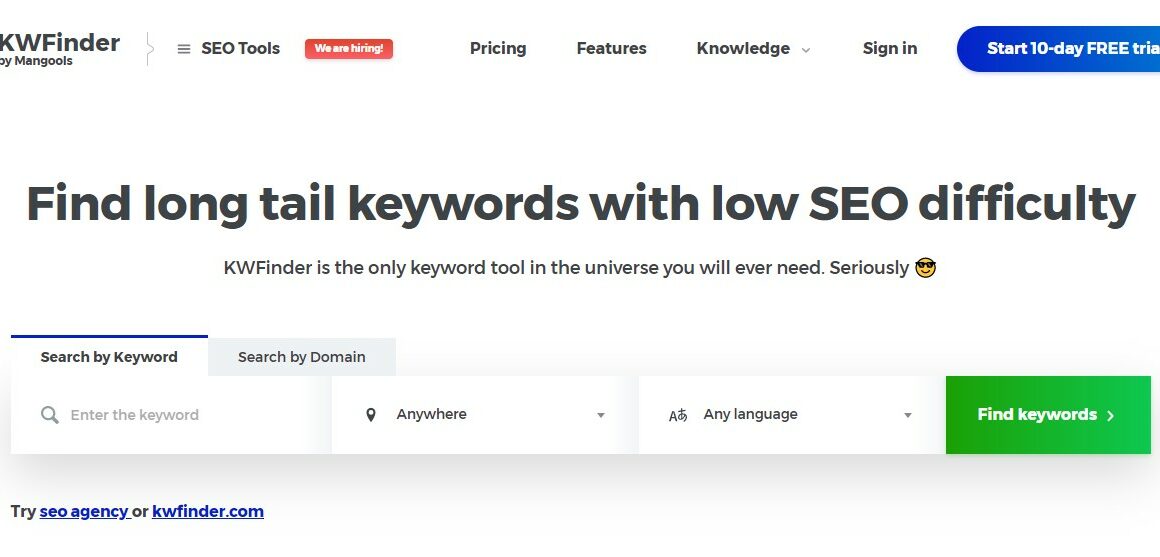 This company began with an online group doing what it was passionate about. Its passion shows in every aspect of KW Finder's platform, and it has grown exponentially since its humble beginnings in August of 2014.
KW Finder shows:
Keyword Analysis Tool – Helps you to find keywords that have low SEO difficulty with high search volume. It generates the precise search volume for your keyword and an accurate difficulty level.
Discover Search Trends and Volumes – Timing is always the key when it comes to ranking. KW Finder allows you to generate content based on trends over time and long-term analysis. You will be able to source seasonal keywords applicable to your topic, thereby boosting organic traffic.
Finds Long Tail Keywords Specific to Location. It allows you to select from over 50,000 locations and obtain local search results.
Tech Specs:
5-billion related keywords growing by 20 million per month
100-million searches for competitor keywords
52,000 locations supported
Pros:
Localized keyword search, including each long-tail keyword critical to your business
SERP analysis
Keyword suggestions
Quick in populating data
Cons:
Doesn't scan the entire site
Lack of support for multi-tabbed research purposes
Side-by-side Comparison: Ahrefs Keyword Explorer vs KWFinder
In doing a side-by-side comparison of both products, you will note that it is a close race. The winner in this section only has a slight benefit over the other. Both are excellent platforms, and which one you choose will be dependent solely on what your current needs are.
Prior to deciding, consider what your existing gaps are with your website, what needs to be improved to rank higher in search engines, and what you need to stand apart from your competition.
Ahrefs Keyword Explorer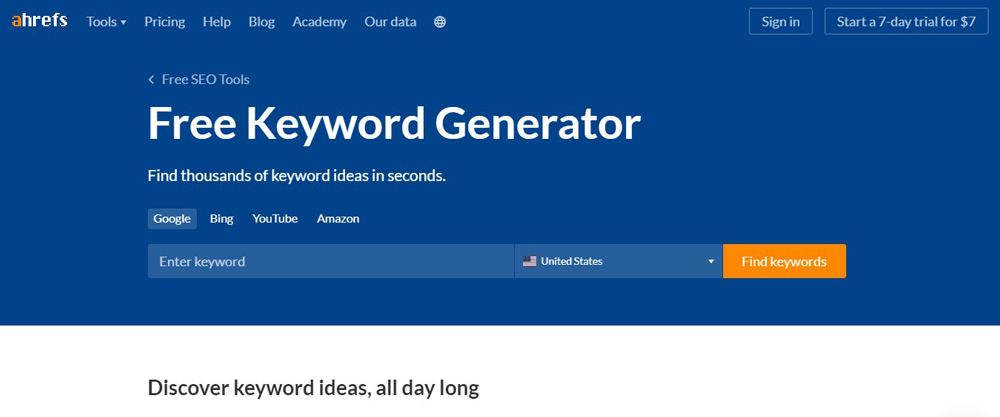 This platform is designed to help you reach the top rankings in various search engines. It helps you by analyzing the competition and determining what you can do to improve. The domain comparison provides a side-by-side list so you can determine the strength of your site immediately. This can be valuable information.
Traffic Check – The traffic check feature shows you the volume of traffic that your competition is receiving. It will help you analyze their top content and perhaps uncover what may work for you as well. It is like having your own personal spy!
SEO Software – SEO Software will help you reach the first page of Google by providing data on keyword search volume and insights into your competitors. It will also help you optimize your pages.
Domain Comparison – Domain comparison allows you to compare backlink profiles of five domains. It will allow you to compare metrics in a side-by-side evaluation to determine who is the strongest.
Bulk Checker for Backlinks – Users can view metrics for 100 unique URLs. It will check for the Ahrefs ranking, social metrics, how many backlinks there are in the domain rating, and the number of referring domains.
Parent Topic – This area permits you to discover if your target keyword will rank while targeting a general topic for the site. It also shows you how much traffic you may be able to expect if you change your keyword to a higher-ranking one. This allows you to optimize your pages.
SERP Position History – This highlights the position history over a certain time. It allows you to watch for SERP volatility.
SERP Overview – KWFinder highlights the top 10 search results for that keyword. It will show the backlinks for each, the referring domains, the total number of keywords ranked for, and the organic traffic.
Find Content Gaps – This is where you locate words that your competition ranks for, but you don't. This may help your organic traffic and help you rank higher in search engines. This will give you a list of keywords your website should be targeting.
KW Finder
KWFInder will research your competitor's ranking. Since keyword rankings can fluctuate according to the season, KWFinder is great at locating the trends over a year's worth of data. With it, you can determine volatility, identify additional keywords, and rank higher overall.
Features include:
Research Competitor's Keyword Ranking – This allows you to discover what is working for the competition regarding keywords. All you need to do is enter their domain/URL and you will find the best keywords they are ranking for.
Searching for Competitor Keywords – This is a great way to discover keyword possibilities with minimal effort. You can see which keywords work best for your competition just by entering their website address.
Importing Bulk Keyword Suggestions – This allows you to search for hundreds of words by using a single keyword request. You will be able to obtain search volumes, PPC metrics, CPC metrics, and trends. All you need to do is upload your list.
Accurate Keyword Difficulties – This shows the degree of difficulty involved in ranking the first SERP for keywords with the most precise difficulty level.
Searching by Keyword Metrics and by Volume – Discover the long-term trends and volume that will help identify other keywords. This will help you discover keywords that rank higher depending on the season to allow you to generate well-timed content. This will help you achieve more organic traffic.
SEO Metrics and SERP Analysis – KWFinder allows you to search local SERPs for 50,000 locations to optimize for the best ranking keywords. This will help you outrank your competition.
And the Winner is …
With such a tight race, the winner is Ahrefs Keyword Explorer. While many customers love KW Finder and don't have many suggestions for its improvement, it only has a fraction of the reviews.
Ahrefs Keyword Explorer delved more into how to overcome your competition. This is a useful tool when wanting to rank higher in search engine rankings. You want to be the first company that your customers see, not your competition. Getting that competitive edge can be hard, but this is where Ahrefs really shines.
Given these tight parameters, Ahrefs just barely squeaks out ahead, and this is because you can do a bit more with the platform.
What Sets Each Platform Apart?
This is where both platforms become vastly different. One keyword research tool allows you to view your competition in more depth. It simplifies things by sending email alerts when changes are made on a competitor's site, and it helps you make the most out of the website ranking.
The other has great organizational qualities. It locates hidden long-tail keywords, uses the latest algorithm, and reveals one-year trends. Since trends are forever changing, it allows you to filter out keywords that are no longer relevant. It also does local searches.
The difference boils down to what your website needs and your objectives.
Ahrefs Keyword Explorer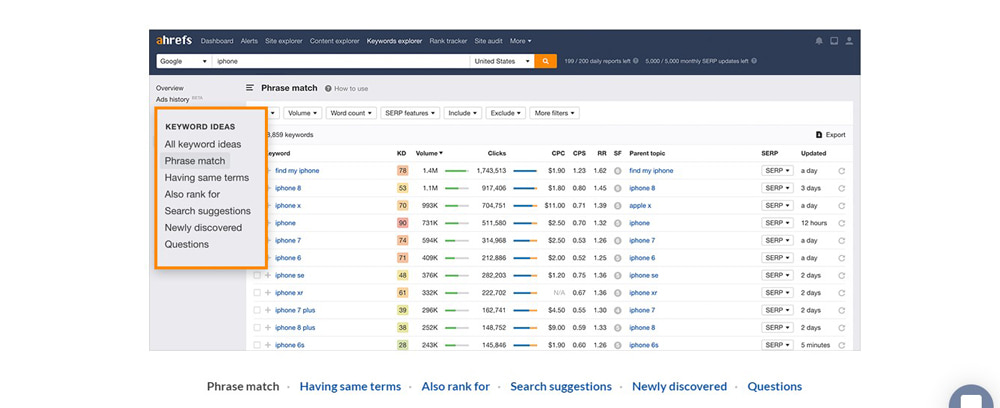 This will allow you to gain an edge over your competition, and it helps with content generation. Ahrefs will also help you keep your site in optimal condition.
With Keyword Explorer, you can:
Discover Opportunities for Missing Links – You can uncover sites that link to your competition but don't link to your site yet.
Email Alerts – Users can set up these alerts for any website. You will receive notifications as to whenever they gain or lose a backlink. This allows you to be up to date on your competition's link-building strategies.
SEO Check – This area allows you to monitor the health of your site, check for issues with SEO, view all keywords, see backlinks, view organic traffic, and discover opportunities to link internally.
Word Counts – Establishes how many words your content should be, according to the platform you are utilizing.
Tutorial on How to Use Platform – If you find yourself lost or not knowing how to do something, KWFinder has useful tutorials on every topic.
Customers appreciate that they have an edge over their competitors with Keyword Explorer and that it provides so much information to help them rank higher.
KWFinder
KWFinder is a bit different. It, too, provides long-term and seasonal trends in terms of keyword ranking. However, it goes a little deeper.
This keyword research tool allows you to organize your keywords that have previously worked well for your brand. This makes things simple when you are looking for higher rankings. Plus, it saves you time. Other benefits include:
Locating Hidden Long Tail Keywords – This allows you to begin your search with a seed keyword. Then, KW Finder will give you suggestions. It will reveal the one-year trend, the monthly search volume, the Cost Per Click (CPC), the Pay Per Click (PPC), and keyword difficulty.
Doing a Google Suggest Keyword Search – Google Suggest locates the best phrase that matches your seed keyword. It uses the questions and autocompletes algorithm to provide these answers. This finds the best matching phrases.
Organizing Your Keywords With a Keyword List – Instead of trying to remember what worked well in the past, KWFinder allows you to save it in a keyword list. You can create, delete, edit, or export your list at any time. It also helps you keep your research well-organized.
Filtering Keywords with Limited Profitability – Websites want to optimize themselves for profitable keywords. This helps you to weed out high-difficulty and low-traffic keywords that will not rank high in search engines.
Local Keyword Search – This is based on over 50,000 locations and will allow you to dominate the rankings as determined by location. Users can view precise search volumes that will boost local keyword research. This is based on 50,000 local SERPs.
Alternative to Keyword Planner – This will give you exact search volumes without a useless range.
The best part of KWFinder is its local keyword search. The number of places that it searches is phenomenal, and it helps companies rank higher in local traffic. KWFinder helps increase their visibility on a local scale, rank higher in search engines, and draw more traffic overall.
Also, customers were impressed with its ability to filter keywords that are not profitable. By eliminating keywords with low traffic or high difficulty, it helps companies rank higher. Since trends increase and decrease, this saves the company time and frustration.
Conclusion: Ahrefs Keyword Explorer or KWFinder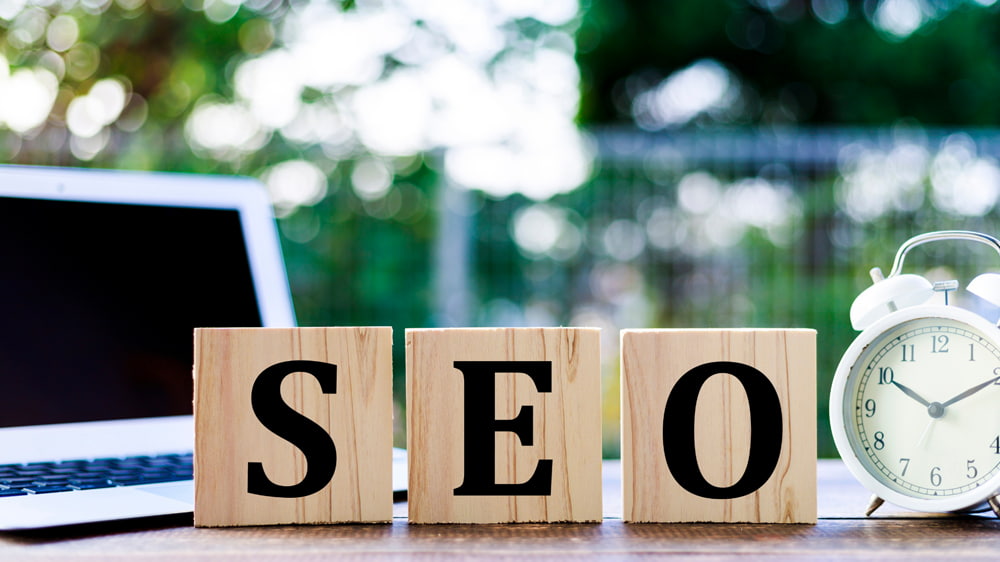 Your decision on which platform to use may come down to what your objectives are. When deciding what is most important, you need to first determine whether you need to optimize your site rankings first or examine your competition.
Most newer companies will want to fix their website rankings before examining their competition for cues on what works for them. The reason for this is that you can crush your competition with optimized keywords. However, if your site is slow, has too many DOM elements, has images that aren't optimized for speed, etc., you will be penalized.
Customers won't flock to your site because it won't rank higher, and it may take too long to load. People simply don't want to wait.
On the other hand, if you have an established and optimized site, you may want to take some cues from your competition. While many people may want to view their competition and take notes prior to site optimization, this tactic may backfire on them. Sites need to be optimized first before optimizing keyword ranking.
The best thing to do is to optimize both simultaneously. This way, you aren't going back and redoing what has already been done.
Use KWFinder if your business needs to:
Become more optimized on a site/local level
Improve SEO
Locate hidden long-tail keywords
KWFinder has a lot of great attributes. While it will allow you to research your competition, it is not as in-depth as Ahrefs Keyword Explorer. However, it will provide you with at least the first step in your journey.
If your goal is to crush the competition, then Ahrefs Keyword Explorer will allow you to do just that. Use Ahrefs if:
You want to rank higher than your competitors
Your desire is to fully optimize your pages
You want to see how your competition is gaining an advantage over your company
Ahrefs will allow you to optimize content. However, it takes it a step further by providing you with information as to what methods your competitors are using to gain an advantage over you.
It is useful – especially if you are a newer company – to know what more seasoned businesses are doing. This can potentially help you avoid making the same mistakes and potentially improve on your brand. After all, why incorporate something that has been proven not to work? You can simply improve on what does and you may end up standing out for it.
For ranking higher on a local scale and to increase overall rankings, select KWFinder. To gain a competitive edge, Ahref Keyword Explorer is the platform to use. While the platforms are so close in what they have to offer, it is difficult to determine a clear winner. The deciding factor becomes where you are in your journey and what your site needs.
Before making your final decision, analyze what factors will directly benefit you the most. What do you need to take your site to the next level? What gaps exist in your current structure? Once you have identified all of this, then selecting the proper platform will become easier.