We'll start with the basics.  If you're looking to rank higher in Google, you need to focus your content around keywords.  Keywords are search queries; they're phrases that people type into Google to find information.  If you don't have those search queries within your website's content, how can you expect to rank?
Now, there's no 'secret magic place' to hide keywords in your site.  Put yourself in the place of someone looking to find out about your field or niche or industry.  You want to be directed to some useful information.  If you're directed to a site that doesn't answer your question or doesn't solve your problem, you're going to click away and find another website pretty darn quickly.
So, making sure you have a bunch of information on your website that is relevant to your field/niche/industry is necessary if you care about your rankings.  Unfortunately, this can be a little more complex than just having a writer create some articles about general topics in your field.  Say, for example, you have a site about coffee.  Or real estate.  You won't get to that first page of Google by simply writing some articles about the best espresso, or the current US housing market.  It's way too competitive, because there are so many other websites also writing that same content.
You have to be a little more strategic about it.  You want Google to see that your site is an authority in this field.  Instead of writing just these general topics, you'll need to build up a plethora of information that's related to those topics.

Long-tail keywords
Let's talk about some examples.  A general topic could be something like "coffee".  If you search for "coffee" in Google, a ton of really high-authority pages are going to come up.  You would have to compete with some big brands in order to outrank them in Google.
SIDENOTE: Remember that it's not just keywords that build up a website's authority.  Inbound and outbound links, UX/UI design, bounce rate, paid traffic, and the field/niche are all examples of other variables that can affect authority.
Instead, we'll look for long-tail keywords.  These are related keywords that have less search volume per month, but greater ability to compete.  So, it could be something like "how to make espresso without machine" or "best coffee maker with grinder".  Notice how these keywords are a little more specific.
Let's dig into the metrics behind those broader terms vs. these more specific ones.
Here are the Ahrefs (a keyword research tool) results for 'coffee':

And here they are for 'best coffee maker with grinder':

4 Important Keyword Metrics
There are a few things we're looking at here to determine the competitiveness of this keyword.
1. Monthly Search Volume
This is the average monthly search volume of each keyword (based on your target location).  Here, we're targeting the United States.  You can see that for 'coffee', the volume is 369k searches per month.  For 'best coffee maker with grinder', it's 2.6k searches per month.
At Content Refined, we generally look for keywords with over 500 searches per month.  This ensures we're casting a wide enough net to gain some traction with our keyword, but that we're also searching for specific terms that might not have thousands upon thousands of searches per month.  This goes hand in hand with our other metrics, which will determine the likelihood of being able to rank for each keyword.
2. Keyword Difficulty
This is a score provided by Ahrefs' algorithm, which estimates the difficulty to organically rank (rank without using paid advertising) for each keyword.
On the Ahrefs site, they explain the keyword difficulty score as being "calculated by taking a weighted average of the number of linking domains to the current top-ranking pages. The result is then plotted on a logarithmic scale from 0 to 100 (low difficulty to high)."  It then suggests a number of backlinks needed for that keyword to be able to rank, based on the average from the already-ranking results.
At Content Refined we look for a keyword difficulty score of under 30.
3. Cost-per-click
This metric is important for websites that are monetized with PPC (pay-per-click) ads.  It shows the average price that an advertiser will pay for a "click on their ad in paid search results for a target keyword in a given country."
If you have a niche site where you're building up authority in a particular space and monetizing through Google AdWords or BingAds, you'll definitely want to take CPC into consideration when choosing keywords.
4. Domain Rating or Domain Authority
A website's domain rating or domain authority indicates how popular and powerful it is for its specific field or niche.  This is determined by several factors, but Ahrefs describes it as follows:
Domain Rating (DR) shows the relative "backlink popularity" of the website compared to all other websites in our database on a 100-point logarithmic scale (higher = stronger). We calculate DR based on the number of websites linking to the domain's URLs and their backlink profile strength.
Basically, they're looking at how much traffic is coming and going from each website.  Are there lots of other websites linking to this website?  To Google's algorithm, that shows that people know, like, and trust the website, because they constantly visit it and refer to it.  In other words, it has a strong presence in its network.
The higher the rating (closer to 100), the more power and authority that website carries.
Domain rating is important for keyword research, because we want to know that we have the potential to beat out the top competition in search results.
So, we can look at the domain rating for the websites that appear in the top results for each keyword.
Let's go back to our coffee examples.  Here are the top results and domain ratings for the keyword 'coffee':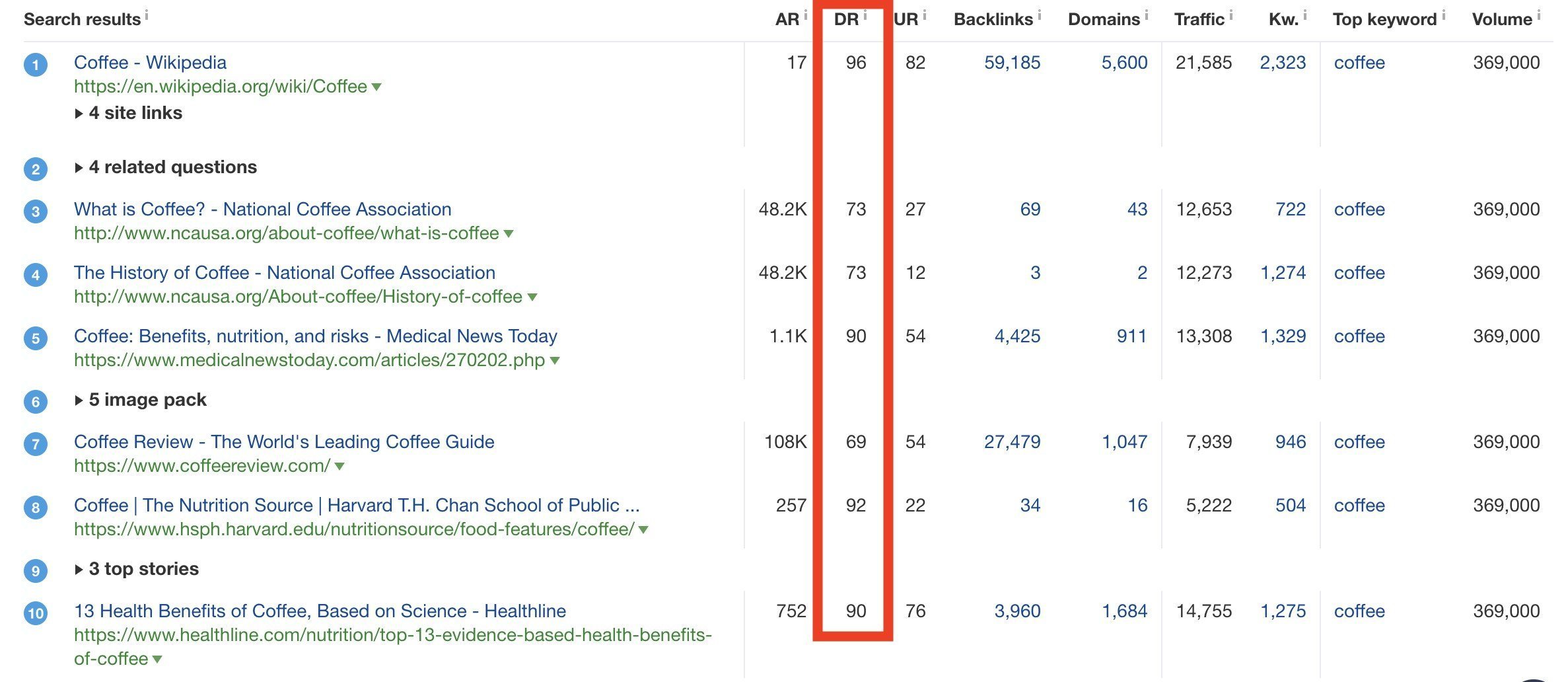 Here we see lots of domain ratings in the 90s.  Wikipedia.org, for example, has a DR of 96.  Imagine how much traffic is coming to Wikipedia through other websites' link references.  They dominate as the Internet's leading encyclopedia.
If you're growing a new site about coffee, you really don't stand a chance against these high authority websites.
Now, let's look at the same thing for 'best coffee maker with grinder':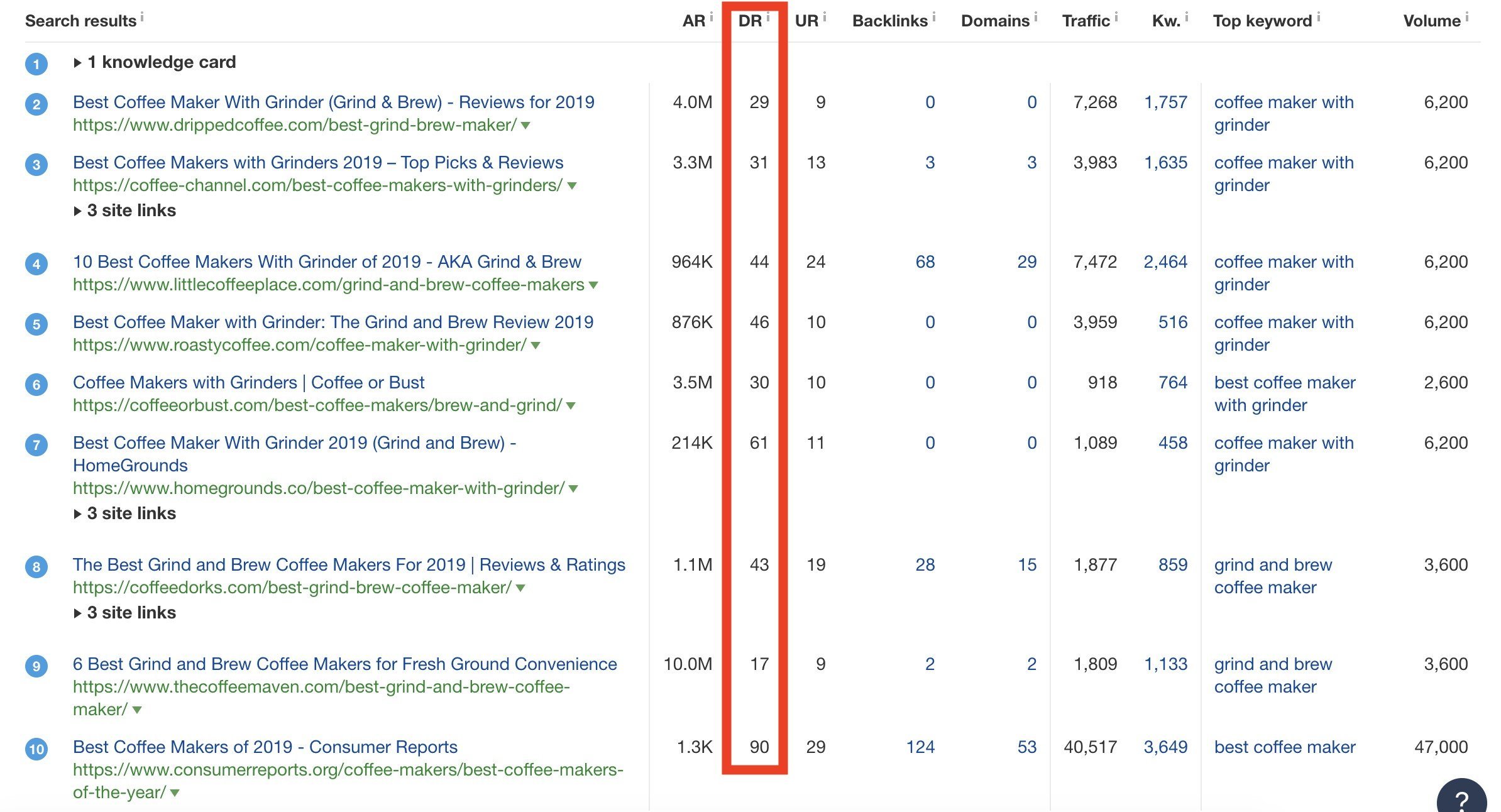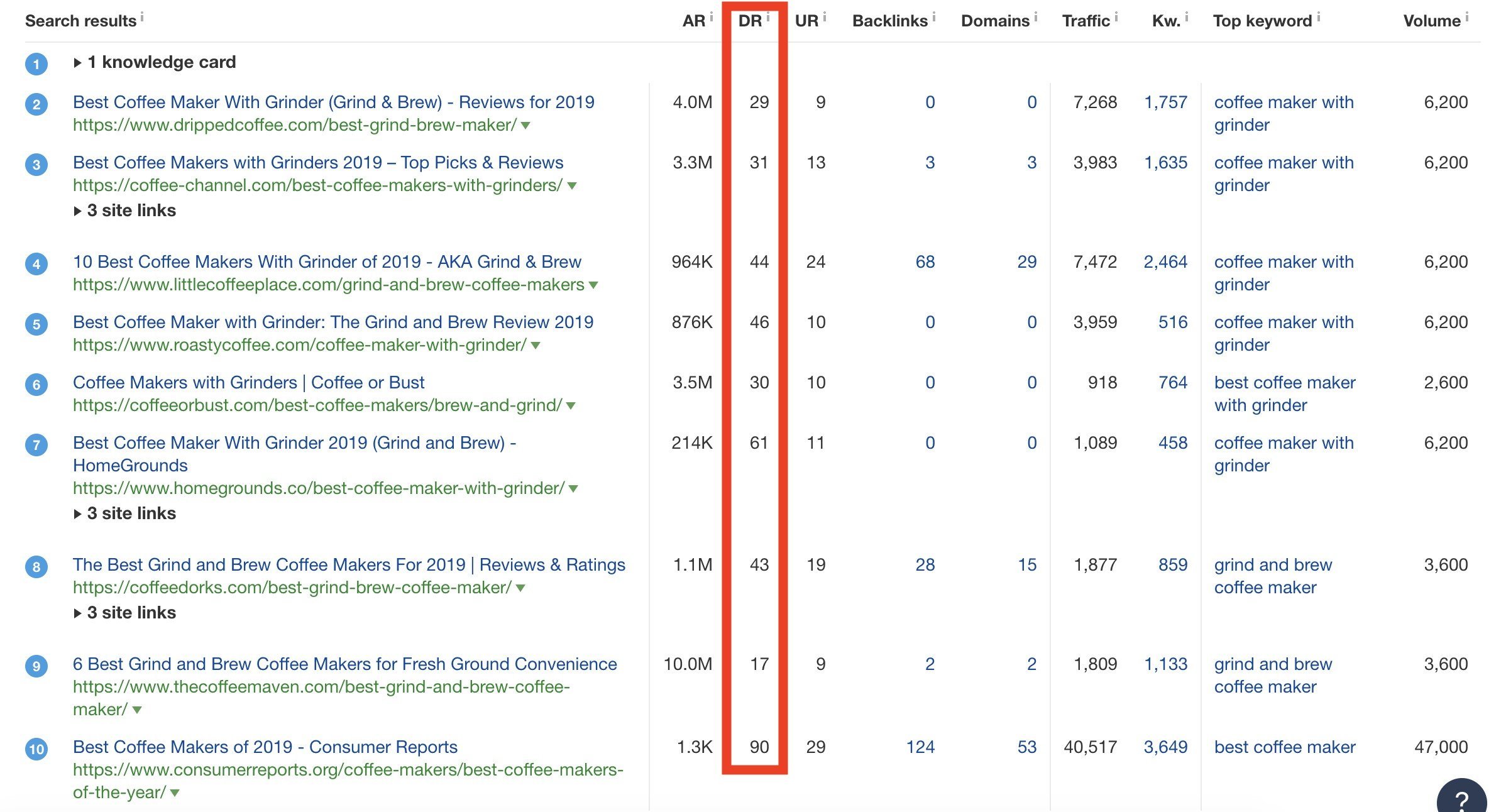 From a competitors' standpoint, these look a lot better.  At Content Refined, we generally look for a domain rating average of under 50 (preferably under 30, but it depends on the competitiveness of your niche).
The Perfect Combination of Keyword Metrics
It takes a combination of all of these metrics to determine whether each keyword is competitive:
A monthly search volume of over 500
A keyword difficulty score of under 30%
A cost-per-click value aligned with your monetary goals
An average competitors' domain rating of under 50
With the keyword research service for our clients, we deliver suggested keywords, keyword metrics, and proposed article titles in a spreadsheet.
Here's an example: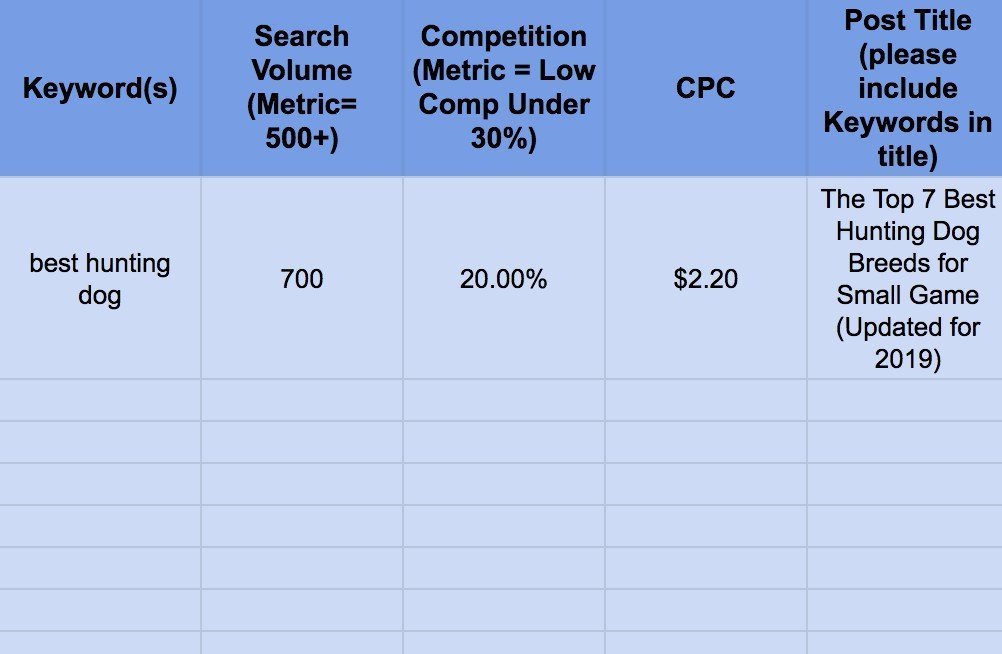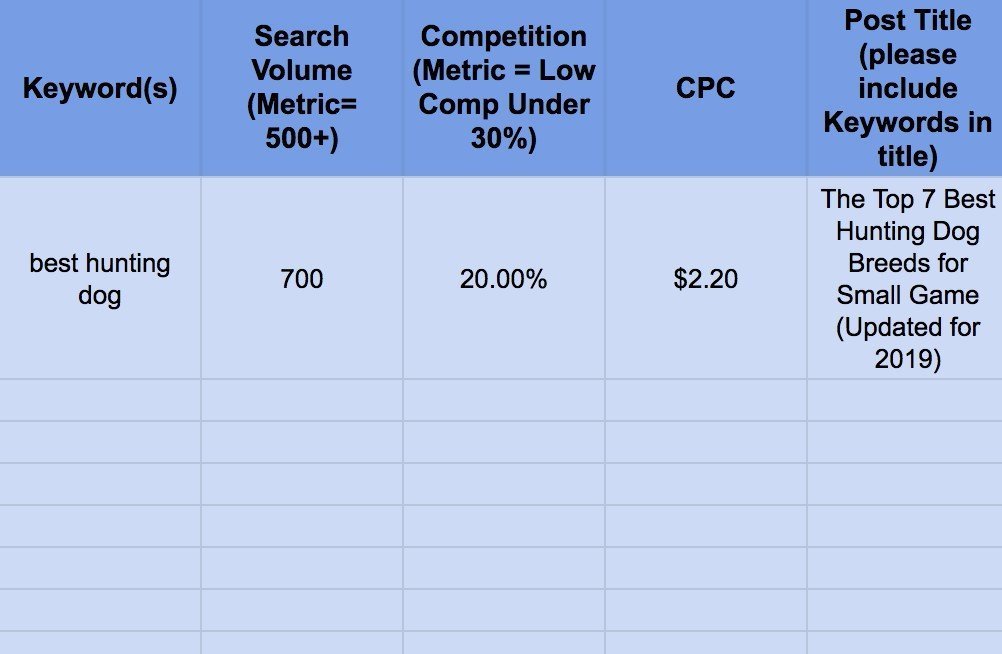 Organizing it in this way will give you a resource to look back on and make any adjustments as needed to your content marketing strategy.  It also helps to keep everything organized as you move through your content creation process.
Our Favorite Alternative Keyword Tool to Ahrefs
We've been really happy with Ahrefs, but sometimes you need a back-up.  We'll often check keywords in more than one tool to verify its validity.  Also, in our experience, Ahrefs doesn't always show the accurate CPC or keyword difficulty score, so it's good to back up that data with another source.
The one we've been using for a long time that's proven successful time and again is SECockpit by SwissMadeMarketingApps.  It can be really slow (really slow), but it shows everything in a nice laid-out format.
A key difference we're really excited about is that in SECockpit you can actually filter the results by domain authority (domain rating).  You can set the limitations you need for both "DA avg" and "DA Max" of a keyword, based on the domain authority of the top 10 pages already ranking for each keyword.
This is the first time we've seen a keyword tool that actually has this feature, and it makes such a difference.  Now, we can easily filter through any keywords that don't match all of our exact metrics, without having to look at each one individually.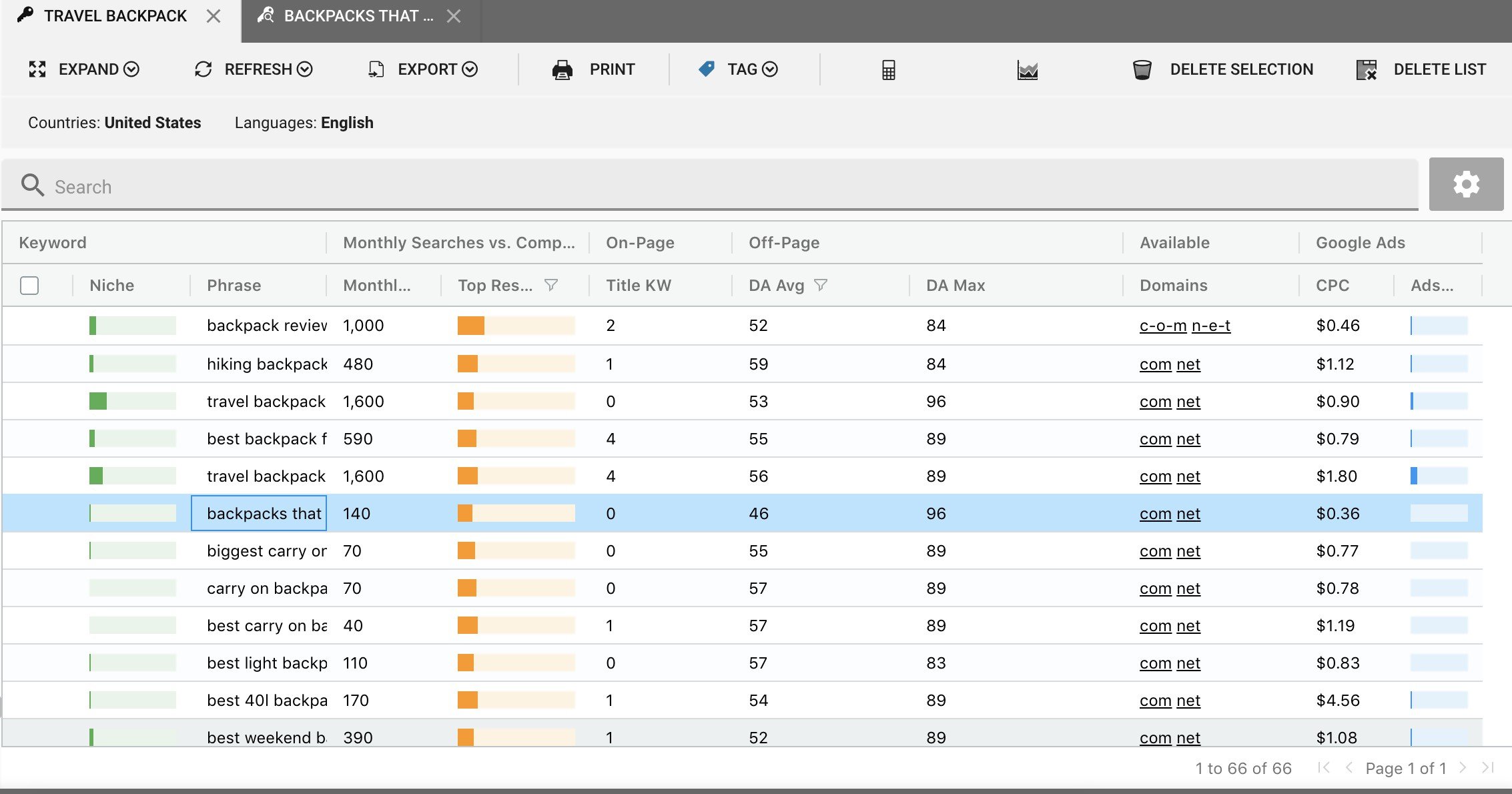 Now all we really have to do is scan through and see which keywords from this list are viable options for our website.
I would still recommend going into your top choices one by one, however, so that you can see if there are any weird anomalies.
How to Effectively Use Keywords
Without getting into the heavy meat of this subject, I want to quickly talk about best practices for using these keywords.
The keywords that you choose based on these metrics will become 'primary keywords' for the piece of content that you're creating.
Here are 4 basic things you should do to ensure that you're competently covering your keyword topic:
Use the keyword (in full) in your article title.
Create subcategories and/or questions closely related to your keyword to cover within your article
Write at least 1000 words of content.  A general rule of thumb is that the higher the word count, the more likely you are to rank higher and better in search engines.
Use the keyword as your URL slug.
At Content Refined we also use a platform called MarketMuse to ensure that our writing discusses everything it should.
Read more about creating high quality content here.
How Do Long-Tail Keywords Help You Rank in Your Field?
You might be wondering, "Why would I focus on these little long-tail keywords instead of doing a ton of content more broadly related to my field?"
We want you to predictably rank in search engines.  Focusing on long-tail keywords will help you build up a reputation within your field.  With a consistent content marketing strategy, you'll build out a ton of content that's closely related to your field of expertise, your organic traffic will be steadily increasing, your website will hold a lot of information about your niche, and in turn your domain authority will grow.
Let Us Save You Some Time
Keyword research and analysis is a time-consuming effort that should be done on a consistent basis.  Here at Content Refined, we can take that work off your plate.
We can complete a bulk order of keyword research, which will give you lots of keywords and article titles to hand off to your writing team.  Those details are here.
Alternatively, we can take the whole content strategy from end-to-end off your plate.  This is our most popular option.  It starts with keyword research, then (once we have your approval on keywords and titles) we send it into writing, editing, and publishing to the back end of your site.  So it takes the whole content marketing piece off your plate.
Looking for something custom?  Have more questions?
Book a quick call with Madeleine to chat about your specific needs.