Every writer wants to create something that is considered insightful and informative. They want to create content that their audience will love and content that will keep them coming back again and again. If not, what is the point?
Choosing to write great content is something everyone must decide for themselves. We are not here today to lecture you on the benefits of creating high-quality content; we are here to inspire you to write the kind of content you can be proud of. The content that even Google will tip its hat to.
So, without further ado-let's get into the details you need to boost your SEO rankings, gain more traffic to your site, generate more leads, and become a reliable and trusted authority within your chosen niche.
Let's start by defining quality content.
What Does Quality Content Mean?
The phrase, "content is king" is popular in the world of content marketing and to keep the king safely atop his throne, you need to come up with high-quality content that is worthy of the connotation. So, what traits define quality content? Easy. Length, visual appeal, spelling, grammar, formatting, readability, expertise, authoritativeness, trustworthiness, and above all-value. But that's not all. To determine if your content is of the high quality one would expect, you need to see how it is defined by the data.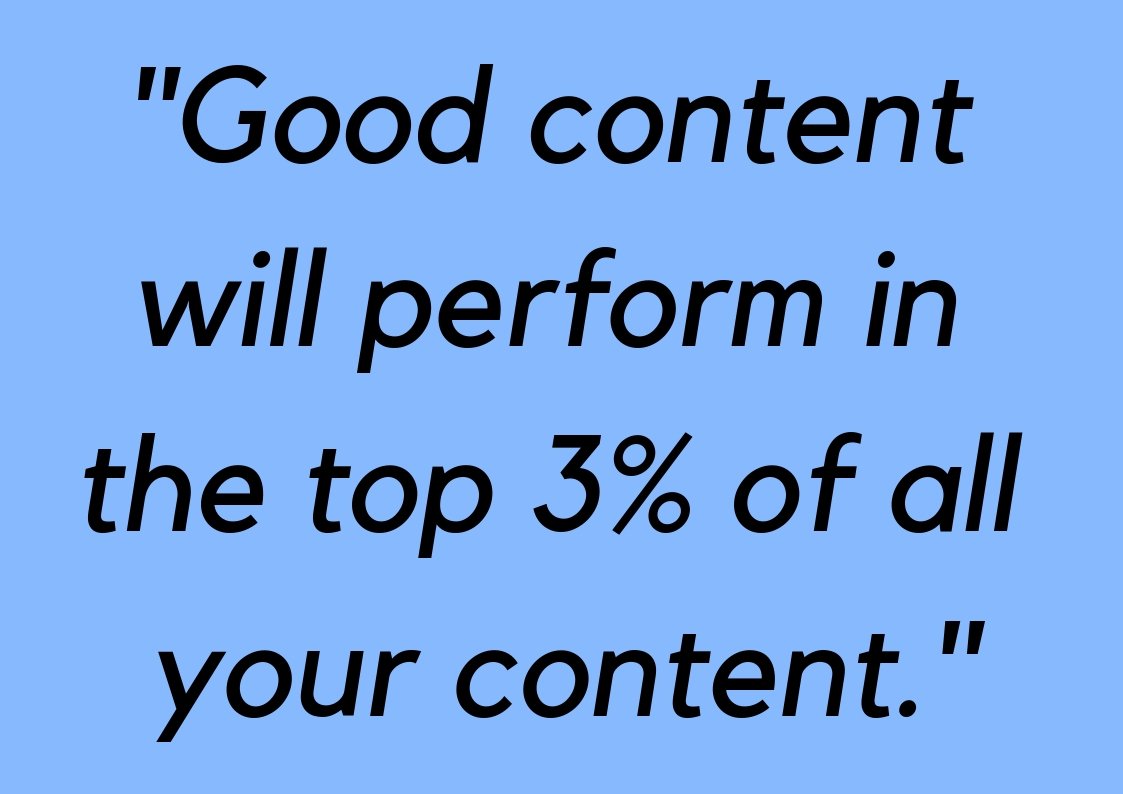 Are you met with a full pot of gold at the end of your rainbow or an empty pot of gold and a leprechaun that has gone AWOL?  Good content will perform in the top 3% of all your content. It will also rank well in Google meaning that it will stand proud in the one to three position on the first page of search results. Having this kind of position means you will get the most traffic, the most engagement with your audience, and you can score the most leads.
On the other hand, if your content is subpar and not on the same level as defined by the word "quality", then you can expect negative results, and you will find that you aren't going to go anywhere except back to your idea board for some better topics.
Your good quality content will ultimately garner much higher click-through rates (CTR), and you will be in the top 10%. The content is also much more engaging, and you will find that your blog traffic distribution is so much higher with quality content.
Let's not forget conversion rates either. Your conversion rate is the percentage of visitors to your site that complete the desired goal. The average conversion rate is approximately 2.35%, but more than 25% are converting at slightly over the 5% mark. The top 10%, however, has landing pages with conversion rates as astronomically high as close to 12% Is that not where you want to be?

The Importance of Quality Content
We already touched a bit on the importance of quality content, but let's expand on that a bit more. Audiences are evolving, and as this happens, they are looking for high-quality content that answers a question they have or helps solve a problem. They aren't interested in skimming through fluff and filler with no clear answers provided. So, let's not waste their time.
High-quality content leads to increased audience retention; therefore, it is one of the most important assets you can have. You are effectively creating a positive and engaging environment for your audience which has them coming back. It also improves your chances of gaining new prospects while holding tight to your existing audience.
Providing stellar content for your audience also means that you will gain the attention of Google. They are continually working on improving their search results which means they are looking to provide users with quality content that is informative and beneficial.

Meeting Publisher Standards with High-Quality Content
When trying to meet publisher standards with your quality web content, you need to break the content down and look at each part. For example, have you written an effective title? The title needs to stand out to the reader and gain their attention. It needs to scream click me! It may be helpful to come up with a list of possible titles for your content and then ask your peers which one stands out the most.
What is the main takeaway of your web content? Why did you choose to write what you did and what is the point you are trying to make? If you can't answer these questions, you should take another look and revise your copy. Provide examples and relevant information that is highly informative and beneficial for the reader.
Did you include a call-to-action? What action do you want the readers to perform after reading your content? Do you want them to read the content and then simply leave a comment or share the information? Make a clear statement about what your intentions are and think about how your desired action can take place.
Don't overlook the finer details of quality content before publishing. Seeing a glaringly obvious typo soon after publishing can definitely make one cringe and cause an eye to twitch. To avoid this, make sure to review your content closely and carefully. Double check everything from the spelling to the punctuation and grammar. Read through your content a few times to make sure it flows and is easy to read.
Formatting is also a significant consideration when publishing your content. Instead of providing a boring wall of text, consider breaking up the content with something that is visually stimulating. Utilize bullets, lists, and quote sections to make the content easier to skim through and read. You are trying to invite readers in, not scare them away.
Incorporating a few images can also go a long way and can even help enhance the story you are telling your audience. You can find an assortment of royalty free stock photos online. Be sure to choose images that are of a higher quality and aren't pixelated; otherwise you are defeating the purpose of including them in the first place.
It is also a good idea to use subheadings to break up the content. Having clearly defined sections for the reader makes it easier for them to go directly to what they are most interested in.
Internal and external links are great additions to your content as well and allow the readers to dive even further into the subject matter. Internal links will lead them directly to your other content, and external links to credible articles and sources will further provide them with the answers they seek.

Consistent Content Creation
Consistency is key when it comes to any content marketing strategy. It helps accomplish the following:
Become an authority within your niche
Fortify your brand identity
Connect with your audience across several platforms
Improve SEO and get on Google's good side
Build a regular audience eager for your content
Boost organic and repeat traffic to your site
Capture more leads
As you remain consistent in your web content creation efforts, you will create a marketing strategy that is concrete, and the content will become better and better as time passes. Your process will also become easier and more streamlined as you get the hang of the consistency factor of content creation.
The first step in creating consistent content is to come up with a plan for publishing that covers all the platforms you are engaging. Social media, blogs, and even email should all have a consistent content schedule. Your schedule can be based on daily, weekly, or even monthly intervals as long as it remains consistent.
Upgrading and Refreshing Content
Another way to stay in line with creating quality content and remaining relevant to the search engines is by refreshing and upgrading older content. Having fresh content that utilizes the most up to date keywords and keyword phrases can help your site. Your content should evolve with the business which means that you are going to have to make consistent and regular changes to the content to keep the information up to date.
Not upgrading and refreshing the content on your site can also cause a drop in your rankings because the search engines will view your content as neglected and the quality takes a hit. Updating, upgrading, and refreshing the content improves your chances of staying in a top position in the search engine rankings.
Upgraded content also helps you create a more satisfying and enjoyable experience for your visitors. If you have regular visitors to the site that enjoyed previous content, they will continue to visit your site to see any new content or to see what you have done to improve on old content.

Also keeping in mind the call to action you use on your site as well as the design and layout can also help improve conversion rates so when you update your content, take a closer look at these elements as well to boost your online standing.
Choosing Your Topics
Choosing topics for your content can be daunting at times, and it definitely requires a good amount of time and consideration-especially when you are focused on high-quality web content. Many people make the mistake of only focusing on one area of interest, and this can negatively impact your content. Instead, you should mix it up and provide your readers with content that they will want to come back to more than once.
A common rule among writers and content creators is "write what you know," and this applies here as well. When you write about something you are personally invested in or have a passion for, then it shows in the quality of your writing. You will find that you are much more successful when you put some thought and emotion into the content instead of reading off a proverbial script.
In addition to the above-mentioned tips, you can also choose topics that you don't mind debating. Having a difference in opinion can definitely garner some attention and can spark a discussion. However, stay clear of topics that are particularly controversial because you want to avoid gaining any negative attention.
Now let's take a look at some of the fundamentals of writing quality content.
Writing SEO Friendly Content
Search engine optimization (SEO) is the process of increasing both the quantity and quality of the traffic going to your site through organic search results. What do we mean by organic search results? These are the web page listings that closely match the user's search query and are based on relevance. They are also known as natural results.
Google uses crawlers that gather information about all the content currently circulating the internet. The information the crawlers collect are then used to build an index. The index is then fed through Google's algorithm, and the data is matched with the query. While it may sound pretty straightforward, it can actually be frustrating because Google is constantly switching up the algorithms.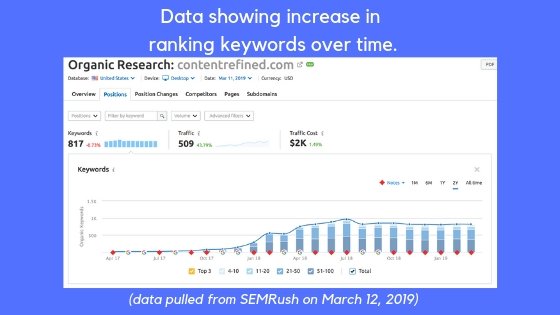 When creating SEO friendly content, think of the algorithm being used and then take the optimization portion of the equation into consideration by creating informative title tags and meta descriptions that point users in the right direction with internal links to great content.
Keyword Research
Keywords are how users find your site through the search engines. If your site is optimized for the right keywords and the search engine is agreeing with you, then you can more easily connect visitors with your site.
When choosing keywords, set and understand the goals you are looking to achieve. You can then make the decision to use a blend of head and long-tail keywords and then conduct your preliminary research and narrow down your lists. Head keywords are much shorter phrases, and long-tail keywords are as the name implies-longer. Head keywords consist of typically one to three words and often see higher traffic but also see higher competition.
SEO is a long-term strategy so it might take some time before you see the results you are looking for. If you want to streamline the process and see some results faster, you should be choosing keywords that are lower-competition and higher-volume.
Instead of risking keyword stuffing, you can utilize the power of keyword variants to improve organic results. You never want to use the same term over and over in the content. Search engines will see this as keyword stuffing, and you may be penalized for it and fall in rank. Keyword variations are a good alternative to overusing your keyword but use them in moderation and don't overdo it.
Since keywords play such a significant role when it comes to creating high-quality content and improving your search engine ranking, you should also consider what keywords the competition is using. Competitive keyword analysis can provide you with the advantage you need to rise above your competition. BuzzSumo, SEM Rush, and AdWords' Auction Insights are a few of the more common tools that can be used to determine who your competitors are and what they are ranking for.
Internal Links
These links take users from one page on a specific domain to another page nestled in the same domain. They allow easier navigation around the website, they establish a hierarchy and spread link equity. Setting up the right site architecture is important for SEO, and these internal links can help search engines see the content so they can list the pages based on the keywords being used.
Metadata
Metadata is important for SEO because it is what drives SEO. It is how your site communicates with the different search engines. Metadata information speaks directly to the search engines and is not really seen by site visitors because it is more of a behind the scenes kind of thing and is hidden in HTML code that looks foreign to visitors.
Publish Relevant Content
Quality content is one of the best things you can do to rank while also keeping in mind the metadata, internal links, and keywords we previously emphasized. It is also a good idea to use bold, italics, and heading tags in your content but you don't want to go overboard with these tags.
It can also sometimes be difficult to remember that you are writing this content for users. You should never sacrifice good quality web content for content full of fluff and filler because you think you will rank better when awkwardly incorporating and overusing your keyword phrases. Doing this will only hurt your SEO ranking and hinder your chances at successfully ranking.

Steps for Writing High-Quality Web Content
Here are a few of the more important steps for writing high-quality web content broken down in some easy to follow phrases to help put you on the right path.
Make sure you know your audience
Keep everything in order and organized
Read great content to inspire you to write great content
Find your voice and showcase your personality
Don't let writer's block control your process
Write easy to read copy
Never skip the editing phase
Use all the tools available to help you improve
Don't get distracted-stay focused
Never stop to edit. Let the words fall onto paper and then go back later
When it comes time to sit down and write content, what is your process? We admit that sometimes it's fun to doodle and play basketball with the wastebasket, but this is not an effective use of time. Instead, come up with a plan and stick to it.
Begin by selecting your topic and the way you want to approach the information. It is then time to research the topic, organize your findings, and write. Once all this is accomplished, you can then begin the editing process which can prove long and tedious at times but is so important.
You will also want to focus on creating content that is engaging as well as informative. Engaging content includes the use of headers and subheaders, it is concise, visually appealing, includes a call-to-action, is written for your audience rather than to your audience, and tells a story that they want to hear. If you research it a bit, you will find that the most engaging content includes telling a story that keeps the readers on their toes and wanting to read to the end.
Formatting your content, so it is easy to read, follow, and understand is also critical for creating engaging content. If the content is all over the place, in a big block of text, or hard to follow then people will click off your site and go elsewhere. Engaging content needs to be read. If they can't read it, then how can they engage?
And this all brings us to another important aspect of quality web content: the website design.
Design Factors for a Successful Website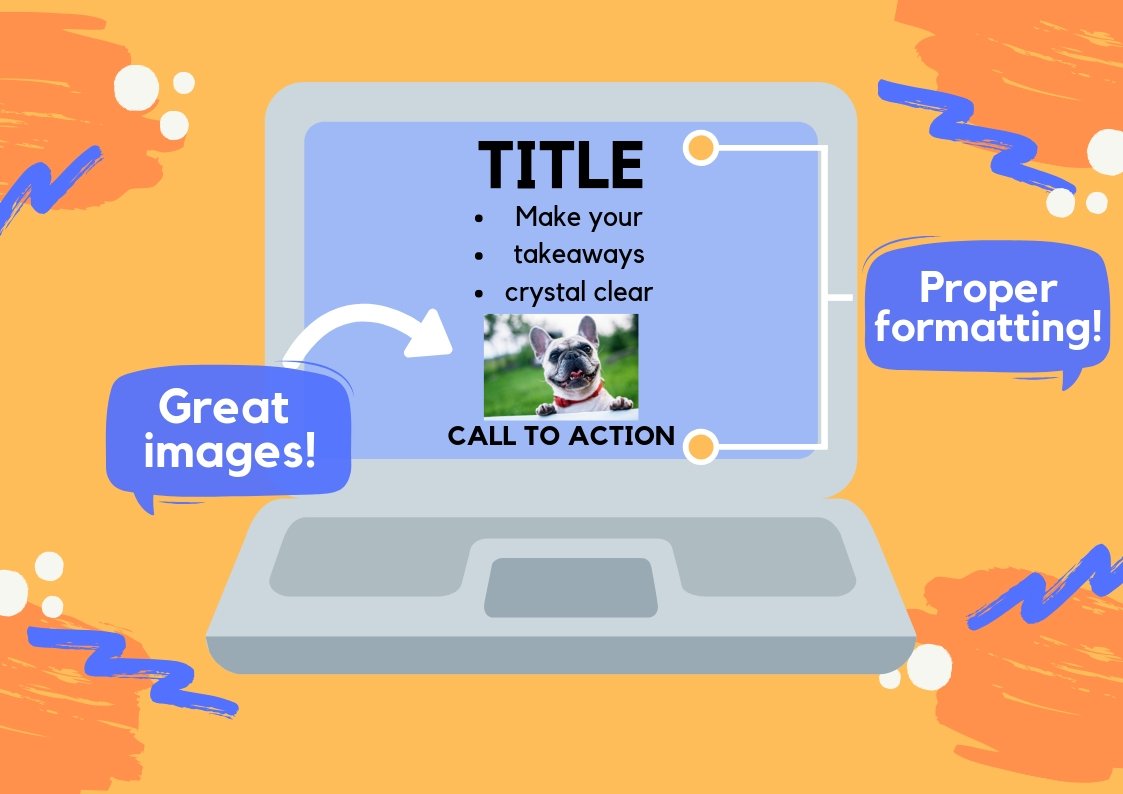 When developing the website your content will live on; you need to consider the many facets of design that contribute to the success of a website. In today's world, if your business doesn't have a website, then you really have no identity. Everyone is online looking for everything these days. In addition to creating an identity for your brand, a website also improves your reputation and makes you seem more credible than if you didn't have a website.
When designing your website, you want to make sure you do the following:
Never forget who your audience is
Make sure the site is easy to navigate
Only include high-quality and relevant content
Make the site aesthetically pleasing and visually stimulating
Create an SEO friendly site by including all relevant keywords in content development
Connect your site with social media to engage your audience
Include a call-to-action and design a site that keeps visitors on there longer
Following this information also means you can become popular online within your niche. It also helps better position your site in terms of ranking on search engines and other portals.
Conveying the Right Ideas with Quality Content
You want to avoid being overly promotional and pushy when it comes to your content. You also want to make sure your content is free of clutter and other nonsensical madness. To convey the right ideas, you need to take a cue from your witty side.
Don't be pretentious or sarcastic. Avoid playing mind games and choose plain language that resonates with your audience instead of language that makes them cringe. Seductive headlines also go a long way and can help create more of an interest in your content.
Don't be afraid to convey emotion in the content either. Emotion can inspire and motivate, and it can also trigger an action. Never use negative emotions for this attention, however. Focus on positive emotions to create a connection with your audience.
Be compelling and direct through your content. If you are targeting potential buyers, then make sure to focus on product and price. If your content is for an audience that is already familiar with your brand and what you offer, then feel free to ditch the redundant introduction.
The Different Types of Web Articles
While blogging is certainly one of the most well-known and possibly the most popular method of content creation, there are several other types of web articles that you can use for your website.
Using any of the following article types is a good way to build more of an online presence, gain more traffic to your site, and spark a conversation with your audience.
Buyer's Guides
If you recently purchased a large and expensive item, then you probably did your research beforehand to make sure that you were choosing the absolute best item that was available in your price range. You probably researched the different functions and features of the item, read customer reviews and weighed the pros and cons while comparing a few of the items side by side. If so, then you probably landed on a buyer's guide during your research journey.
To write a buyer's guide, you must first understand the audience you are writing the guide for. Are they knowledgeable in the items or are they beginners or novices that need more assistance and more in the way of guidelines?
You also need to write in a tone that conveys authority. Write like you are an expert and you know the ins and outs of the products they are looking at. Showcase this deep and extensive knowledge you have while helping them on their buying journey.
Anticipating any questions they may have while reading through this content is also important when creating a buyer's guide. When looking for extensive information like this, a user isn't going to want to click over to a bunch of sites to gather all the information they need. They want to be able to settle on one site-your site-and locate all the information they need easily and in one place.
Guides can be tailored for first-time purchases and offer inexperienced buyers more information, or they can be a guide that compares two or more products to make the decision easier to make.
Before writing a guide, make sure you familiarize yourself with what you are writing about so you can offer the high-quality and informative content that the users are searching for in their quest to purchase the very best products in their budget.
We have an easy to follow template that will help create a buyer's guide that is worthy of any product. From the main introduction to the price ranges, technical specs, overview, and conclusion–it is a one-stop information center that is easy to read and follow and is broken up into the sections that most potential buyers are looking to learn more about.
How to Guides
How to guides are written to inform readers on how they can perform a task. To write a successful how-to guide, you need to write in concise phrases that are authoritative and to the point. You also need to use plain English that is easy to follow and understand and then structure each of the steps in the how to process in the right order so they can be easily followed by the reader.
How to guides are ideal for conveying step by step processes or technical instructions regarding the proper application and use of software or other technology. When writing this type of article, it is imperative that you explain the process in detail and know what you are talking about. Use an active voice if possible and start your steps with a verb to make them easier to read and incite action.
We have a good template below to assist in writing a how-to guide that includes all the information the reader needs to successfully accomplish a task.
List Post Articles
List posts are good at attracting attention because they definitely stand out in a crowd. A list is a representation of facts. It is an organized and simply constructed list that contains information that readers are looking for that isn't overly complicated or over thought.
Never write a list post solely because they are quick and easy. They should be written when you are trying to communicate certain ideas with your audience that they will love and will be more apt to share after reading.
Begin your list post with a captivating opening paragraph to hook the reader. If you have a list that seems to go on and on, you should consider categorizing the list and use subheadings to make it easier to read and easier to follow.
Bullet points also add emphasis and can break up an otherwise drab and substandard list of information. It also helps break up the list so the readers can pause after each point before moving to the next. Finally, make sure your conclusion inspires and motivates the readers and leaves them satisfied.
We have a template to help create an engaging and informative list post article below.
Review Articles
Writing an informative and engaging review article can sometimes be time-consuming, so to be successful, you need to be willing to commit the time that is needed to inspire greatness. When writing reviews, you know the general category of what you will be reviewing, but it is almost always up to you to do the research and find the best products possible. It may even be helpful to consider your own buying habits when considering the information you want to be sure to include in your review article.
Price, for example, is one of the biggest deciding factors people make along their buying journey. So, including the price range for each product you are reviewing is definitely helpful and is information we deem necessary to include.
During the research phase, check other online reviews for the same product so you can become more familiarized with the products and what others are saying. Most of the time you haven't personally used the product, so this information is extremely useful to have.
Keep the content centered and focused on the products and make sure to answer the burning questions the readers will undoubtedly have. For a better idea on what to include, we have a great review article template you can follow that helps simplify the article writing process.
Now that we have covered creating quality content and all the other aspects involving SEO and engagement, how do you find the best writers to create the content if you don't have the time to do it yourself?
We are going to take a closer look at content creation and what kind of skills a good content writer should possess before they are recruited to help with your site.
Is Content Writing a Good Career?
If someone possesses specific technical expertise and know-how and have good writing skills, then they can most definitely try their hand at technical writing, and this is just one facet of the content creation industry to consider.
Content writers are in demand and businesses are looking to hire them to help create a more extensive and concrete content marketing strategy. Content writers can help create the content for a variety of different marketing strategies including email, editorial, reporting, business, people, website, and audience.
With more and more people hopping on the internet to find what they are looking for, you can see why this demand is so great. We are living in the information age, and we are in need of people willing and able to provide this information.
Content writers create content for websites and blogs-among other things-and this content is then used to build interest and provide information pertaining to your site and/or products and services. Content writers also create the content that is used across the different social media platforms and other social networks whether it is to drive traffic to the site or for promotional purposes.
What Skills Should a Content Writer Possess?
Content writing is a good career option for someone who knows how to efficiently use their words and express their thoughts. Good language skills, proper grammar, and a good vocabulary are also advantages. Bonus! If they are an expert in a particular field, then they are perfect for writing in that niche.
Other areas content writers are needed are for SEO including blogging. A writing position like this may require extensive research and knowledge of the importance of keywords for search engine ranking. eCommerce and digital marketing are good areas for promotional content and if this is an avenue to explore, then search engine marketing may also be a consideration.
Learning Content Writing and SEO
If you are unfamiliar with content writing and SEO, you need to understand that it can take a considerable amount of time and patience to become an expert in this industry. To become an expert on SEO, you can increase your rankings and traffic and learn how to optimize your website.
To do this, you must gain an understanding of how search engines work. There are many different search engines with Google topping the list. However, many of them work in the same way as Google. There are many courses available online that provide step by step training on how to familiarize yourself with SEO and begin to build a more successful blog.
Hiring Content Writers for Your Business
If you are ready to begin the process of building your website and it is time to flesh out your content, then you may be considering hiring a content writer to help with the creation process. But how do you go about finding a writer that is willing to step up and do the hard work that is needed to produce quality content for your site?
With so many considerations to keep in mind including keyword research, SEO, editing, publishing, and distribution, you want to make sure to find someone that fits the bill and can handle what is thrown at them. If you are a business owner, then you also understand that your time is limited, and it is tasks such as the content creation that may need to be outsourced. It is time to hire a content writer.
When you hire a writer to create high-quality content, you can find yourself immersed with the possibility of improved lead generation, positive traffic, and a significantly larger online presence. When hiring a writer, they need to be familiar with content marketing and SEO and have the style and tone you want to showcase on your website and for your brand. They also need to be great when it comes to communication and amazing and flawless when it comes to meeting deadlines.
The Recipe for Success
Writing high-quality content for your website is critical to your success online. Creating content that an audience wants to read and content that is inherently valuable and answers a question they have are all good ways to prove your authority and credibility and gain visibility and brand awareness for your site.
Content that includes extensive research that backs up the points being made, content that connects with the reader on a deeper and more personal level, and content that Google and the other search engines recognize as quality content and valuable content also makes for a successful website.
If web visitors simply glance at your site and then click off to go elsewhere, you aren't effectively getting your message across. Create quality web content, update the content regularly, and post consistently and you will see the results of your hard work.
Writing original content also helps you gain positive exposure with the search engines. Google is known to penalize sites that offer duplicate content. On the other hand, they also enjoy rewarding sites that offer original and high-quality content so writing this content is what you need to positively impact your business.
The tips, advice, templates, and other valuable information we have supplied here today should also be added to your content marketing arsenal to boost your chance at success.