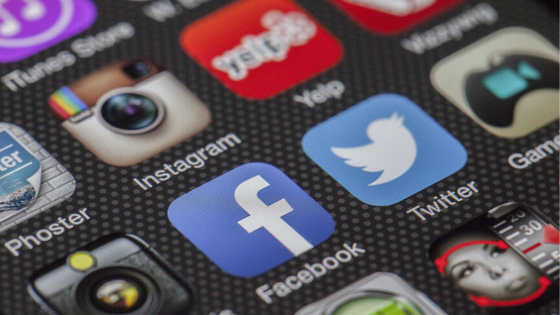 Are you a B2B service business, looking for someone else to take the reins on your social media and content creation? If you're looking for the complete package at an affordable price, you're in the right place. Content Refined is introducing our Content Lever service, which gives an efficient solution to all of your content needs, without signing up for a full Content Creation package (and therefore, spending less money!). Sound too good to be true? We're going to take you through why our Content Lever service may be the right fit for you and what this exciting new digital marketing solution is all about.
What is the Content Lever Service?
Now that we've gotten you all excited, we really should go into more detail about what our Content Lever service is. Our Content Lever service was created with B2B service businesses in mind, that wish to take more of a backseat when it comes to their social media and content creation. In other words, Content Lever is a complete digital marketing solution for your B2B service business needs, all at an exception
ally affordable price.
As a professional business, you understand that content creation is necessary in order to increase your SEO, but you simply do not have the time or finances to dedicate to it – and you certainly do not want to sign on for a lengthy contract on top of it all.
This is where our Content Lever service comes in. We focus on providing one complete solution for all of your content creation needs. We will not only post to your blog for you on a weekly or monthly basis, but we will post to your social media as well. This means that you're completely covered from all angles and your blog post will be linked from multiple platforms.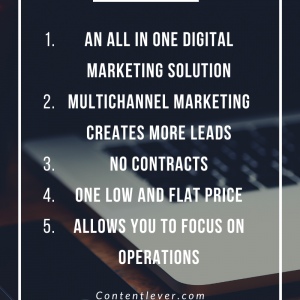 Who is Content Lever For?
Our Content Lever service is for any B2B service business, whether just starting out (in which case, congratulations!) or for an established company that has already been in business for years. The goal of Content Lever is to give you a steady stream of content on your blog and social channels that doesn't break the bank – all while still being backed by our expert content writers.
Our Content Lever service is great for businesses who:
Have limited time to create content within their own company
Have limited resources
Do not wish to hire an additional employee for content creation
Wish to consistently produce a high volume of content
Are looking for an all in one social media and blog post solution
Do not wish to sign on for a contract
Want to be feel confident that they're in good hands
Want access to support when needed
Generally geared towards B2B Service Businesses ( some exceptions apply)
How Does Our Content Lever Service Work?
So, you're thinking this all sounds pretty fantastic. However, how does this Content Lever service actually work? We'll take you through a quick run down of what happens when you sign up for our newest service.
1. Select Your Package
We offer 3 Content Lever packages, which determine the amount of posts that we'll be creating for you each month.
You have the option to choose from the following packages:
1 Post, Published Once Per Month
4 Posts, Published 1x Weekly
8 Posts, Published 2x Weekly
Once you complete your payment, we will be in touch with you to gather as much information as possible, so we can begin creating your content right away.
2. Content Creation
The next step is content creation – we will create content for you to be published weekly or monthly, depending on your package selection. The articles that our Content Lever service offers are unique to the articles we offer in our Content Creation packages. These articles are still created by our expert writers, but also combine commentary from experts specific to your industry. We will include exerts from industry specific tips, articles and products that support your business, in order to provide even more credibility to your content.
3. Post Scheduling
Once we receive your approval on the content we have created specifically for you, we will begin scheduling your blog and social media posts. We will schedule your blog and social media (Facebook, Instagram, Twitter) posts for the same date and time every week or month. This allows your customers to look forward to quality content on a consistent basis.
It's important to note that we do offer dashboard support – this means that you can know the status of your order at any time during the process and receive support from us whenever you need it.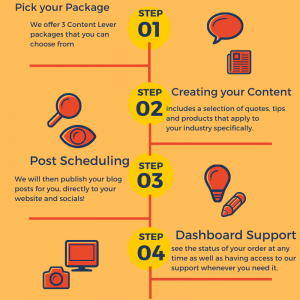 Am I Locked into a Contract?
We understand that one of the main turnoffs for businesses when considering content creation is that you're locked into a lengthy contract, whether you like it or not. With Content Lever, we have no contracts. You have the option of selecting exactly how much content you would like created, with the option to cancel at any time. We understand that not every business will have the budget to dedicate to content creation on a regular basis. While Content Lever was created to make content creation more affordable, we also understand that it may not apply to every business on a long-term basis.
Is Content Lever Right for My Business?
While Content Refined offers a number of content services that we're extremely proud of (Month to Month Content Creation, Keyword Research Packages and Content Surge to name a few), we recognized that there was a gap in the market when it came to content creation. Content Lever allows us to create content for you that is high quality and industry specific, while still being affordable.
We want to show you that there is an option out there that doesn't involve hiring another employee, signing on for a lengthy contract with a digital marketing agency, or trying to find the time to do it yourself – and it won't cost you an arm and a leg. If you are a B2B service business looking to take your business to the next level, we would recommend trying out our Content Lever services. You won't be sorry.