How to Do a Content Audit and Assess Content Gaps
Who is this article for?
Anyone who wants to drive more organic traffic to a website.

Anyone who wants to check out how their competitors' content is performing.

Anyone who's interested in purchasing a website and needs to do some primary research.
What are we talking about today?
How to do a quick content audit for any website.

How to assess content gaps and opportunities to improve your Google rankings.
YouTube Resources:
Quick Content Audit
Quick Blog Content Suggestions
Madeleine and Laura discuss content audits and how they work
Intro: Predictability and Strategy
Coming up with a plan for your content team (writers, editors, branding, etc.) can be a little messy at first.  You want to identify the best opportunities for your site and your field while strategically positioning yourself amongst your competition.
We're all about predictability here at Content Refined.  There is a method to all of our madness. Using data from tools like SEMRush and MarketMuse (which are the two we'll focus on today), we can write content that is more likely to perform well in Google.  Therefore, you're more likely to get people to your site, and increase your conversion rate.
We can also assess which content is already performing well.  In doing so, we know which articles (and/or landing pages) require the most attention.  The content on these pages should be regularly updated in order to maintain and grow rankings.
We'll use Content Refined's website as an example here to show you exactly what to do.
Part One: The Basics
Using Free Resources
1. Google It
The first thing you want to do is plug your website into Google.  It needs to be in this format:
site:yoursitename.com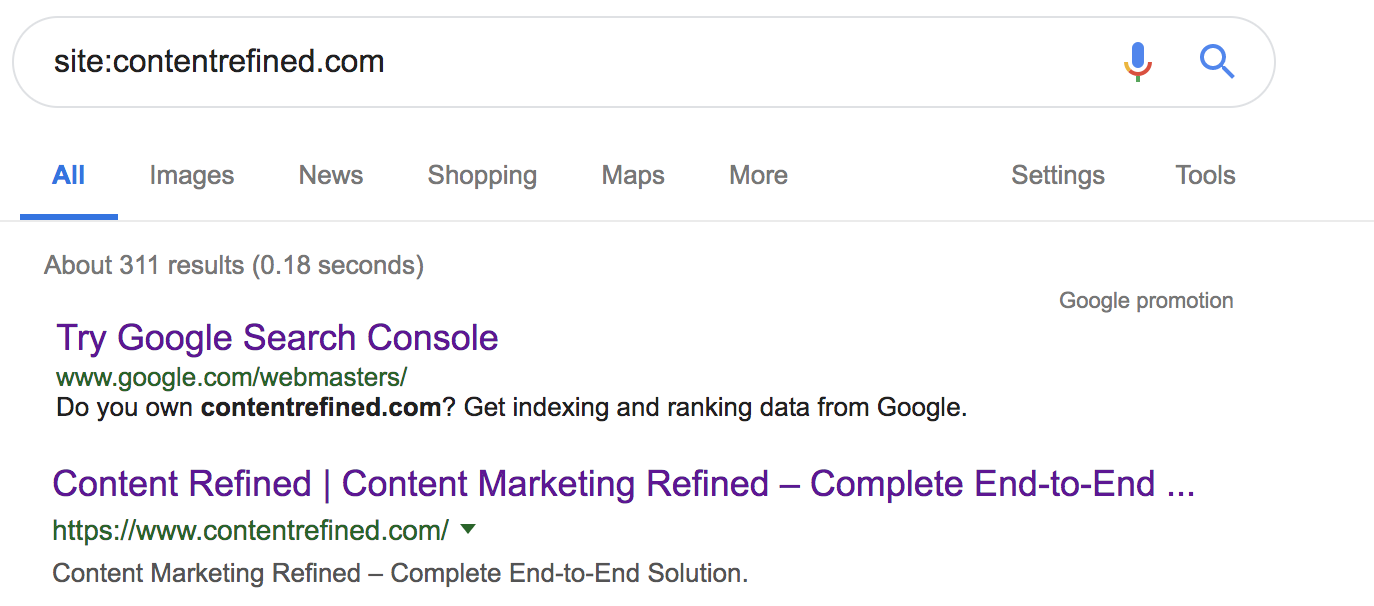 The number of results that appear will show you how many of your website's pages are ranking in Google.  (Note: This may fluctuate minute-to-minute depending on your site.)  Try it out with a few of your competitors' websites.  Now try it with people who are 'experts' in your industry.  How do your results compare? This is a quick indication of your website's performance in relation to competitors in your field.  You may have some work cut out for you in order to rank as much as your competitors.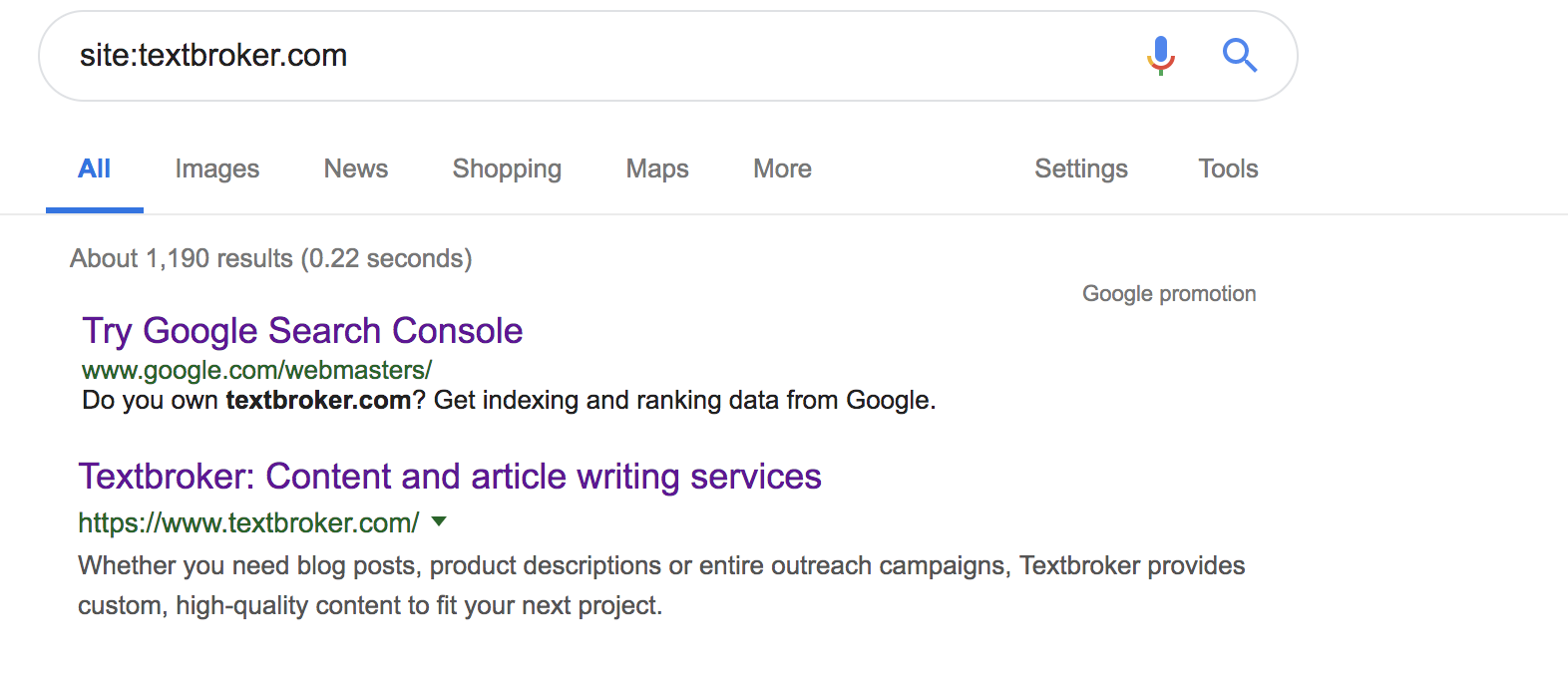 We'll call those experts and high ranking competitors 'authorities' in your field or niche.  Google likes to rank websites that clearly have some authority in a certain space. Their algorithm is complex and ever-changing, but in general this relates to two things: content and backlinks.
Do you answer a lot of questions related to your field?

Do you provide necessary information to people searching your niche?

Do other authoritative sites link to you?
Google wants to see that you're in the network amongst peers in your field.  When we're talking about backlinks, this is often referred to as 'trust flow'.  It makes sense–you're building up trust with search engines that your site has solid information in your field.
In terms of content, which is all that we'll focus on in this article, you need that trust too.  You're going to need quality content  in order to rank amongst the best in the field.  What does quality mean?
Provide useful information with well-written articles.

Maintain consistency with your publishing schedule.

Routinely update your existing content.
We talk a lot more about this in our "How to Write Quality Content" article. 
This brings us to the next basic step.
2. What Do Your Competitors Do?
Take some time to browse through your competitors' websites.  Look at the authorities in your field.
Take notes.  Look for those factors mentioned above: quality, consistency, authority.
Are the articles really "readable"?  Are they interesting and informative?

What's the average word count (length of article)?

Is the text broken up into short paragraphs?

Do the articles have lists and subheadings where applicable (like this article)?

What about graphics?

Are there different categories within their blog?

If there are categories, are they easily navigable?
Once you know what the other guys are doing, you'll have some insights on what you should also be doing to keep up.
It can be a bit overwhelming, especially if you have a new site with a blank canvas.  Remember that these other guys have probably been around for a long time. It takes a lot of time (or a lot of money) to build up that trust and traffic.
Just from looking at some competitors and/or authorities in your field, you should have an idea of some content that you need to build out.  Perhaps there are some 'basics' articles needed for informative purposes. NOTE: The basics will probably be the most competitive, so make sure they're long articles with lots of great information.
Part Two: SEMRush Content Audit (7 Steps)
This section is applicable to websites that already have ranking content.
1. Log in to SEMRush.com and plug in your website.  Press Search.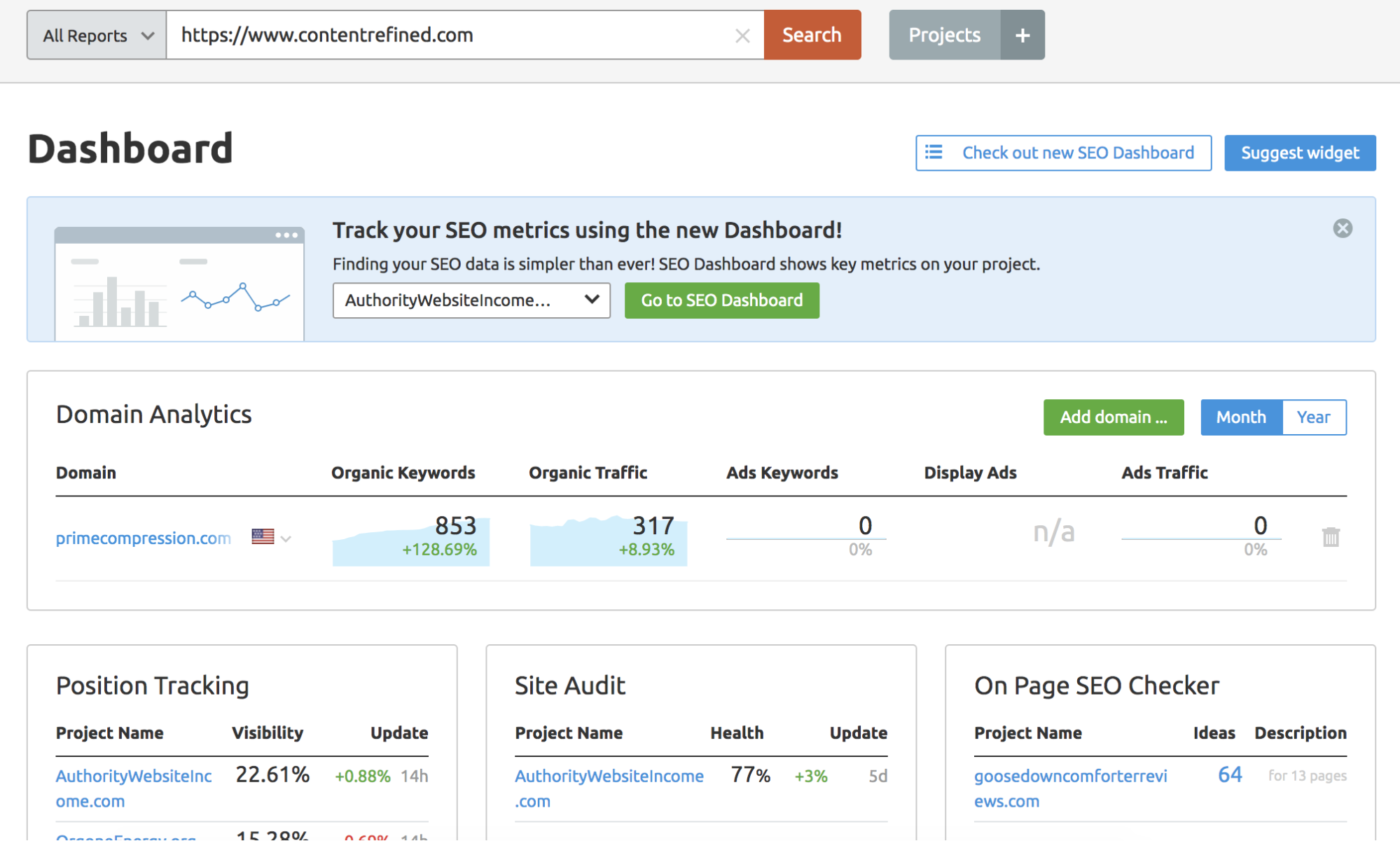 2. This page will give you an overview of how your website is performing: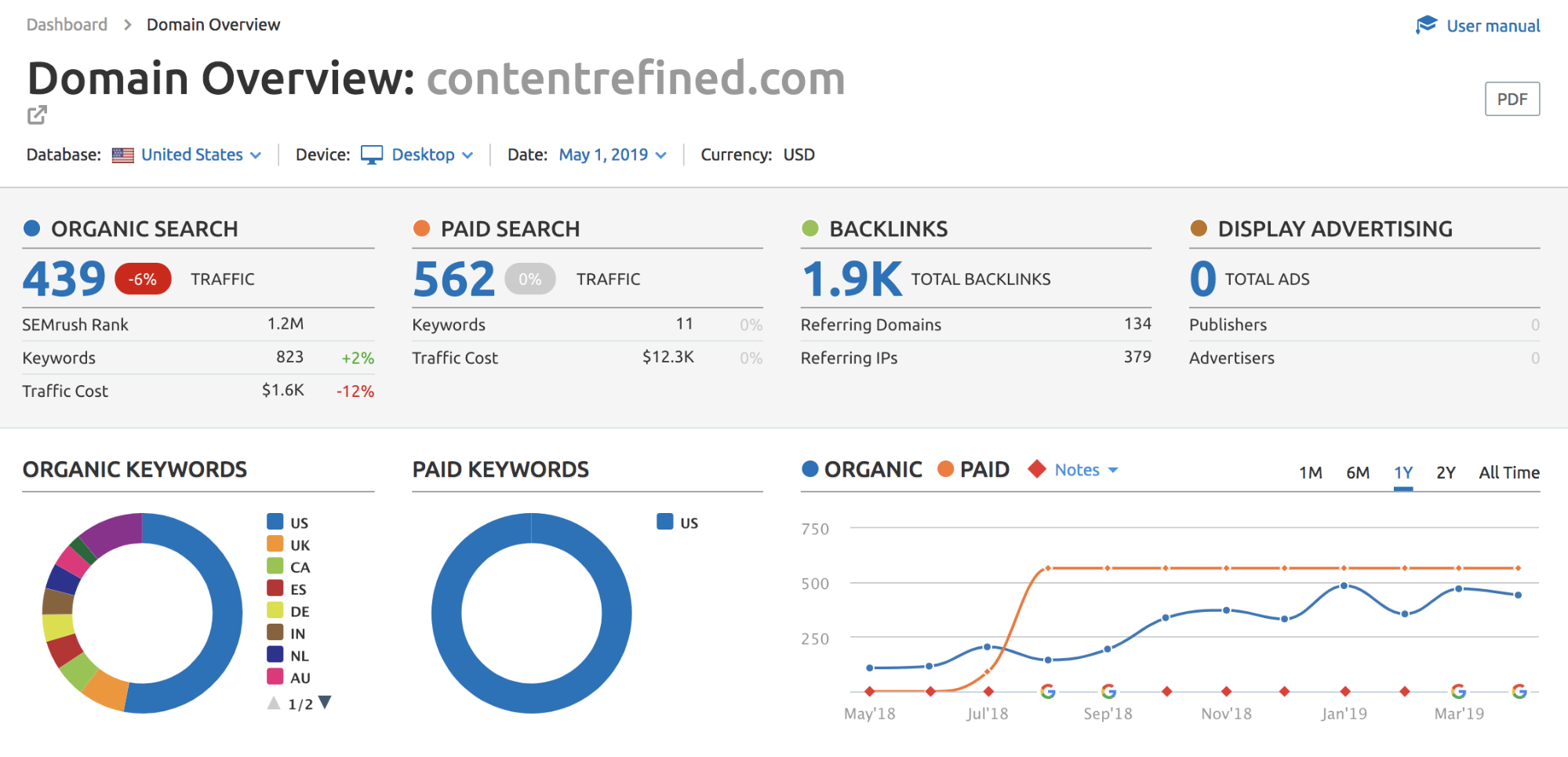 For content purposes, the main thing we're looking at here is 'Organic Search'.  Content Refined is a pretty young and entrepreneurial company, so we don't have super high numbers… yet.
The graph shows your organic traffic (the blue line) over a period of time.  Here it's set to the last year.

    3. Scroll down to where you see 'Top Organic Keywords' and click on 'View full report'.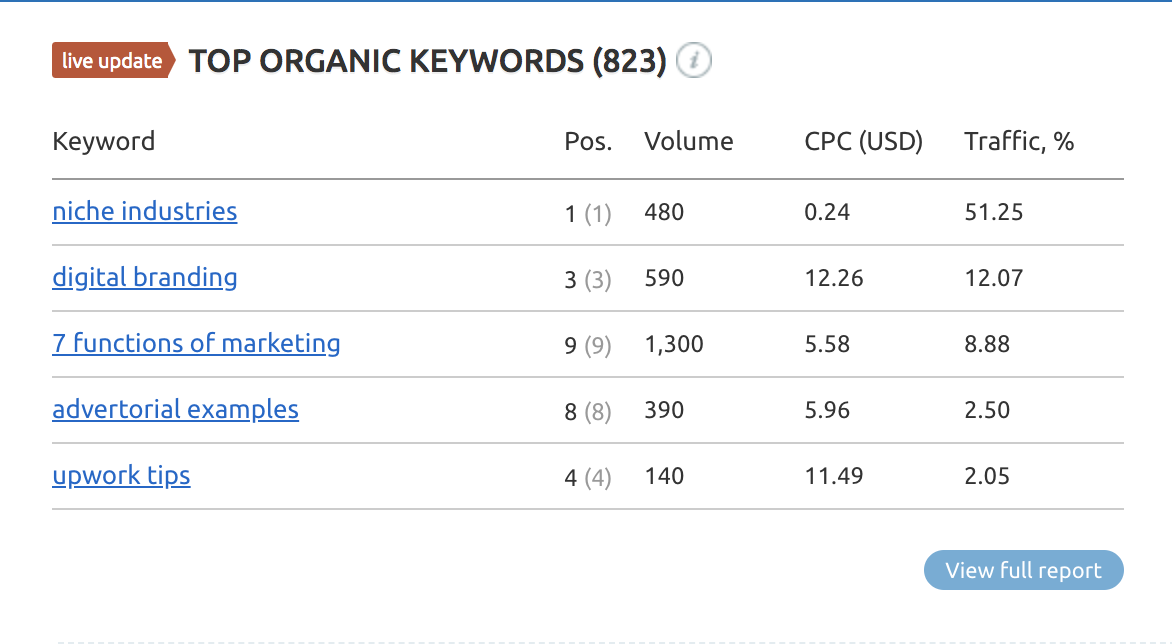 This page shows you all keywords that are ranking in the top 100 positions in Google.
You can choose to view these results by your URL's position in Google, the monthly search volume of the keyword, the percentage of organic traffic each keyword is bringing in for your site, the average cost-per-click, and more.
In this example I've set it to view by position in Google.  You can see that 'niche industries' is our top ranking keyword, and it brings in 51.25% of all of our organic traffic!  That's crazy!
So right off the bat, I know that this article  needs to be well maintained to keep us ranking so high.

4. Export this information.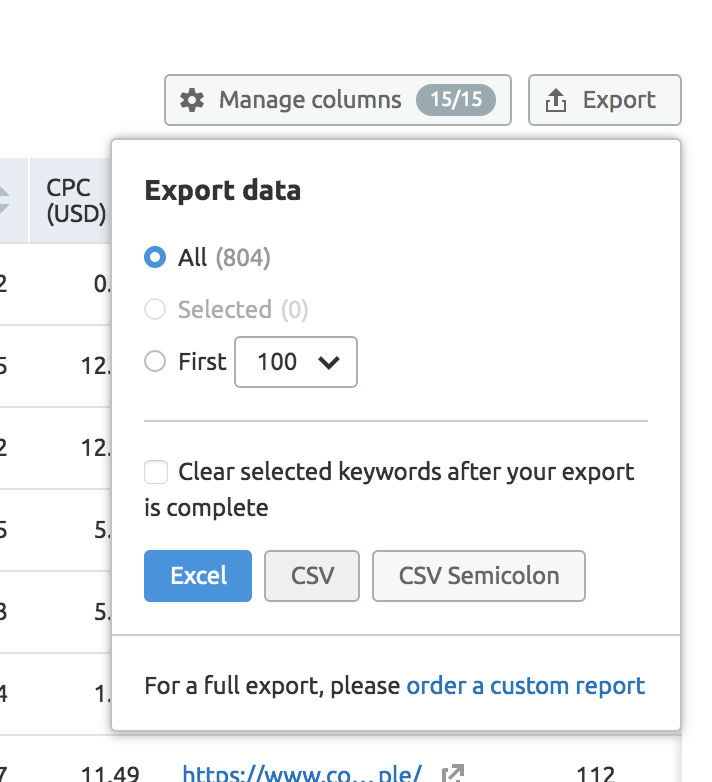 I always export as a CSV so I can add it to Google spreadsheets. Notice in the screenshot how you can export 'All' or just the first 100 (or 500). If you're looking at a site that has 1000s of keywords, I'd recommend just grabbing the first 100 or 500. It depends on your needs, but you probably won't need the information for all of them; you can just make decisions based on the top ranking keywords.
5. Upload that export to your spreadsheet.
If you're using Google Sheets, you can go to File>Import>Upload and drag and drop your file.
Make sure that you always click on 'Replace current sheet' so that it doesn't overwrite any information you already have in that spreadsheet.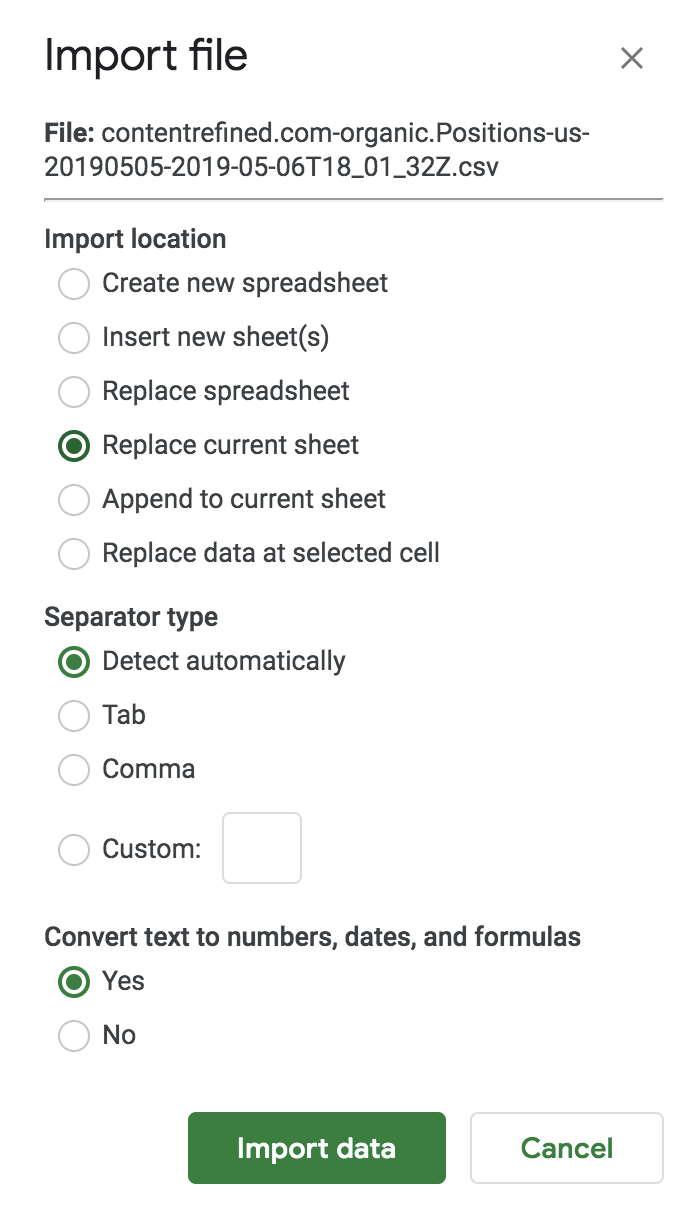 Press 'Import data'. It might take a second.
6. Title your spreadsheet and tabs.
I've titled my spreadsheet 'Content Refined content audit May 2019'. It's always good to reference the date so that you can check back quickly in a few months' time.
You should title each tab similarly. If you export by position, CPC, traffic %, etc. make sure to reference that information and the date exported in your spreadsheet tab. Again, this will just make your life easier when you're looking at this spreadsheet in the future.

7. Add in any other exports from SEMRush data as you see fit for your needs.
Quick Way to Get Pertinent Information Even Faster
Back in SEMRush, go up to the tabs on the Organic Research page. Click on 'Pages'.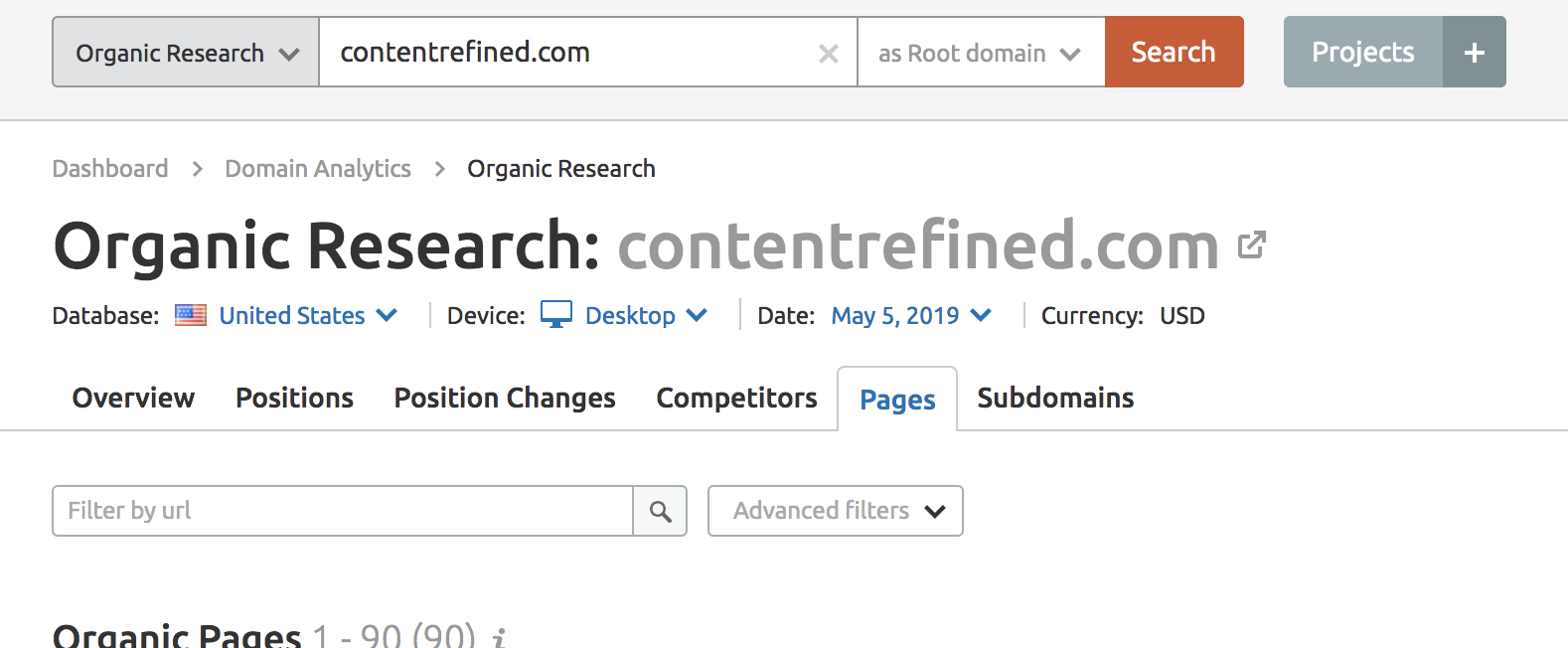 Here you have a list of all your organic pages, and their ranking data.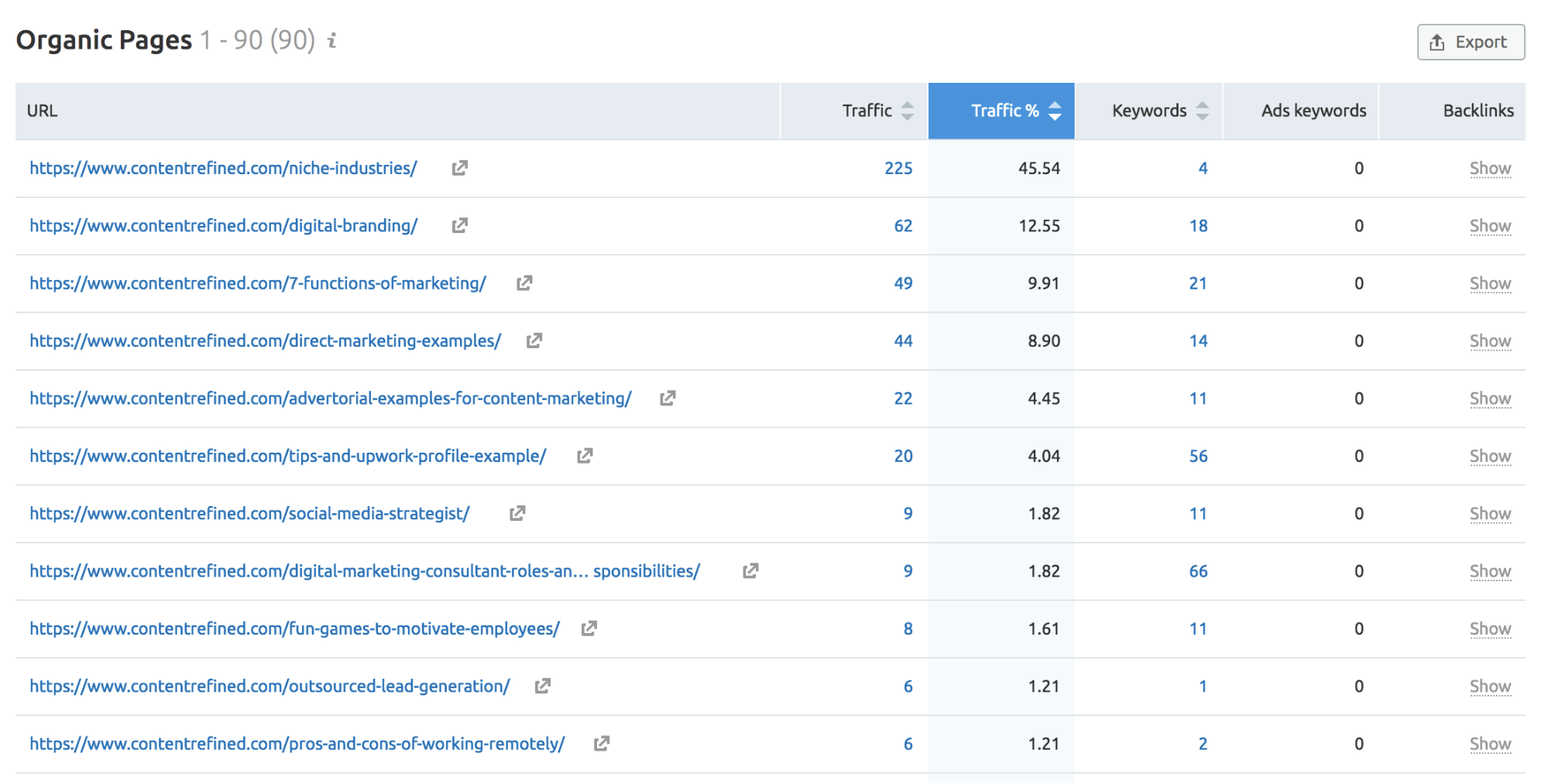 Now, I can simply export this information and ask my Editor to add some content to the top 3-5 articles.
She'll take the articles and leverage MarketMuse to add some additional content to them. I would recommend adding at least an additional 500-1000 words to your top ranking pages to keep them maintained. (Sidenote: We can do that for you!)
Part Three: MarketMuse Content Suggestions (4 Steps)
This is something we often do for prospective clients. We can use MarketMuse to show the content gaps for any topic. Their platform will show you related topics for any field, so that you know (on a pretty general level) what sort of articles your website needs. Then you can build out some content from there.
At Content Refined, we would always take that information and do further keyword research to make sure we're hitting the best opportunity primary keywords, but this information is a great place to start.
I'll continue with Content Refined as our example.
1. Log in to MarketMuse and go to 'Research' in the left-hand column.
2. We'll look for a high-level topic related to our field/niche.
We would ideally like to be ranking for this topic as a keyword, but it might be too competitive for us right now. What MarketMuse will tell us are the topics related to that high-level topic. Then we know what sort of content we need to be building out in order to be super relevant in our field.
In this example, I'm searching for 'content marketing service'. Content Refined should obviously be ranking in position #1 for that keyword.
Type in your topic, and press 'Run'. It may take a few minutes for the results to appear.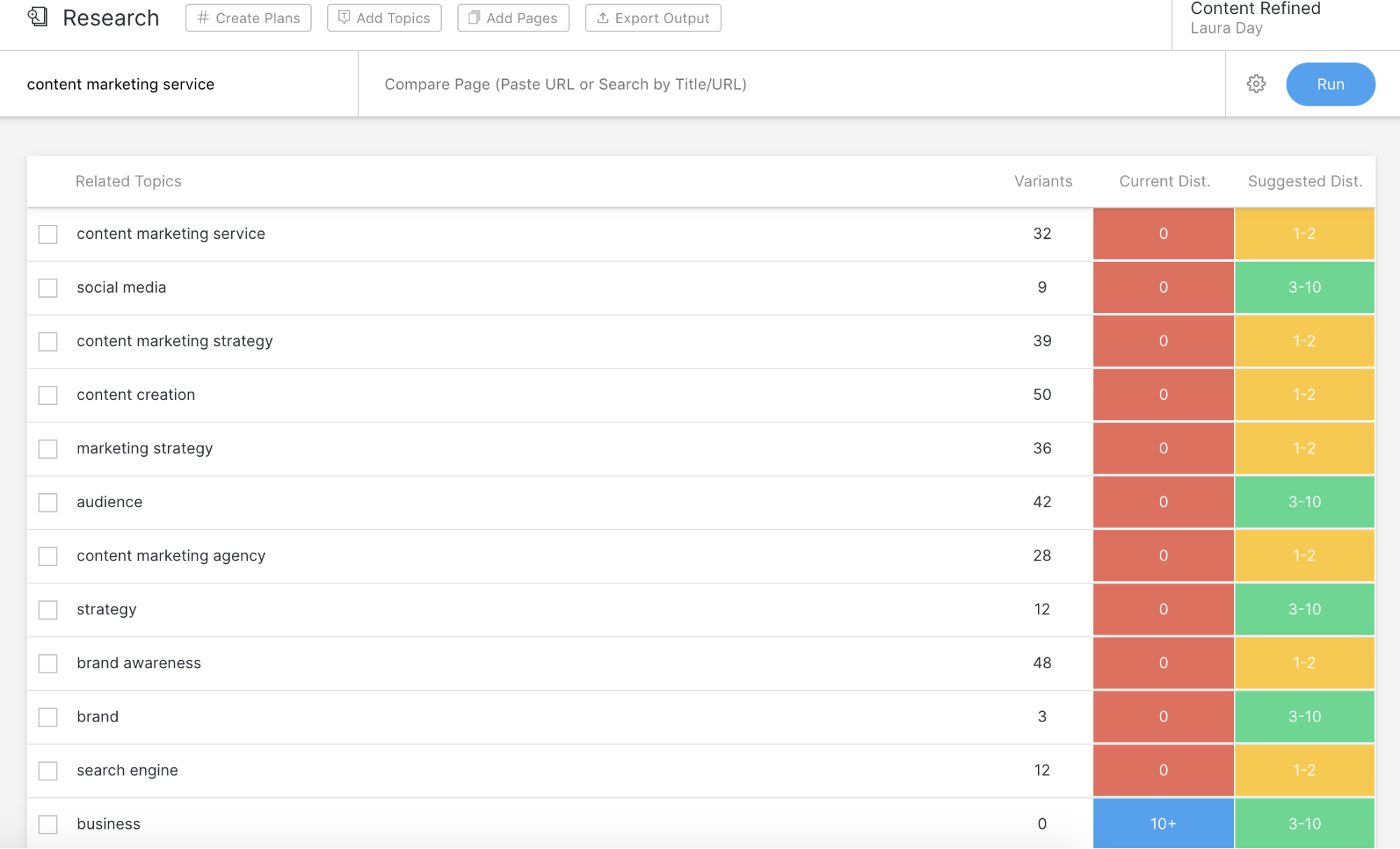 Now we have a list of ~50 terms specifically related to 'content marketing service'. We can take these as inspiration to build out some articles right away. Again, it will take some additional keyword research, but this is a great jumping off point.
3. Export that to your spreadsheet.
You can use the same one as where you dropped the SEMRush data, or create a new sheet for your writing/editing team. Note: This will create multiple tabs. One is called 'Related Topics' and the other is called 'Variants'. 'Related Topics' is our main info. 'Variants' are variations on each of those topics. It's another great source for article ideas!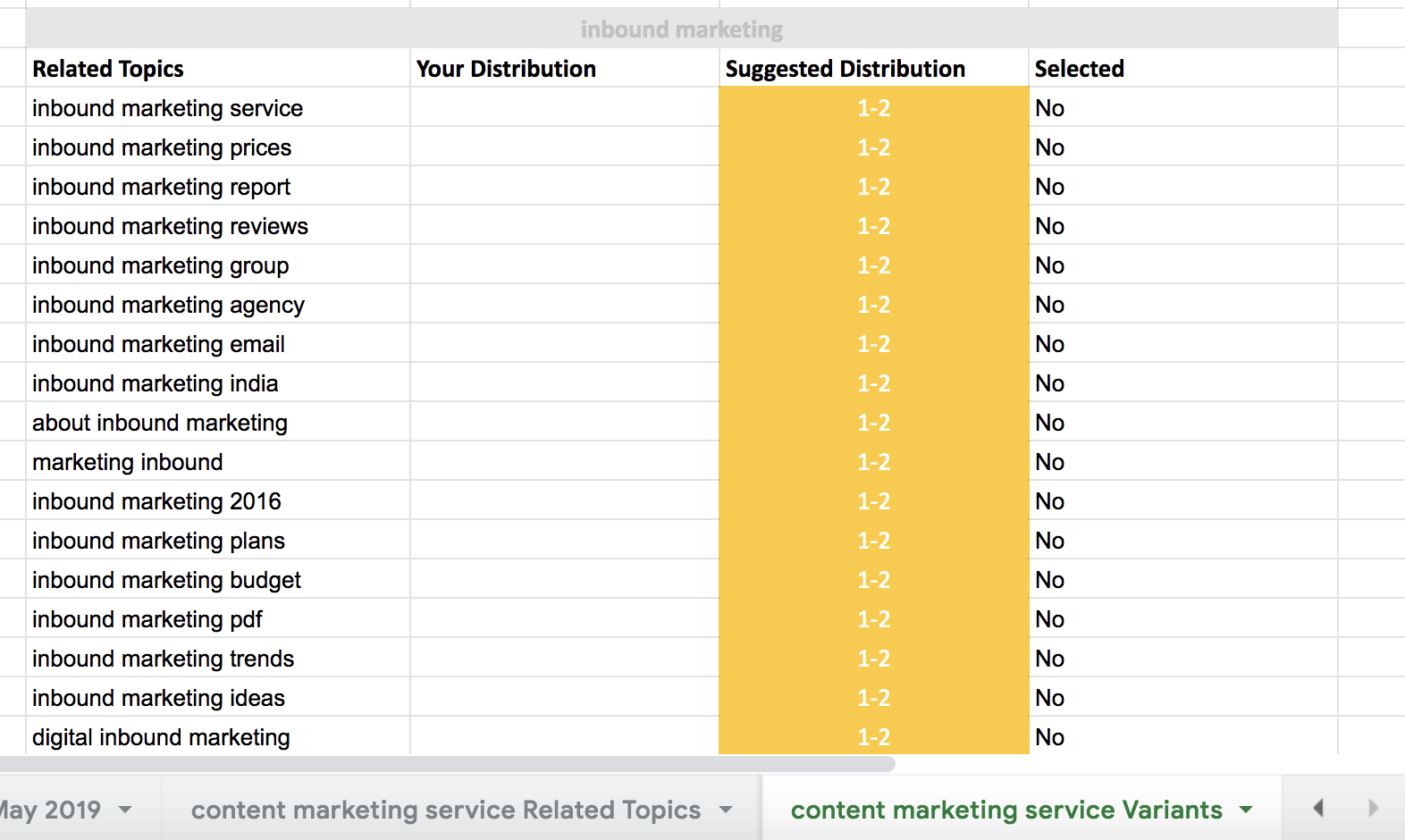 For example, if I were to create an article about 'inbound marketing', I could create some different subheadings using the above variants as keywords. Alternatively, I could make individual articles about some of these things, like "Inbound Marketing Trends for 2019".
4. Repeat these steps for any high-level topics relevant to your field/niche.
Other Functionalities of MarketMuse for Content Suggestions
We are loving some of the new features that MarketMuse has implemented this year. Here's a quick overview of some things that really help us out with content analyses.
Heatmap of Competitors' Content
Go to 'Compete' on the left-hand column and enter a focus topic you want to be ranking for. You'll get a list of the top 20 pages already ranking for that topic. If you go to 'Heatmap', you'll see how your content related to that topic compares to the top 20.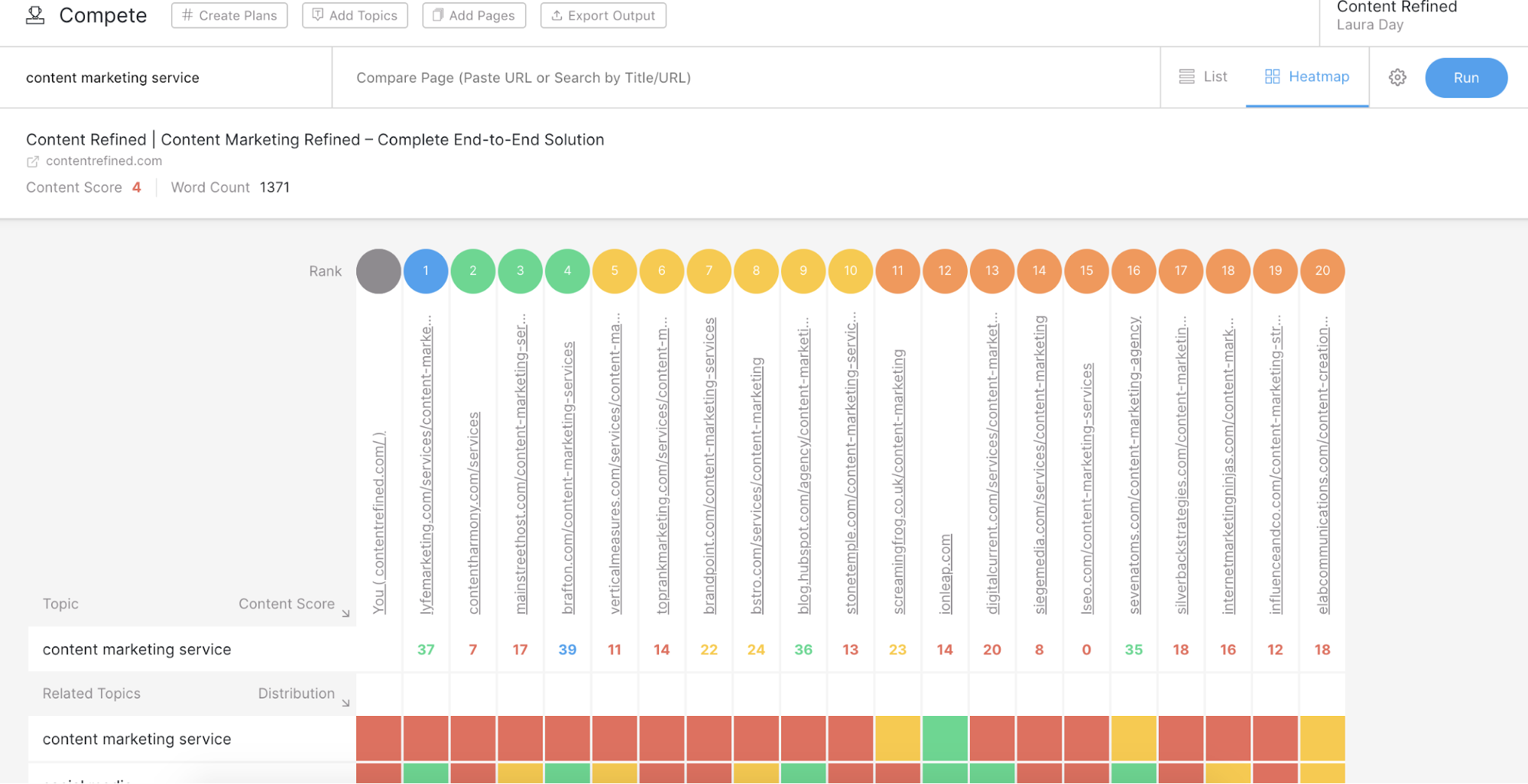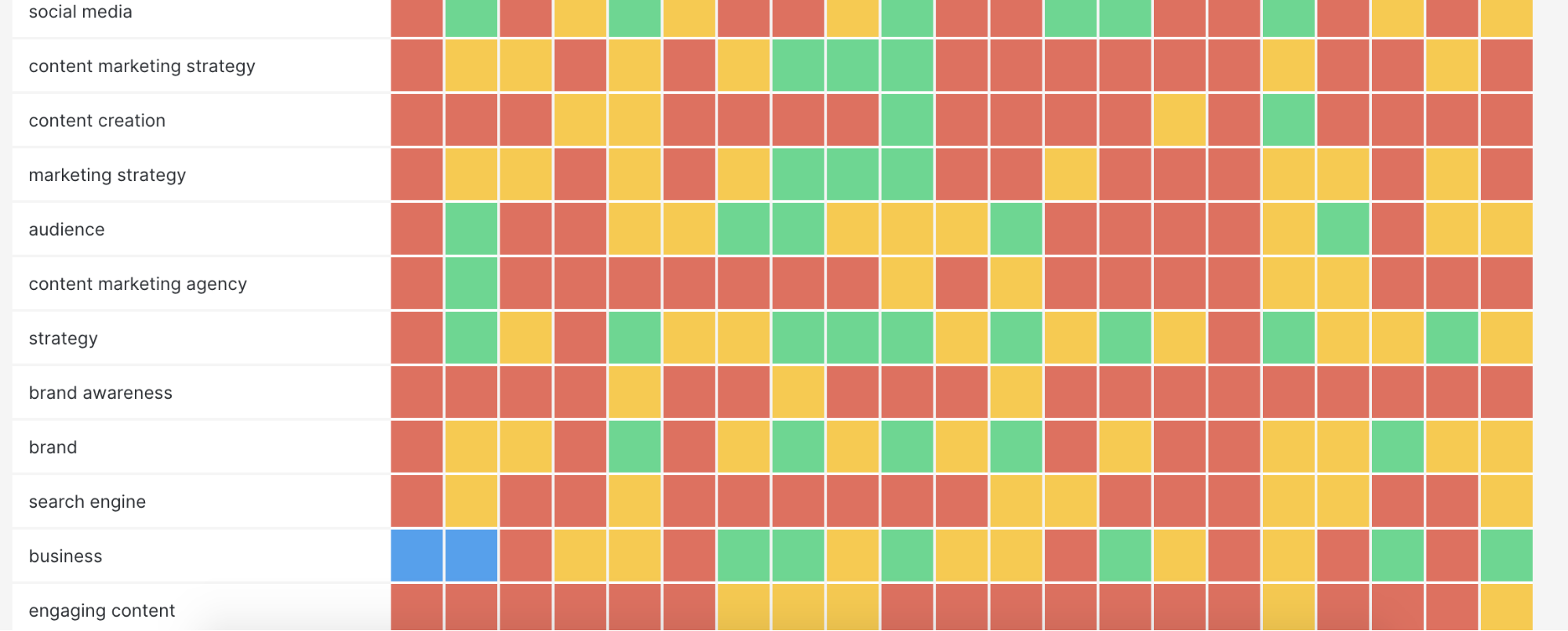 I love this because it clearly shows your content gaps. It also shows your competitors' content gaps, so you can decide where to capitalize on their gaps within your article(s).
What Questions Does Your Content Need to Answer?
Go to 'Questions' in the left-hand column and type in a focus topic again. This feature is pretty cool. It phrases related search queries as questions.
This is especially important now because so many people use voice command on their devices. If you're asking Siri, Alexa, or Google Home, etc. about something, you're likely to phrase it as a question. So for content creators, why not title some of your articles with those questions? Then you're more likely to come up as a top result.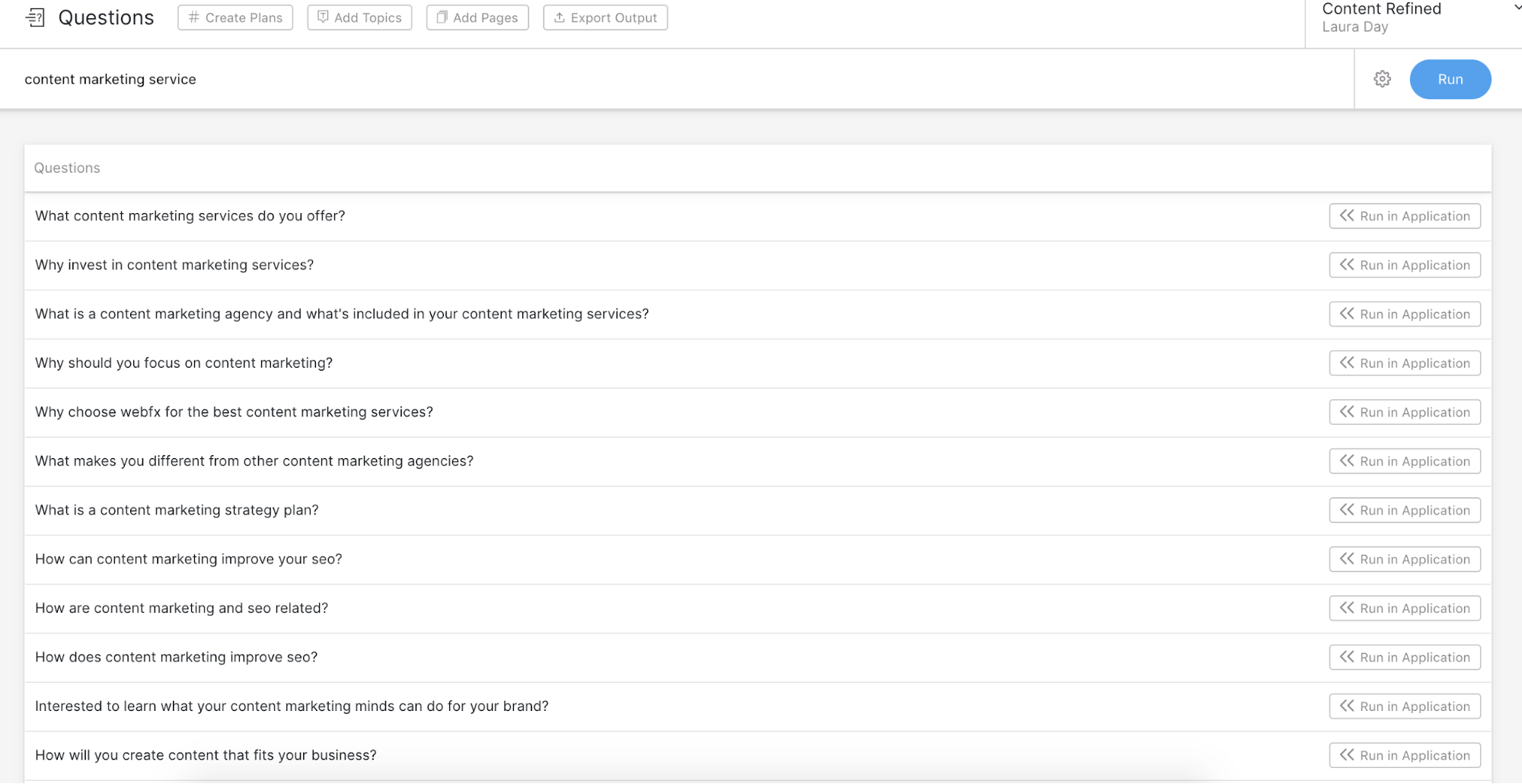 A lot of those options could be turned into their own articles. They could also be subheadings within one monster article. A typical rule of thumb is that the longer the word count, the more chances your article has to rank (so long as it's well-written, useful information). Also, you don't want to have articles that are too similar in content, because they'll be competing with each other for rankings.
Part Four: Content Creation and Content Upgrades
From here, you have enough information to get some content underway.
For any articles that need some updating, you can send it off to your writing/editing/content team to expand upon and republish. For any content gaps, you can build upon existing content, or create new articles related to your field.
This is a quick overview of some of the ways in which we perform content audits. It's always a little subjective depending on the website and the field/niche.
There are some other tools we use depending on the audit. Ahrefs has some great functionality as well. We've used it for prospective clients who are looking to buy new sites and aren't sure of the content competition and opportunities available for each site's niche.
Basically what we do there is, similar to MarketMuse, run some data analysis on high-level topics. We can see the competitiveness of some of the keywords for each field/niche. Then we can compile those into one folder for quick access and discuss it with our client.
Final Thoughts
What are you trying to achieve with your website content audit? If you know what information you're trying to find, you'll be able to use these steps to guide you through that process.
Questions? Reach out to us. Book a quick call with Narcis to get some professional insights on your website content needs. Or email us: narcis@contentrefined.com.