Content is king in today's marketing world, but marketing is queen. You must implement precise content marketing strategies to generate leads, increase brand awareness, and reduce customer churn.
Well-rounded digital marketers assume their strategies are enough to succeed in the data-driven B2B niche, but this is not the case. Content marketing for B2B differs from B2C content marketing, although content creation is similar on both fronts.
Developing effective content marketing tactics requires deliberate planning to curate clear, targeted content and stay within budget. We will delve into the top three B2B content marketing tactics you need to start using today.
What Is B2B Content Marketing?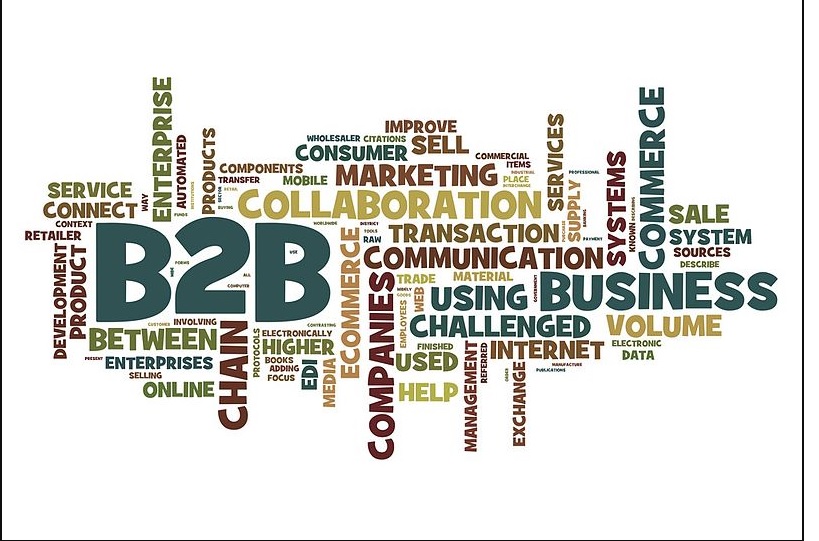 Business-to-business (B2B) content marketing is the art of using high-quality content to appeal to businesses' needs. The targeted content must have a clear goal: to increase traffic, generate leads cost-effectively, drive revenue through your business, or promote your brand.
The ultimate goal of B2B marketing is to generate leads and increase sales. Since B2B marketing appeals to managers with varying demographics, content marketing strategies differ from those for B2C (business-to-consumer) content marketing. Balancing the budget, creative demands, and digital sales funnel choices to impress a defined niche are the building blocks of tailoring B2B content marketing strategies.
The Difference Between B2B and B2C Content Marketing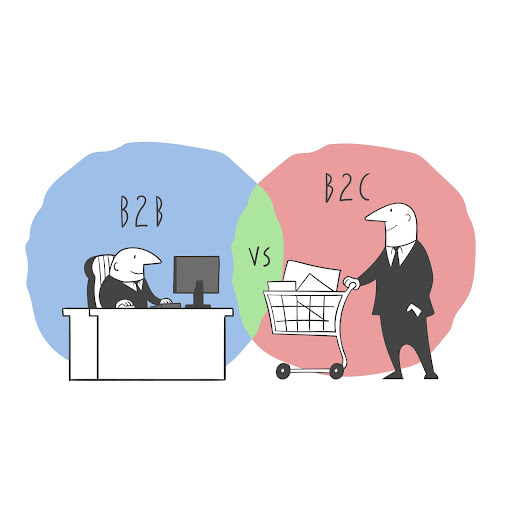 Both B2B and B2C content marketing aim at increasing sales. But that's where their similarities end. B2B content marketing targets department heads and business managers who want value-based content. B2C content targets customers' emotions, making them relate to the brand before purchasing.
B2B content marketing requires far more research to develop high-quality content. The audiences also differ, and you will build different personas for each business. Email marketing, LinkedIn Ads, and Twitter are usually the core channels to promote content for B2B marketing, while for B2C marketing, you will use social media, including Instagram and Facebook, and Google Ads frequently.
Why Is B2B Content Marketing Important to Your Business?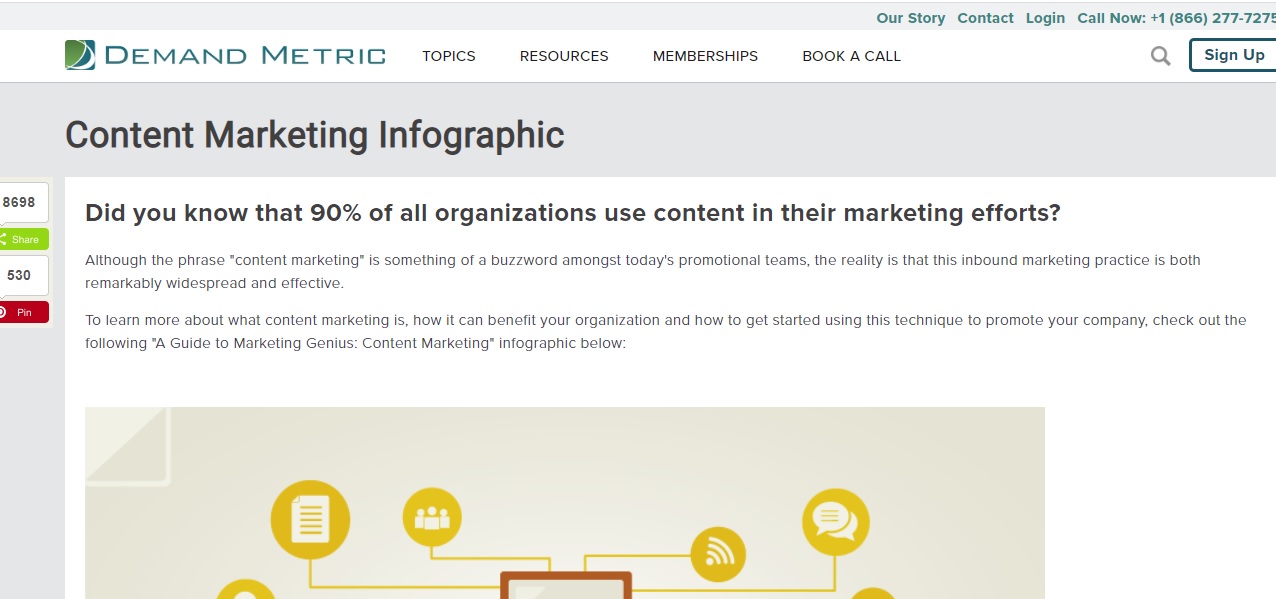 The allure of B2B content marketing is predominantly the immense ROI. Content marketing costs 62 percent less but generates three times more leads than traditional advertising forms. The ROI is probably why 91 percent of B2B marketers use content to drive value through the company's verticals. Here's why your business needs B2B content marketing:
Generate Cost-Effective Leads: Generating new leads is usually more expensive than nurturing current ones. However, with effective B2B content marketing, you can address the pain points of a defined niche and significantly cut costs.
Increase Customer Retention: Curating informative and engaging content ensures your customer base continues to trust you as the go-to brand. By continuously solving evolving customer problems, you reduce the customer churn rate.
Attract Potential Customers: B2B content marketing puts your content and brand in front of as many eyes as possible, increasing traffic and attracting potential customers through value-based content.
Establish Thought Leadership: Your business stands to gain a lot if you are the expert source with data-backed insights in your niche. Other businesses backlink to content that serves as the benchmark for companies in the same niche.
Increasing Brand Authority: Solution-based content builds credibility and reliability among your customer base. Clients and prospects will likely work with your brand if it provides reliable and effective solutions to their problems.
Companies that get B2B content marketing right get an uptick in revenue and brand awareness. Sometimes companies dive headfirst into content marketing without a specific strategy or a reliable content marketing service (CMS). The result is driving up the marketing budget and getting mediocre results.
Here's the kicker: B2B content marketing is more than tweeting twenty times about your business. Content marketing is not about you. It is about the business you are targeting.
With that, here's how to build an effective content marketing strategy for B2B advertising.
How to Build an Effective Content Marketing Strategy
1. Scope Out the Market
B2B content marketing relies on establishing yourself as an industry expert. Remember, your content is reaching other industry experts who have pain points and want to ease them. From a managerial perspective, your customers seek long-term solutions to improve their company's bottom line.
Research is key to understanding what resonates with your audience and how you can develop solution-based content through blogs, emails, and white papers to add prospects to your customer fold.
Remember, research is a multifaceted approach, and you must use multiple tools and techniques to develop a data-backed B2B content marketing strategy for your business. A surefire way to do market research is by building buyer personas.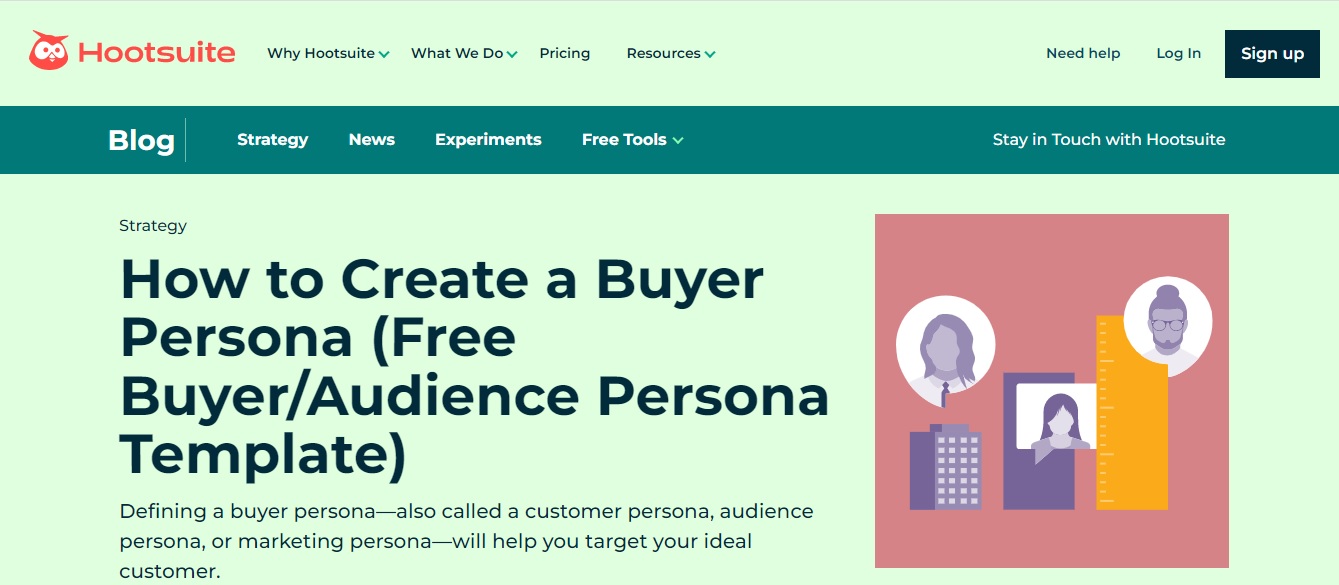 A buyer persona is a semi-fictional representation of your ideal customer. For example, if you run an interior design company, your buyer persona would be a hotel, school, or art gallery. Every persona is unique, and you must focus on their needs, behaviors, and trends rather than job titles.
Admittedly, many businesses falter at the first hurdle of building buyer personas. Do not make assumptions; instead, make educated guesses backed by data for insights you cannot access. Also, do not create too many buyer personas, as this will split your budget and could spread your content strategy too thin.
Research can be as simple as using social listening to understand what your competitors are doing. Competitor analysis shows your competitor's tactics, which keywords they rank for, and their brand positioning.
During the research, you unearth how the audience perceives your business. Ask yourself key questions when developing your research method. For example, what are the customers' goals? How does my business help them? At what point in the B2B sales cycle are the customers? What will make prospects work with you?
2. Explore Marketing Channels
Every good marketer knows that not all marketing channels are equal. But intelligent content marketers know which channels are best for B2B marketing and which generate the most leads.
During the research phase, you saw which channels have higher engagement than others. Use those that display the most B2B content. LinkedIn is a leading platform, but you can use Twitter for real-time engagement or search engines to reach a wider audience.
The type of channel you choose determines the budget and the kind of content you must create. For example, you cannot post a lengthy informative video on Twitter. Generally, there are three types of channels for B2B marketers to exploit; paid, organic, and owned.
While exploring marketing channels, identify gaps that you want to utilize. Before scanning digital marketing channels, do a web audit using this informational blog to identify gaps within your website. You will be surprised by the missed opportunities in your backyard.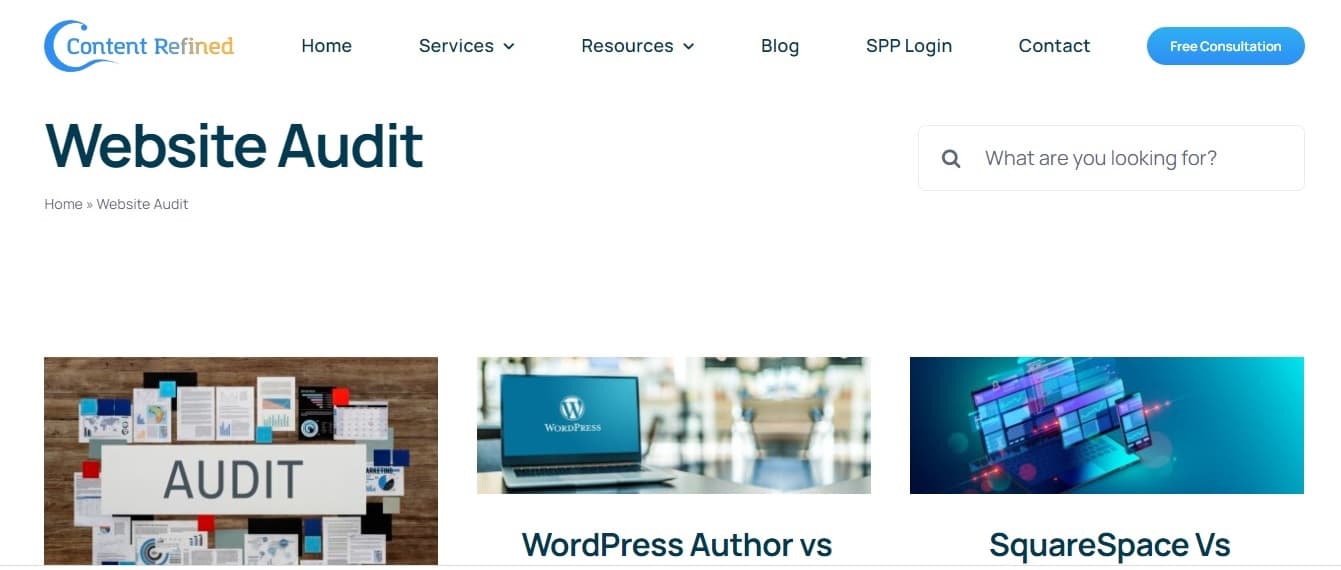 When you find the channels that represent the best value for marketing your content to other businesses, know how you can improve performance and automate marketing on those channels. For example, if you use email marketing, you will want to create personalized emails. Therefore, a big chunk of your marketing effort should focus on creating content that forms strong relationships with individual businesses. Wow the decision-makers by making them feel special.
Ensure your business is on the minds of your customers through marketing on channels they use. As a rule of thumb, consistently upload high-quality content at least twice a week while creating engagements weekly.
3. Set Your Budget
We all desire an unlimited digital marketing budget, and no B2B content marketer is short of ideas about the next big content marketing strategy. However, since every company has a limited budget, you must prioritize some channels over others.
Generally, you will want to use Google Ads for high-converting assets. Most of your budget will go into ad spend, and it will fluctuate depending on the cost-per-click (CPC) of your industry. LinkedIn Ads provides a platform for targeting key decision makers, which is what you want.
Be careful with paid media since you can target almost everyone. Doing so isn't necessarily bad, but if you get it wrong, you'll bleed your budget for only a handful of clicks. If done correctly, you will improve your brand positioning and ultimately bolster your search engine rankings.
Using past marketing campaigns can estimate the monetary commitment you will make in your current B2B campaign. It is prudent to involve the finance team at this stage of the plan.
4. Monitor KPIs
The ultimate goal of B2B content marketing is to drive profitable customer actions. To evaluate whether you are hitting your targets, you need to set up measurable key performance indicators. The two most valuable KPIs are lead generation and lead conversion for a B2B marketer. There are many ways to track your content's performance depending on the channel you use.
Since B2B content marketing is a never-ending process, you need to update yourself on the best success metrics to track. Google Analytics is a valuable tool every content marketer should have in their toolkit. You can view your dashboard's click-through rates, bounce rates, and backlinking stats. Monitoring KPIs allows you to identify pitfalls to avoid and opportunities to utilize.
If you use email marketing as your preferred mode of content distribution, you can monitor your email list's open-through rate and subscription. More in-depth pointers include assessing whether the recipients responded to your call to action. Here's how to effectively measure marketing ROI and improve inefficiencies.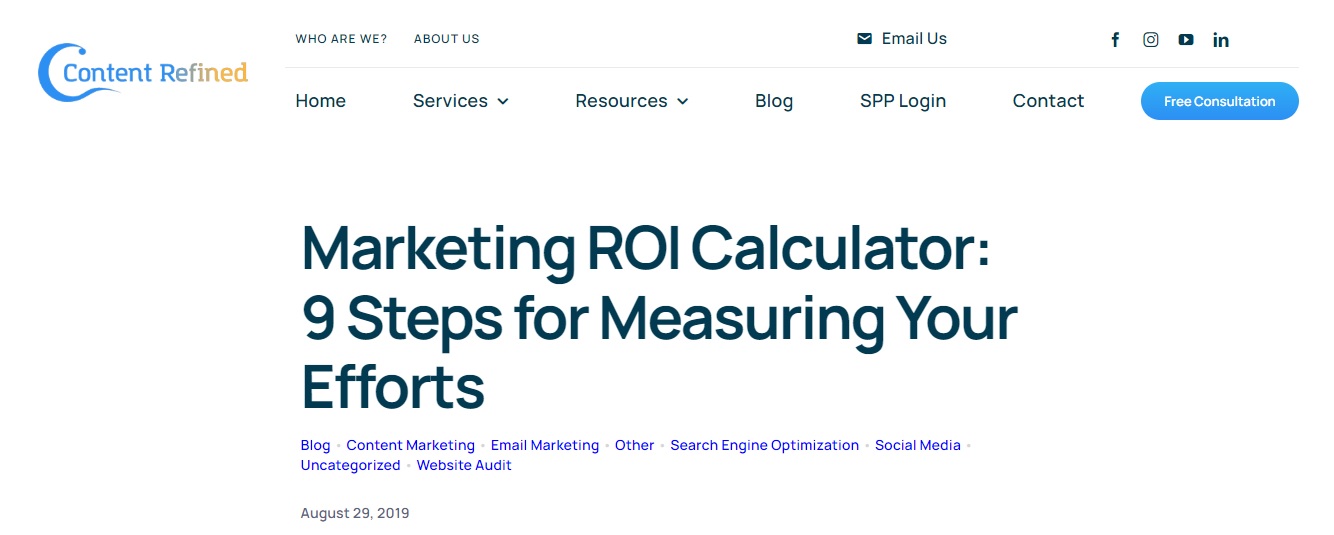 The best marketers infuse analytics with business intelligence dashboards which may be overkill. But if you have the budget, why not do it?
5. Update Your Strategies
As previously stated, no B2B content marketing strategy is set in stone. Every day you will get new insights into how your strategies are fairing. Using your KPIs and other set metrics, you'll pick up on tactics that work and those that don't.
Updating your strategies to suit market trends and customer needs is essential. However, ensure the brand's tone remains consistent despite your change in tactics.
Top 3 B2B Content Marketing Tactics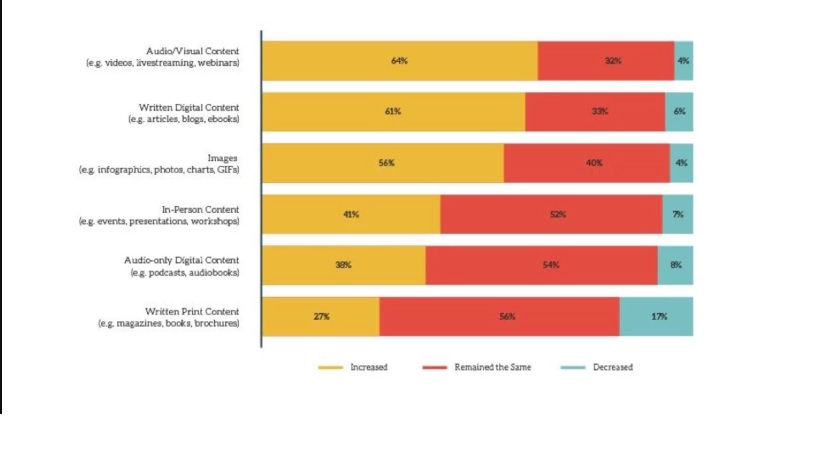 Before we proceed, it is wise to note that no content marketing technique is universal. Ultimately, success depends on your stories and the channels you use to tell them. However, as the Content Marketing Institute points out, a well-documented content marketing strategy aligned with the company's goals accounts for success, as reported by 69 of the most successful brands in 2020.
1. Create Multilayered Content
Your customers are already exposed to tons of marketing content, so you need to leverage content in a way your competitors aren't. Written content is the core of B2B content marketing, but it isn't the only tool at your disposal.
Compelling storytelling to inform, educate, and convert leads means using multilayered content incorporating videos, newsletters, testimonials, webinars, and podcasts. To do this, you need to have an idea bank where you can curate content ideas from scratch. Alternatively, if you have existing content, you can give it a fresh spin.
For example, if you have existing content on "The Top Content Marketing Software for 2019," do a summary video highlighting the valuable parts of the software. B2B content must have a professional tone, but that doesn't mean it should be boring. Infuse wit and charm but be sure not to inject personal opinion. When curating your multilayered content for the B2B space, infuse your value proposition and ensure it is more informative than promotional.
2. Optimize For SEO
It is pointless creating content that doesn't rank highly. You should optimize every piece of content you create for search engines. While you may not solely use search engines to promote your brand, optimizing for SEO improves your rank, which drives organic traffic to your site. You can then convert the leads to long-term clients using transactional phrases, like "subscribe for free travel deals."
Getting the correct phrases and developing content based on them requires a deep understanding of the intent of search by an internet user. After you find the right keywords you want to rank for (using must-have keyword research tools for a content marketer), you cannot whip up a blog post stuffed with the keywords and expect success.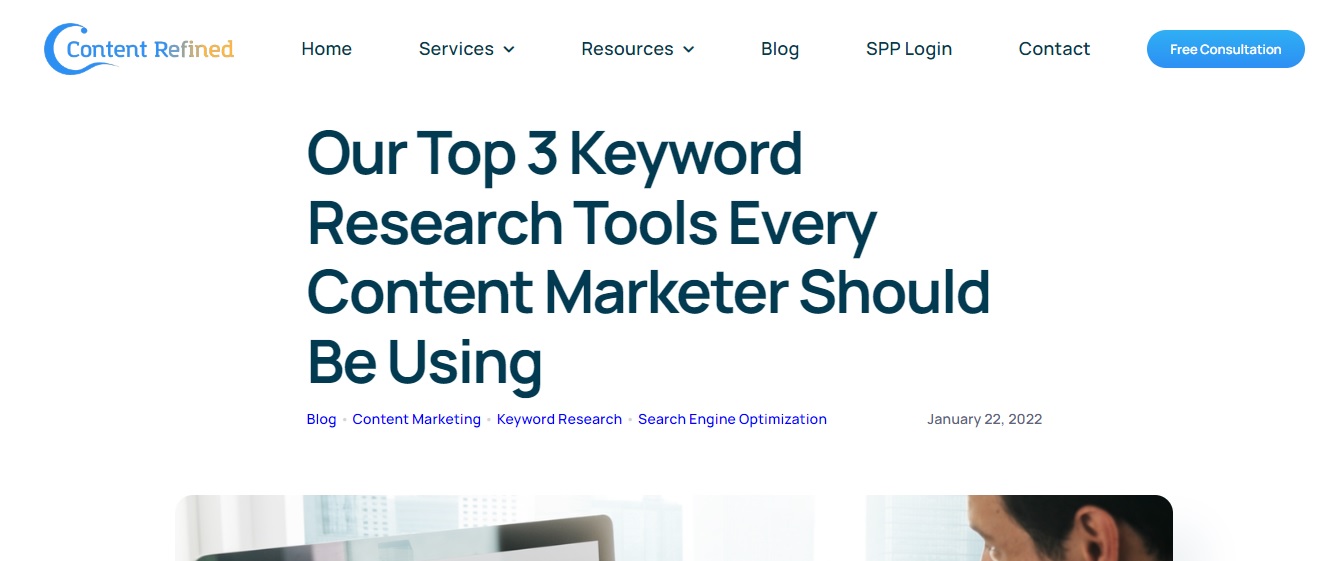 Infusing keywords and related phrases into B2B content requires brainstorming sessions. If you are working with a limited team, coming up with creative ideas for the generated keywords may be complex. However, using a content marketing service can take the guesswork out of generating keywords, creating content, and optimizing for SEO. Services such as Content Refined streamline content marketing from ideation and creation to continuous updates, all backed by a content marketing calendar to ensure you do not miss a deadline.
Other SEO tactics include building links and meta descriptions, using voice search, and optimizing your content titles. Do not rely solely on SEO. Try out-of-the-box strategies to market your content, such as surveys and online polls.
3. Leverage Cross-Pollination
In line with your business goals of establishing thought leadership and marketing your brand as the chief source of expert information, you will come across established experts in your niche. Your content marketing team's job is to create high-quality, value-based content to unseat these brands.
A tactic that usually goes under the radar is cross-pollination. Guest posting, a subcategory of cross-pollination, improves your authority in the industry. You naturally set yourself up for success when you develop informative content with data-backed sources.
B2B decisions are fact-based. Therefore, other businesses like yours will have no option but to link to your post. You may be tempted to publish unverified data, which degrades your credibility in the long run. Cross-check your facts against multiple sources before publishing B2B content.
You do not have to beg for backlinks from authority sites in the digital age. You can invite industry experts to engage in round-up posts of content you produce. The level of engagement these high-value individuals create exposes your content as a reliable source approved by experts. In some niches, you can use influencer marketing to establish thought leadership.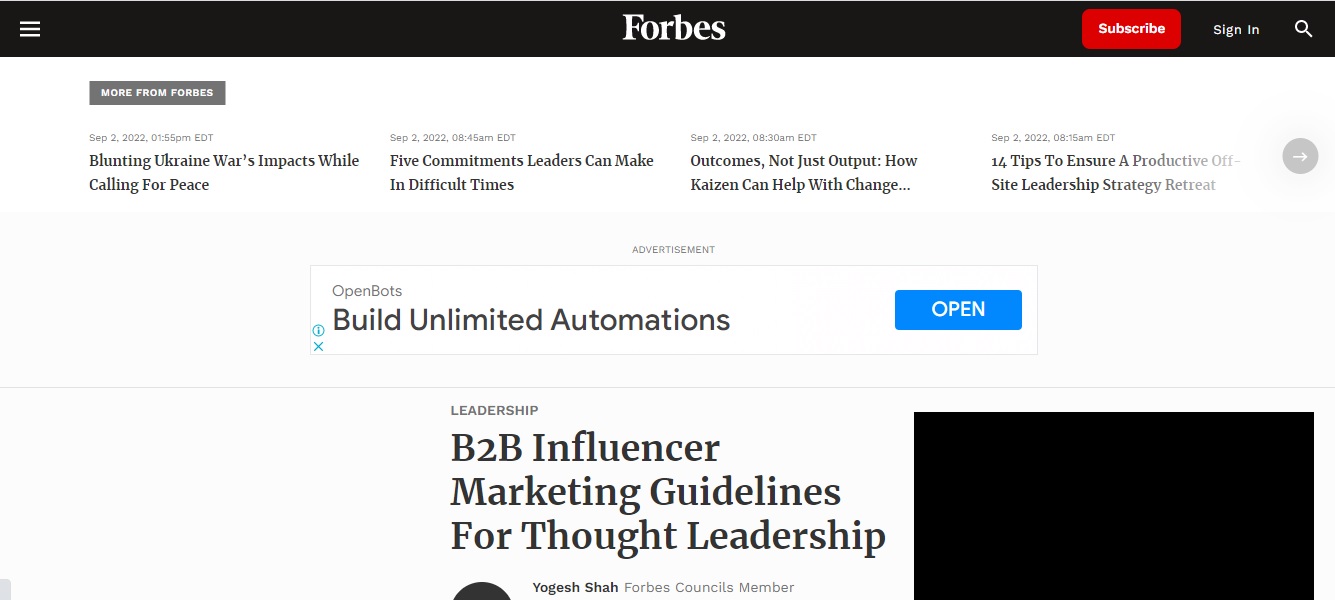 Backlinks and round-up posts improve your rankings in organic search since search engine algorithms display results that answer users' queries. You can infuse purchase intent phrases into your cross-pollinated content to ensure the potential customer finally purchases from your website.
Ready to Develop Your Marketing Strategy?
At different stages of the B2B sales cycle, you will have to use more than one tactic to increase traffic, attract potential customers, and drive sales. It may seem overwhelming at first, but once you secure the bases, it is smooth sailing with only a slight readjustment to your tactics.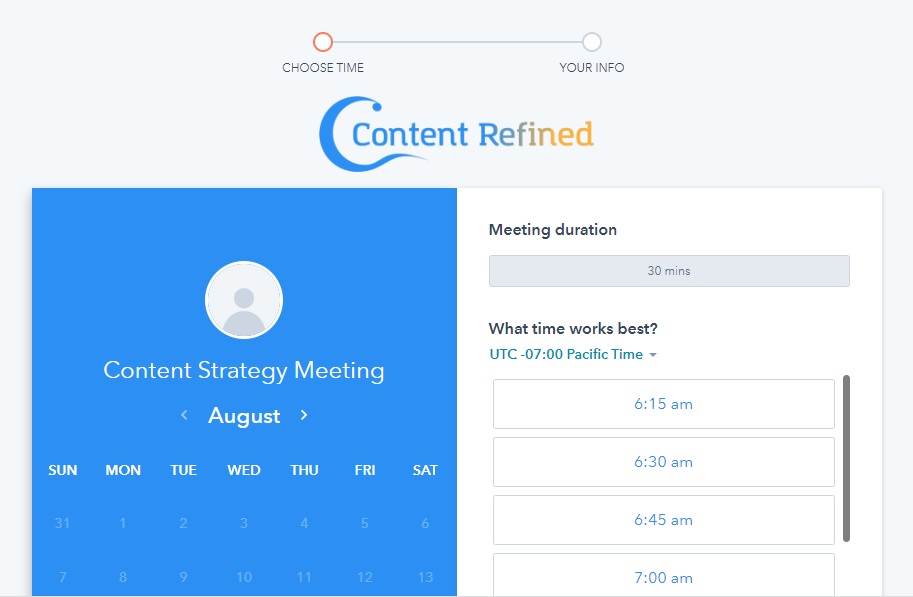 Streamlining B2B content creation and marketing must be embedded in a reliable CMS like Content Refined. We know the ins and outs of SEO and B2B marketing and want to help you grow your brand by promoting high-quality content. Reach out to us and set up a free consultation on developing an end-to-end B2B content marketing solution.