Remember the old days when traditional marketing was called advertising and we pushed every brand known to man through newspapers, magazines, radio and TV spots? We used funny billboards to grab the attention of people driving down the road. Even though social media has totally changed our way of life, we do still use these old ways—just not as much. Nowadays, however, if you want your business to have a prayer of succeeding, especially if you are one of the many up-and-coming small businesses, you have to embrace the beast that is social media! Read on for the true benefits of digital marketing.
Over the past 18 years, "the number of internet users has grown from 738 million to over 4 billion." Everything is about being online. From our daily news to the juiciest celebrity gossip, we get all of our information online. We even look for businesses, doctors, and our favorite cupcake shop online. We shop, we surf for kitten videos, and we support YouTube channel social influencers. If you haven't watched a popular YouTuber recently, you're way behind.
YouTubers and Instagram influencers are the new bread and butter of marketing any business. Popular YouTubers like PewDiePie and Ryan Higa have over 100 million followers! Talk about a place to start advertising. But before you approach the vast space of digital marketing, there are a lot of things you have to think about.
1. Online presence
First, think about the state of your online presence. Do you have a website that sees continuous traffic and maximizes customer experience? Do your products make their way to social influencers? Does your website sparkle and shine to bring in customers? Or is it a plain, out-of-date template that needs to be goosed? If tech isn't your thing and the words "digital marketing tactics" scare you, bring in a digital marketing agency to help you out. These people are experts in product placement in the right media and website design for maximum returns on your marketing dollars—and get your name out there on the leading social media platforms to boot.
Next, do your research. Every business needs to achieve certain metrics to be successful in their marketing efforts. People have to know about you, you have to promote your services and/or products and increase brand awareness, and you need to keep an eye on the competition. Find out what they are doing with some online recon. Figure out where they are successful and develop a plan to beat them at their own game.
Once you have your presence on digital platforms up and running, you will see a greater return on investment. What's great about digital marketing software is that it tracks your new incoming traffic, repeat visitors, and how well your marketing is turning visitors into buyers. Now, if you're a small business, you may have to outsource this work to a marketing agency to maximize media coverage. It takes teams of people to manage digital marketing campaigns and owners of small businesses don't usually have the manpower to do it.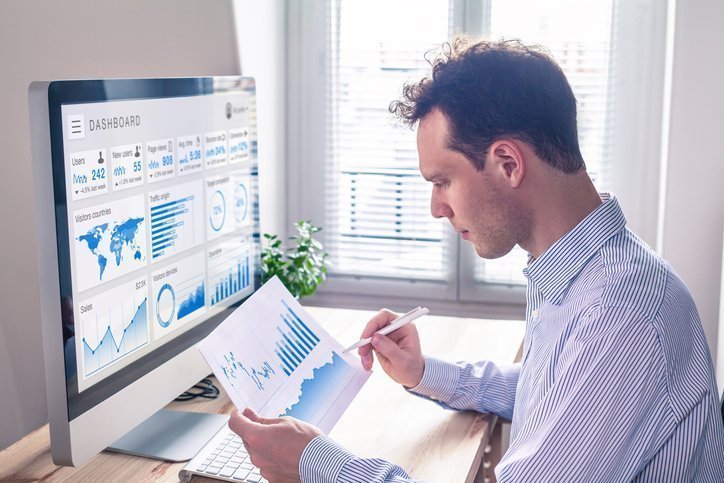 2. Winning Strategies
When you dive into the deep end of the digital marketing pool, you are aware of the latest strategies of all the competitors in your industry. This is another reason to have a team—things in cyberspace are constantly changing. Not constantly as in every week; constantly as in every minute of every day! If you don't have a team or agency, you will get frustrated trying to keep up with every new marketing strategy.
One of the best things about digital marketing is the available tools and services.
These tools, such as Moz, Ahrefs, SEMrush, and HootSuite, can totally help you run your campaigns. But they are way too expensive. Small business owners may not be able to subscribe to or buy the software. That's where your agency comes in. Digital marketing agencies give their clients access to these tools and services because they can afford to have them.
3. Following Trends
After you have your online presence, your digital marketing team, and a good grip on where to sell your stuff, it's time to start paying attention to online trends. Now, you don't have time to live your life for the latest memes or trending videos. Have your digital marketing team name the best person as a trend follower so that person can respond in real-time and get your business lots of exposure.
And that exposure is directly related to your company's online reputation. When you sell to customers, ask them to post a review of their service or product. Nearly 100% of customers will read an online review before they consider buying hot new items.
Manage your pages, look over your online reviews, and always reply to comments on your social media.
4. Staying Relevant
Because the world lives most of its life online, you need to have that strong digital presence to keep your company relevant in your industry. You may think that your industry doesn't "use the Internet" but don't be fooled. There are websites out there for even the weirdest businesses: broken doll repair, head lice removal, rent-a-chicken, and cat cafés! The best way to stay relevant and successful is through a fabulous digital marketing strategy.
5. Searchable Equals Sales
And customers love a company with a big online presence! This makes their lives easier. So many people in today's world would much rather order something online than have to go to a brick and mortar store. We love our convenience and we are willing to pay for it. Customers overwhelmingly want to deal with businesses that focus on customer service—and that means an answer right now. If you have a rapid response plan for dealing with customer questions and complaints, you are more likely to keep those customers. If they have to wait, they will simply go elsewhere.
Did you know that 53% of people who search for a local business online, often visit the business within 48 hours? If you don't have a virtual presence, you will lose out on dozens if not hundreds of potential customers and sales.
6. Staying Fresh
You really need to keep your digital presence fresh. A website that only gets updated every few weeks—or worse, once a year—is not going to help your business. Let's keep up, people! Now, with ever-changing trends, it can be tiring always thinking of new ideas. You need a team you can count on for creating new and fabulous marketing ideas on a daily basis. Luckily, there are people out there who devote their days to doing just that. Find those people and use their talent.
Do it Digitally
Starting with a great team, whether within your business or an outside agency, is the first step to creating a fantastic digital marketing strategy and get your brand out there. Though traditional marketing still has its place, keep your revenue flowing in by keeping on top of trends, coming up with fresh ideas, and always treating your customers like they are the most important thing to you—because they are.