Article writing can be exciting, informative, and a great way to develop content for your website, business, or social media page. However, writing isn't always easy, so having the best artificial intelligence article writing tools on the market today is key to online success.
In the content below, we will provide a detailed comparison of the six best AI writing software programs for content creation, why we like each AI writer so much, and which AI article writing tools are better for each area of article writing.
Top 6 Article Writing Tools
Below are six AI writing software programs ideal for perfecting your AI content. Whether you are jotting down a quick snip for your social media page or writing a long article about your favorite ways to meditate, one or more of these AI content writing tools will benefit your content marketing goals.
Before jumping online and grabbing the first AI writing tool you see, take a quick look at the information below for each AI writing assistant.
Rocket Content: Best for Quick Turn-Around Time
Subscriptions: Test Flight $220 (10 articles/10,000 words), Moon Mission $1,500 (100 articles/100,000 words), Mars Mission $13,000 (1000 articles/1,000,000 words)
Rocket Content is unique in the AI writing tool world. This AI writing software takes the benefits of human writers and AI writers to create some of the best AI content out there while saving you time on editing.
This AI content writing program offers social media content with a quick turnaround time, SEO optimization, images, keyword research, and more.
Rocket Content as an AI writing assistant is the best choice for you if you are okay with just making a few corrections in your final articles before posting them to your site.
Pros
Thorough keyword research
Great customer service
Only a few corrections will be required
Publishes content for you
Cons
Keyword to post lengths are tricky
Requires additional editing
Jasper: Best Guided Article Writing
Subscriptions: Starter $29 monthly, Boss Plan $59 monthly, or customized plans for businesses (5-day free demo for both plans)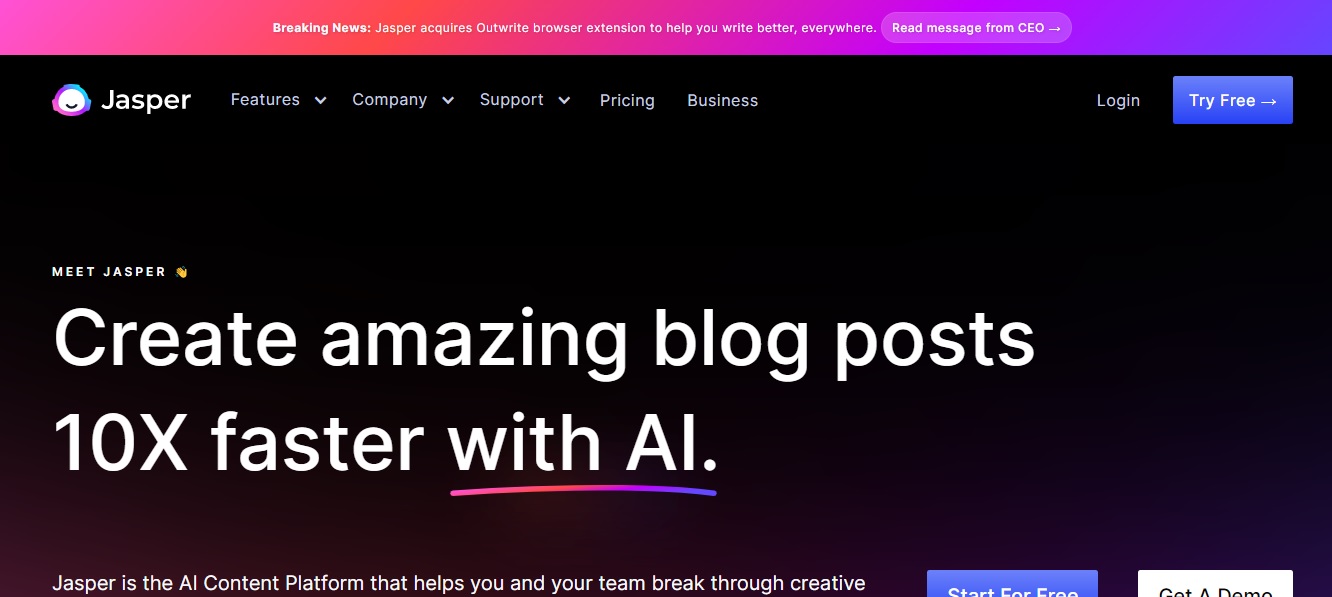 Jasper is an excellent AI article writing tool for content creation beginners, as the learning curve isn't very steep. You can figure out how to create brilliant content with this Jasper AI writing software simply by watching a few videos designed by professionals.
This Jasper AI program is designed to help you get through any area of writing, whether it be blogging, business documents and emails, social media posts, etc.
The features offered by Jasper AI can help users navigate their way through each article in no time.
Pros
More than 50 templates to choose from
Understands 25 languages
SEO program integrations
Content is always plagiarism-free
Easy to use (training provided)
Cons
Must fact-check all content
Information can get repeated in long articles
Grammarly: Best for Accurate Grammar
Subscriptions: Basic writing (free), Premium membership $30 monthly/$144 yearly, Business (customized to team size)
Grammarly ensures that writers of all skill levels create content without error. Unfortunately, errors happen in content generation whether you are just starting out or have many years of experience under your belt with an AI tool. Grammarly quickly and efficiently highlights these mistakes and assists you with the best ways to fix them via its AI writing tool.
You can use this content generation tool by copying and pasting your work to its webpage or adding it as an extension to whatever application you prefer to write with, such as Google Chrome or Microsoft Word.
Pros
Can be personalized to unique writing style
Explains all errors and reasons for corrections
Alerts to errors while writing
More than 250 types of grammar and spelling checks
Cons
Always requires an internet connection
Sometimes, the corrections won't fit the content
Surfer SEO: Best for Keyword Research
Subscriptions: Free (minimal features), Basic $49 per month, Pro $99 per month
If you are interested in winning a top spot in search engines like Google, you want to have the Surfer SEO AI writing tool available when writing your online content.
This AI writing software lets users quickly identify the best keywords to utilize in their articles and how to lay out each writing project – like a blog post, novel writing, or any other form of long form content – for the most optimization when searching for the web.
Pros
It offers many great features, including editing, SEO, keyword research, audit, etc.
Professional live support 24/7
Analyzes content for 500+ web ranking factors
Audits content in just a few minutes
Cons
Image suggestions and keyword usage analysis are often too high
Has a steep learning curve
Copy AI: Best for All Writing Assistance
Subscriptions: Free 2,000 words per month, $49 monthly (unlimited words and up to five users)
Whether you are into content writing or copywriting, Copy AI is a great product to have on hand for quality content. This AI writing software program offers many creative and innovative features to help writers get through even the most boring or difficult topics.
All you do is choose the project you need help with, provide context clues, then select the best writing for your AI content generator needs. You will have to edit these articles a little bit here and there to make them perfect and suited for you.
Pros
Provides a fully functioning free version
Offers a long form editor
Has over 100 templates
Supports more than 25 languages
Cons
Requires you to do quite a bit of fact-checking
Sometimes content provided is random and doesn't fit in the article
Hemingway Editor: Best for SEO Content
The Hemingway Editor is one of the most popular SEO AI programs available today for article writers. This AI content writer ensures that your content is easy to find in search engines and helps you rank high in their search bars.
This smart software uses different color highlighters to help you improve the readability of your work, ensuring the AI tool is ideal for easy scanning and search engine optimization.
Pros
Great writing tool to increase the readability of your work
Reduces long, complicated sentences
Syncs with other programs for better writing, like Grammarly
Offers SEO aspects for searchable content
Cons
Does offer guidelines for writing like headings or title suggestions
Not ideal for long articles
The Best AI Software: Face to Face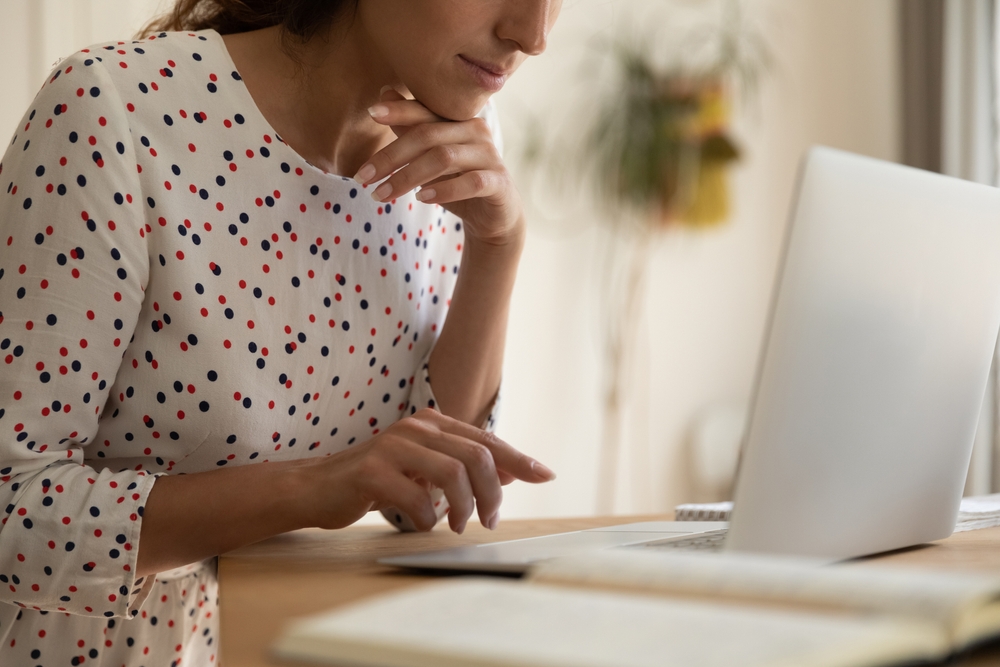 It can be difficult deciding which AI content writer is best for each project when writing online content. For that reason alone, we wanted to make a little side-by-side comparison of our favorite AI tool products.
Best in Cost and Subscriptions
Best for Grammar and error-free writing: Grammarly
Best for SEO and keyword optimization: Surfer SEO
All the AI content writing software programs listed above offer free versions or, at the very least, free trials. This content creator is great for anyone new to the writing world and looking for the best AI writing software for their needs.
However, for the purpose of this article, we decided to break down the best AI writer in terms of cost and subscriptions into two categories.
Grammarly offers excellent services for a relatively low price. Even though the monthly cost is a bit expensive, the yearly subscription for this software tool is more than affordable, and the free version of this content creator is all you need for basic writing corrections.
Surfer SEO does a fabulous job of providing valuable keywords and the number of times you should use them in every article. This is the perfect AI writer software for anyone looking for SEO assistance at a very affordable price.
Best AI Article Writing Tools for SEO Assistance: Rocket Content
The best program for SEO Assistance is Rocket Content
There is no better way to bring readers to your website than by offering the best search engine optimization features.
In this category, Rocket Content wins by a long shot. This AI content generation tool does an extremely impressive job at locating top keywords and utilizing them in the best way to optimize your content in various search engines.
Best For Easy Readability and Phone Views: Hemingway Editor
The best program for accessible reading material is Hemingway Editor
You typically write on your desktop or laptop computer when you create content. However, many people will do quick searches from their phones or look through social media on various devices. Due to this, it is essential to provide an easy reading in certain areas.
The Hemingway AI writing software ensures your sentences aren't ridiculously long and helps you edit lengthy content into shorter pieces.
This AI writer program also lets you know if your sentences are too confusing, your words are too complicated, and when you are using weak adverbs that have better alternatives.
Best for Guidance and Article Structuring: Jasper
The best software for guidance and article structuring is Jasper
When you are putting an article together, you must ensure that the outline and format are perfectly set up and make sense to the reader. For many people, having templates that lay out how to craft fantastic content is highly beneficial.
Jasper AI provides plagiarism-free content structures in more than 50 set templates. While this program is a bit more expensive than others, it is useful in tons of different types of content.
Which Product Is the Best AI Article Writing Tool?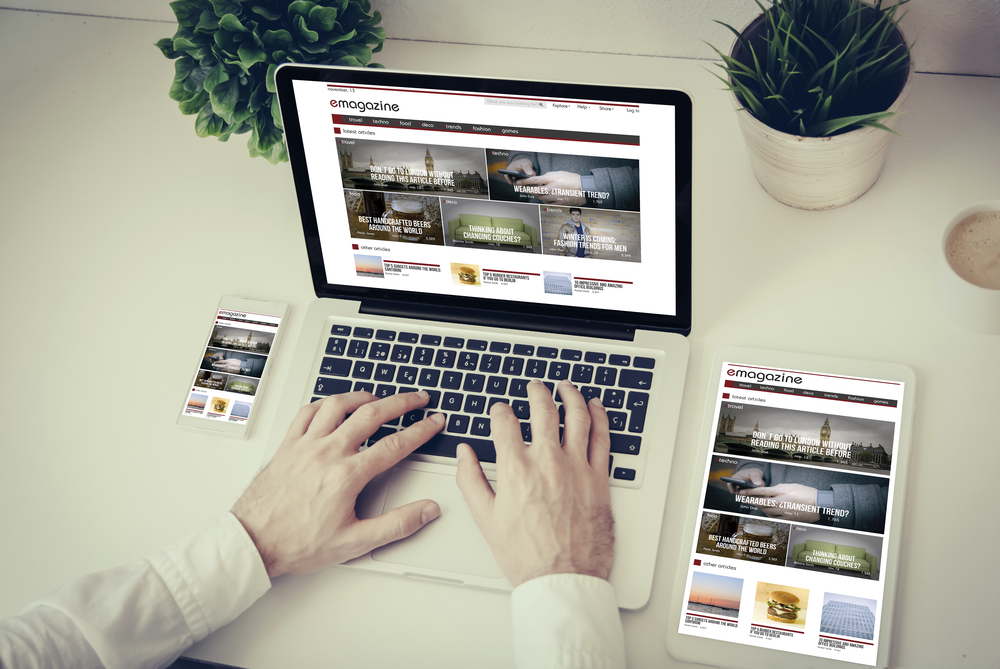 The best AI article writing tool to use will depend significantly on what types of articles you write and what your overall intentions for the tool include.
Rocket Content
 Get Rocket Content for a Quick Turn Around
Rocket content uses a cyborg style of writing, combining the intelligence of computers and humans to provide great content quickly.
Jasper
Get Jasper for Guided Article Writing
Jasper provides more than 50 writing templates that you can choose from. These templates help create unique content for all different writing styles.
Grammarly
Get Grammarly for Perfect Grammar and Error-Free Writing
Grammarly offers error-free writing with spell check, grammar checks, and suggestions to fix mistakes.
Surfer SEO
Get Surfer SEO for Keyword Research
Surfer SEO is the best tool when looking for the best keywords for every article. It gives you great ideas and lets you know how many are needed for each piece.
Copy AI
Get Copy AI for Writing Assistance
Copy AI is used to help enhance article writing in all areas. It provides a massive number of templates and features to create the best content possible.
Hemingway Editor
Get Hemingway Editor for Easy Readability and Phone Use
Hemingway Editor is the perfect tool to ensure your articles are easy to read. This should be a go-to for anyone who wants their articles to be easy to scan, especially when using a mobile device.