Live streaming has become the new norm in entertainment today, and Twitch is one of the most popular platforms available to watch and record a live stream.
When you are ready to upload your next live stream, you want the best streaming tools for Twitch on hand. And we have two of the top live streaming software products listed below.
But before making any final decisions, look at this master streaming software matchup, Streamlabs OBS versus XSplit, to see which live streaming software is best for you.
Best Streaming Tools for Twitch: Streamlabs OBS vs. XSplit
There is no shortage of live streaming software on the market today. With so many video streaming influencers on the rise, there is a high demand for ways to upload content quickly and easily, whether it's YouTube gaming, a Twitch streaming platform, or any social media platform.
As the number of online entertainers increases, so does the availability of programs to help them become famous.
Streamlabs OBS and XSplit are two of the more popular options for this task, so let's talk a little bit about them.
Streamlabs OBS: By Logitech
Subscription: Free base version (limited features), $19 per month or $149 a year
Features:
Operating system: Windows
Device support: desktop
Deployment: web-based
Available app: no
Streamlabs was founded in 2014 in the state of California and was purchased by Logitech in 2019. This company is one of the top software providers for any Twitch streamer.
This open-source streaming company offers free and paid subscriptions to its customers. The free live stream version is ideal for those just getting their feet wet in the streaming world, while the paid subscription is geared toward live video creators with a broader audience.
Pros
Offers a free starter service
Great for all user levels
Grows with the streamer
Pre-made templates
Easy and guided interface
Cons
Doesn't offer a lifetime license
Only paid customers get access to merch stores
Many features are only available for purchase
XSPLIT: By SplitmediaLabs
Subscription: Free base version (limited features), $15 per month, $60 per year, $200 for a lifetime subscription
Operating system: Windows
Device support: desktop
Deployment: web-based
Available app: no
XSplit is an application released in 2012 by SplitmediaLabs. This is a popular live streaming and broadcast service primarily used for gaming and video mixing. It allows users to release content to multiple live video platforms without additional work.
While XSplit is known for live gaming, mixes, and creative content on Facebook Live and YouTube, it has also become very popular with Twitch, Twitter, and other large online platforms.
Pros
Auto settings for design recommendations
Affordable
Lifetime updates
Customer support available 24/7
Cons
Limited access with the free version
Only available with Windows
Can be difficult to use for beginners
Streamlabs vs. XSplit: Which Is Right for Your Twitch Channel?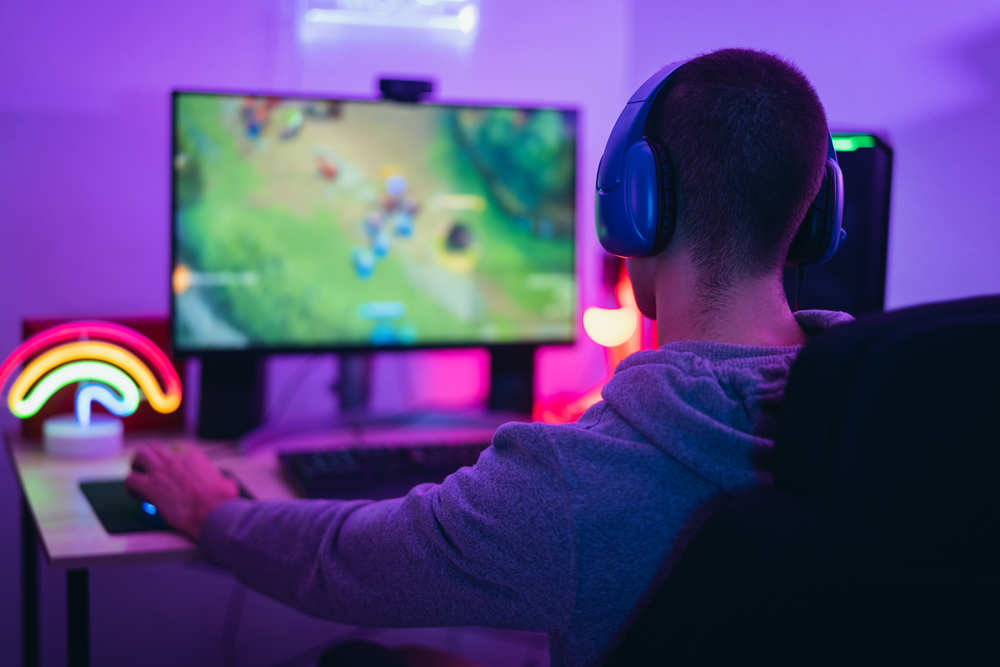 Before you choose either one of these amazing products for streamers, we decided to do a quick comparison of each video streaming software program. We wanted to provide information regarding both brands and where their strengths and weaknesses for each video streaming platform lie.
Streamlabs OBS vs. XSplit: Cost and Subscription Options
Both Streamlabs and XSplit broadcasting software offer a free version and paid subscriptions to customers. However, the available features vary depending on the video streaming product you choose.
XSplit is more affordable than Streamlabs, offering subscriptions as low as $15 per month or $60 a year, with every feature available. Whereas Streamlabs' monthly payments are $4 more and over double the yearly subscription price.
In fact, for a lifetime subscription to XSplit, you are only going to pay about $50 more total than a yearly Streamlabs subscription. Plus, Streamlabs doesn't provide their customers with a lifetime license. This means you will be paying at least $150 every year you use this live streaming service.
The winner for the best cost and subscription goes to XSplit. If you are looking for an affordable way to upload content to your Twitch channel, you will find the XSplit software your best option.
Streamlabs OBS vs. XSplit: User Experience
When it comes to creating videos, Streamlabs and XSplit provide a very different experience when it comes to the user interface.
XSplit is designed for the more experienced live video streamers. This live streaming software can have a significant learning curve for anyone who isn't familiar with creating a live Twitch stream or online video. It is ideal for pre-recorded videos, where you can edit multiple scenes at the same time.
Streamlabs, on the other hand, is a great option for professionals and newbies alike to platforms like YouTube Live and Facebook Gaming. This program offers users professional support to help them navigate the site and develop content fit for any audience, whether on a Twitch stream or any other form of live video streaming.
The winner of the best user experience goes to Streamlabs. For those who rely on help when it comes to navigating their content creation, there is no software program better equipped for an easy experience than Streamlabs.
Streamlabs OBS vs. XSplit: Features
The most important aspect of a great video is the ability to create content like nothing your audience has ever seen before. To design videos that will draw people into your Twitch stream, you need access to different features.
Streamlabs offers users (with a free or paid subscription) the ability to add polls, create tips and donation widgets, offer your audience giveaways, and customize overlays for every scene.
With the Streamlabs software, you as a content creator have the benefits of selective recording, game overlays, and a replay buffer.
XSplit provides a lot of ways to improve your content to engage a broad audience. With this software, you can easily set up Twitch donations, which lets viewers donate to a creator for a shout-out in their videos. It also offers super chat, super stickers, multi-streaming, and great widgets.
With the XSplit software, you can benefit from media slideshows, screen pre-set options, and noise suppression.
The winner for the best features goes to XSplit. Sometimes all you need to create the best content online is great software features for game streaming or if you want a ton of fun features that can help design your channel and appeal to audiences of all types.
Streamlabs OBS vs. XSplit: Audience Engagement
It is important that the streaming tools you use to upload content to Twitch and other platforms are designed to engage your audience to help grow your live streaming platform.
Streamlabs offers an excellent platform for marketing, audience engagement, and multiplatform streaming. You can interact with your viewers at a whole new level, allowing them to feel like they are part of the experience of your live streaming platform.
The XSplit broadcaster is an advanced software program that helps to gather a wide range of information regarding your audience to help create content that fits their interests. The product allows the user to customize their brand and promote content that is specific to the people coming to their site.
The winner for best audience engagement: Tie! Both tools are fabulous in this area, depending on what you need from the software. You can provide the best audience experience with engaging content for platforms with either brand.
Which Software Program Is Best for Your Twitch Needs?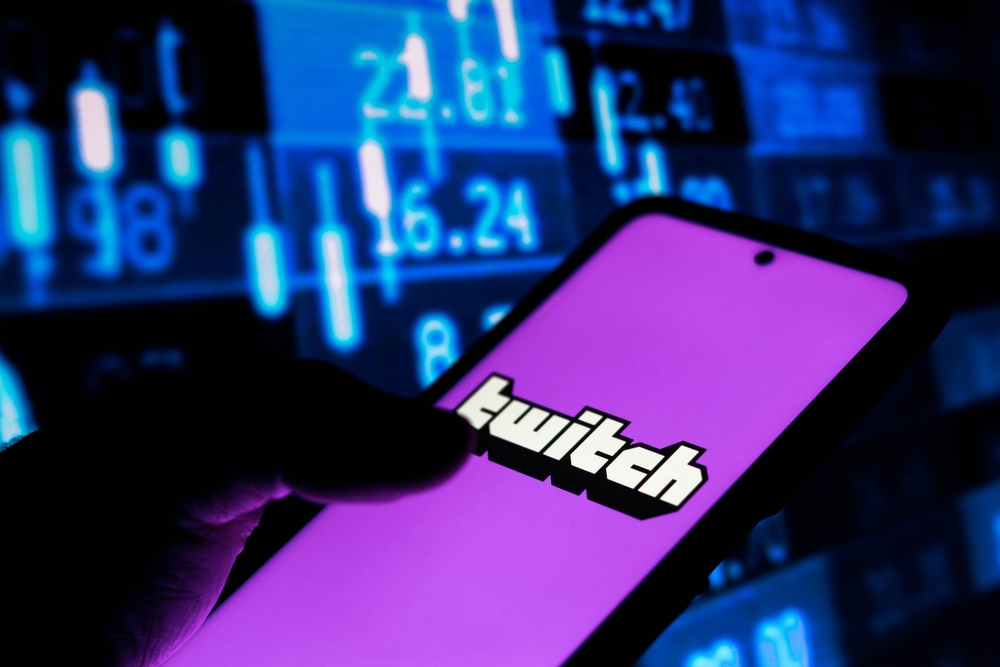 The XSplit broadcaster and Streamlabs are equally great products for streaming videos on your Twitch account. Each brand offers a quality free version of the program, making uploading live-stream videos and other creative content more effortless than ever.
With that said, both of these products definitely have pros and cons, depending on what you want to use them for.
XSplit for Experienced Users: Ideal for Growing Twitch Followers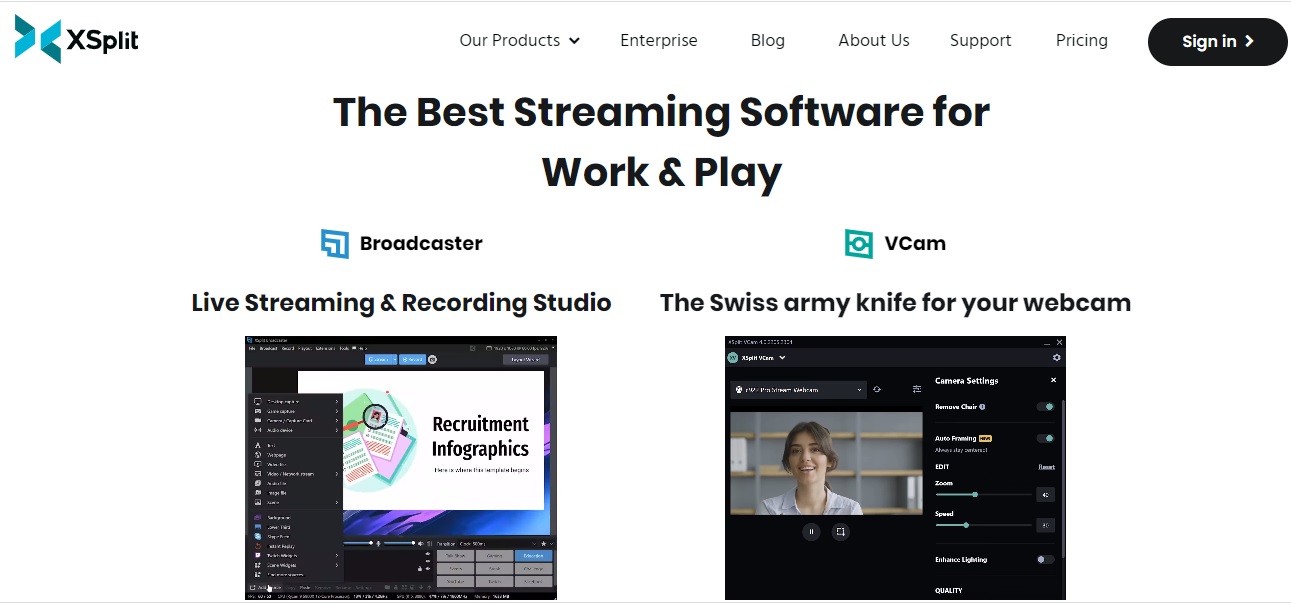 XSplit is perfect for those who already have a good grasp on what they are doing. This software program is designed for experienced creators who know how to navigate the creation of online content, videos, games, etc.
Use XSplit if:
You have a large audience but are seeking growth
You are looking for affordability
You like working with pre-set themes and pages
You prefer access to customer support 24/7
You like doing media slideshows
You want noise reduction software
You want session recordings and video monetization tools
For experienced content creators on the Twitch platform, XSplit is one of the best streaming software programs on the market today. You can continue building your already successful Twitch channel while having fun and learning new techniques as you go.
Streamlabs for New Users and Pros: Ideal for Twitch Marketing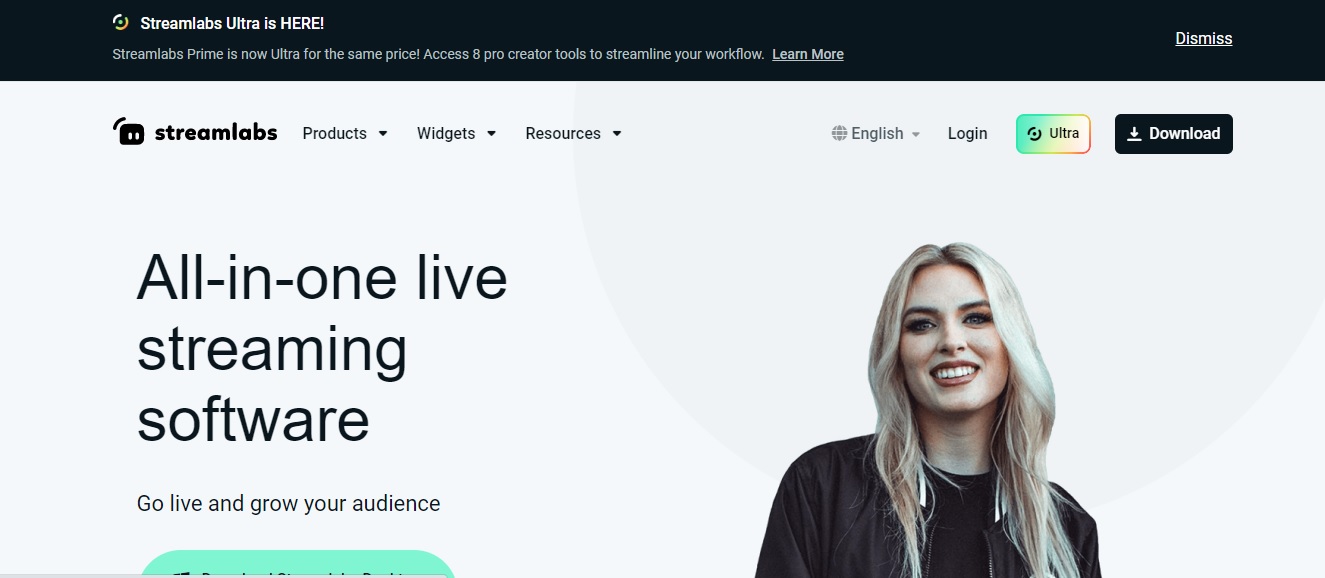 Streamlabs is one of the best streaming tools for Twitch users. This software allows users of all skill levels to generate an audience based on what they want to see or are interested in learning about.
Use Streamlabs if:
You want to stream on multiple platforms (Facebook Gaming, Xbox One, etc.)
You are seeking high-quality audience engagement
You want good quality software for the money you pay
You are looking for a web-based product
You want automatic recommended platform settings
You are looking for a more professional setting
You want a company based in the United States
Streamlabs is the top streaming tool for new content creators just starting their journey in the world of Twitch video design. This is ideal for those who enjoy engaging with their audience and want the ability to stream across multiple platforms to create broader access to your content.