Nowadays, you can use many great platforms to hire expert freelance writers. Compose.ly, for one, is a great content writing service. But is it the best option?
To help you out, here's our comprehensive Compose.ly review. Let's dive in!
What Does Compose.ly's Team Do?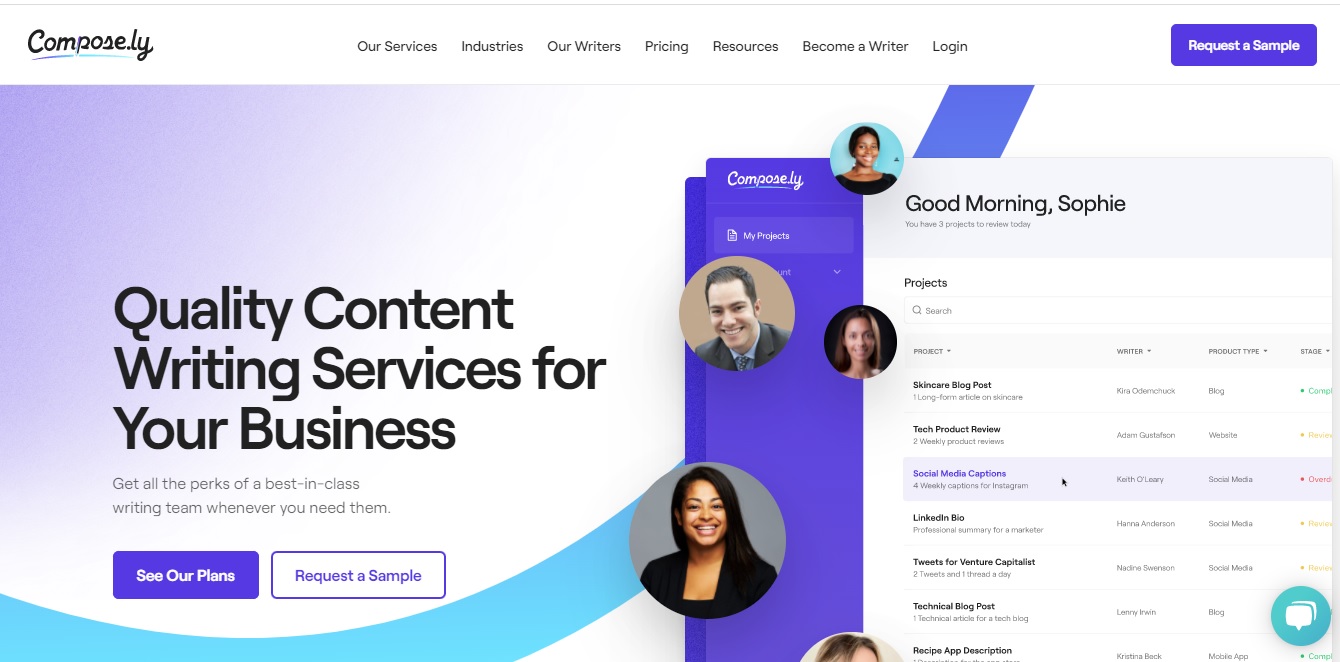 Compose.ly acts as a middle man between clients and writers. It is an online marketplace where you'll get your content written by some of the best native English-speaking freelance writers, and it handles any payments between you and those who are a fit for your job.
The platform will provide you with a Compose.ly writer who can handle product descriptions, press releases, website content, and more.
Compose.ly says it is designed by content marketers for content marketers. The company prides itself on a highly experienced marketing team, which is why it is keen on quality control.
How The Company Works
Compose.ly has three pricing plans that work differently as per the needs of each individual client.
Self Service
Compose.ly has a self-service plan for clients who like to work with writers directly. This option lets you order work from content specialists and pay for that specific project. The company charges prices based on the type of content and word count:
$29.95 for a 200-word product description
$74.95 for a 500-word blog post, website copy, newsletter, or press release
$449.95 for a 3,000-word white paper
One advantage of this plan is that clients work with properly vetted writers based in the U.S, and they have automatic plagiarism access. You can also interact with your writer and manage the content on your dashboard.
Managed Service Plan
The Managed Service subscription plan is an excellent option if you want to order a high volume of content or need an expert to manage your content. Clients using this option get exclusive access to top writers at Compose.ly, plus a rated review of the projects they've handled before.
This option features a Client Success Manager, who acts as the intermediary between the content writing team and the client. Clients are also allowed to request as many revisions to the content as necessary. The pricing of this plan starts at $999/month, depending on the content the client needs.
Content Blocks
Compose.ly offers custom content blocks to clients who need the features of the Managed Service Plan for a short-term commitment. These blocks start at a minimum of 10,000 words and have a flat rate dependent on the word count. However, the custom content blocks are only valid for up to six months from the time you buy them.
What People Think About Compose.ly
Compose.ly reviews stand at 4.4 out of 5 stars on Trustpilot as of March 2022.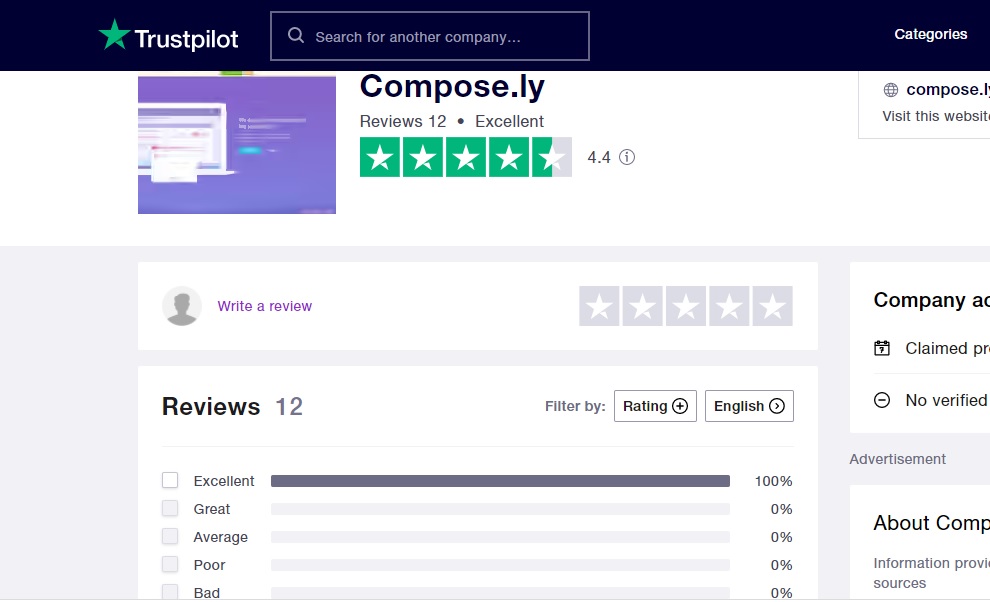 Client Reviews
Most clients love Compose.ly's services. The review below lauds the company for its responsive team and its ability to ensure the generated content is of high quality.

Another client affirms that, for those who need SEO-friendly content, Compose.ly is a lifesaver. Plus, the user says Compose.ly's team is flexible and can write almost every niche in a professional and competent way.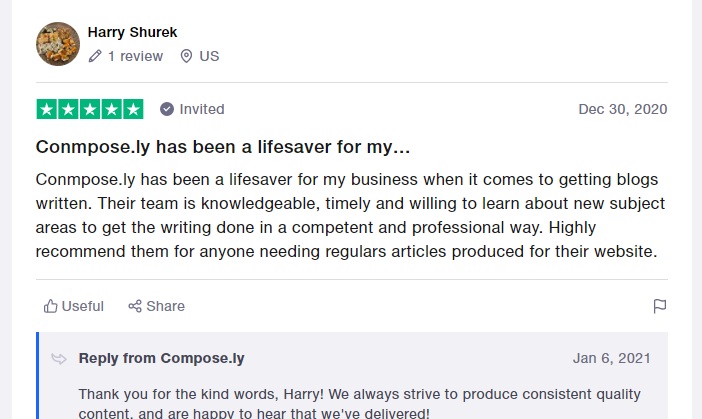 Writer Reviews
Our review wouldn't be complete without an opinion from the writers who work with Compose.ly.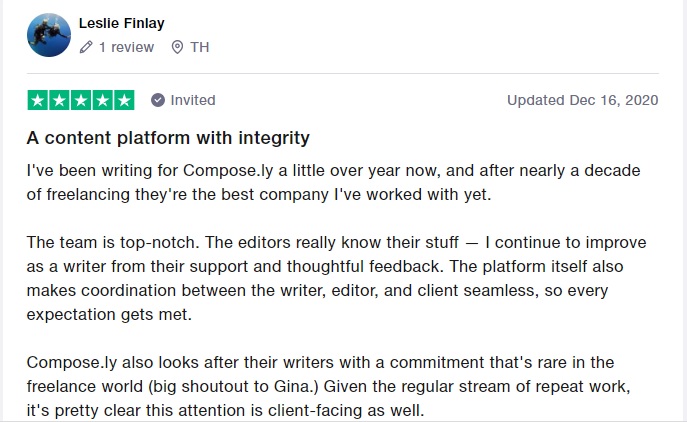 This writer says Compose.ly is the best company she has worked with. She applauds the effort editors make to ensure writers remain creative, as well as the company's seamless relationship between clients, writers, and editors. Finally, the reviewer affirms that the company pays attention to writers' concerns.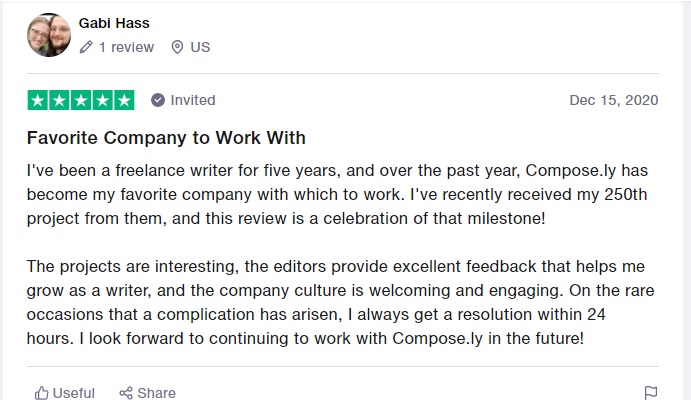 Another writer, who says she has done 250 projects with the company, lauds the editors for being very responsive and giving feedback that can sharpen your writing skills. And when complications arise, the team at Compose.ly solves them within 24 hours.
Based on the reviews, it is clear that Compose.ly offers high-quality content coupled with great customer service. While some customers believe the company's prices are too expensive, remember that cheap content tends to attract mediocre work.
Pros
Here are some of the benefits of working with Compose.ly:
The company only generates SEO-friendly content. Compose.ly emphasizes keyword research and trains its writers on how to include high-ranking keywords.
Clients can ask for free samples to know what they are signing up for. This enables you to go for an online marketing platform that gives you value for your money.
The company has a simple pricing structure. You can give them a call if you need any clarification. Their team is always eager to help.
Writers undergo rigorous vetting. The company only works with writers who pass an extensive writing test and interview.
Its website is user-friendly. It is easy to navigate the dashboard and manage your account in a single setup.

Cons
Some of the disadvantages are that:
Compose.ly charges more compared to most freelance content writing platforms.
The company doesn't have a discount for purchasing a large content volume. It is important for such companies to have some form of loyalty rewards to keep their clients coming back.
You won't use the same writer every time you need their service. This makes it difficult to maintain the same "voice" throughout your project.
Final Verdict
Compose.ly is a great online content writing platform. The company has some of the best freelance writers in the industry. Plus, its editors are always on the lookout to ensure you get what you're paying for. The company also has flexible plans that can work for any client depending on their need.
The cost can be quite high if you are working with a fixed budget. However, if you don't mind paying that extra dollar to ensure you get quality content, this may be the right company for you. Compose.ly's straightforward website design makes it easy for anyone to order and manage content without needing any special skills or knowledge.