Copify has been at the heart of the content marketing sphere for years now. The service has attracted both praise and backlash for its content writing and SEO content services. As a client, you may ask, "Where can I get the best quality content for my website?"
To help you, we've prepared this list of Copify alternatives you can check out. We also provide a rundown of Copify's features to help you make an informed decision.
What Is Copify?
Copify is a content marketing platform where clients and writers meet to create posts, product descriptions, and other targeted marketing write-ups. The UK-based company, which can act as a blog writing service, offers various content writing services from blog posts, articles, newsletters, product descriptions, copywriting, and SEO optimization. It can even provide copywriting services for social media.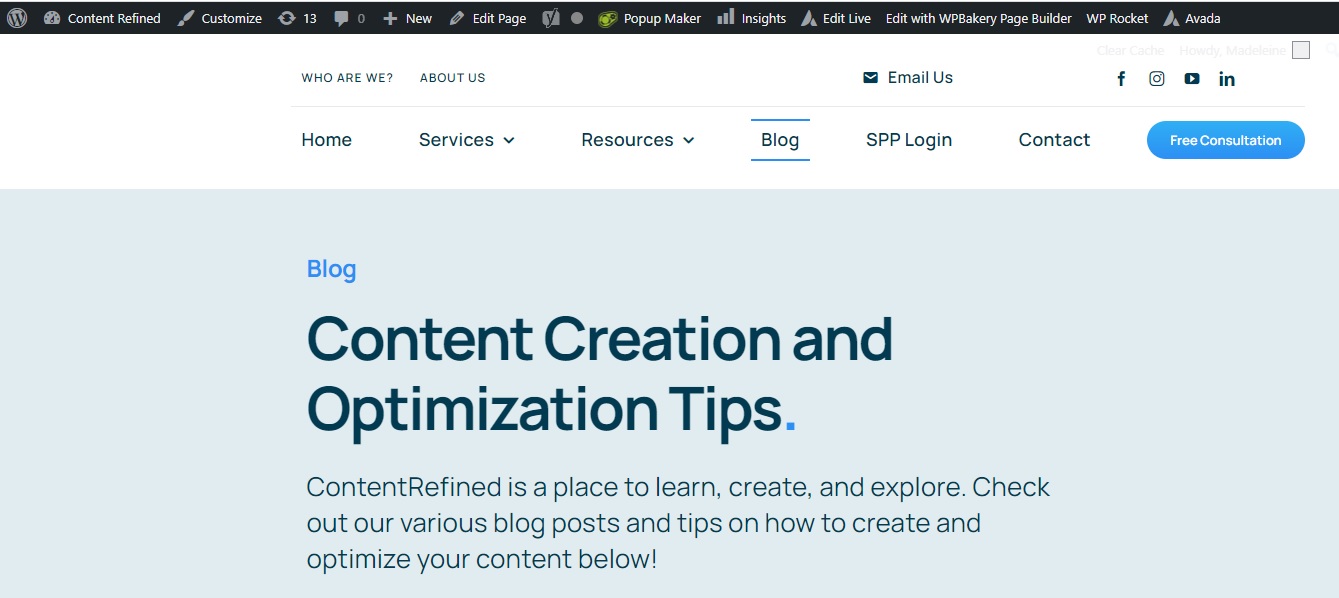 At Copify, you provide a brief of the content you want to be written. The onus is on you as a client to understand your target audience and work with Copify to develop a brief that writers can choose from. The writers will then submit the content and receive payment.
You have the option of choosing a standard writer or a professional writer, whether you're working with freelance writers or another content writer. But that's where it ends. If you are lucky enough to find an expert freelancer, you can contact them to build your professional relationship.
Here's an overview of Copify.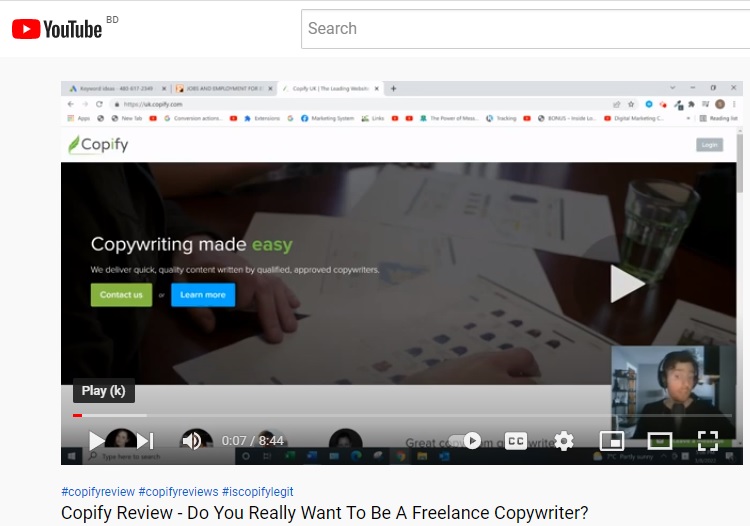 As you will see below, there are issues with quality and pay associated with Copify. It may be prudent to keep an open mind to other alternatives.
Pros of Copify
Quick turnaround time – Copify markets itself as a rapid response content writing platform. You can receive your 500-word article in a day or two.
Unlimited revision to the copy until you are satisfied
Simple-to-use website
Accepts applications worldwide
Fixed rates mean clients pay what's initially quoted
Easy and fast application process

Cons of Copify
You can't always get the same talented writers, so your content may be inconsistent
Low pay pates compared to other copywriting services such as Solvid and Crowd Content
Copify Reviews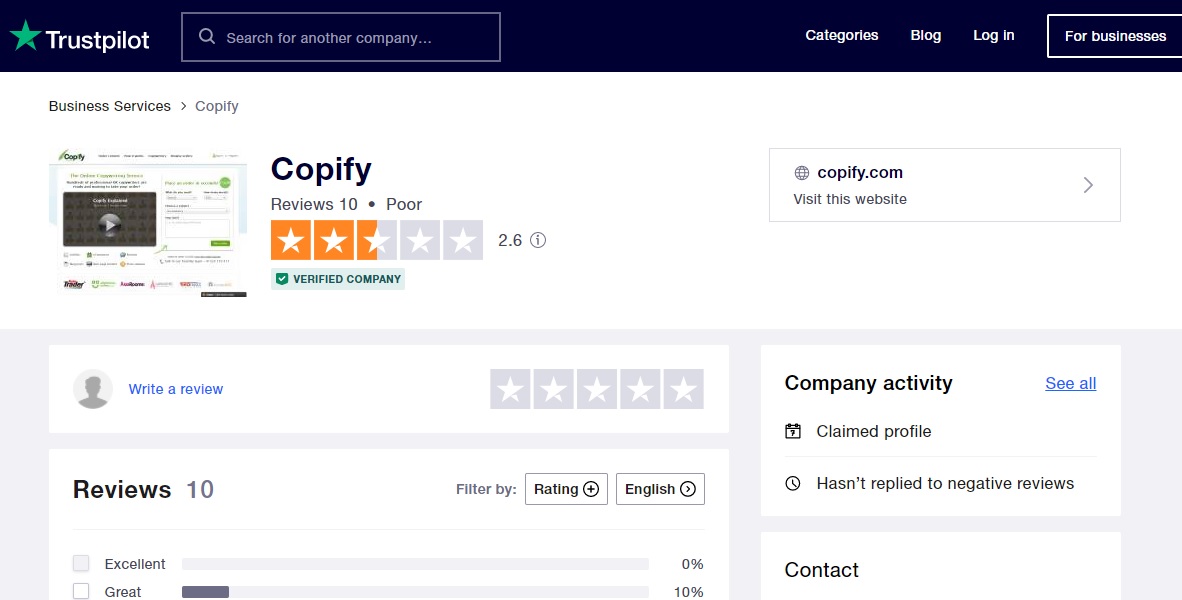 We checked out Copify's reviews on TrustPilot, and it has a 2.6-star rating.
The culprits for low ratings: low-quality content and low pay.
You can't pay a penny on the dollar and expect high-quality content. Copify gives a bad rep to every content mill out there, but it does make up for it with its turnaround and workflow.
Alternatives to Copify
Here are some Copify alternatives to consider:
Compose.ly
Compose.ly is a premier content writing marketplace for press releases, articles, blogs, and the writing ensemble. The site has a 4.5 rating on TrustPilot due to its outstanding quality and fixed pricing.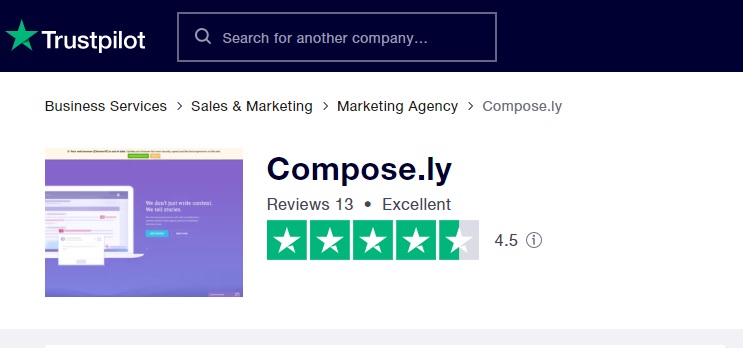 The cost is expensive. As a client, you would pay up to $74.99 for a 500-word post. However, that's the price you have to pay for leading-edge content. Compose.ly only accepts writers from the top 1% of applications it receives, meaning you have to fork out extra bucks to access the talent pool of content writers.
The in-house editors help you exhaustively prepare a brief that writers can access and deliver accurate and quality content. Customer service is on the up and up for Compose.ly, but the rates are pretty expensive compared to Upwork and Verblio.
Upwork

Upwork is the wild west of content writing. You can find both subpar and excellent writers on the platform. On Upwork, you can search for freelance writers or post a project, and the writers can submit a proposal. It can be tiring to scroll through all the submissions.
A workaround for the many proposals is determining your pay rate at the outset. Straightforward pay leaves less wiggle room for negotiation and only attracts professional writers. You can drop in some incentives to keep your writer motivated.
The pay rate is widely varied, as you and the writer agree on it. Some freelancers have an hourly rate, so you can estimate what you will pay. Upwork is arguably the largest freelancing marketplace. Therefore, there are many jobs to go by, and you can build a career on it if you get the workaround of the bidding process.
Solvid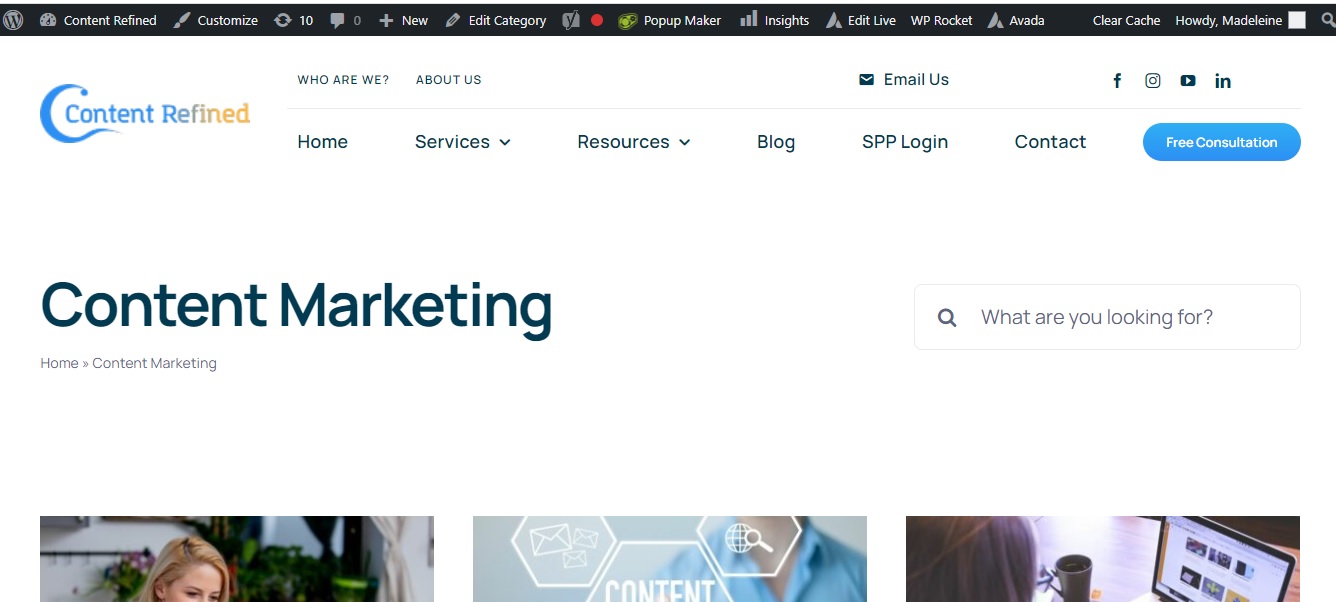 Solvid is a high-end, U.K.-based content marketing service. You can pay up to £150 for 1,000 words, which is really expensive. The site only uses U.K.-approved writers that it vets.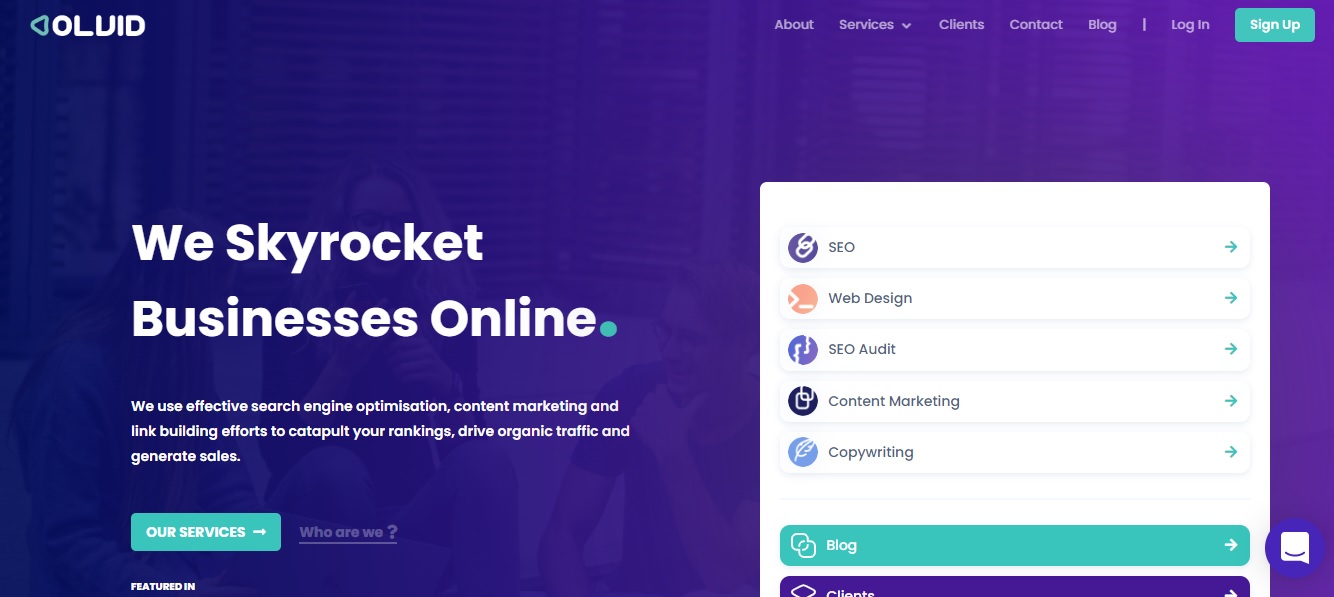 You can expect high-quality articles and blog posts, but for a higher premium. The talent pool available is not as extensive compared to Upwork, but it makes up for the limited writers with top-notch quality. Solvid's unique proposition is offering sharing services to increase your brand visibility.
If you are looking for premier services, then Solvid is for you. However, you can find other writing services with the same quality at affordable rates.
iWriter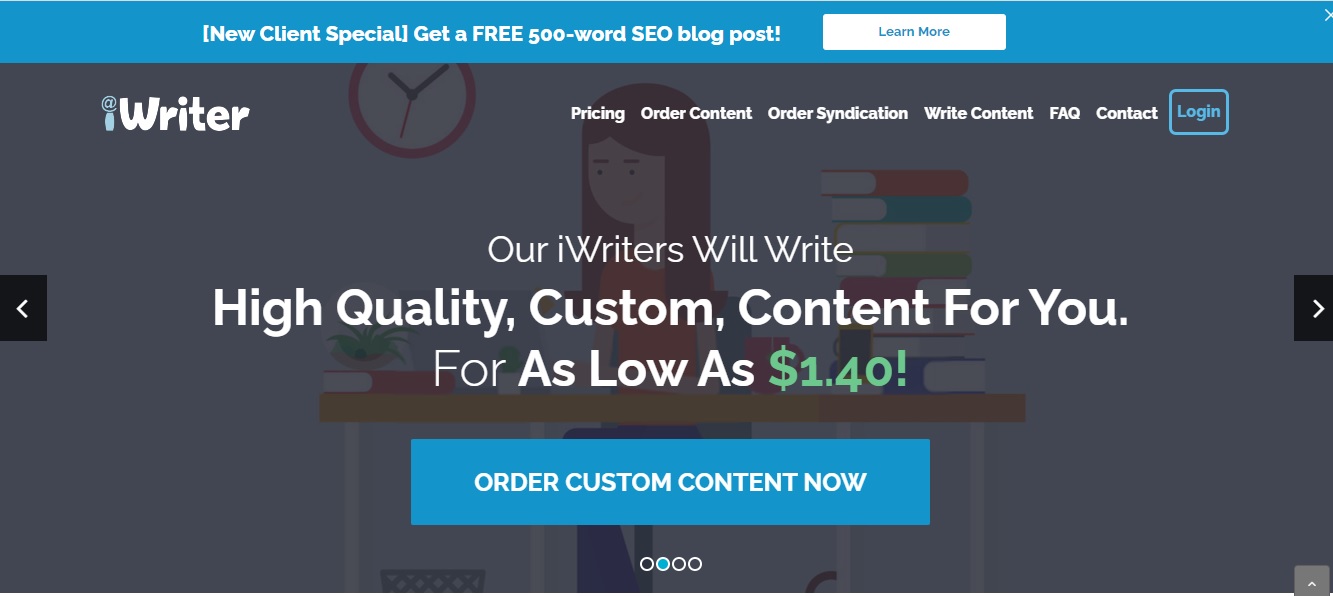 iWriter works more like Fivver and Upwork. It is a marketplace for freelancers and content writers. You can order custom content at different prices and the writer's expertise. Elite Plus rates can be $130 for 2,000 words and $1.25 for a 150-word article.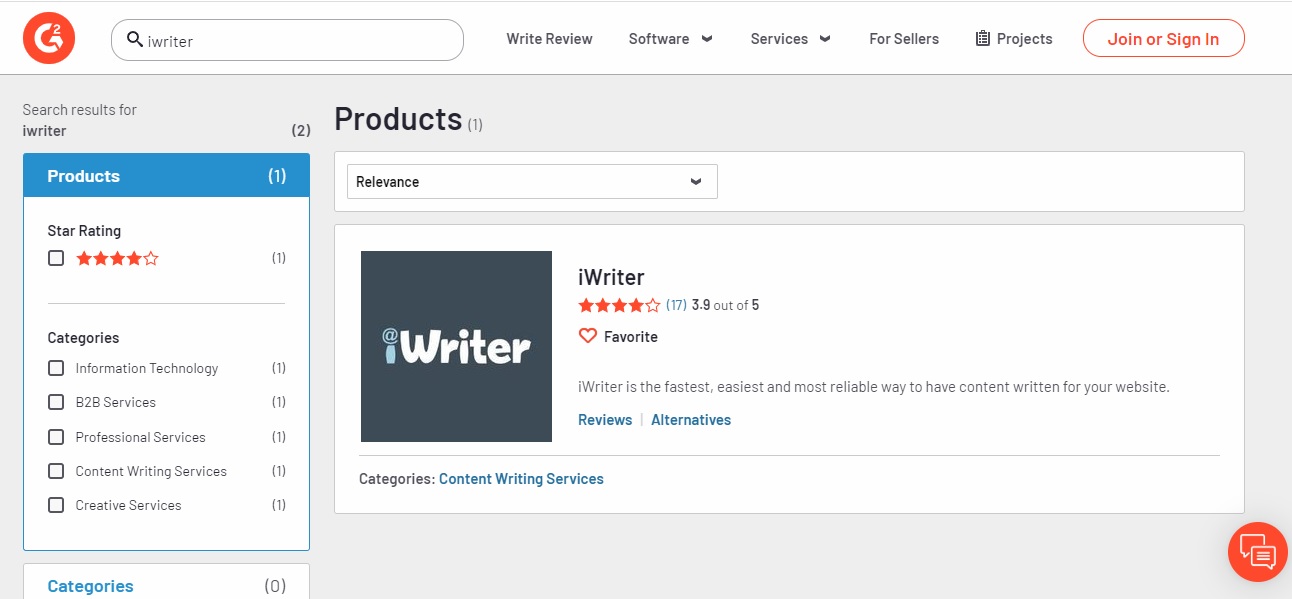 The platform is easy to use, and many users love it, as shown by the 3.9-star rating on G2.com. You can create an account in minutes, upload a description of the content you want, and choose a rating. Higher-rated writers are more expensive, but the quality justifies the cost.
iWriter is ideal for customer content writing and flexible pay rates. The platform has worked with over 24,000 clients, meaning it has a reputable track record and a rich portfolio you can review.
Verblio
Verblio is a U.S.-based content marketing service that specializes in SEO-optimized content. The site has over 3,000 U.S.-based writers who deliver high-quality jobs.

When you sign up on the site, you describe the content, length, audience, and style, among other things, that you want. The site will then match you to a content creator who will deliver the content. The turnaround time is usually 48 hours before you can develop a monthly or custom order.
Verblio delivers ready-to-publish content. In-house editors ensure everything is correct before submitting the article, press release, or blog post. To add more value to your content, it guarantees 100% unique content since its business model has no place even for an iota of plagiarized content.
The only downside is that you can't establish a direct link with a writer. Some managed plans are also expensive but worth every penny.
Verblio charges are higher than other content marketing services. The rates can be $34 to $359 on every post. The fee is fixed, and you can calculate how much you'll pay for your monthly plan.
Verblio is ideal for writers who love delivering media-ready content and clients who want automated content creation.
Constant Content
Constant Content has been around since 2003, servicing tons of clients. Currently, the site boasts 100,000 writers worldwide. The platform has three main options for content creation. The small- and medium-sized business platforms are for clients seeking content creation at affordable rates.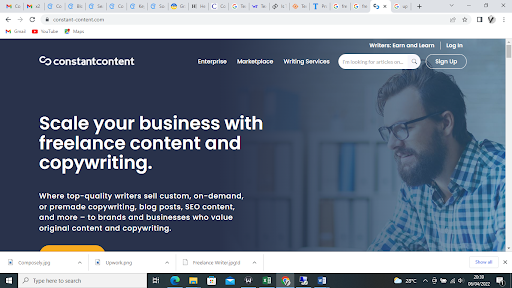 You don't always get consistent quality due to the large pool of professional writers. But again, you have access to writers who specialize in various niches across different verticals.
Constant Content allows you to determine the rate for the job, and writers can claim it and submit content. Customer support is not overly satisfactory, which could be why there aren't many reviews for Constant Content.
Constant Content is an easy-to-use platform ideal for clients and writers who enjoy the liberty of setting pay rates and custom content.
Which One Is the Best Content Writing Service?
Content writing services are the industry standard for content creation. Investing in the best service has a direct positive impact on your business' visibility and sales.
Ultimately, the best service boils down to your budget and what you want. Premium services offer high-quality content at higher fees, while you can pay lower prices for similar quality on other sites. Ideally, managed content services are better. With one subscription, you get consistency, ready-to-publish content, and hands-on customer service.
Aim for sites with managed content. But if you pride yourself as descriptive, you can hire a writer from the platform directly. The freelance marketplaces can help you build a working professional relationship. The key is to communicate your needs with the writer to develop better content.
Know Your Outlook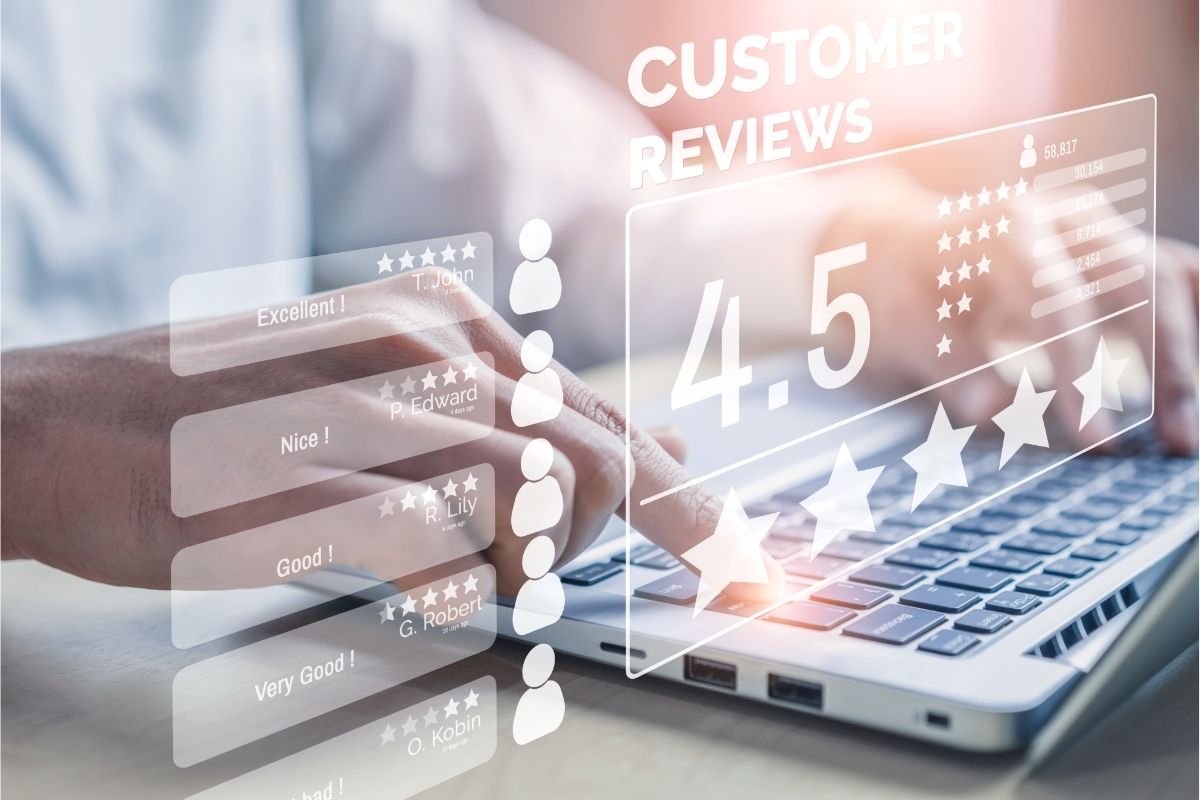 Some services have premium content, albeit with drawbacks to others. One thing you shouldn't compromise on is quality. Whether you use Copify or an alternative, find the best service for you and run with it. Remember, you get what you pay for. Sometimes you have to consider who's writing your content. Indeed, the company won't be motivated to deliver quality content if you pay them peanuts.
Here at Content Refined, we can help you produce high-quality SEO-optimized content. Plus, we charge reasonable rates that work for most content creators. Contact us today to request a quote.