As a content writer, you have multiple platforms to start your paid writing journey. Both Crowd Content and Textbroker are acclaimed sites for companies that need to regularly generate content.
The two content writing companies offer high-quality content writing services and pay rates that increase with experience and star ratings.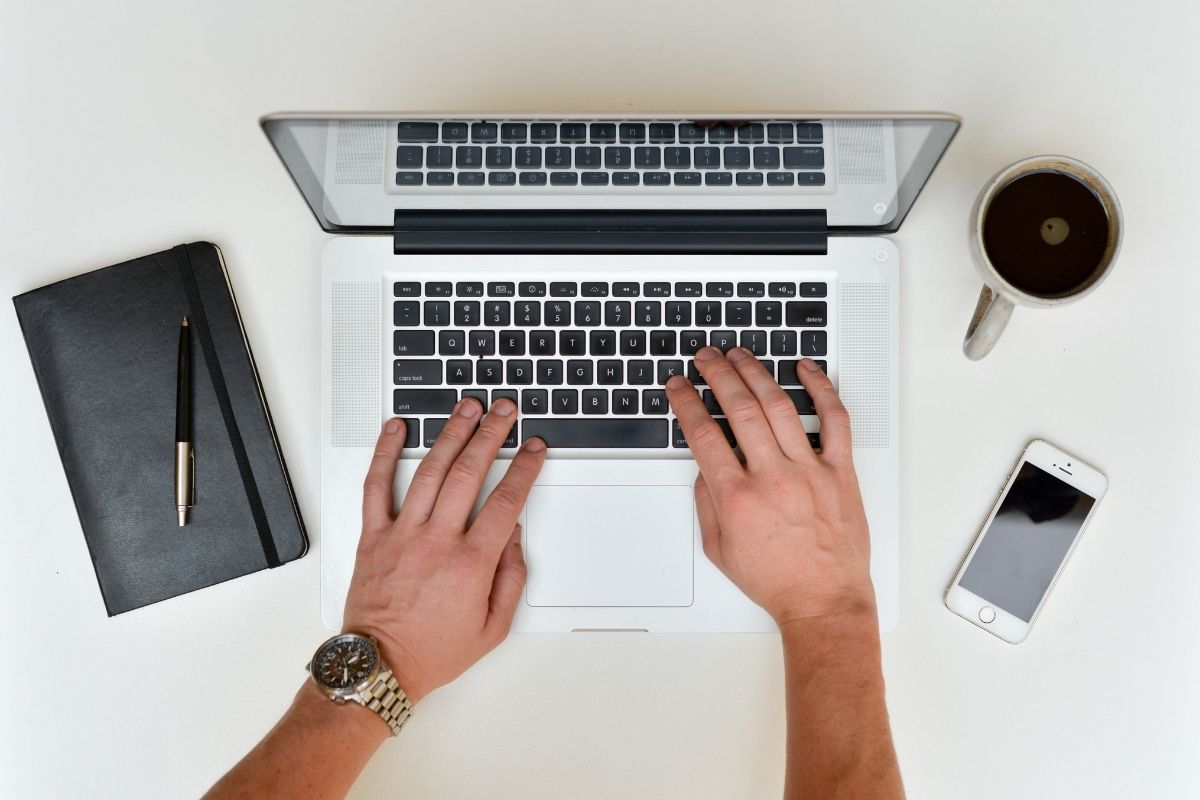 There are also stark differences that determine which will work for you, either as an entry-level or experienced writer. Comparing the two will help you make an informed decision.
If you are an experienced writer, you will find Textbroker ideal. For a user looking for extra pay, Crowd Content is the way to go. The differences transcend a surface-level comparison.
In this post, you will learn the differences and similarities between the two content writing services. We'll compare and contrast the two sites so you can decide which is the better option for you.
Crowd Content: An Overview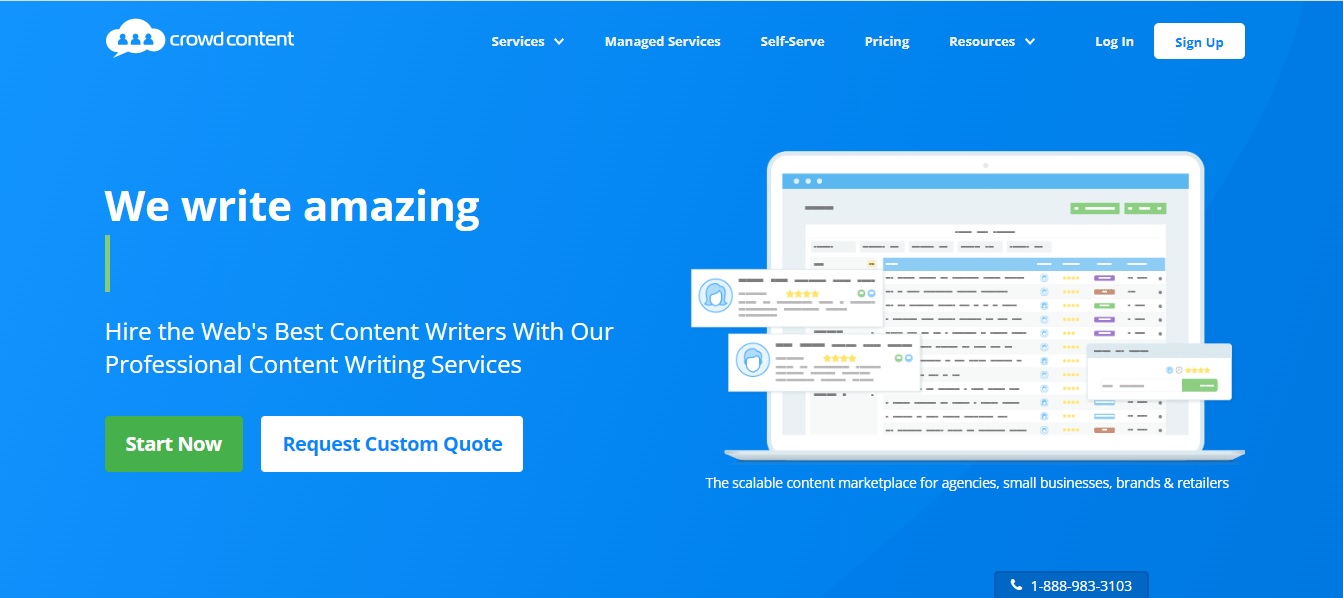 Crowd Content has established its presence in the content writing domain as one of the best sites for freelance writers. Since its inception in 2010, Crowd Content has been offering services ranging from white papers and blogs to article writing for various topics.
Currently, the Canadian franchise boasts over 5,000 writers on its platform in the U.S. alone.
The site features a simplistic user interface and has two avenues for getting jobs: managed content and the freelance marketplace.
Its unique selling point is the pay you receive directly into your PayPal account twice weekly. However, your balance must be at least $10, or the payment will roll over to the next payday. Crowd Content's star rating ensures you get good pay for quality work.
Pros 
The pay rate is suitable for base writers who get 1.4 cents per word for a one-star rating and 6.6 cents for a four-star rating. There is also a bonus rate that increases your pay if you deliver quality content within the required deadlines.
Managed content gets reviewed by in-house editors. Crowd Content is a great place to start for writers who want to grow. Their editors are great at helping writers churn out quality content.
It has a straightforward writing style. Crowd Content isn't as strict on SEO guidelines as other content writing sites.
Income twice per week provides cash infusion when you need it.
Cons
Crowd Content only accepts writers from Australia, Canada, the United Kingdom, and the United States. However, the company encourages you to apply if you are not within the approved jurisdictions.
Canceling a job after the 30-minute period attracts a strike. Three strikes and you are out. That's a little too harsh for missing a deadline or canceling a job.
Crowd Content is primarily a steppingstone to freelance writing. Many writers love Crowd Content for its star ratings and easy-to-use platform.
Textbroker: An Overview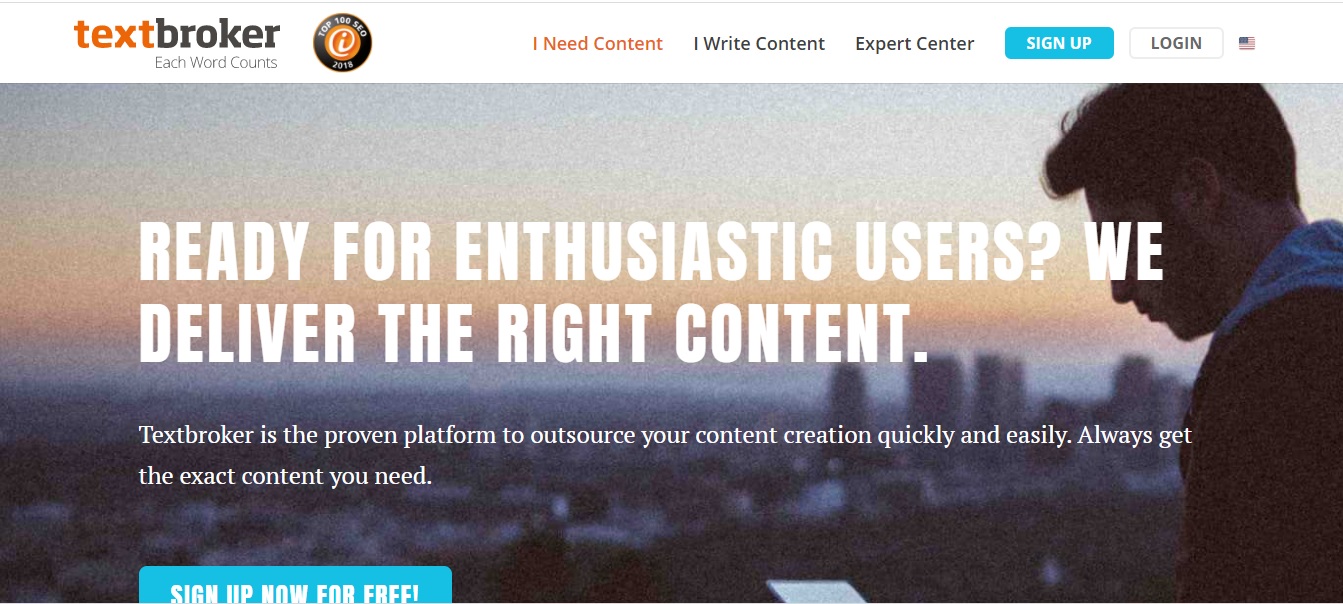 Textbroker is a content creator's go-to place for various niche jobs. The site offers white papers, blog posts, articles, and custom content creation under one roof. Jan Becker Fochler, a former SEO provider, founded Textbroker in 2007.
Textbroker's payout model is similar to Crowd Content's since it gives you a star rating on your first sample. Pay ranges from 0.7 cents per word on a two-star rating to five cents per word on a five-star rating.
Pros 
Textbroker doesn't have penalties for late submissions or canceling jobs. However, unprofessional behavior will likely see your star rating slashed.
Textbroker pays immediately after the client approves the content.
For a client, the site is relatively cheap. Texbroker's client pricing model starts at $25 per 1,000 words compared to Crowd Content's $80 for the same word count.
Its platform is intuitive.
Cons
Its low pay discourages skilled writers.
Pay is weekly via Payoneer. That's not ideal when you need money urgently.
Textbroker focuses on SEO-optimized content and high-quality content. You can establish direct links with clients and determine your own pay rate, which the clients are willing to match if you are good enough.
Crowd Content vs. Textbroker: The Features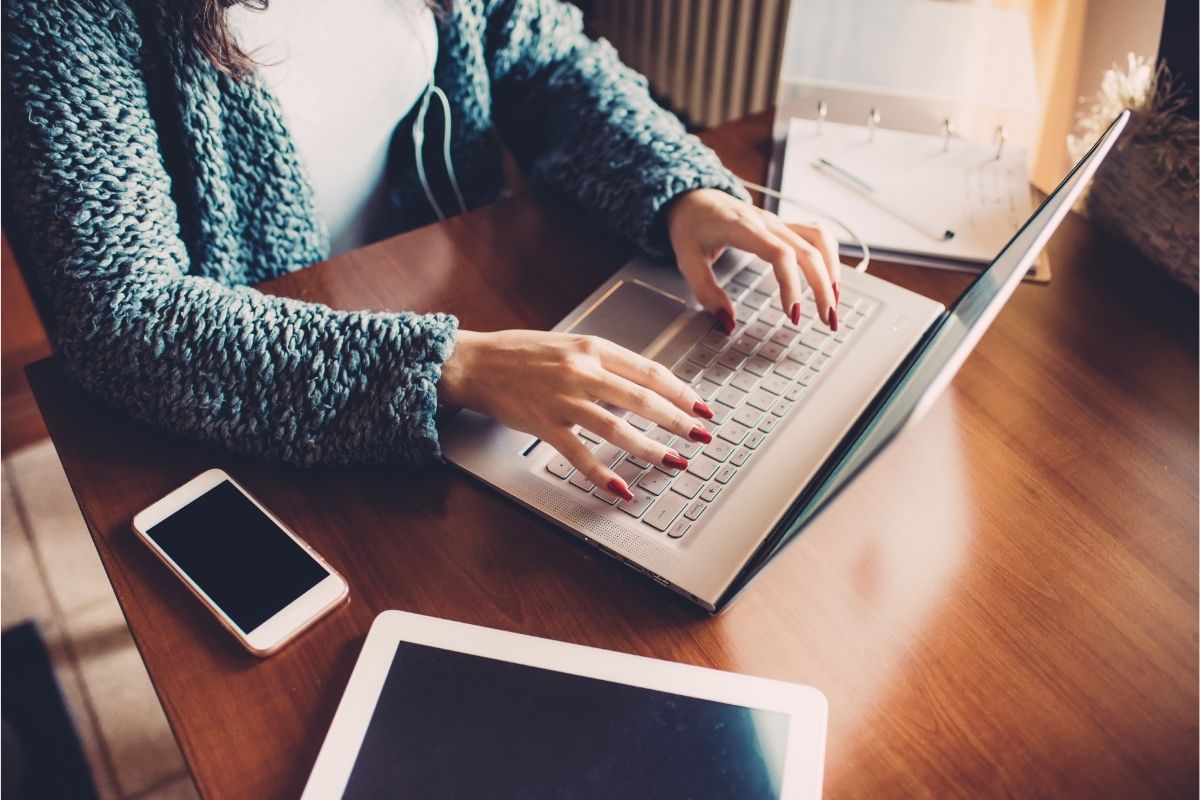 Crowd Content and Textbroker have rich features that make them the go-to brands for content writing. We put the characteristics of both companies to the wire and provide a verdict on which one you should use.
Workflow
Jobs are fairly easy to come by on Crowd Content. Even a two-star rating can attract clients on the first try. A client gives you a job brief that guides you on what to write. If the client is satisfied, they can give you a higher star rating that allows you to claim higher-paying jobs. But you can still make as much money with a one-star rating. Crowd Content enables writers to claim more than one job at a time.
Also, Crowd Content has a freelancer marketplace where clients can directly hire top writers. Alternatively, you can opt for managed content where you claim jobs in your niche. You can claim more than one article on Crowd Content, which you can't do on Textbroker.
Textbroker features a different workflow. You don't need to spend seven hours looking for a job like on other sites. The site has multiple topics to choose from. They categorize their writing jobs into open order and direct order queues.
Clients choose the writer they would like to handle their work in the direct order queue. Before hiring a writer in the open order queue, the client should comprehensively describe what they want.
Bottom Line: If you are looking for a consistent workflow, Textbroker has got you. Textbroker has been in the content writing business for a long time, attracting many clients. Crowd Content is equally good if you have higher star ratings (about 3). However, clients control the ratings; therefore, you have to make them happy with your work.
Pay Rate
Both Crowd Content and Textbroker use a star rating system to determine the pay rate per word. Entry-level rates for Crowd Content are 1.4 cents per word, which scales to 6.6 cents on a four-star rating. Social media posts charge $1.75 to $2.25, depending on the platform and target audience.
Crowd Content pays the following rates per word:
1.2- 1.4 cents for a one-star rating
2-2.3 cents for a two-star rating
4.4 -5.2 cents for a three-star rating
6.6- 7.6 cents for a four-star rating
The ratings mean you can earn $7 for a 600-word article. Clients give ratings for your work, with the overall mark being an average of the last five. That means you can earn more if you are consistent. Again, no client is obligated to rate the writer.
Textbroker pays the following rates per word for each star rating:
0.7 cents for a two-star rating
1 cent for a three-star rating
1.4 cents for a four-star rating
5 cents per five-star rating
You get your initial rating on the first sample. You really have to put in a lot of effort if you want to start at a higher pay rate. You can scale up your pay as you gain experience on Textbroker. You can earn $7–$9 for a 500-word article, which is pretty decent by content mill standards.
Bottom Line: Textbroker has lower pay rates than Crowd Content. If you are in it for the money, only Crowd Content will be ideal.
Editorial Support
Textbroker is primarily a freelance writing marketplace, while Crowd Content is both a freelance and a content mill site. That said, the editorial team and customer support differ considerably.
While working with Textbroker, it seems like you are working with supervisors behind the scenes. Crowd Content engages with its writers on different social media platforms. However, Crowd Content is very strict with its writers. Three strikes and they suspend you. In addition, you get strikes if you cancel a job after 30 minutes or deliver an article past the deadline. An in-house editorial team also reviews your work to determine whether it follows the Statement of Work (SOW).
Textbroker's editorial team helps clients generate topic ideas if they have no idea what to write. The unit allows multiple reviews, meaning clients get the highest quality content possible.
Bottom Line: Editorial support doesn't factor in end-user experience much if you are an experienced writer or work directly with the client. Crowd Content hones your skills as a novice writer, while Textbroker doesn't have the same benefit.
Work Quality
Textbroker is stringent on SEO-optimized content. Quality content is a bare minimum in both writing services. However, Textbroker pays less to its writers. You can't pay silver to get gold. That doesn't mean you receive subpar quality. The quality is good, but you can't pay peanuts and expect top-notch work every time.
Crowd Content isn't overly strict on work quality, but your star rating will tell. Clients usually give the rating that determines your payout rate. Therefore, if you want more money, deliver quality content.
Textbroker features a rich pool of talent primarily based in the U.S. In contrast, Crowd Content incorporates writers from different regions. As a result, you have a versatile pool of content writers and can choose one depending on the niche and geographical location. Textbroker also has a separate agency for optimizing your content.
Bottom Line: Both services offer high-quality jobs. Textbroker slightly edges out Crowd Content since the former is well established in the market. Workflow is consistent in Textbroker, while for Crowd Content, you may have to go for days without, particularly if you have a lower rating.
Services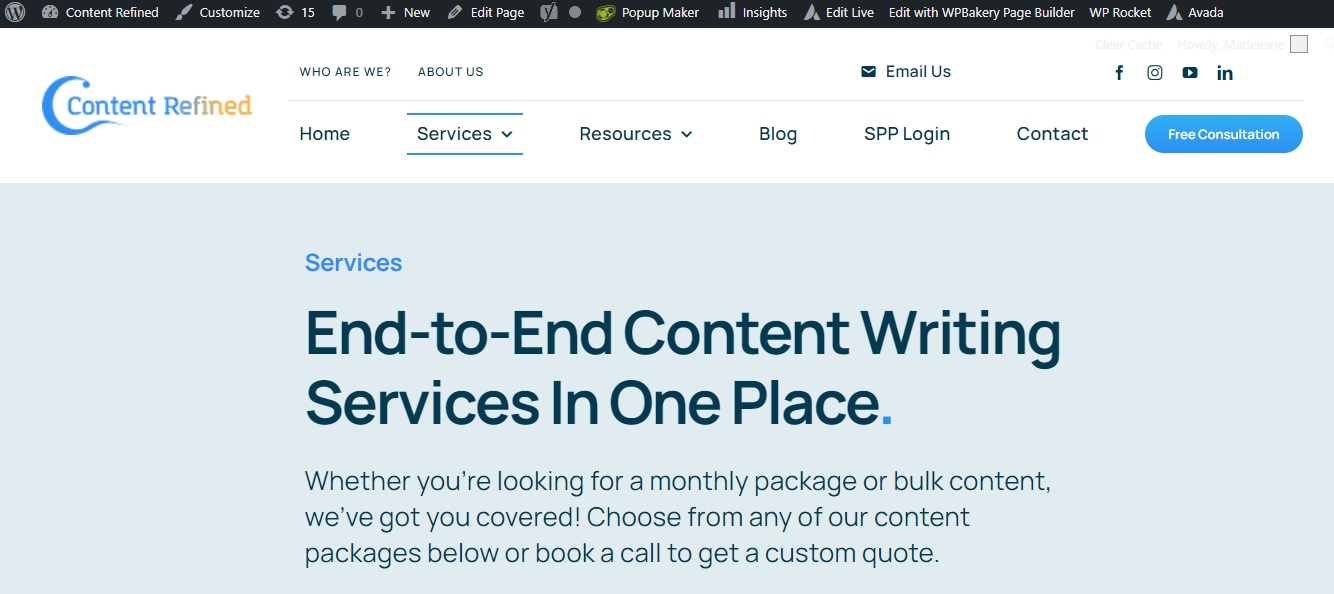 Textbroker and Crowd Content are mirrors of each other regarding content creation services they offer. The services include but are not limited to:
Press releases
Articles
White paper writing
Social media posts
Newsletters
Product descriptions
SEO content
eBooks
Since the platforms offer freelancing services, you can approach them with almost any content creation job. Skim through the writers' profiles and determine which one will best envision your content creation ideas.
Platform Layout
Crowd Content features a simplistic user interface for the client's site. There have been hardly any upgrades on the client's side, but the company recently promised to improve that. Crowd Content aims to enhance clients' personality styles in the briefs to get writers that are your perfect proxy. Unfortunately, the one-page brief document is not enough to comprehensively capture a client's needs.
Writers have a simple interface too, where you can click to access a job. However, you should check the job requirements before claiming it. Plus, be sure you don't abandon it more than 30 minutes after claiming it.
Textbroker's intuitive platform is one reason clients and writers flock to the site. Clients can chat with the writer and add further instructions for a quality article or blog piece. However, you may get different writers, meaning work consistency is a hassle.
Bottom Line: Both sites have easy-to-use platforms that you will love at first glance.
Alternative Writing Options
You already have two excellent options for content creation and blog post writing services to trouble you. But we believe in being spoiled for choice. There are equally good alternatives to Crowd Content and Textbroker.
Here are some other top platforms to consider for freelance writing jobs:
You shouldn't have just one source of work as a freelance writer. When it comes to freelancing services, it is best to diversify. Once you become an established writer with direct clients, you can then focus on your niche. But before that, increase your knowledge and determine which features best suit your writing style and monetary needs.
Standout Features
Crowd Content and Textbroker are some of the best content writing platforms we have today. In addition to the differences, standout features make them unique and determine which is the best, depending on your needs.
Crowd Content Unique Features:
Extra pay: Crowd Content has a bonus rate that is added to the flat rate. You earn bonus rates for submitting quality content before the deadline. Bonus rates mean more pay.
Bi-weekly pay: The pay is twice per week – Tuesday and Friday. Your account balance should be at least $10 to qualify for the remittance via PayPal. If it's less than $10, it will be rolled over to the next payday.
Multiple review options: Crowd Content promises multiple revisions if you aren't satisfied the first time.
Textbroker Unique Features:
Plenty of jobs – The direct order and open order queues always have clients looking for content writers. It can be intimidating at first to outcompete established writers. As you build your profile, you will have the chance to develop your pay rate.
No penalties – If you miss a deadline because of unforeseen circumstances, you don't have to worry about fines and strikes. However, you should contact the client early enough to request an extension and explain why the work will be delayed.
In Summary
Crowd Content and Textbroker provide stepping stones to make you a better freelance writer while earning money. The two have decent pay and rely on a star rating to determine the pay rate. Ultimately, we have to select a clear winner. If you are shopping for the best content writing agency, you need to know when Crowd Content or Textbroker will be the ideal option.
Use Crowd Content if:
You are looking for a supplemental source of income
You are a newbie writer
You are an established writer looking for higher pay
You are disciplined enough to avoid strikes
You want frequent payouts
Crowd Content markets itself as a writer's stepping stone complete with an in-house editorial team that will help you become a better writer. They emphasize high-quality content that will earn you more on the platform. Register and submit your written sample to get in on the action.
Use Textbroker If:
You want a constant workflow
You believe you'll deliver high-quality jobs
You want a guided writing style with instructions
You want to pay more for quality content
You want consistent writing jobs
Textbroker's decade-long experience in providing content writing services means it is familiar with the ins and outs of content writing. Quality SEO-optimized content is the bare minimum at Textbroker. Register today on Texbroker to share your content writing expertise and get paid for it.
As a content writer, you want to work with a company that cares about your writing needs. Another quality you should consider is the flexibility of content writing companies before settling on the right one. Both Textbroker and Crowd Content have clients willing to pay more as long as you produce high-quality content. Before submitting your work to any of these content writing platforms, crosscheck it to ensure you've done everything right.