If you are here, you have probably read a lot of negative reviews about Hirewriters.com. Before signing up for any content writing service, you should always check into what people are saying about it. Otherwise, you might end up working with a writing service that will frustrate and disappoint you. As of March 2022, the rating of Hirewriters.com stands at a dismal 2.3 stars on Trustpilot.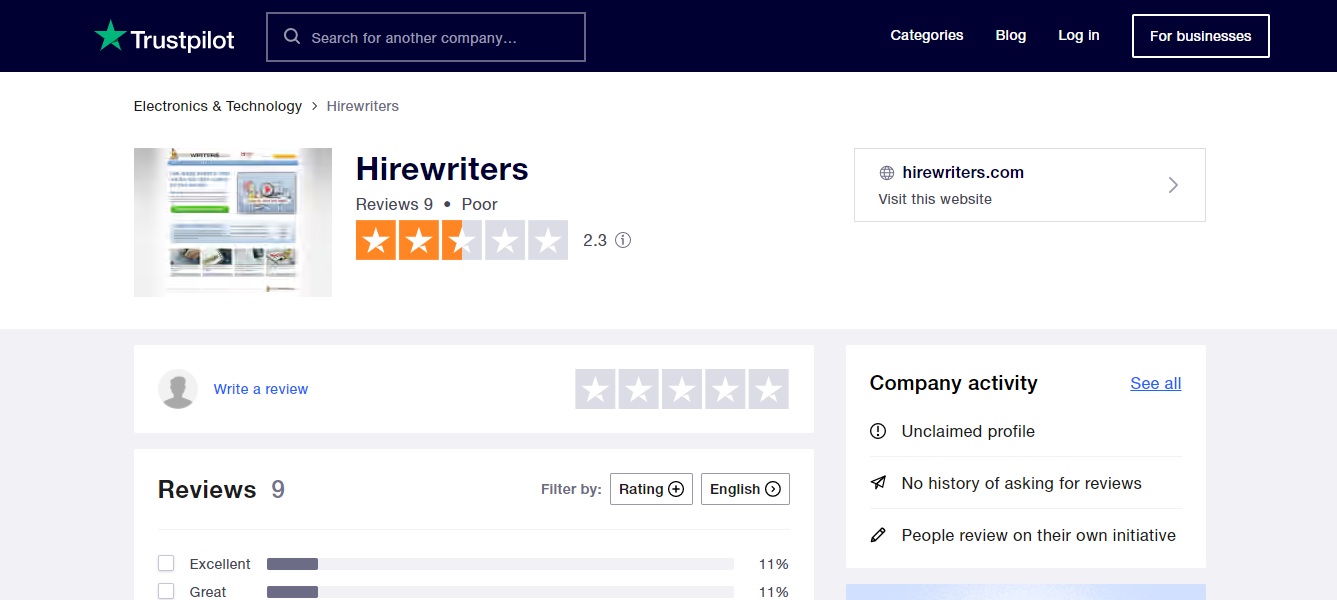 So, is Hirewriters.com the best for your freelance writing work? Should you purchase content from this company? We have made this guide to help you determine if this is a content creation company you'll want to work with.
What Do They Do?
Hirewriters.com acts as an intermediary between freelance writers and clients who want to order content online. It's unclear who owns the company, but it is managed by Greg Meyer, the CEO of Wordployment, LLC.
For Writers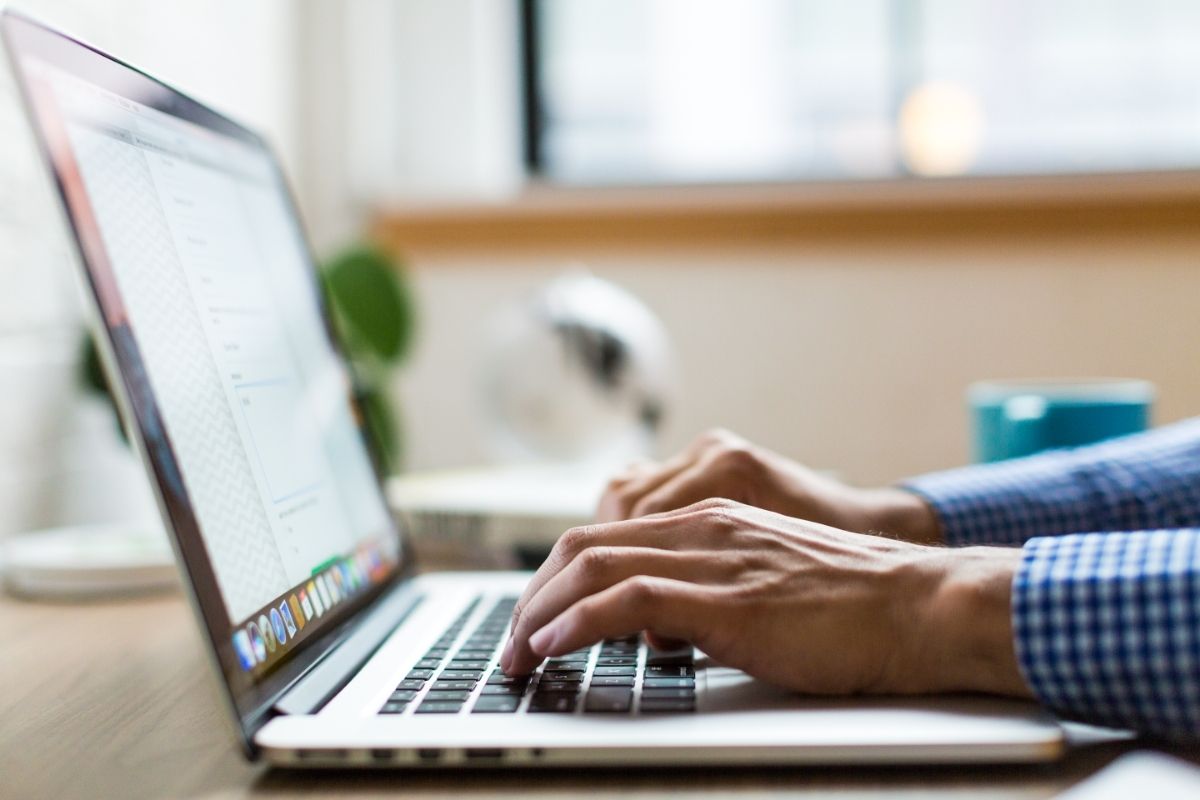 The company only accepts writers from the U.S., Canada, U.K., Ireland, Australia, and New Zealand. You only need an email address when signing up.

As a writer, you'll need to be approved before claiming your first task. Fill in your name, country, bio, age, and create a password on the sign-up form.
The application process is quite simple and easy. As soon as you sign the application form, you'll receive a grammar test that you must complete within five minutes.
The test has 25 questions regarding some grammar basics. For instance, you could be asked to choose the correct similar-sounding word. You might find this simple, but it can be challenging when your time is limited. So, ensure you are free from any distractions when you fill out the form.
After you've passed the 25-question test, you'll be asked to write a 150-word essay within 15 minutes. After submitting, you'll have to wait up to 48 hours to receive feedback. If you don't hear from the company within 48 hours, it means your application was rejected.
If you've been accepted, you'll receive an email with an activation link. Follow it and edit the information in your account. Don't forget to include your best sample writing because clients will see this when they are looking to hire you for a writing job. You can also select high-ranking keywords that match you with like-minded clients.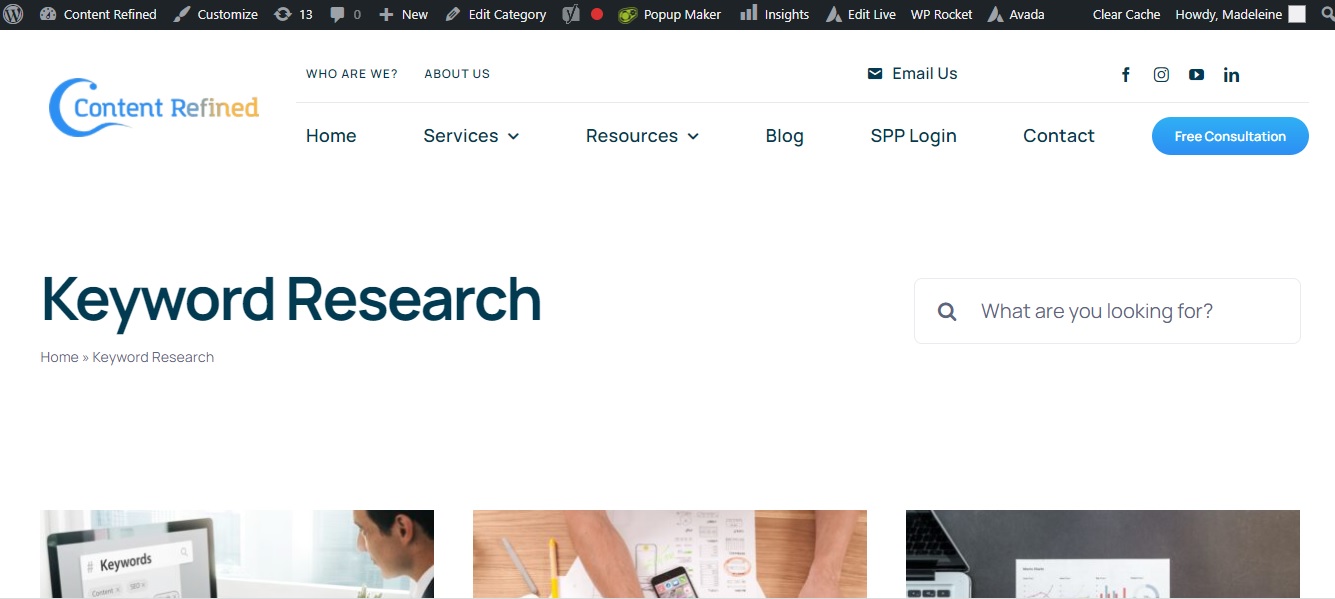 You can only take on jobs that meet your skill level. The company has four writer levels:
Beginner: Every writer starts here.
General: You must complete at least three jobs with an average of four stars and a 73% on-time rating to move to this level.
Skilled: To be on this level, you need to complete at least six jobs. Plus, you should have an 82% on-time rating and an average rating of 4.2 stars.
Expert: An expert writer has completed no fewer than 15 jobs and has an 82% on-time rating. You'll also need to attain an average rating of 4.6 stars to be in this category.
The company allows clients to determine how fast a freelance writer can advance through the levels The client rates each submission you make and can reject or approve your article. So, it is crucial to follow the client's briefs and instructions if you want to quickly rise through the ranks.
You have about 12 hours to submit 300-word blogs, 24 hours to complete 500-word articles, and 48 hours for articles that are more than 2,000 words.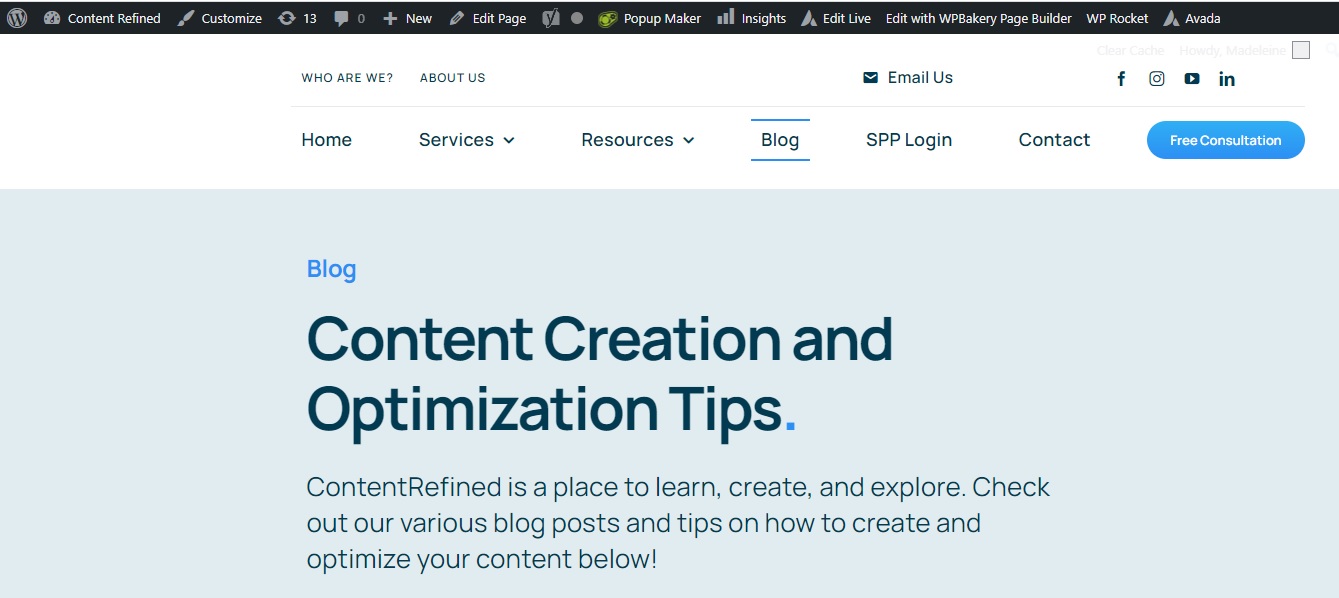 After submitting your work, clients can either accept it, request a revision, or fire you if you don't meet the required standards. If you don't hear from the client within 72 hours, Hirewriters.com will approve the article automatically with no rating.
For Clients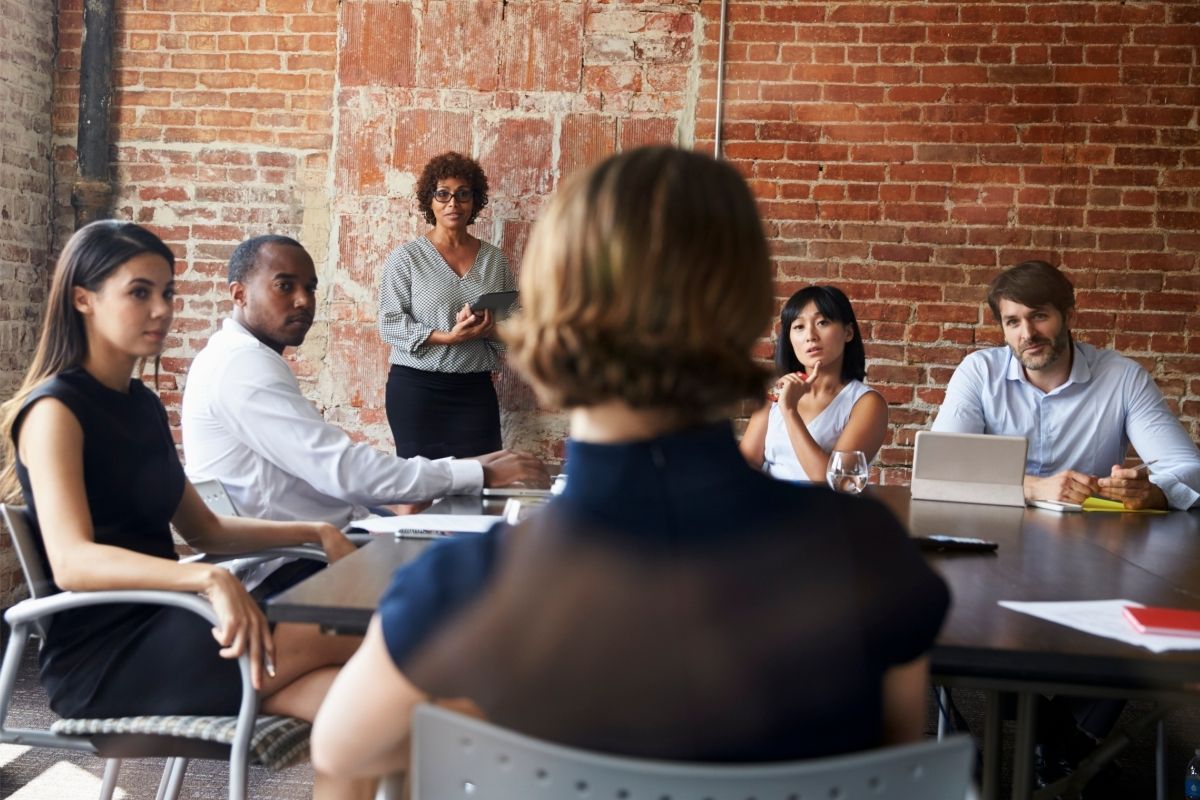 The signup process for clients is quite simple. All you need to do is create an account and choose a payment plan that works for you. You'll then have access to a pool of writers willing to write unique content as per your instructions.
How Does Hirewriters.com Pay Writers?
The writers here get paid depending on their average rating as follows:
Beginner writers receive $5.50 for every 1,000 words
Skilled writers receive $11 for every 1,000 words
Expert writers receive $30 for every 1,000 words
If you do an excellent job and the client is very pleased, they can choose to add a tip to the base pay rate.
How Much Money Can Writers Make with Hirewriters.com?
The amount of money you make depends on your writing skills, availability, and the quality of the content you produce. If we factor in things like direct assignments, tips, and revisions, an average writer on this platform can earn $100 or more weekly. The company has a constant workflow, which is important for writers looking for consistent writing jobs.
The company pays writers every Friday via PayPal. The payment is made automatically as long as you have earned at least $10.
Pros
Here are some of the advantages you'll get from working with this company.
Affordable Content
There's no place where you'll find content as cheap as Hirewriters.com offers it. Unfortunately, it isn't easy to find content priced even close to what the company charges unless you are getting free samples. So, if you are willing to purchase some cheap content, Hirewriters.com is the right choice. Plus, it offers rewrite services at cheaper rates.
Diverse Content
Hirewriters.com has a pool of writers who can write a variety of content provided they have proper instructions. As a result, you might get written content from almost every niche in the industry.
Quick Turnaround
In its adverts, Hirewriters.com says it has a turnaround time of one day, which can be shorter upon a client's request. But short deadlines don't tend to support quality content writing. You need to give your writer enough time to research a topic if you want well-written content.
Fair Acceptance Rate
The company states that its writers don't miss tight deadlines and will penalize any writer who doesn't meet them.
Hirewriters.com gives clients a 72-hour window to review work and make suggestions.
However, the company requires clients to deposit money in escrow when they order content. If the client chooses to reject a piece, they'll refund the money, but this is a rare occurrence.
Cons
Some of the disadvantages of working with this company include:
Low Pay for Writers
The biggest problem Hirewriters.com has is that it pays its writers almost nothing. For example, some writers only make about $3 per blog post. You can't attract quality writers with that kind of pay rate. Any good writers on the site are probably only there because they don't have an alternative. As a result, they lack the motivation to produce quality content.
The company does use a ranking scale where writers get paid more depending on their experience, but compared to most other content writing services, the pay is still low.
Inconsistent Quality
Most of the content you'll receive from Hirewriters.com will be substandard. Sometimes, you may be lucky and get a talented writer who'll produce the quality you expect. However, it becomes challenging when such writers shift to other content writing platforms that pay better.
Bad Reputation
Hirewriters.com has a shady reputation in the content writing industry. This likely stems from its poor client-writer relationship.
Writer Grievances

Several writers have complained that Hirewriters.com locked their account and cut off communication. Some writers claim they weren't paid for work they completed. This is unfair because writers are the backbone of any content writing company.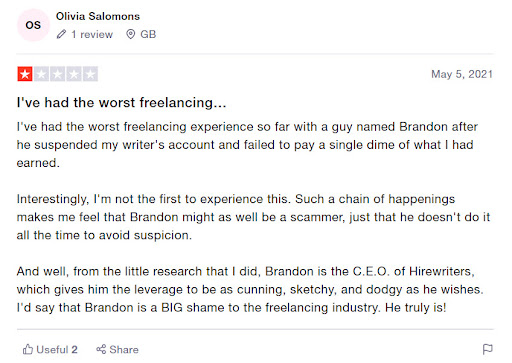 Although there is no way to verify these complaints, there are too many to ignore. A lot of people, both clients and writers, have had negative experiences with Hirewriters.com. The company needs to solve these problems if they wish to stay competitive in the content writing industry.
Popular Hirewiters.com Complaints
It is difficult to find a content writing company that has no flaws. However, a well-managed company will get to the bottom of any issues and come up with permanent solutions. Here are common problems that freelancers face at Hirewriters.com.
You Can Get a Permanent Ban Without Proper Scrutiny
The company has some harsh rules that writers need to follow. Sadly, some of these rules aren't written, and most writers only come to know about them when their account is frozen.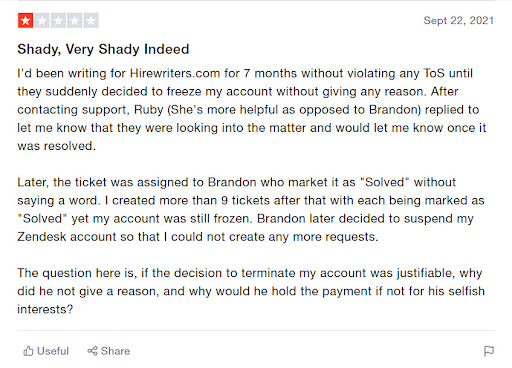 Hirewriters.com doesn't allow writers to operate two accounts from the same computer. This rule is in place to stop writers from using multiple accounts. But if a friend uses your laptop to submit an urgent job, the company will ban your account. We believe there should be more scrutiny before disabling accounts so that only writers trying to subvert the system are penalized.
Another questionable rule is that you can only receive payments via a PayPal account registered under your name. If you are having issues with your PayPal account, there is no way to receive your hard-earned money. If you try using a friend's or relative's PayPal account, Hirewriters.com will ban your account even if you produce high-quality content.
We feel that Hirewriters.com should be more flexible when it comes to payments. PayPal charges high fees and can even hold your money for a first-time transaction. Therefore, Hirewriters.com should work with various online payment platforms to avoid banning writers' accounts unnecessarily. Plus, it would make sense to contact writers before the company bans their accounts.
Some Clients Are Not Nice
In general, you'll find a lot of good clients at Hirewriters.com. If you write quality content, you can even receive tips. However, some clients want you to write more words than what they are paying you for. And they can give you a bad rating simply because they didn't provide enough information in their Statement of Work (SOW).
Hirewriters.com almost always sides with clients over writers. Yes, "the customer is always right." But a simple investigation into complaints can go a long way in building loyalty with your writer base. In short, clients determine how fast a writer will rise to the Expert level. If one client doesn't like your style, be ready to pack and leave, even if you are a good writer.
The Company Doesn't Have a BBB Rating
It probably doesn't come as a surprise that Hirewriters.com is not listed with the Better Business Bureau. That means it is probably not doing something right. If you are serious about getting quality content, perhaps consider Hirewriters.com's parent company.
Seasonal Work
If you are looking to make Hirewriters.com your main source of income, you'd better look for alternative options. Writing jobs are seasonal, though they can be plentiful at certain times of the year. Don't run out and quit your day job because you want to earn a living with this content writing company. It is a good idea to develop a base of clients who send you work directly. Such clients can be a lifesaver during dry spells.
Is Hirewriters.com Legit?
To be frank, the company has earned a poor reputation online. If you're someone who is just looking to purchase cheap content, this site may be right for you. But be aware that the content you receive will likely not be good quality because the writers simply are not paid enough to put in the extra effort.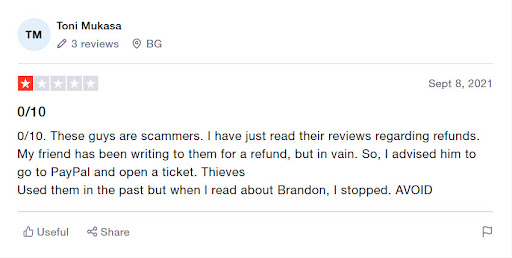 If you value both quality content and fair treatment for writers, you should look for a content marketing company that treats its writing team fairly and respectfully.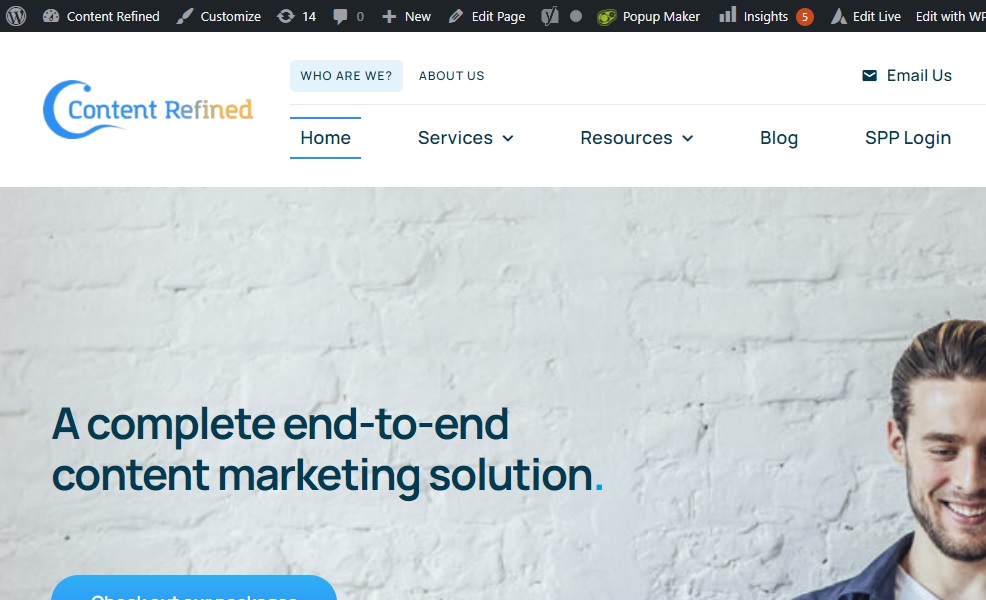 Should I Write for Hirewriters.com?
If you are looking for something to fill your time while you search for better opportunities, then you can opt to write for them. It is a place to start and gain experience in the writing world. However, always be on the lookout for other content writing companies that pay well. Don't stop moving until you get a company that champions a writer's well-being.
Final Verdict
From the many negative reviews about Hirewriters.com, it is clear something is amiss with this company. Otherwise, there would not be so many complaints from writers and clients alike.
There are plenty of writing services offering SEO-friendly articles. But quality content almost never comes with low pay. You may have to be willing to part with a few extra dollars to get high-quality content.
It's always a good idea to research a content writing company before purchasing content from them. Some of these companies simply don't care about their clients or writers. Look for a company that will give your money value without compromising on quality. Don't be afraid to ask for writing samples to know if they are the best fit for your type of content.