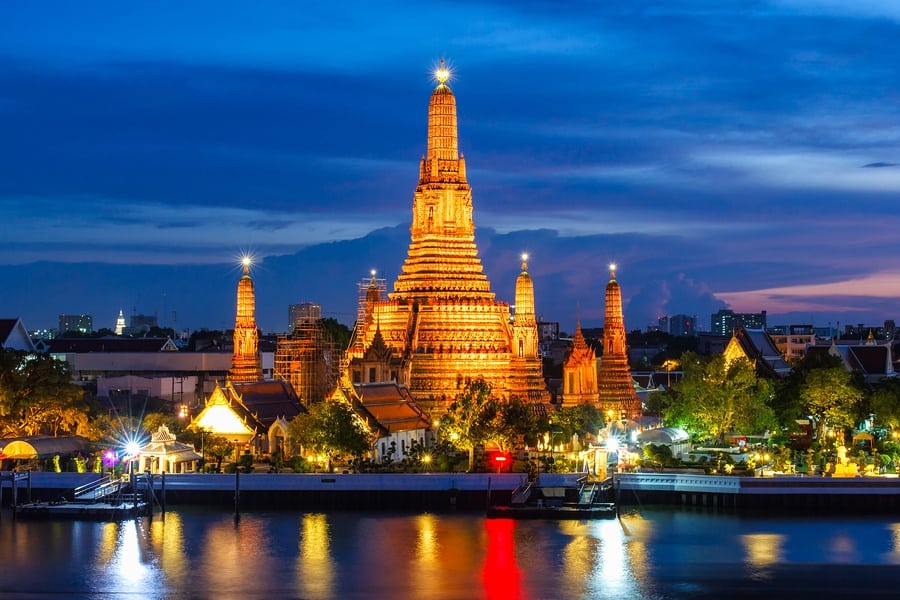 The world has come a long way over the past couple of decades in regards to how we work, particularly for those employed in so-called "office roles".  Once upon a time, work for the majority of these people involved traveling to a single place of work, sitting at the same desk, Monday to Friday, 9 to 5.   Now, it would be difficult to find an organization that didn't have at least one person working agile for at least part of their day.
There are so many great benefits of working agile.  Probably the most attractive one is that you have freedom to move around.  You're not tied to one particular desk.  You're not even tied to one particular country.  You can literally travel the world and work as you do it.  This is what's referred to as a digital nomad lifestyle. While I appreciate this may not work with all occupations, one role that a nomadic lifestyle is suited to is content marketing.
Working within digital media in a digitally driven world gives us opportunities we would have never experienced 30 years ago.  Back then to arrange a meeting with a client overseas would be an absolute nightmare.  It would involve booking flights, rooms, travel, and would cost an awful lot of money.  Nowadays, thanks to the joys of digital media that same meeting can be done from the comfort of your own home at barely no cost at all.  It's a location independent field of business.
Digital media has made it possible for so many amazing people to thrive and be recognized for the fantastic, talent individuals that they are, and that's exactly what happened to our very own Madeleine, Business Manager of Content Refined.  Madeleine is a very hard working woman who knows just what she wants and isn't afraid to go and get it.  She started Content Refined just over a year ago and since then has been working non-stop to make it the success it is today.
Madeleine herself has a pretty inspiring story.  She gave up a secure role in Toronto to move in with her partner in Collingwood, but at that point in time, had no other position to go to.  Then as luck would have it a role for an intern came available for a tech company in Collingwood. That was when she first began working with Jon, co-founder of Content Refined.
Working for Jon, Madeleine put together processes for just about everything content related for all of his websites.  Processes were written for hiring and firing writers, best SEO writing practices, carrying out effective keyword research, and so much more.  In that time around 10 writers had been hired in which to create all the content and as a result much more traffic was coming through.  That's when Madeleine suggested pitching this whole idea of content creation to other businesses for a set monthly fee.  And voila, Content Refined was born!
As a budding entrepreneur in the content marketing industry Madeleine recognized the importance of communication with other like-minded people across the world.  So that's when she became a member of Dynamite Circle and since then, hasn't looked back once!  Being a part of the Dynamic Circle group has enabled Madeleine to benefit from what others have made a success out of.  The whole point of Dynamic Circle is that it brings together entrepreneurs to share ideas and bounce off one another to achieve further successes.
Greg Gerber is also an entrepreneur and fellow member of Dynamite Circle.  He wanted to give another lucky member the chance to come to this year's DCBKK event.  The competition wasn't just offering tickets.  Oh no.  It was offering the winner an all-expense paid trip that included, flights, hotels, tickets, and star class treatment all the way to the annual event held for members over in Bangkok, Thailand.  He decided to host the competition as a cool way to give back to the wider world.  Greg wasn't always a successful businessman, and still remembers where he came from.
The competition was his way of helping someone else out that was in the same position he was before he became successful.  It basically involved Greg talking to all the candidates to see where they were with their businesses and what steps they had taken to get there.  He also delved into what plans or hopes the budding entrepreneurs had for the future in terms of their upcoming businesses.  After hearing what Madeleine had to say and the story behind her success, he was convinced he had his winner.
Madeleine confirmed that her business has changed dramatically since visiting DCBKK. Winning the trip all-expense paid trip to the event really has changed her life.  Not only did she meet some really inspiring people there, but she also learned a lot that's helped the business too.  Since attending the DCBKK event, the value of Content Refined has grown by more than 20%.
If you're stuck in a rut and thinking that there's nowhere left to turn, take a moment to think about Madeleine and her story.  In just 12 months she turned her life around from not knowing what she was going to be doing from one minute to the next, to being co-owner of a very successful content marketing business.  If anyone is empowering, it's Madeleine.  She has shown the whole world just how powerful women can be in business.
To succeed in life you need just two things:  opportunity and determination.  Make the most of every opportunity and don't stop until you get it.  Nail these two components and the rest will fall into place.
Here Madeleine's story on the DCBKK Podcast here: http://www.tropicalmba.com/gregsgift/