ContentFly works by linking clients to highly vetted writers, like most content creation companies. The company receives requests from companies or individuals who want to purchase written content from a content writer. Then, the content writing service company uploads the work on the writers' dashboard. Writers can then claim work on a first-come-first-served basis. If you are a good writer, clients can pick you as a favorite. ContentFly will send you email notifications when there's work from your client.
But is this the right company for your content writing needs?
We made this review to give you an idea about how the company operates. You'll also learn about the pros and cons, plus what it charges for its services.
An Overview of How ContentFly Works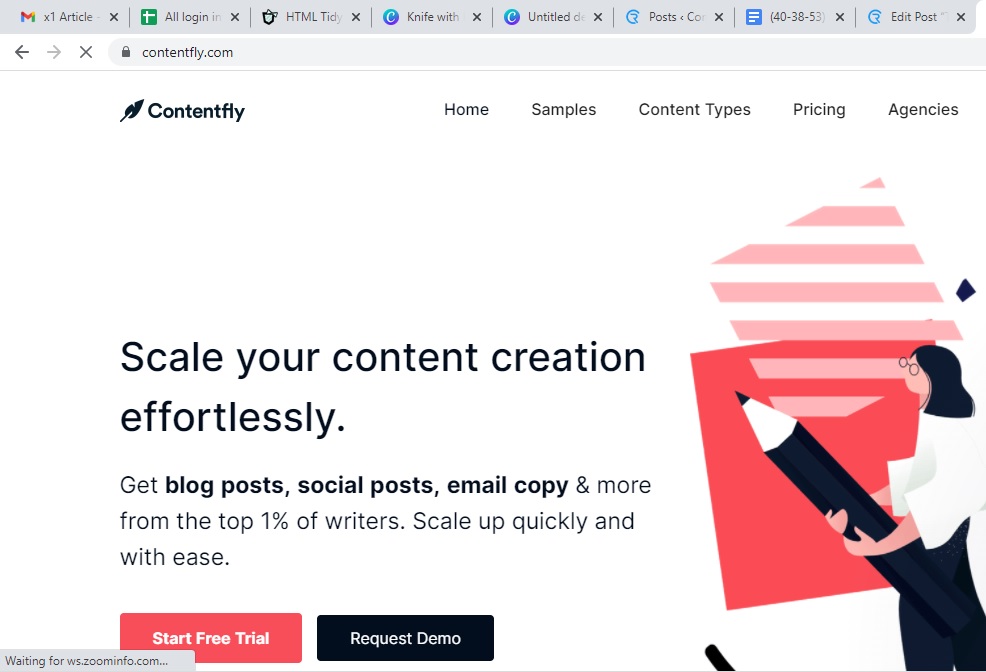 ContentFly has its headquarters in Toronto. Its main duty is to help businesses grow by providing high-quality content through content marketing. The company has writers who can write blog posts, SEO articles, webpages, product reviews, press releases, and many other types of content. All clients need to do is ensure the writers have enough information on the subject they are writing about.
Signing up with ContentFly is simple and easy. As a client, all you need to do is visit its website and select a payment plan that works for you. After that, log in and submit a properly outlined request, including the keywords, desired word count, and relevant research links.
ContentFly will then assign your order to one of their writers. When the order is complete, you'll receive an official email from their team. You can request as many revisions as necessary. Clients can also rate the writer based on how well they wrote the requested piece.
Writer Applications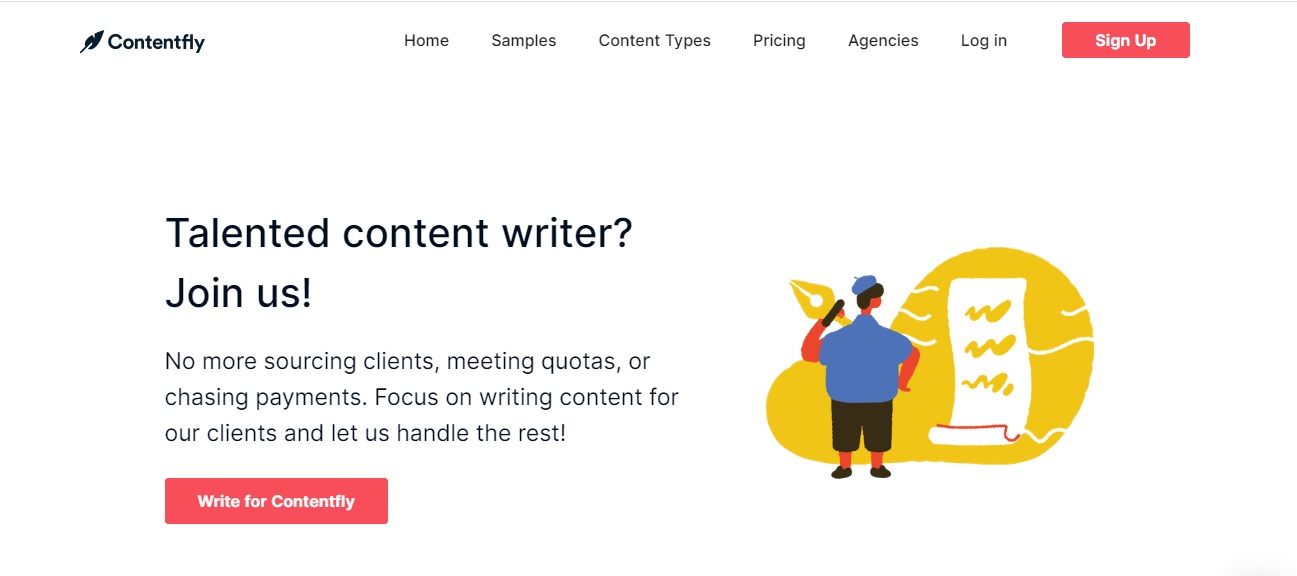 ContentFly has a straightforward application process. Writers need to complete a 750-word blog post before they can be accepted. The company pays for the written sample and uses it to gauge its writers. If they accept your sample, they'll activate your contract, and you can start claiming available jobs.
Ratings
ContentFly has three levels based on the writer's content quality (grammar), delivery time, and customer rating:
Tier 1 – Features writers with a 9-10 rating
Tier 2 – Features writers with a 7-8 rating
Tier 3 – Features writers with a 5-6 rating
Customers have a 1-10 rating option for a finished article. A rating of 10 means they loved your content, while 1 means they don't like what you wrote. So, always ensure your writing quality remains consistent.
The company docks you four points from the customer-assigned rating if you miss a deadline. You can also lose two points when the internal team at ContentFly goes through your work and discovers blatant grammatical errors or when you use the wrong language as requested in the Statement Of Work (SOW).
Your rating is the determinant of how much work you can claim. For instance, Tier 1 writers have the first pick of available jobs. Tier 2 writers get access to the remaining jobs after one hour. Tier 3 writers can only claim jobs that the Tier 1 and Tier 2 writers didn't pick.
Pricing
ContentFly charges $300 for 4,000 words every month. Its price package includes revisions, stock images, and research. The price may change if the content you are looking for is technical.
How Much Can Writers Make on ContenFly?
As a writer, how much you make depends on your skills, content quality, and availability. Good writers churn out 15-20 pieces a week and can make $700-1,000 if they put in extra work and avoid unnecessary revisions.
Generally, clients pay $300 per month for 4,000 words. They pay their writers $200 for the 4,000-word content. So, ContentFly takes a $100 cut.
ContentFly Reviews
As of March 2022, the reviews of ContentFly stand at 3.3 stars on Trustpilot.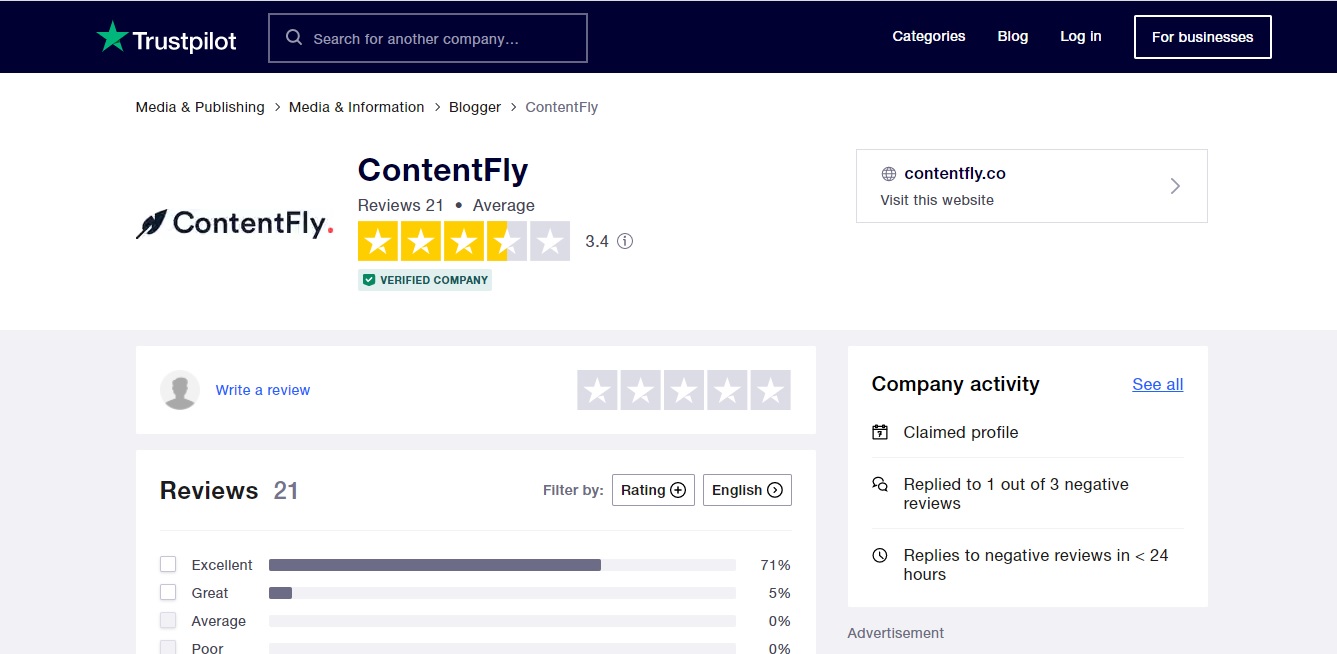 ContentFly used to have a majority of positive reviews in the past, but that seems to be changing. For instance, one user says its sign-up policies aren't clear. The company claims to have a free trial that clients pay for upfront and can request a refund later, but that doesn't seem to be the case. The user says that the company needs to work on its customer support because it remains unresponsive on urgent matters.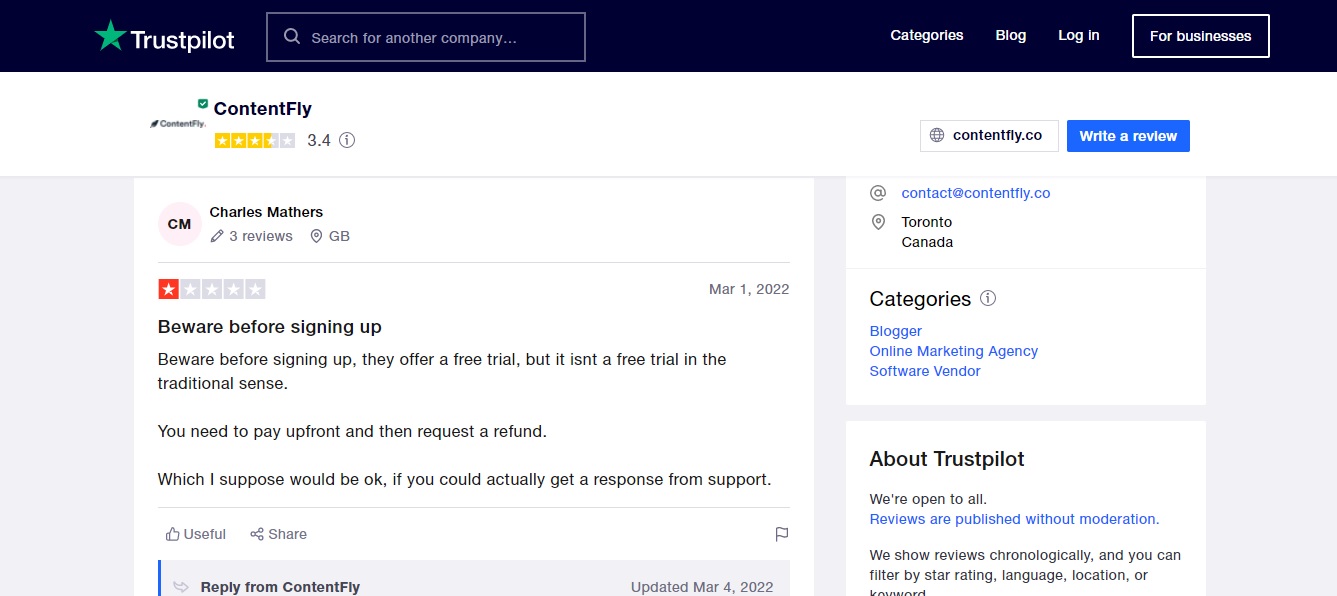 Writers, on the other hand, enjoy working for the company. Most of the positive reviews are from writers who have been working with ContentFly for some time. Gavin Boyter, for instance, affirms that the company offers decent pay rates, having tried to work for some of its rivals. The writer also says that clients' SOWs are mostly clear, and the support team responds quickly to any problems that may arise when working on a piece.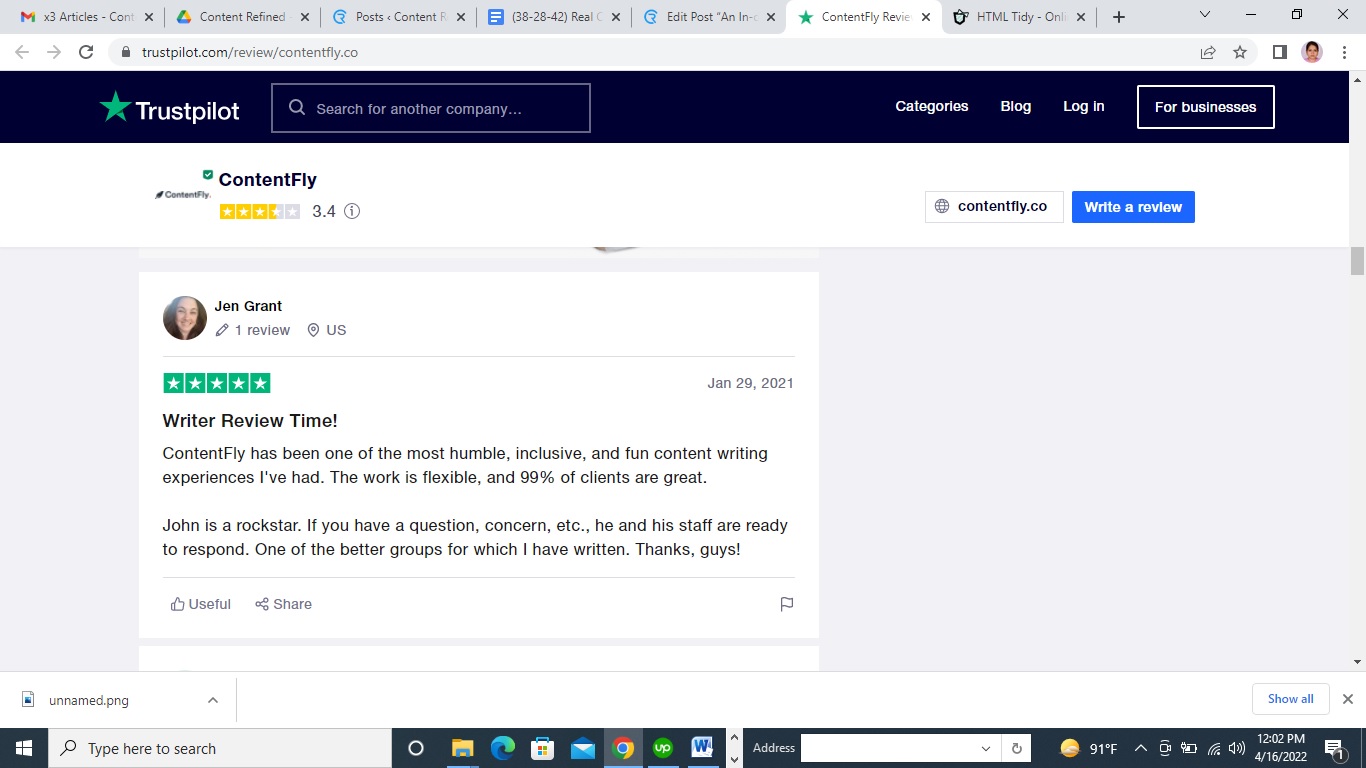 Another writer, Cara Koch, has been working with the company for over 1.5 years now. The writer affirms that ContentFly has a steady workflow and flexible quota, making it easier for a freelance writer without any pressure. Plus, she has several clients who request her as their preferred writer. She believes ContentFly is excellent for anyone who wants to grow their freelance writing career.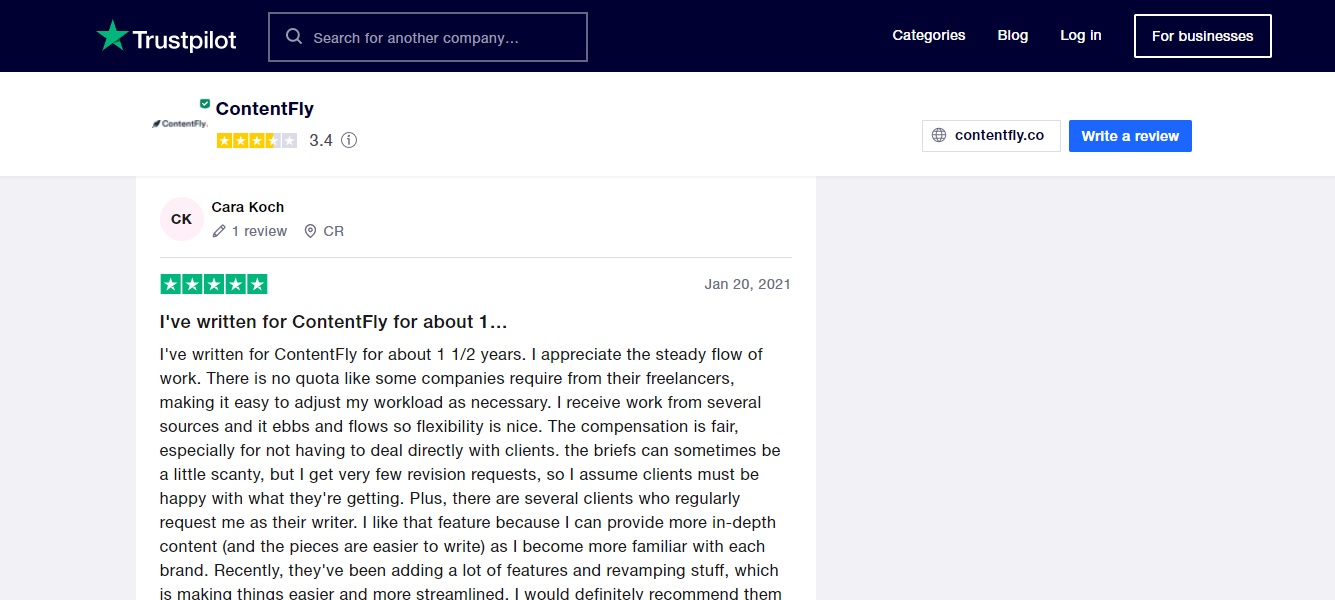 Pros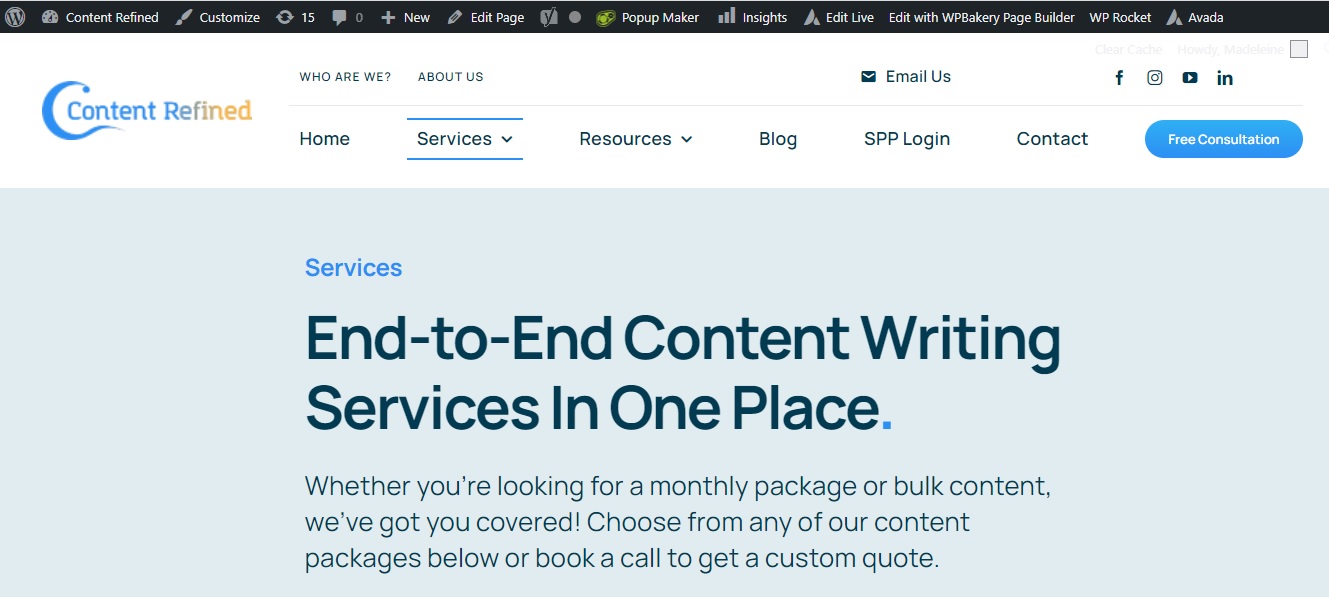 Here are the advantages of using ContentFly's services:
ContentFly has a free trial option. However, you need to pay an upfront fee of $400. If you don't like the first 1,500 words they write, you can request a refund with no questions asked.
The company produces flexible content ranging from product descriptions, SEO articles, website content, and other on-demand content.
It has a team of well-trained writers who understand the basics of search engine optimization. Most of its content meets the standard industry threshold that drives traffic to customers' websites.
The company enables clients to request unlimited revisions, hence it guarantees 100% satisfaction for all content orders.
Its recurring monthly packages are excellent for companies that need large content volume. Besides, its charges are reasonable compared to its competitors. However, this might not be the right company if you only need a small amount of content each month.
It has reasonable deadlines (three to five business days for 1,000-word blog articles). This gives writers enough time to research and produce quality content that customers like.
Cons
Just like any company, ContentFly has certain shortcomings, such as:
Clients get inconsistent work if they don't have a preferred writer. ContentFly assigns your work to one of its writers, making it challenging to attain a consistent tone and voice.
Its recurring monthly packages only work for those who need a large content volume every month.
The company has limited payment options for writers. They only pay writers via direct bank deposit.
Final Thoughts
ContentFly is an all-around great content writing company. Its payment packages are excellent for companies that need to generate large content volume regularly. The company favors clients with its unlimited revision request option. However, it needs to adjust its packages to fit start-up businesses that only need a small amount of content.
In addition, ContentFly is the best option for content writers who want to grow their careers in the freelance writing industry. Their reasonable pay rate ($0.05 per word) is just what you need to stay motivated while creating quality content that will make clients come back for more. Plus, they have a simple onboarding process as long as your content fits their guide and style.