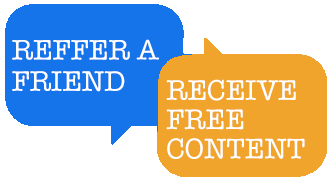 Introduce a friend to Content Refined.
We'll help them succeed online- and we'll give you free content for it!
WE'D LOVE TO MEET YOUR FRIENDS. WE'LL REWARD YOU FOR THE INTRODUCTION.
Do you know someone who could benefit from our services? Help your friends win online- and get some free content for the referral.
Fill out the Form
We will give your friend a free consultation.
If your friend signs up for our services, we will give you a Free 1000 word Article
[gravityform id="6″ title="false" description="false" ajax="true"]