Introduction
For those regularly engaged with SEO, the importance of keywords goes without saying. Keywords are naturally incorporated into the content so that the content is returned in more online search results.
Finding proper keywords often involves using online keyword tools, and we will be examining two popular tools in this article – SEMRush vs Google keyword planner. We will take a deep dive into each tool and show you why SEMRush is our top choice for keyword planning.
The Products
Before we get started, let's cover the basics. If you are not familiar with either keyword research tool, here is a brief outline. Below, we will examine each in more detail.
Google Keyword Planner
Google Keyword Planner is a free tool to help you research keywords for content strategy, Google Ads campaigns, and more. The Google Keyword Planner is designed for use in Google Ads Campaigns and pushes you in that direction. To access the tool, you have to create a Google Ads account. Then, set your account to Expert Mode.
Google Keywords Planner is a suitable keyword research tool for use in much more than just Google Ad campaigns. There are plenty of tools for finding keywords related to your business or strategy based on actual Google search data. There are tools for creating a plan, editing, and forecasting data, targeting specific locations, and much more.
Pros
Free to use.
Uses actual Google data.
Tools for selecting keywords, forecasting keywords, and more.
Simple user interface.
Cons
Not as extensive as paid tools.
Pushes you to buy Google Ads.
SEMRush Keyword Tools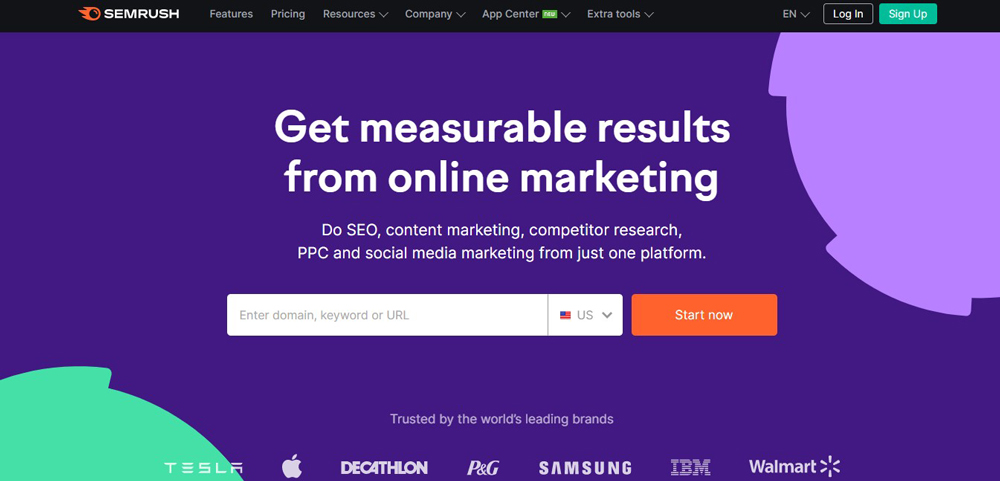 It is important to note that SEMRush is far more than just a keyword planning tool. SEMRush is meant to be a comprehensive online marketing/SEO platform to help marketers plan all aspects related to their content creation and SEO optimization.
Since keywords are an important part of this process, SEMRush has a long list of tools and features that help users optimize their keyword planning.
Note that, unlike Google Keyword Planner, SEMRush is a paid service. But, as the saying goes, you get what you pay for, which means SEMRush is a much more in-depth paid tool than Google Keyword Planner.
Below, we'll dive into more depth about SEMRush's comprehensive keyword tools.
Pros
Extensive range of keyword tools.
SEMRush reps give free tutorials on their products (to subscribers).
Intuitive user interface (once you learn the platform).
Deeper selection of suggested keywords, with more competitive data to analyze.
Cons
Paid service.
Definitely, a learning curve involved.
Features Face-to-Face
Now that we have given a brief outline of each service, let's take a deeper dive into each. In this section, we will dive into greater detail about each keyword tool. We will examine each tool for its keyword optimization capabilities and then decide on an overall winner. Let us start with Google Keyword Planner:
Google Keyword Planner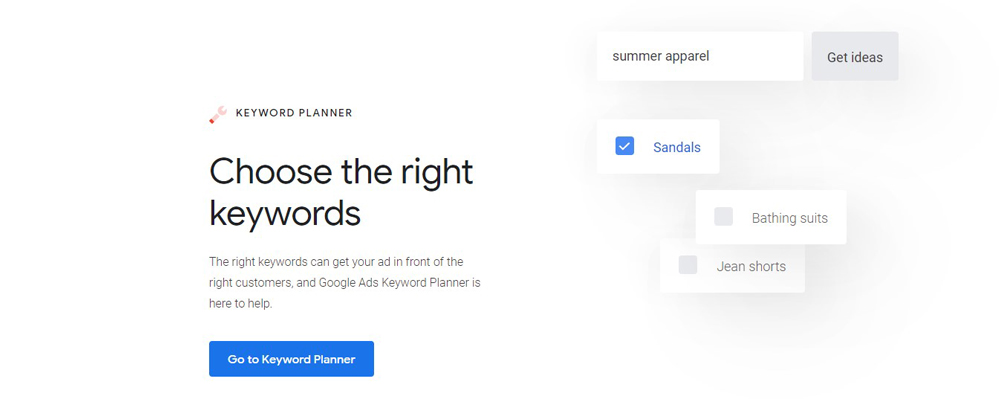 As mentioned, Google Keyword Planner is a research tool available with a Google Ads account once you have set your account to Expert Mode. Expert Mode doesn't cost more. It gives your account more features and capabilities that might be confusing for beginners.
Google Keyword Planner tool is rather extensive, offering you several options for keyword ranking, discovery, planning, forecasting, and more. It is best understood by looking at its three main capabilities:
Keyword Planning
The Keyword Planner is the most popular tool in the suite. In a broad sense, the research tool allows you to discover new keywords and get search data on existing keywords. In other words, you can use the tool to find new keywords that would be successful for your business or to check on the status of keywords that you thought of yourself.
You can discover keywords by entering words related to your product or service into the Keyword Planner, and Google will return other keywords with high search traffic. Alternatively, you can enter a website URL related to your space, and Google will return keywords related to the content on those sites.
From there, you can organize and filter keywords to decide which ones are most worth pursuing. You can filter based on different criteria, such as competition for that keyword, impression share, keyword text, and cost per impression (if you are using the keyword for Google Ads). You can also group the keywords based on brands, categories, location data, or different themes.
All in all, it is an impressive level of detail for a free tool. You can use the tool to discover which keywords are worth pursuing and to project and plan an organic (or ad) content strategy based on specific keywords.
Keyword Forecasting
Once you have used the Keyword Planning tool to generate a list of worthwhile keywords, there is a comprehensive forecasting tool to predict the success of each keyword. It is important to note that the forecasting tool is based on Google Ad data. In other words, how many conversions, clicks, and impressions you would likely get based on ad spend.
Although it is geared toward AdWords, you can interpret the data for organic SEO purposes as well.
Campaign Creation
Finally, Google Keywords brings it all together by allowing you to group & plan all your keyword info into a "campaign" (AKA a Google Ads campaign). Like we said earlier, this keyword tool is heavily geared toward selling you Google Ads, which is one of the main downsides of using it as a general SEO tool.
Either way, the Campaign tool is an excellent way to organize all your keyword data in one place and to generate forecasts for how each keyword should perform.
SEMRush Keyword Tools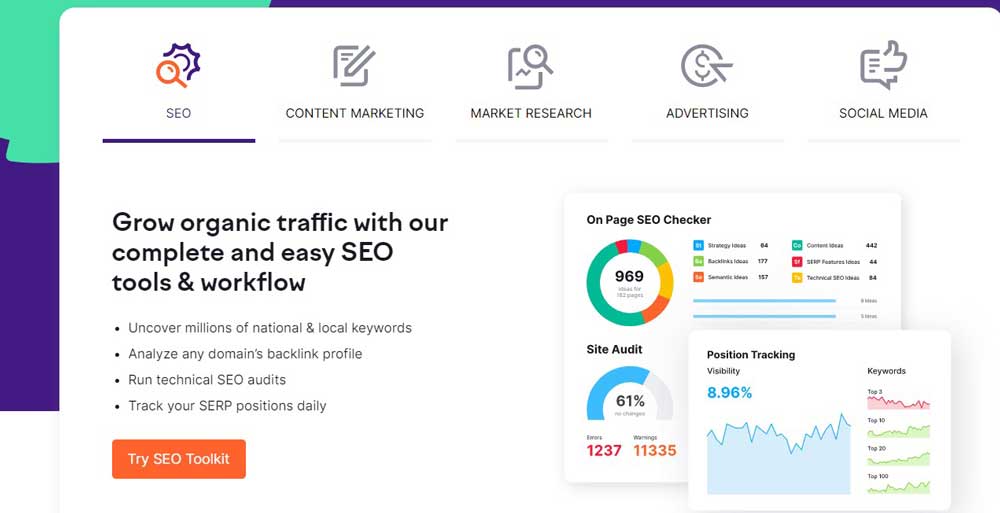 SEMRush is more than just a keyword tool – it is a comprehensive online marketing platform. But since we are comparing to Google Keyword Planner, we will focus on the keyword tools. SEMRush offers quite a bit more than Google Keyword Planner, with tools capable of in-depth research.
SEMRush's keyword toolkit is best broken down into a few major areas:
Keyword Overview
The Keyword Overview section is a great place to start your keyword journey. The Keyword Toolkit provides an intuitive outline of relevant data for a specific keyword. You search a keyword, and it returns complete organic and advertising metrics for that keyword. I
t includes variables such as search volume, several search results, competition level, gives suggested keywords, and much more. You will get a complete outline so you can decide whether the keyword is worth pursuing.
The reliability of this data is also worth noting. SEMRush integrates directly with Google Analytics. It is valuable data since Google is by far the most prominent search engine for SEO purposes.
Competitive Research
SEMRush also allows you to take a deep dive into your competitors' keyword process. You can select a competitor, and SEMRush returns data on which keywords they are ranking for and which search pages they are ranking. You can use this data to decide which keywords are worth pursuing your SEO campaign and where the competitive opportunities lie.
Keyword Magic Tool
The Keyword Magic Tool is one of SEMRush's most powerful tools for generating new keywords. The tool allows you to input keywords, and SEMRush will scan their keyword database to return related keywords that would help your content or advertisements rank higher in search results. You can continue to optimize based on this data.
Keyword Gap Tool
The Gap tool allows you to see a head-to-head comparison of your keywords against a competing website. You can see where their keyword strategies differ and where they are the same. It allows you to see if there are any "gaps" in your strategy and whether there are more effective keywords you could be pursuing.
SERP Tracking Tools
Once again, SEMRush is more than just a keyword tool. Keywords easily spill into other areas of your SEO strategy and are best considered concerning other research metrics. SEMRush also offers comprehensive tools for tracking your SERP rankings, position, and competitiveness.
SEO strategy is complex and requires constant analysis of many different metrics. Keywords will not be a standalone aspect of your SEO strategy, and SEMRush makes it possible to integrate them into your analytics and beyond.
Keyword Manager Tool
The Keyword Manager Tool is a handy tool for organizing the info covered above (and more). The Keyword Manager allows you to track your keywords, laying them out in a "master list". You can click-thru on the list for research data and analysis based on different metrics.
Comparison – SEMrush vs. Google Keyword Planner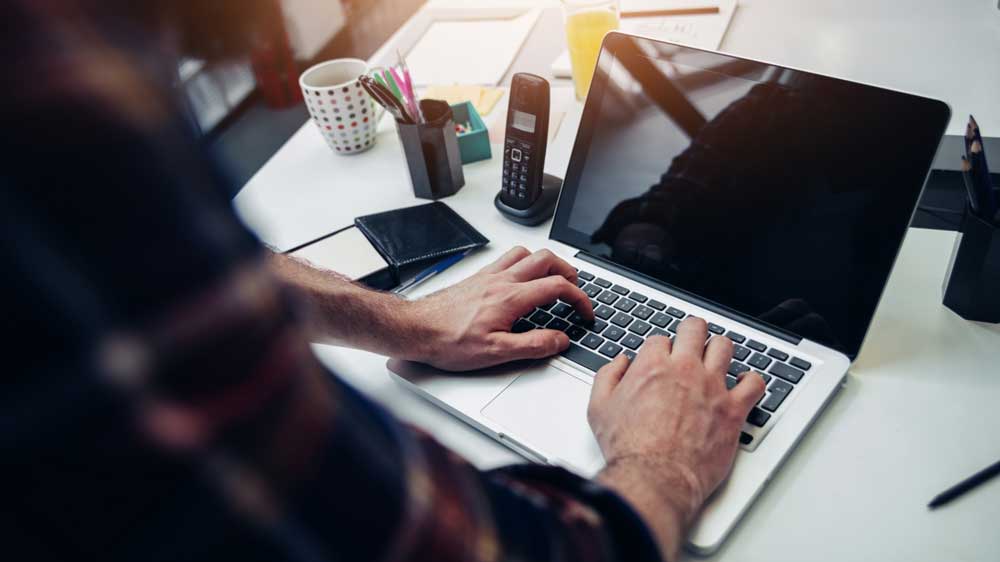 Above, we examined two popular keyword research tools, outlining the major features of each. As you can see, the two tools are quite different in their capabilities. If we were to sum it up briefly, we would say that SEMrush offers keywords tools that are much more in-depth than Google's Keyword Planner but are also more complicated, not to mention more expensive.
SEMrush
SEMRush's keyword tools are pretty much unrivaled by Google's Keyword Planner. They are more in-depth. There are more comparative metrics available, they offer much deeper competitive data, and it is easier to store & analyze data. SEMrush is useful if you need to do keyword research for organic SEO purposes as opposed to Ad Words (although they offer that, too).
SEMrush is a paid service with varying "tiers" depending on what you need. There is a Pro, Guru, and Business plan, each offering increasing functionality (and user-count). These range in cost from $120/month to $450/month. It is not cheap. However, if you are serious about SEO, it helps you make more than you spend.
Google Keyword Planner
Google Keyword Planner tool is simple, and it is free. It gives you basic tools for discovering new keywords, evaluating current keywords, and forecasting/organizing for the future. It is based on Google AdWords data.
So, it may not be as appropriate if you are trying to develop an organic SEO campaign. Either way, it still provides quality keyword data and quality keyword forecasting data. For a free tool, you could do a lot worse.
As you can see, each tool holds clear advantages, as well as certain drawbacks. The question is not which tool is best, but which tool is best for you? It is a question we will examine next:
Conclusion – Which Keyword Tool is Better?
So, which keyword tool is better? Well, it depends on what you need. If you are serious about SEO planning and optimizing. In a broad sense, the definite choice is SEMrush. If you only want a simple, free tool for analyzing and planning keywords, then Google Keyword Planner is right for you.
Here is what we would recommend for each platform:
Use Google Keyword Planner If:
You want a simple, free tool for strategizing keywords.
You want to run a Google Ads campaign.
You want to integrate your SEO strategy into your Google account.
You want an introductory tool to learn the basics of keyword research.
Use SEMrush If:
You require deeper keyword research plus metrics and want to optimize your keyword campaign.
You want to integrate your keyword optimization into a larger SEO campaign (links, relevance, Search Engine Results Page data, and the list goes on).
You need a tool to plan for both organic and advertisement SEO.
You are willing to pay for an SEO service (and pay a lot).
You are willing to take the time to learn the platform (SEMrush can schedule a personalized call with a rep who will walk you through the platform).
There you have it. We have examined two of the most popular keyword tools on the market and both tools differ widely in their functionality. Using our guide, decide which is best for you. Choosing the proper tool is an essential step in building an SEO campaign that drives results.