When you think of a marketing campaign, which two SEO tools come to mind?
Semrush vs. Similarweb is a constant debate among many self-respecting content marketers. The two platforms provide robust competitor analysis services, from content optimization and keyword research to website traffic analysis. So which one should you choose?
Semrush has been around for a long time and offers comprehensive digital marketing services, including data analysis and social media integrations, which are crucial to tailoring an effective marketing campaign. Similarweb is the new kid on the block, offering a credible website traffic analysis platform.
In this post, we review the features of both in-depth to determine the nuances that decide which content marketer is better for your business. But first, let's preview the services.
Semrush: An Overview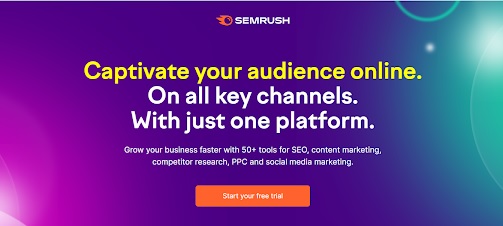 Semrush is a holistic traffic analytics website that integrates robust SEO tools such as keyword research, backlinking research, and other social media marketing tools that form the backbone of your marketing campaign. Semrush collects data from anonymous sources through organic searches, AI, and traffic from other websites. Currently, the traffic analytics site contains data across 142 geographic locations and 808-million domains. The pricing plans are varied, and you can find one that suits you with access to over 50-plus marketing tools. On the flip side, the statistics favor start-ups and medium-sized enterprises and are not ideal for large enterprises looking for competitive research.

Pros of Semrush
Traffic analytics and market explorer services in one platform

Transparent pricing

Covers multiple marketing angles (SEO, PPC, SMM, paid search)

Greater analytics accuracy
Cons of Semrush
The site can be confusing to use

Expensive for beginners
Similarweb: An Overview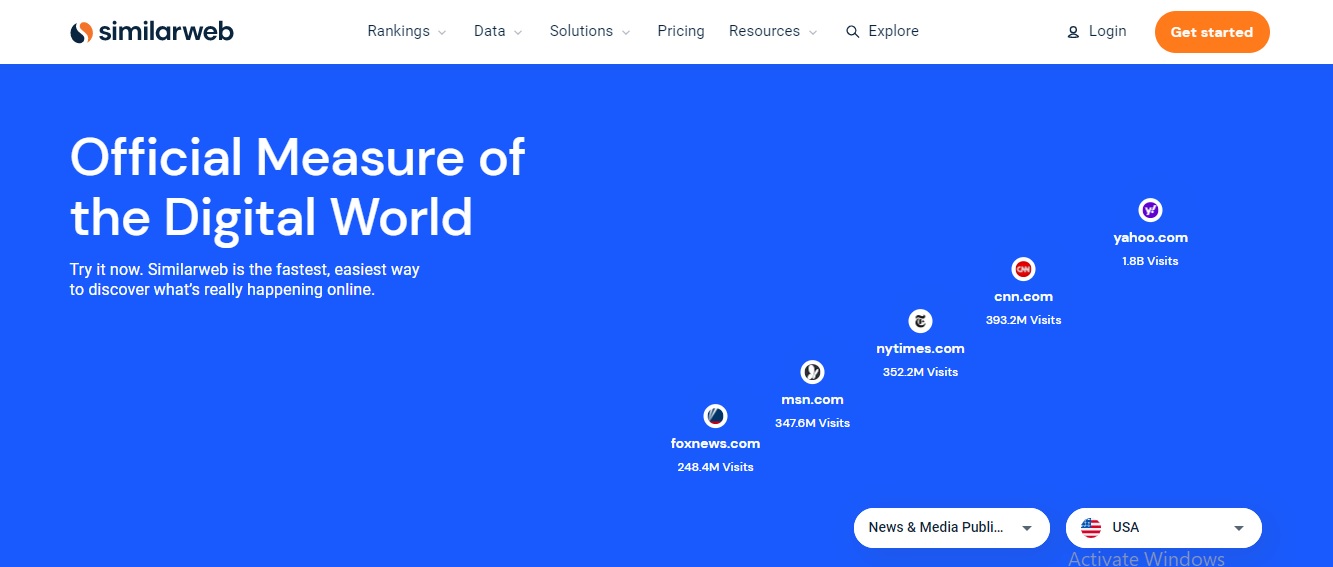 Similarweb is a dedicated website traffic analysis site ideal for monitoring your website and competitor analysis. Similarweb is one of the competitive analysis services that do extensive and persistent research across search engines to provide you with accurate data. The drawback of Similarweb is that you can only do traffic analytics. For other angles of digital marketing, such as SEO, PPC keywords, and position tracking, you will have to check out different services like Yoast SEO and Ahrefs that are more dedicated. Still, Similarweb has keyword research for PPC and optimizing SEO, just not as stellar.
Pros of Similarweb
Captures the sizes of major brands accurately

Exploits various traffic trends

Works well for mid-size and large businesses

Easy-to-use platform
Cons of Similarweb
Lacks finer SEO tools

Expensive plans
Semrush vs. Similarweb: A Detailed Comparison
Keyword Research
Sun Tzu, the famed Chinese general and venerable author of The Art of War, stated, "It is only the enlightened ruler and the wise general who will use the highest intelligence of the army for the purposes of spying and therefore achieve great results." The point? Using competition analysis tools such as keyword research enables you to ethically spy on your competition and determine how to beat them.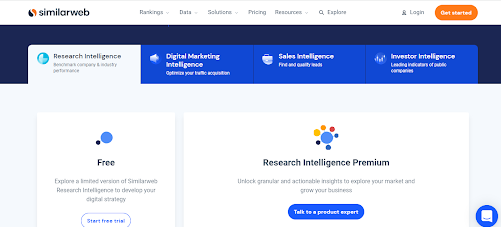 Both Semrush and Similarweb incorporate keyword research into their marketing models. However, there are apparent differences in the search modality of the data generated and the analysis methodology. Semrush boasts an extensive keyword database with over 20 billion keywords. The Organic Search marketing tool in Semrush's dashboard allows you to analyze keywords based on volume, CPC, SERP features, and many more custom metrics. Semrush's keyword analysis offers more than the surface-level traffic overview. The service can link keywords up to 142 indexes that you can leverage in keyword gap analysis or seed out the most grossing keywords. The principal merit is that you can refresh the search every time you want.
Similarweb, including Similarweb Pro, combines most of Semrush's tools from backlinking reports and SERP reports. Similarweb's engineered features focus on market analysis rather than providing solutions across different marketing spheres. To put this into perspective, consider Similarweb's keyword analysis, which includes data on backlinking partners, increasing and decreasing traffic on a site based on the keywords for a specific geographical location. You do not get insights into keyword errors that affect your ranking on search engines. However, you can overcome the shortcomings of Similarweb's keyword analysis structure by purchasing a comprehensive plan that allows you to search across the globe for insights into affiliate marketing, backlinking, and keywords traffic.
Semrush has undoubtedly the most straightforward and effective keyword research structure. Through Semrush's Keyword Magic SEO feature, Organic Search feature, and PPC tool, you can identify the errors that affect your ranking while monitoring your competition. Similarweb offers the best recommendations of potential landing pages that could boost your web presence, but you still pay separately for each feature, unlike Semrush's all-in-one package.
Data Accuracy
Any digital marketer knows the outcome of a marketing campaign depends on the strategy built on data. Data accuracy is the single determinant of which traffic analytics site you'll choose – Semrush or Similarweb, assuming you have the budget to cater to the pricey subscription plans. Both services use similar data collection methods; therefore, data error is inevitable. So, for this metric, it is more a case of choosing the devil you know.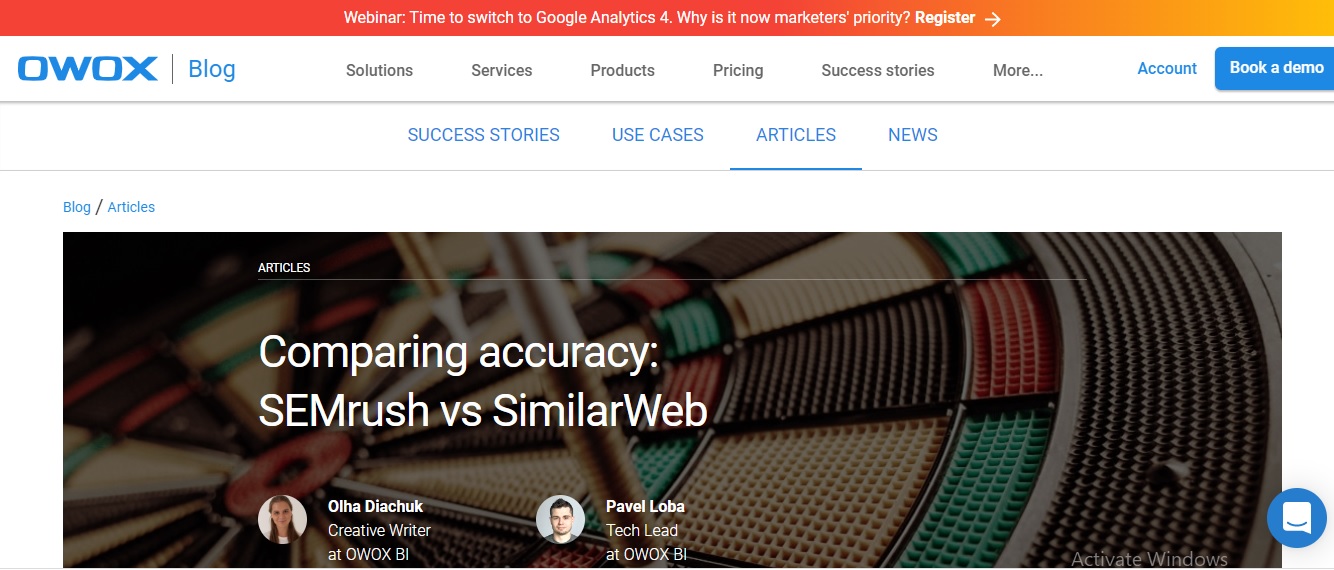 Semrush has a more extensive database with over 20 billion keywords, 500 TB of clickstream data, and 40 T backlinks, making it a reliable SEO suite. Semrush has the Traffic Analytics feature, which aggregates data from its crawler, third-party sites, web browser extensions, and anonymous parties, meaning there are bound to be discrepancies in the data set. We checked OWOX Bi's write-up, which is the most relevant and accurate report on Semrush's data accuracy. Semrush showed a 45% deviation from Google Analytics data for sites with over 1,000,000 visitors per month. With that statistic in mind, let's now review Similarweb.
Similarweb has among the best, if not the best, crawlers in the content marketing and analysis sphere. This content marketing tool supplements the internet crawler with browser extensions and plug-ins, which virtually grow its database. However, there's a slight caveat. The crawler collects data inherently based on raw clicks that can be inaccurate. According to the OWOX Bi research, Similarweb showed a 57% – 61% deviation from the same data set used to analyze Semrush's accuracy.
Similarweb has more significant inaccuracies than Semrush. But for larger samples and websites with higher traffic, both sites have similar accuracy. Similarweb is remarkably accurate for sites with 1M+ visits, while Semrush Traffic Analytics accuracy increases with a larger sample size. Semrush has slightly superior data accuracy than Similarweb. You have to consider your website's estimated traffic per month before choosing these services based on their accuracy.
Pricing
Cash is king! Similarweb and Semrush are pricey competitor analysis and SEO tools, but one gives you value for your money while the other costs you more for roughly the same features.
Semrush has a transparent pricing model that enables us to generate ballpark figures for you. The monthly subscription plans are:
Pro Plan – Starts at $119.95 per month and covers 3,000 reports daily and 250 keyword metrics updates monthly.
Guru Plan – Starts at $229.95 per month with 5,000 reports daily and 1,000 keyword metrics updates monthly.
Business Plan – Starts at $449.95 per month and covers 10,000 reports daily and 5,000 keyword metrics updates per month plus API access.
Semrush Trends incorporates Traffic Analytics, and Market Explorer comes as an add-on and costs $200 per month. If you are on the Semrush Pro plan, then the total would be $319.95 per month for the whole package. Here's the detailed version of updated pricing plans for Semrush.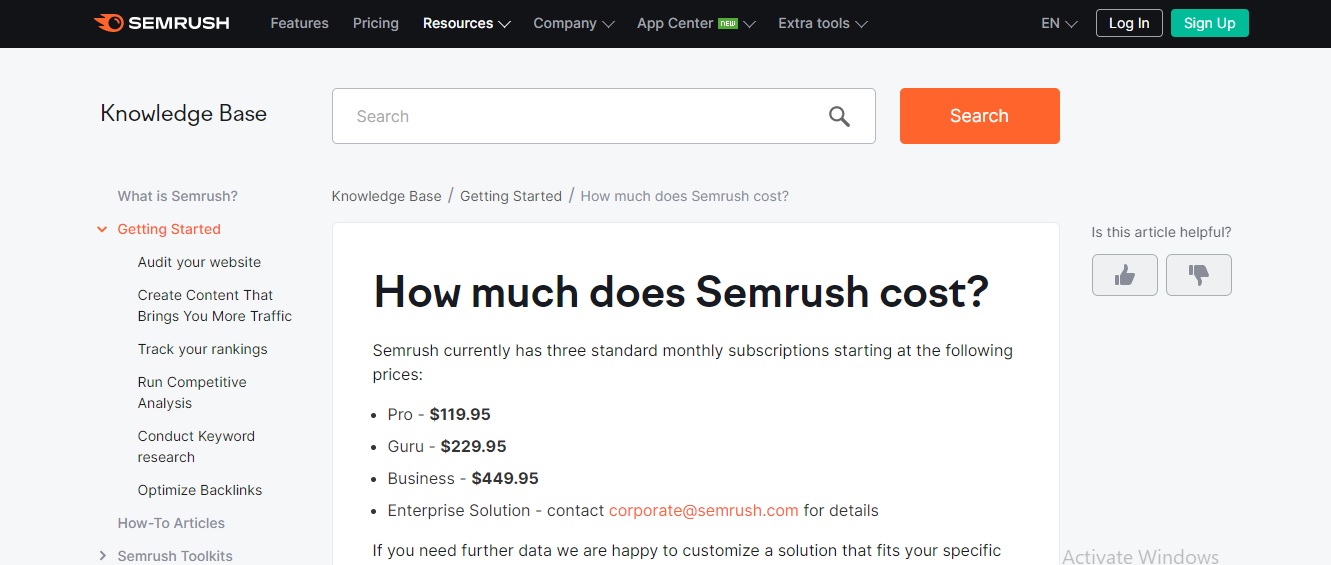 The type of plan you choose depends on your business needs. It is common sense that the pricier the subscription, the more perks and the larger the size of the organization. You can get up to 16% off on either plan if you opt for the annual subscription.
Similarweb has custom prices that the service determines based on its pricing model. It is essential to know you purchase each feature independently. Keyword research, PPC analysis, referral traffic analysis, backlinking audit, and competitor analysis tools are not rolled into one package like with Semrush. There is no base price for each module. You will have to reach out to Similarweb for a customized price and plan.
Semrush offers complete SEO and competitor analysis features with an exact price in one package. Since we cannot establish Similarweb's pricing model, and since you will pay separately for each component, it is safe to say you will pay more. Similarweb has a 90-day free package that allows you to check out and use some features before committing. You get three months of web traffic data, 30 days of mobile app data, and five results per metric, which are not enough for any self-respecting marketer. You can use the free package as a stepping stone before signing up for Semrush.
Semrush has transparent price points, making them the clear winner for this metric. Sorry, Similarweb. Better luck next time.
Competitor Analysis
A quick search on your favorite search engine, Google, will reveal your competition primarily within your geolocation. Knowing your competition is the first step. What follows is spying on them and edging them out. To streamline the competitor elimination process, you'll need a dedicated competitor analysis tool from Semrush or Similarweb. But which one?
Semrush offers a high-level overview of the market before digging into the finer details. The Market Explorer tool highlights the top competitors in a market you are entering, in-market audiences, demographics, and growth patterns. The magic happens inside the Traffic Analytics section, where you can drill down to specifics, take up to five competitors, choose your metrics, and benchmark against them. You can track organic and inorganic keywords, growth, and monitor your competitors' PPC activities, search campaigns, and conversion rates from keywords, even those that fell off your radar in the preliminary search. Essentially, you get powerful intel from a bird's eye view to juicier details you can finetune to develop a better digital marketing strategy than your competitors.
Similarweb has similar competitor analysis features – geolocation analysis, website traffic volume, organic and inorganic keyword competitor analysis, funnel pages monitoring, etc. Similarweb analytics tools get actionable data to estimate your competitor's conversion rates, understand their marketing campaign strategy, and choose your metrics to benchmark against their sites. The drawback is that each feature comes at a different cost. Also, you cannot subject the analysis to gender-specific audiences, which Semrush does if you buy the Semrush trends package.
Similarweb and Semrush are neck-and-neck in competitor analysis. Both platforms provide in-depth and surface-level competitor analysis from the trendiest content, time spent on a site, and other powerful intel you need to edge out your competition. When it comes to competitor analysis, the two platforms are tied.
Content Marketing
Inbound and outbound marketing rely on valuable content to grow and retain the existing customer base. Competitive intelligence analysis enables you to determine what's hot and not in your niche. Web crawlers from Semrush and Similarweb, and the data from user panels, generate informative data on the trendiest content and their conversion rates. Since the data collection methods for both services differ, so will the data and, ultimately, the content marketing strategy.
Semrush powers through content marketing by aggregating various features that optimize your content, benchmarking it against top earners, and providing actionable advice on building engaging and converting content. You can streamline everything from ideation and SEO optimization to assessing your content's monetary and traffic impact and continuously improving it alongside your web presence through the Content Marketing toolkit.
Similarweb does not have a content marketing feature, and as such, you will have to make do with a bit of DIY digital marketing research. Similarweb provides an in-depth analysis of your competitors' traffic, their keywords, conversion funnel pages, and finer details that point you to their digital marketing strategy. However, you are left guessing the exact content marketing strategy, which isn't entirely unwelcome. Leveraging the data you gather and your innate digital marketing skills, you can tailor your successful marketing strategy and compare it with your competitors to see where you rank.
Semrush has superior content marketing features than Similarweb's approach of leveraging data for optimizing content. Through Semrush's SEO tools and rich dataset, you can optimize pre-written articles, write new ones, estimate their impact, and review and improve them as much as you want.
Customer Support
It should not surprise you why both Semrush and Similarweb offer trial plans. Similarweb's intuitive platform requires some guidance. So does Semrush as you learn the ropes of navigating and using the multiple tools.
Similarweb has friendly customer service and record response times for all your queries as you navigate the platform. The platform also has multiple blog pieces, reviews, webinars, and reports that make you better at using the platform.
Semrush has similar customer support and digital pieces that educate you on using the service. Semrush takes it a notch higher through Semrush Academy with step-by-step guides on using their services. By the end of the course, you will be a better digital marketer and proficient in using Semrush's platform.
Both Similarweb and Semrush have phenomenal customer support you can access through chatbot and phone. Since the two tie in customer support, you will have to check out the biased and impartial reviews on G2 to get a glimpse of the customer support experience.
Standout Features
By now, you know that Semrush is the all-in-one SEO tool that incorporates traffic and competitor analysis, while Similarweb is primarily an analytics service. The differences transcend their purposes as the sites are built differently. Below are the standout features of each digital marketing solution.
Semrush
Link Analysis: Semrush does a lethal job of analyzing backlinks and referral links across different competitors that are particularly useful in determining the click-through rate.
Social Media Tracking: Social media tracking enables you to monitor the content your competitor is posting on social media, the traffic coming from social media, and the traffic their content generates.
Audience Overlap: You can check out how your audience overlaps and their specific interests. Match up to five websites and compare the appeal based on age and gender.
Similarweb
API Tracking: You can monitor the number of API units left in your plan and purchase new ones. The API allows faster integration but not across all website domains.
In Summary
Semrush and Similarweb have impressive competitor analysis and analytics tools that outperform most SEO services. Ultimately, you will have to choose between the two juggernauts of digital marketing. Let's elaborate on some ideal situations where you will want to pick Semrush over Similarweb and vice versa.
Use Semrush when:
You want unrestricted access to marketing data globally.
You want solid SEO tools.
You want to identify SEO errors and get rectification recommendations.
You want to monitor paid search and organic traffic from keyword search.
You want a superior keyword search and analysis tool (Keyword Magic Tool).
You want to restructure marketing strategies for a small to medium-sized enterprise.
Use Similarweb when:
You want better customer support.
You want better benchmarking.
You are looking for easier API access and monitoring of units left.
You want slightly superior competitor analysis.
You want to track the size of a company based on traffic accurately.
You want to monitor multiple engagement metrics such as bounce rate and time spent on the website.
You want digital marketing analytics for a medium to large-sized enterprise.
You can always count on Content Refined for exceptional content marketing strategies. The content writing company has the best services that work for any business.