SEO Site Checkup or SEM Rush – which SEO tool is the best for my company? In picking between the two platforms, you cannot go on features alone. The best determining factor is your skill level and mastery of SEO and website development. SEM Rush will take your company soaring to the next level, no question about that. However, will you be able to use it?
SEM Rush has more capabilities than SEO Site Checkup. This SEO analysis tool will do an incredible job of driving traffic and placing you above your competition. However, if you are lacking in expertise, all it will do is frustrate you because you won't know how to implement or use any of its tips or SEO analysis.
The Contenders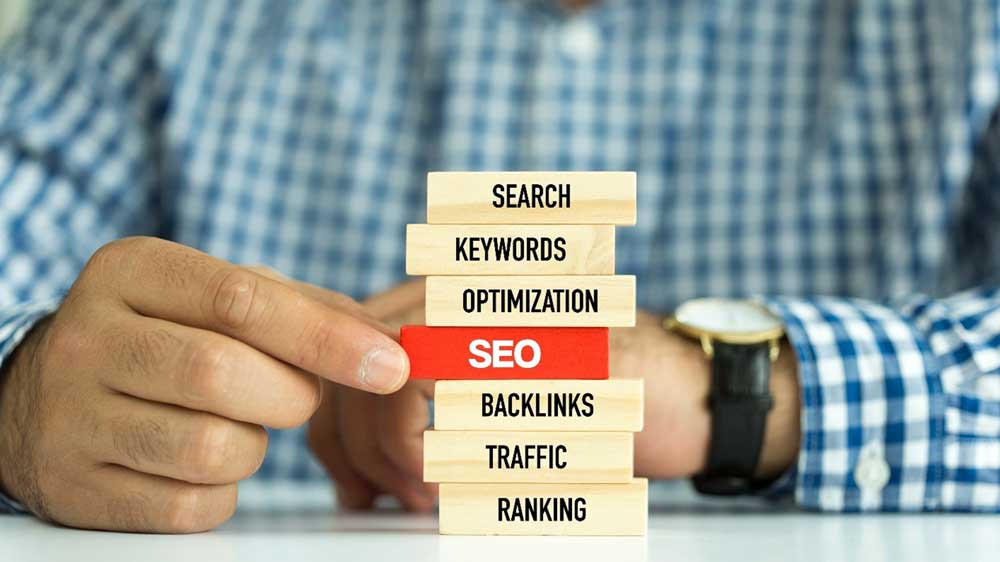 SEO Site Checkup and SEO Rush are very different platforms with a vast array of applications. The one you end up selecting should be representative of the time commitment you are willing to invest and your knowledge of SEO software and website development.
Both platforms aren't for everyone. You need to find the SEO platform that you understand and is at your level of expertise so you don't become frustrated with the process.
SEO Site CheckUp
SEO Site CheckUp knows that understanding SEO can be challenging. There is a lot of information to be taken into consideration and understood. This site breaks down existing information so users can understand SEO from a search engine's perspective.
Its reports will notify you using simple, easy-to-understand language as to what needs to be fixed or technical issues found in your website that need to be addressed. It notifies you as to what is hampering your ranking on search engines.
This site will also keep you informed about changes in algorithms so you don't have to worry about researching changes every few months. It watches how penalties, SEO factors, and algorithms change over time. It's there to help you focus on where to spend your time.
This company is comprised of a team of dedicated webmasters and SEO experts with 15 years of experience in the industry.
Standout Features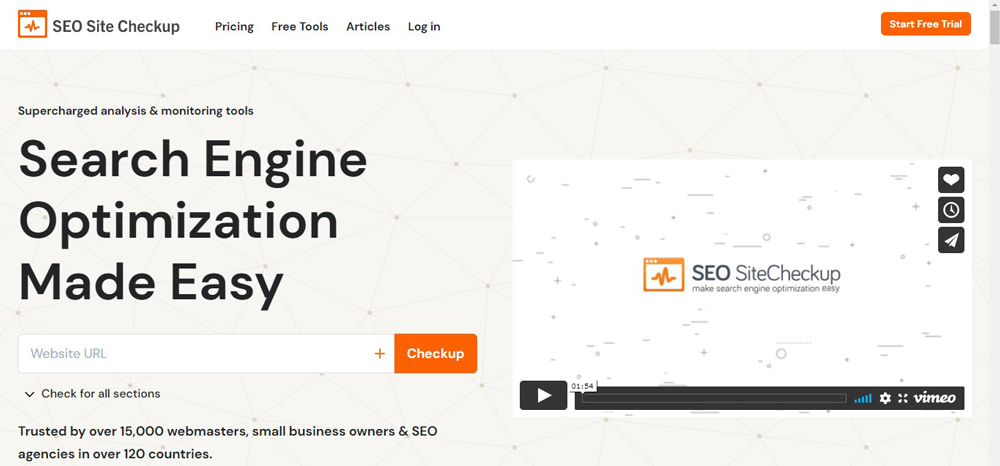 With SEO Site Checkup, everything you need is available in an easy-to-understand method right on your dashboard. The dashboard provides you with visual charts on how your website is performing in a visual graph. Companies have instant access to analysis tools, reports, and monitors.
Additionally, companies can analyze their competitors and determine what strategies they are incorporating to draw traffic to their websites. Businesses can learn what, in terms of SEO, is causing people to view their competitors' website over their own. This can provide you with valuable information that you may not have considered.
This SEO analysis tool measures the search engine optimization metrics of various URLS and provide information regarding your competition. It takes into consideration things such as:
Optimizing Speed – Slow websites are penalized in search engine rankings. Customers will not wait more than a few seconds for your website to load. Any longer and people move on to another site. People like information immediately and generally don't want to wait.
Mobile Friendliness – An overwhelming majority of people search for information using some form of mobile device. This is gaining in popularity over the years as technology continues to advance. Mobile phones are convenient, and this is where most people spend their time. If you are not mobile-friendly, or your site doesn't show well on these devices, you may lose customers.
Security and Servers – If you are processing payments, your clients will want to know whether their information is securely stored or not. In an age of high rates of identity theft, they want to know that no one else can access their information.
Another great feature is that SEO Site Checkup does all the work for you. Businesses are provided with an overview of how fast their site loads, as well as uptime. The site load speed and website monitoring features allow you to automate the process to certain time intervals to ensure your site is always live.
While you may assume your site is always up, this may not always be the case. There are "bugs" found in every platform that can cause a site to go down, as can high traffic volumes. These are only some of the factors that can cause downtime on a site. Plus, if your site goes down, you will lose potential customers, translating into a loss of potential revenue.
This site will make sure you are always up and running. If for some reason, you aren't, you will be immediately notified so the problem can be rectified.
Companies can also impress their clients with a branded SEO report. These reports can generate general SEO information, white label SEO reports, and specific reports.
Pros:
Detects broken links
Provides complete analysis of website
Monitors website
Easy to understand reports
Cons:
There are competitors that have more tools and features
Provides an overall report, but not in real-time
SEM Rush
SEM Rush began in 2008 with a small group of IT and SEO specialists. Its goal was to create a space where online competition was transparent and fair. The company wanted to provide equal opportunities for everyone to improve their online visibility.
Over the past 13 years, SEM Rush has helped 7 million marketers become more effective at their job while helping to deliver great results. The company has become the global leading online marketing research service.
Presently, its software helps various sized companies optimize their website visibility and helps to generate engaging content the customers will find appealing. Companies are able to discover opportunities for growth, track their workflow, and run experiments that generate measurable results (A/B scenario).
Standout Features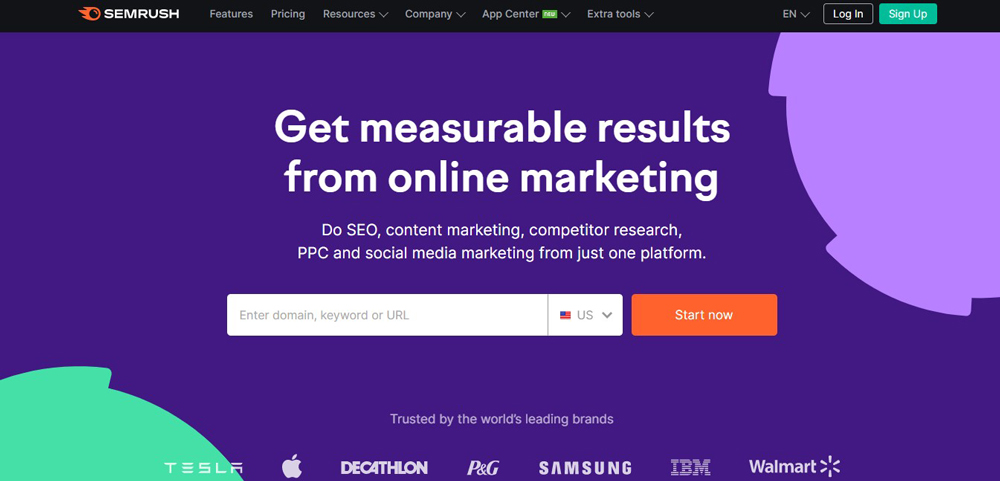 SEM Rush will allow your business to grow its organic traffic with its SEO workflow and tools. These tools are easy to use and will help you uncover millions of local and national keywords to boost your ranking, daily track SERP positions, and run SEO audits.
It will also help your business by:
Creating High-ranking Content – SEM Rush will enable you to discover topics that will resonate with customers/audience. It will give you tips as to how to best create content that is SEO friendly, track mentions of your brand, and how far your content reach is. It will also improve and track content by using metrics in real-time.
Discovering Your Competitor's Strategy – SEM Rush analyzes the traffic of any website and will uncover its promotion tactics. Companies can discover backlinks and any keyword gap you may have, as well as obtain ideas for growing your share of the market. In particular, this kind of backlink analysis can be crucial for your business.
Reaching More People by Spending Less – Uncover the best, highest-ranking keywords for pay-per-click (PPC) campaigns. Companies can also analyze Google Shopping campaigns, optimizing what is spent on advertising, and monitor their competitor's ads.
Building a Solid Social Media Strategy That Gets Results – The Social Media Toolkit schedules and posts content across social media channels. This SEO toolkit will analyze how your content performs overall and track your competition. It will also create/optimize social ads so they perform well.
Pros:
Diverse platform encased in one location
Keeps you ahead of the competition
Builds links
Helps with ideas for content
Cons:
Keyword gaps need to be updated/somewhat lacking
Too much data if you are a beginner or not experienced with SEO
Side-by-side Comparison
SEO Site Checkup
SEO Site Checkup has basic, easy-to-understand features for those who may not be familiar with SEO or how to improve their website. SEO Site Checkup will:
Analyze SEO Issues Instantaneously – Businesses can run an unlimited analysis on the SEO ToolBox servers. You can store your reports so that you can view your progress, or use it as a reference for suggestions that need to be fixed.
Understand Your Competitors – SEO ToolBox gives you a side-by-side comparison of your brand versus your competitors. Businesses can analyze up to five of their competitors and view how you stack up against your competition. This ensures your company will always come up on top.
Professional Tools for SEO Monitoring – Companies can automatically track changes weekly in over 30 SEO variables. You can receive instant notifications whenever your SEO score deviates.
Reports You Understand – SEO reports aren't always easy to understand if you don't know the jargon or are new to the game. SEO Site Checkup provides SEO information in simple, easy-to-understand language. Its suggestions provide clear definitions, and the company will give you understandable tutorials to fix each issue.
Time Saved with White-label SEO Reports – Companies are able to quickly generate an editable SEO report for partner websites or clients for their perusal.
Free Trial – Not sure if SEO Site Checkup is best or will work for your company? It will give you a 14-day free trial to test the product. 
SEM Rush
SEM Rush has multiple features guaranteed to optimize your site and content. While this is a more advanced system, it is also an all-in-one platform to many extents. This is what makes it so appealing to many companies.
In terms of SEO, SEM Rush can:
Discover the best keywords to Use – SEM Rush will help you build traffic to your site and rank you higher in search engines.
Audit Your Site – SEM Rush will audit each of your pages and list how to improve its health and performance.
Optimize Your Site for Local Searches – It will get your business listed on directories and monitor your online performance/position.
Track Changes Daily of Target Keywords – A sensor tracks changes in algorithms and the volatility of Baidu's and Google's SERPS.
Help You to Strengthen Your Backlinks – It helps you with organic research, keyword gaps, provides backlink analysis, and shows gaps in your existing backlinks.
Help You Analyze Your Competition – This program will also allow you to learn how your competition has an advantage and strategize for improved success.
The Winner of This Round: SEM Rush

While SEO Site Checkup is easy to understand and can help optimize your site overall, it is very basic in what it has to offer. It is designed for beginners, for those new to the world of SEO, start-ups, or those who don't have time to learn of various changes in algorithms on a consistent basis.
SEO Site Checkup is a platform that will get you higher in rankings than if you rely on your own knowledge, but it won't offer a superior push to SEM Rush.
SEM Rush delves deeper into what search engines are looking for when they are ranking your site. While it's nice to have a site that loads quickly and is optimized, SEM Rush goes above and beyond as to what it offers businesses.
While you may need to invest some time becoming familiar with SEO, this service will take your business to the next level when you are ready.
Stand-out Features
Both platforms offer something very different. What you will be drawn to the most will depend on your experience level, as they are so vastly different in terms of capabilities.
SEO Site Checkup
The standout features of SEO Site Checkup rely heavily on mobile optimization, security, and website monitoring. The benefits of this service are that it is easy to use and understand. They do an excellent job in making things very comprehensive, and this is great if you are a start-up business or small company.
SEM Rush
It is difficult to deny that SEM Rush's features take things to a completely new level. In addition to the ones mentioned above, SEM Rush helps in the following ways:
For content marketing –
Helps companies create a results-driven content strategy
Creates and shares articles that drive traffic geared toward your audience
Provides tips on how to optimize traffic and drive more organic traffic to your site
Analyzes content performance for areas to improve
For advertising –
Helps with PPC campaigns via keyword research tools
Monetizes your existing audience with tools for bloggers, affiliate managers, and AdSense
In terms of SMM and SERM, SEM Rush:
Helps you with your social media presence and brand awareness
Analyzes your performance across channels
For market research:
It helps to improve performance and increase traffic
Analyzes your company's current position and provides suggestions on how to improve
Shows paid keywords/ad copy from competitor's PPC ads
Allows you to track the competition's mentions and social media presence
Helps build brand awareness
SEM Rush really does take things to the next level in terms of branding and visibility. However, it is neither easy to use nor comprehend. Companies will need to have a moderate understanding of search engines and how they operate to best use this product. While SEM Rush may give suggestions, it won't be as user-friendly as SEO Site Checkup.
Conclusion: SEO Site Checkup vs SEM Rush?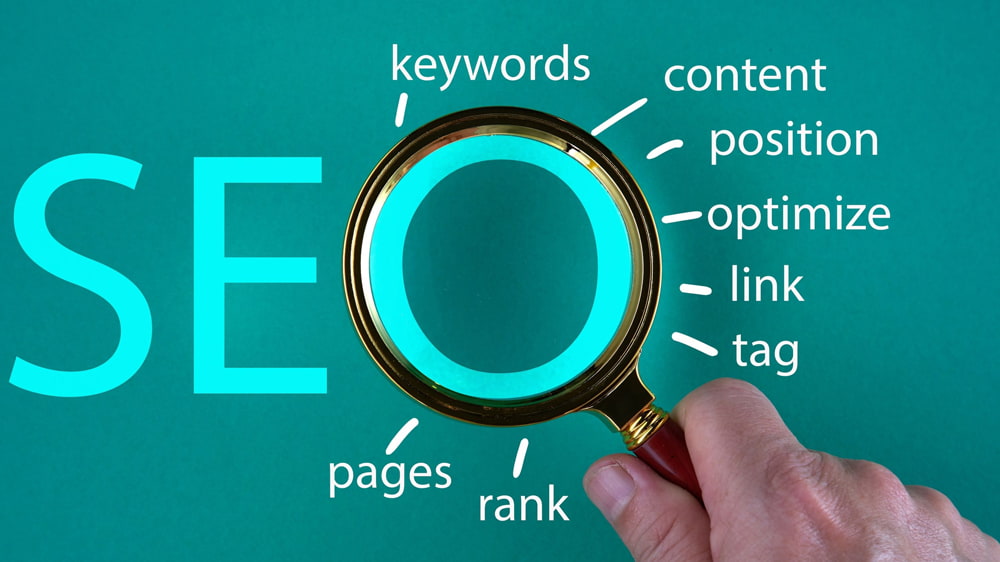 While we are not really comparing apples to apples in terms of capabilities, use SEO Site Checkup if you are:
A Start-up or Small Business – Many start-ups or small businesses can't always afford to employ a dedicated SEO expert to handle their website. Owners are focused on growing their business and overall operations. So, to expand your business's visibility, you need something that is simple and easy to understand.
If SEO Completely Confuses You – It's time-consuming to become familiar with the ins and outs of SEO, site optimization, and competitor analysis. You can spend hours, if not days, pouring over endless data. SEO Site Checkup simplifies the entire process, making it easy to comprehend and implement changes.
Use it as a First Step in Your Optimization Process – Again, if you are new to SEO, SEO Site Checkup makes things simpler. It is a step up from the basics of SEO and removes the guesswork from the entire process. Owners delight at how simple it is to implement changes and how it allows them to focus more on their business over website development/optimization.
SEM Rush, on the other hand, is in a league of its own. Companies should use this site if:
You Have a Moderate Understanding of SEO or a Dedicated SEO Professional – There is a great deal of information to take in regarding analytics. If you don't have a solid understanding, you will become lost in the process.
You Want to Create Brand Awareness with Social Media – SEM Rush analyzes the competition and will allow you to successfully strategize to get the top performance across social media channels. This is an invaluable tool in setting your company apart.
Helps With PPC Strategies – SEM Rush provides valuable insight into keywords so that you rank higher than your competition.
Need Help With Generating Content – SEM Rush helps companies find content and makes suggestions on how to engage their audience. It will analyze what has already been written and help you tweak it to increase your reach. This will draw more customers in and will help create trustworthiness in your brand. You will be set up as the expert.
If You Want to Monetize Your Site – This is useful for blogs, or for any company that wants to generate additional revenue by using affiliate marketing programs.
If you want to take your site to the next level, choose SEM Rush. With its capabilities, you won't need to go to different providers to have your website's needs to be serviced. You will be able to do it all from one location.
However, if you are just beginning your entrepreneurial journey, you may want to begin with something basic and understandable. You will need to know how to implement changes within your site if you want to see a surge in organic traffic.
Additionally, you will need to be familiar with algorithm changes, which happen quite frequently. If you don't have time for this, then SEO Site Checkup is a great investment. It will do all the work for you so you can focus on building your brand.