Forward-thinking managers understand the power of content marketing in maintaining a competitive advantage. High-quality and valuable content attracts and retains customers, which improves your business's bottom line. Two freelance writing services streamline the creation and distribution of engaging content.We pit Textbroker vs. Verblio to determine which freelance writing service is right for your business.
Textbroker requires hands-on management, while Verblio works as a "set it and forget it" content writing service. But let's review the services up close to determine ideal situations when you should go with one over the other.
Textbroker: An Overview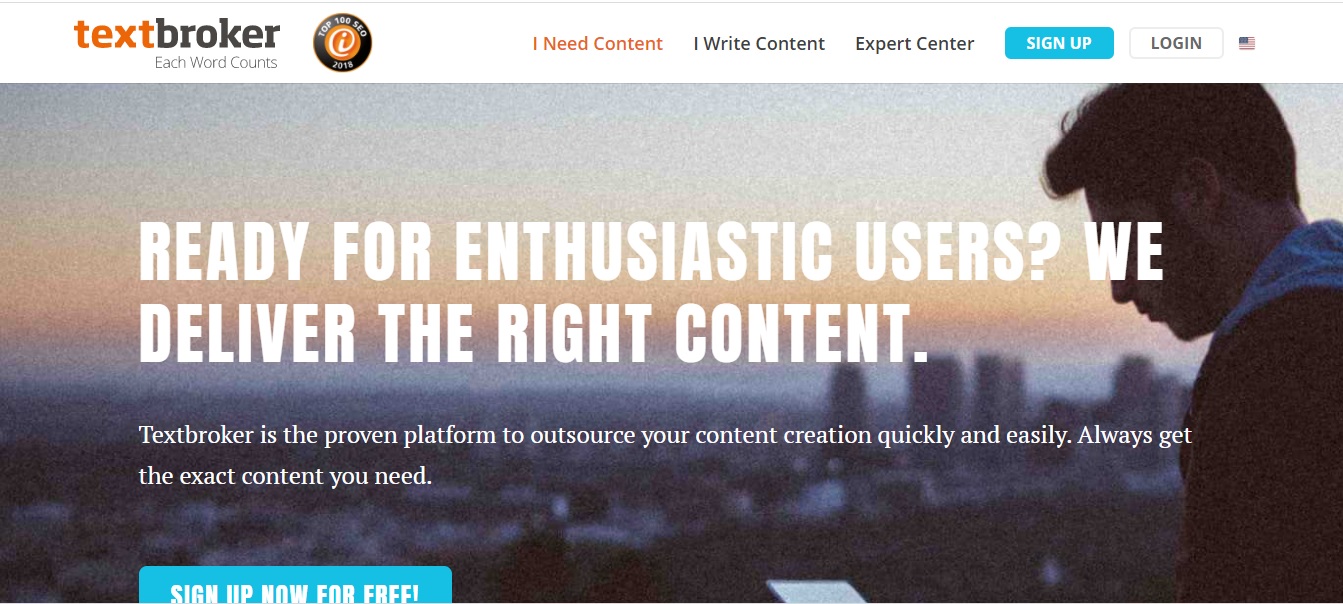 Textbroker is a content writing marketplace that connects clients with over 100,000 verified freelance writers in North and South America. The service is ideal for multiple pieces of written content, such as blog posts, articles, product descriptions, etc. Textbroker offers high-quality, engaging content at ludicrously low prices. On many occasions, you will have to stomach the underwhelming quality of content despite paying cheaply. There are good writers, but you have to pay for the elite level to get them. The star ratings give you a sense of the quality of content to expect before you hire a writer.
Pros of Textbroker
Budget content mill
HubSpot and WordPress site integration
Quick turnaround time
Easy-to-use dashboard
Cons of Textbroker
Inconsistent quality
Varied pricing system
Verblio: An Overview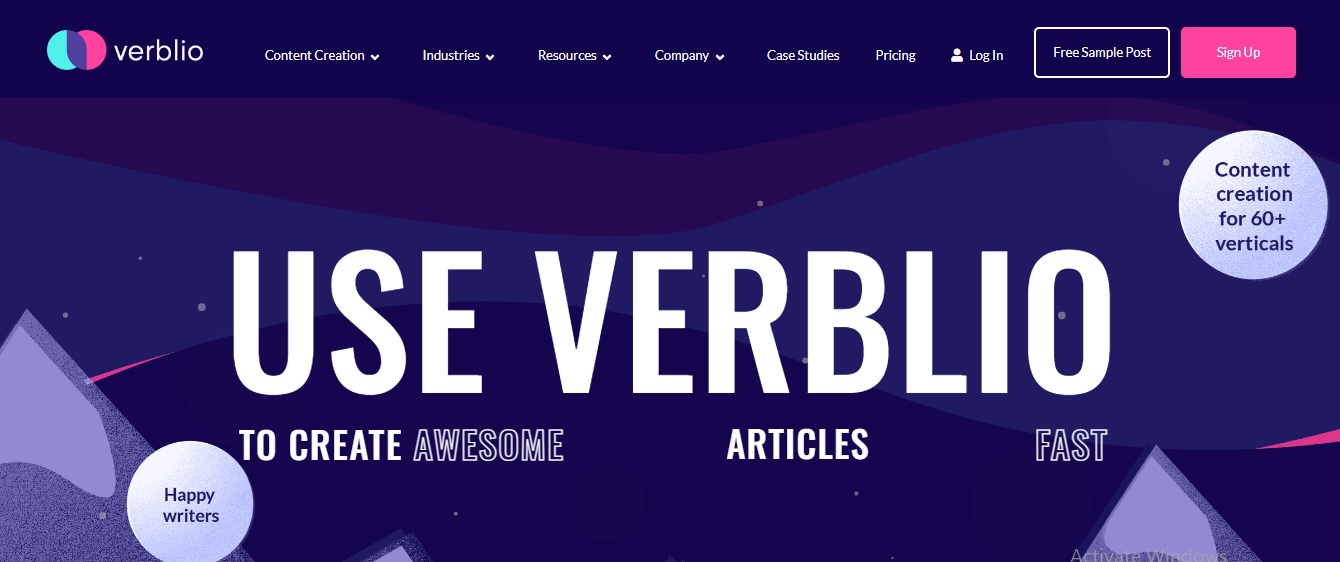 Verblio, formerly BlogMutt, is a content writing service with over 3,000 experienced writers, with 23% having a Master's degree or higher. The platform handles written content in various niches, from astrology to zoology. Currently, Verblio serves over 1,500 satisfied clients each month. The site has a 4.6-star rating on G2, which speaks to its effectiveness. The pricey subscription plans justify the quality of content you receive from Verblio. We've seen better and cheaper content mills such as WriterAccess and iWriter, but Verblio ranks among the best, though it's certainly not cheap.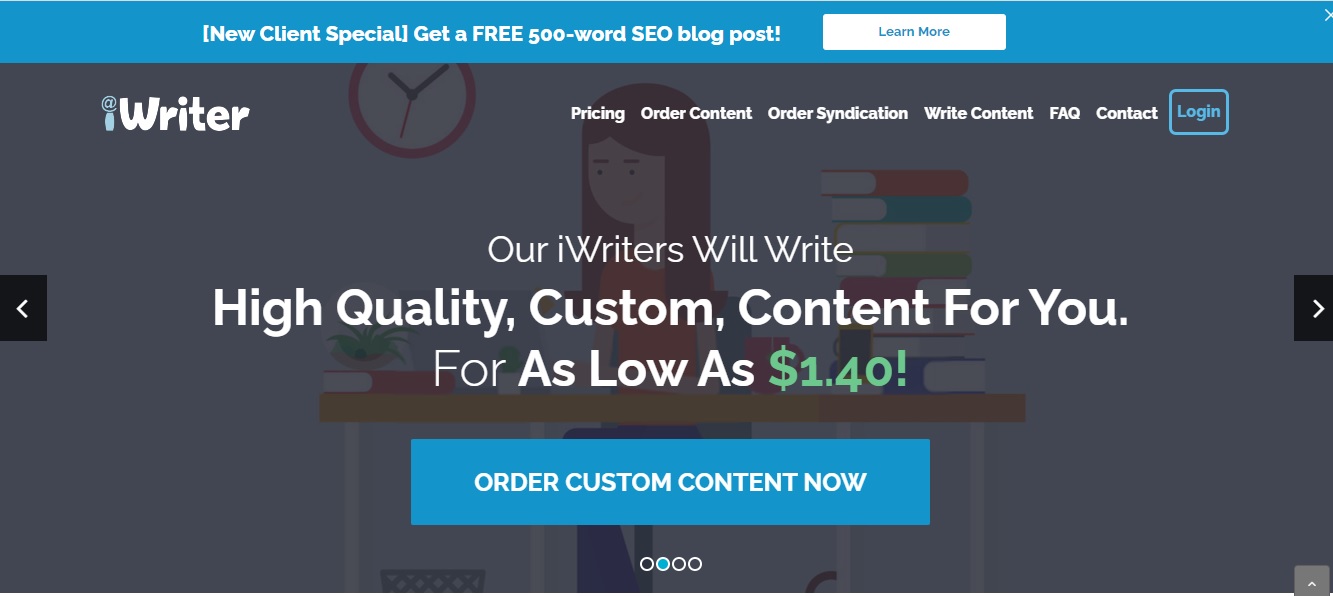 Pros of Verblio
WordPress site integration
Subscription plans automate billing for content
Multiple writers can accept your job, and you choose the best
A clear pricing system
Cons of Verblio
Expensive
Plagiarized content in some cases
Textbroker vs. Verblio: Side-by-Side Comparison
Pricing
Unless your company has an unlimited marketing budget, you need to consider where you get the most value for your money. Textbroker has a varied pricing system since you can purchase single pieces of content compared to Verblio's monthly subscription plan. There is a gaping difference between the prices, which speaks volumes regarding quality, turnaround time, and scalability.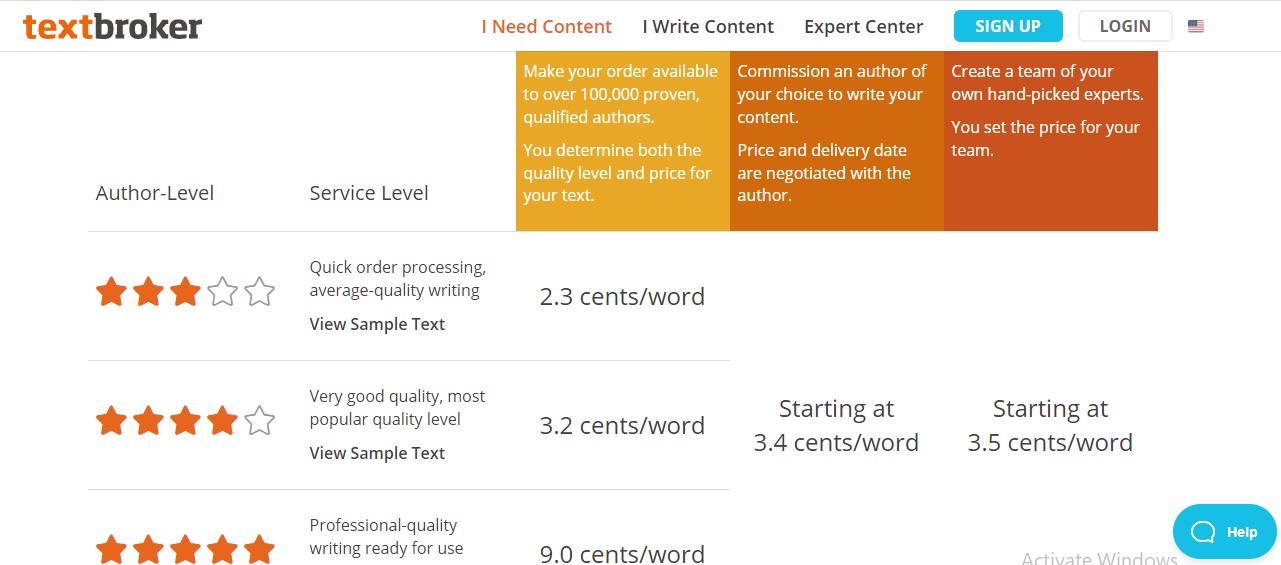 Textbroker prices depend on the star ratings. Generally, if you want to work with five-star-rated writers, you will pay more than working with two-star-rated freelancers. The rates for each star rating are:
1.3 cents per word for two-star writers
1.8 cents per word for three-star writers
2.4 cents per word for four-star writers
7.4 cents per word for five-star writers
The rates above are some of the cheapest among many content mill sites. You can purchase one-off articles or blog posts through the different ordering systems, which could increase or decrease the price you'll pay.
Verblio is a subscription-based writing service. Therefore, you choose a monthly plan. The most popular plans start at $35 per piece for a 300-word article. You would pay $5.40 for the exact 300 words on a three-star rating at Textbroker. There is an immense price difference, as previously mentioned
To determine whether you will go with the cheaper Textbroker rates or the more expensive Verblio, you will have to consider the next metric we analyze.
Work Quality
As a content marketer, the minimum is first-rate quality. It may not be search engine optimized, but it should make sense, have actionable information, be engaging, and be free of plagiarism. Both Verblio and Textbroker blow hot and cold, but one is more notorious than the other.
Textbroker has significantly lower prices than many content writing services. The writers get paid a penny on the dollar and don't strive to deliver the gold standard of content. Working with elite writers (four and five stars) would generate better quality that requires little to no editing. However, there are not many five-star Textbroker writers; therefore, you will have to pay a premium to get excellent content.
Verblio subjects writers to rigorous tests before accepting them. Also, the freelancers are U.S.-based, meaning you get generic content in native English. The quality you get sometimes makes you doubt the "strictness" of the recruitment policy. However, you get ready to publish posts complete with all the stylistic edits for the pricier subscription plans. The only drawback is choosing the AI-generated content that lacks precision. Also, plagiarism cases are there. Some writers spin the article, which means plagiarism is harder to detect if you use weaker plagiarism checkers. When working with Verblio, choose the three plans from 1,000 words, restricting job access to elite writers. The 1,000-words plan clocks in at $119 a piece on average.
Both Textbroker and Verblio strive to churn out the best writers in their recruitment policy who will ultimately determine the written content's quality. Verblio has better quality than Textbroker. We are not saying Textbroker has terrible writers, but you can't expect Oscar-worthy blog posts from underpaid writers. Verblio hits the sweet spot between pricing and the matching content quality.

Still, you will have to use more robust keyword research tools and other SEO platforms such as Yoast SEO and SEMrush. The essence of the complementary tools is to improve the click-through rate and SEO rankings, not to turn subpar articles into outstanding pieces.
Job Requests
Textbroker is a content mill in every metric, as the job assignment procedure shows. You have three options for assigning your jobs:
Open Order –In this option, Textbroker posts the jobs on the public dashboard, and any writer can claim them. You can restrict the potential writers to a specific star rating to ensure you get the best freelancers.
Direct Order –You select writers who can see and apply for the job for this order type. Direct order gives you some control over the quality of the content.
Team Order – A team order integrates various writers into one team that will write for you. Team orders are popular with large-cap organizations that want expert writers in various niches.
Textbroker also has a managed service that you will most likely need. If writers don't accept your job request, the job will go back to your platform after 24 hours, where you will have to repost it. The managed service streamlines the job assignment, editing, and submission process. Of course, it will cost you more. The managed service plan starts at $2,500. Automation is essential, especially if you require content with quick turnaround time. The service assigns a dedicated account manager and guarantees deadlines.
Verblio operates on a matchmaking policy. The customer support team helps you develop the job field from the onset. You can be specific with the brief or crank out a few requirements, such as tone and audience. The support team will auto-populate the brief with everything from word count to submission time.
Writers in the Verblio database will see the job, and Verblio will match the best writers with the client's request. The principal merit of Verblio's job assigning process is you get jobs from different writers and accept the one that best suits your marketing needs.
You can choose the job-assigning procedure for both content writing services or browse through the old content and purchase one. However, you will need a subscription plan to buy pieces from Verblio, while you can pay for one piece on Textbroker and bounce to other premium content writing platforms.
Textbroker and Verblio offer a no-frills job assignment experience. Verblio leans on automation-for-request management, while Textbroker requires some degree of monitoring. Textbroker's multiple job assignment options plus the vast talent pool of content writers means you will always get the job submitted in a timely fashion.
Sign-Up Process
The sign-up process for both sites is simple. On Textbroker, clickthe Sign Up Now for Freebutton and provide the basic bio data and contact information. Once your account is set up, you can buy content from the pool or proceed with uploading briefs and describing your content goals for custom-written content. The sign-up process takes less than 10 minutes.
Signing up for Verblio is relatively quick. Hit the sign-up button and state whether you are an agency or business. Proceed with telling Verblio about your business, tone, and goal, and select your plan. You can start posting jobs or buying content immediately. For Textbroker, you pay after buying the content unless you are on a plan that requires you to pay upfront.
There are no complaints about the sign-up process from clients. Sometimes it feels like Verblio is asking a little too much, but the information you provide is essential to match your requests with elite writers. Only Compose.ly has a comparably more straightforward sign-up process than Textbroker and Verblio.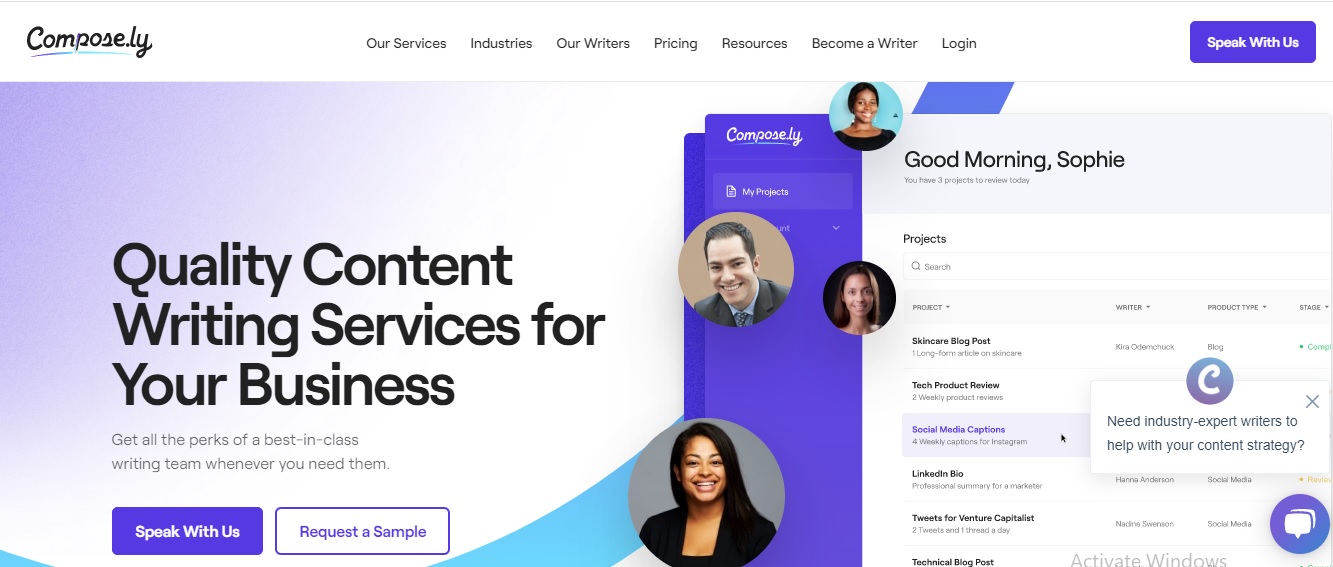 SEO Friendliness
When outsourcing content, the high-level goal you have in mind is to get premium content that sells. Valuable content forges relationships with customers and is the core of inbound marketing, which grows your client base. Textbroker and Verblio writers deliver SEO-optimized content, although they do so inconsistently.
Verblio has an in-depth checking system, meaning your content won't have severe grammatical errors. But the site doesn't use analytics and keyword research tools, which makes written content rank high on search engines. But Verblio is a content mill – it only delivers well-written content such as product reviews, website information, and articles. What you do with the content is up to you. You can choose the Optimize service to get the content optimized.
Textbroker is the marketplace for all written, SEO-optimized, and underwhelming content. However, Textbroker does have some writers who knock it out of the park with highly engaging content that converts.
Finding such writers means weeding out the low-quality ones. It is an investment, both of time and money. You can add keywords to the brief or upload spreadsheets that will act as a content management calendar. It takes time and money to get SEO-optimized content from Textbroker. However, the ROI for the content you receive is excellent since you will not pay even close to the market rate, meaning you'll make more profit. But integrating exceptional freelance writers from Textbroker into your writing team is difficult.
Content mills strictly focus on high-quality content and matching clients with freelancers. Verblio content works for businesses that aim to educate more than generate profit. For Textbroker, if you are lucky enough to land an elite writer, you will enjoy valuable and engaging written content for ludicrously low prices.
Customer Support System
A good customer support system indicates you are working with a content writing service that guarantees satisfaction. On the flip side, some argue that it means the platform manages many complaints and revisions, hence the need to set up one.
Textbroker has round-the-clock virtual assistants that guide you through the platform. Also, the site offers tutorial videos that teach you how to place orders and navigate the platform. The customer support team operates on working hours, 8 a.m. to 4 p.m. PT. Textbroker resolves issues such as editing requests and deadline changes in a timely fashion. Textbroker has among the friendliest and most effective customer support teams to guide you if you are a client learning the ropes of outsourcing written content. Such a high-level approach to customer support is one of the few reasons clients prefer Textbroker to other content mills.
Verblio has a 24/7 live customer support system that gets back to you promptly. Verblio resolves most issues to your liking, which you want as a client. You can even demand a refund if you are not satisfied with the content you receive from the writers.
Textbroker has better customer service for many clients than Verblio. However, you will rarely need Verblio's customer service, especially if you have a subscription plan with a dedicated account manager.
Standout Features
Many features are similar for most content mills. However, there are inherent differences from the software to API integration that will influence your decision on which content writing service to select. Let's review some stand-out features of each service.
Textbroker
API Integration: If you intend to use Textbroker as a content marketing service, then take advantage of the API integration that makes it easier to publish posts on your WordPress or HubSpot websites.
Preconfigured Briefs: Textbroker has templates for almost every industry. You simply select the template based on the content in the niche you want, and Textbroker will auto-populate the template and submit the brief to the writers. You will still choose turnaround time, tone, and keywords.
Verblio
Video Summary: One cool feature is the video summary Verblio provides, which has a text overlay and content summary. The video is a trendy accent piece that you can integrate into your social media posts and vlogs.
Public Customer Review: Clients review the writer's work after receiving it, which supplements the arbitrary rating system. You can check out the reviews to understand which writer is better placed to deliver first-rate work.
Which One Should You Pick?
Textbroker and Verblio are some of the best content writing services with quick turnaround times for your business. A content mill is only as good as the quality they produce, and both platforms offer both well-written and subpar content occasionally. However, there are unique situations when one content writing service will serve your needs better than the other.
Use Textbroker if:
You want HubSpot, WordPress, and Conductor integration.
You want cheap rates.
You prefer to edit the content yourself before publishing.
You like an intuitive platform.
You want control over the writers that will work on your job.
You prefer sifting through writers' profiles to select elite writers.
You want to order content quickly.
Use Verblio if:
You want an automated workflow from ideation to publishing.
You don't mind paying extra for quality work.
You want ready-to-publish content.
You want constant content every month with little fuss.
You want a turnaround time of 72 hours or less.
You want a dedicated account manager.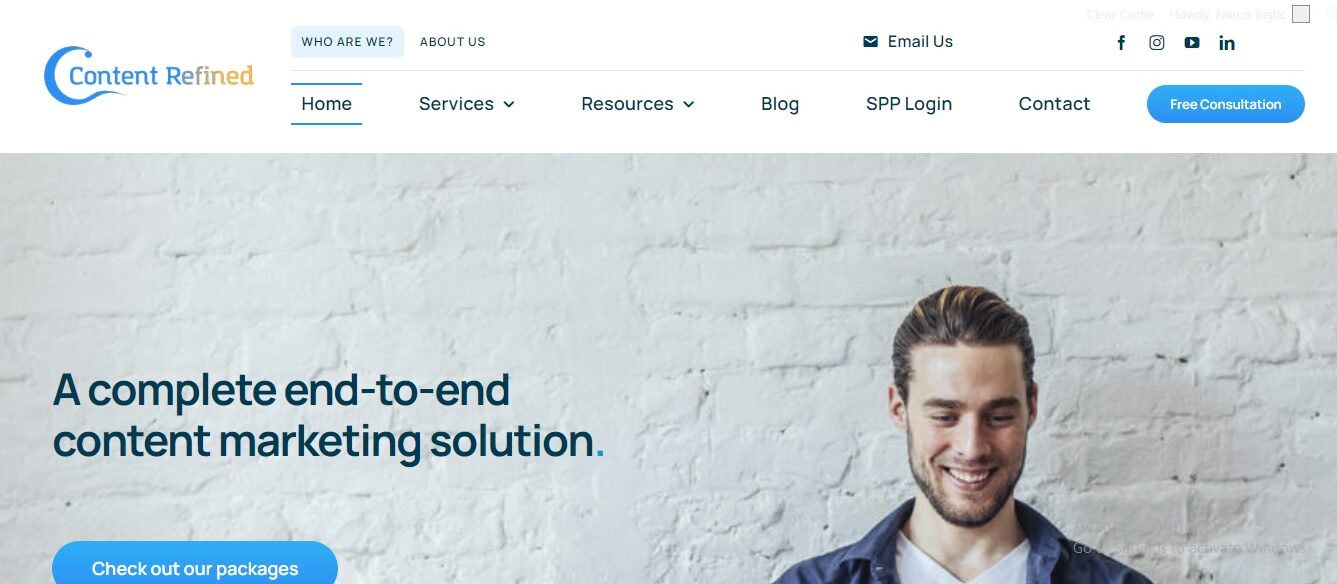 e obvious choice for which content mill is the best (disregarding price) is clear – Verblio. The onus is on you to develop a good client brief that the writer will leverage to deliver high-quality content. But if you want a comprehensive content marketing service, consider Content Refined. The service employs the best SEO tools to promote the valuable content the writers produce, increasing your web presence and profitability.