Whether you're a digital marketer or a blogger, you must know how crucial it is to create great content. Initially, blackhat SEO tactics like keyword stuffing, riddling content with paid backlinks, and cloaking was all it took to get traction for blogs. But search engines have since realized these tricks, rendering them ineffective. Therefore, the only way to get your websites and blog pages to rank well in search engine results is by continuously creating great content.
Do you have the time to put up thousands of words of content weekly? Probably not. And you're not alone—the outsourcing of content creation is a common practice globally. And that is where Textun and other nifty content writing services come in. They help website owners and businesses churn out excellent content stress-free. But how effective are they?
Read on for an answer to this and several other related questions. This article comprises an honest Textun review, including its services, pricing, content ordering and delivery processes, and client reviews.
Textun Overview
Textun is a writing service company where website owners, businesses, and digital marketers can outsource content creation. It offers high-quality and affordable content creation services for product descriptions and reviews, social media posts, SMS marketing, affiliate content, and blog articles. The company only hires native English speakers, which several people find pretty thoughtful because it ensures that the freelance writers have a firm grasp of the language.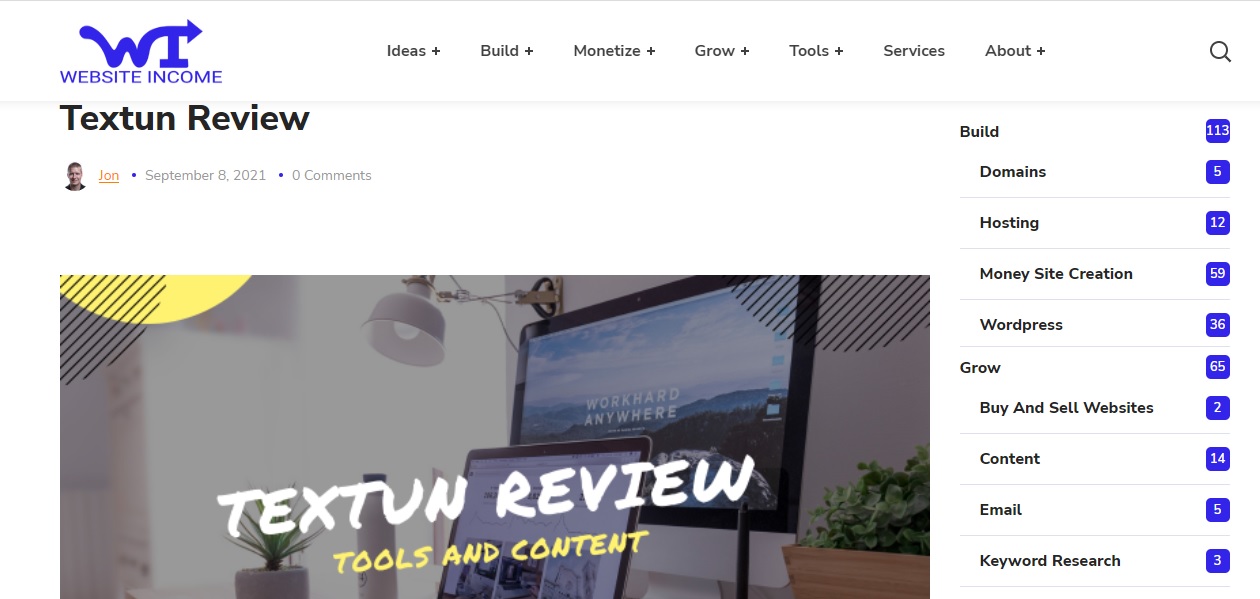 Generally, we think Textun has simple, straightforward, and user-centered service offerings. It not only generates high-quality content, but it also gives writers room to inject some personality and sometimes even humor. This approach sets Textun apart from other content creation service providers that only focus on facts and generate boring articles with a bit of flair. Being a little casual can make your brand look more approachable and relatable to your target audience.
Here's a sample article from the company's website: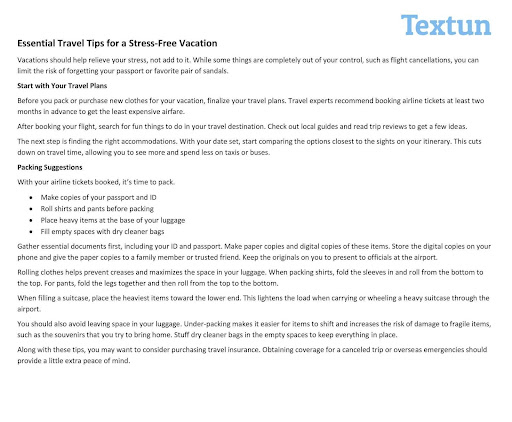 You can see how the semi-casual approach makes the article relatable and intriguing. You may find this pretty nifty, especially with several content creation services churning boring, run-of-the-mill articles. The best part is that this wasn't a one-off; almost all of the pieces from Textun are of similar quality. You must have also noticed that there wasn't even one grammatical error in the entire paragraph, meaning it either has highly qualified writers, top-notch editors, or both.
How Does Textun Approach Content Creation?

Let's look at how Textun operates to help you gauge if it's the best fit for you. The content creation services provider has a relatively standardized, or formulaic, process for generating content. When you put in an order, it will first try to understand your target market, brand voice, content goals, and writing style. That ensures the site customizes whatever articles it generates to match your business needs.
After understanding your business and target market, it creates a content brief to guide the writers. It then assigns the task to a writer with experience in writing articles like yours. Most orders come back after a few days, but the exact turn-around time will depend on your deadline and the word count. Textun has a deep bench of editors that checks all tasks for grammar and syntax errors before submission. However, if you identify any issues in the final copy or require additional information, you can ask for unlimited revisions.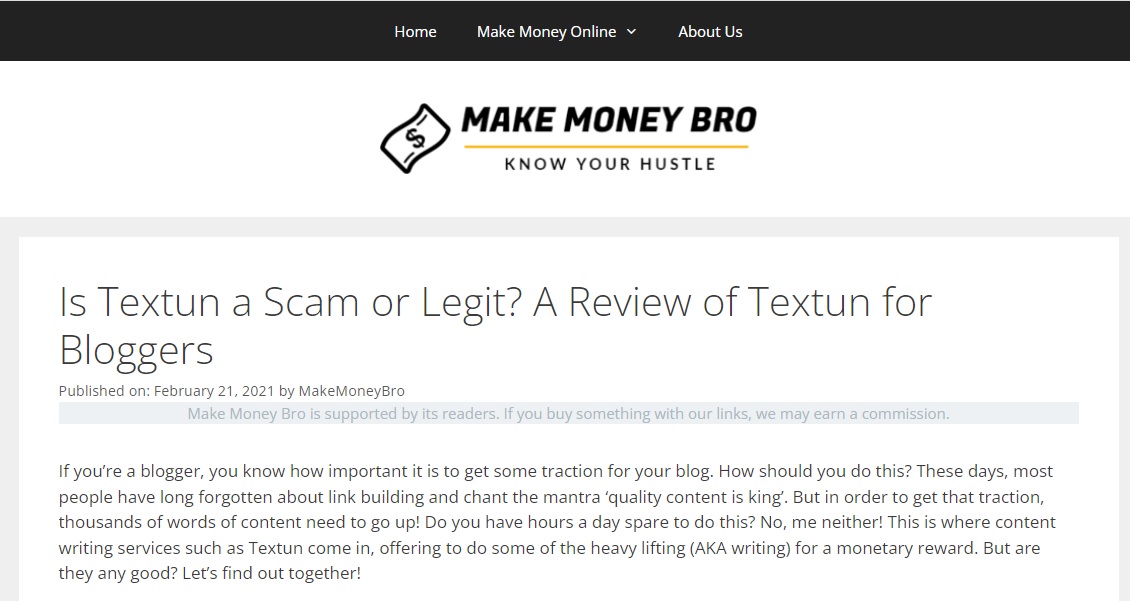 Textun's Outstanding Features
If you're a client looking for attention-grabbing material that can convert into sales, Textun is a great option to consider. Below are some of this company's fantastic features.
Thorough Reviewing Processes
When you outsource content creation, you expect the service provider to deliver an edited copy without any errors. Unfortunately, several popular content creation service providers don't take editing seriously. The good news is that Textun is not one of them. It has a dedicated team of editors who thoroughly proofread and review assignments before submitting them.
Textun Creates Engaging Content
Have you ever encountered blog posts that you immediately had to stop reading because they were too formal, boring, riddled with jargon and facts, and unrelatable? That's the disadvantage of creating generic campaigns – they are boring and barely translate to sales.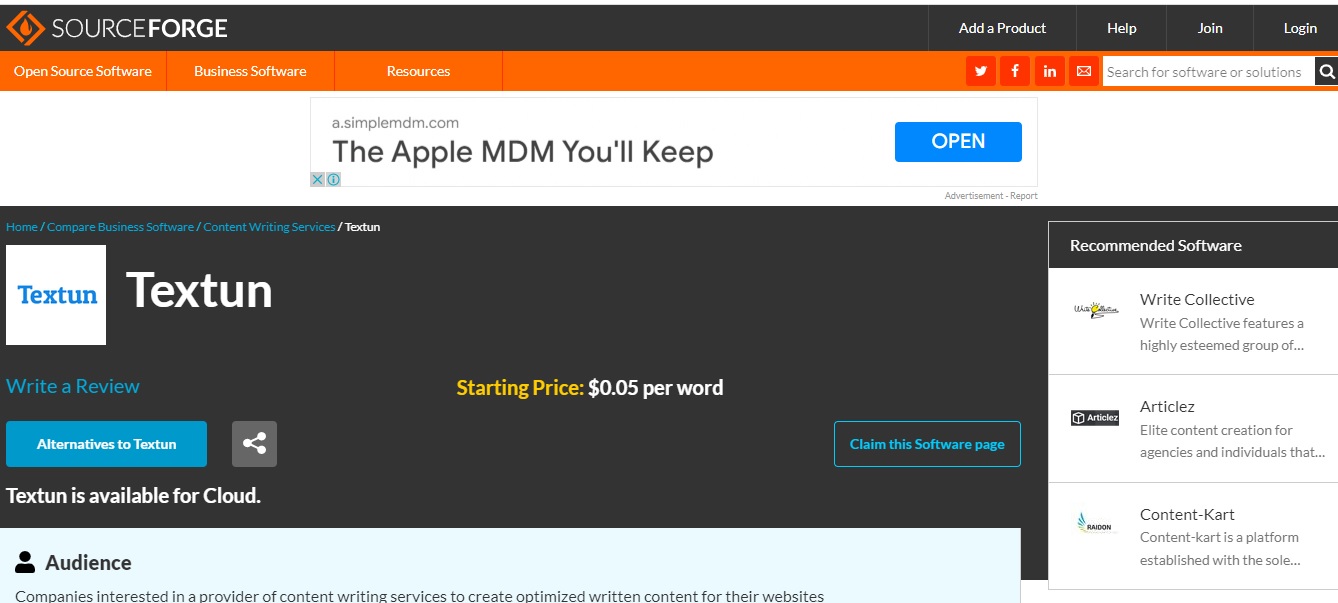 Textun offers professional product descriptions and other writing services heavy on quality and audience engagement. Unlike several content creation services, it allows its freelance writers to be creative, leading to content that attracts, inspires, and retains readers. For instance, you'll notice several uses of rhetorical questions, allusions, colloquialism, and other figures of speech that give the articles a friendly feel. That notwithstanding, clients can always request a more formal approach.
It Only Hires Native English Speakers
Most content creation service providers hire writers from anywhere, as long as they demonstrate a mastery of English and have stable internet access. While this approach may have the advantage of creating a pool of writers with diverse backgrounds, it also has its challenges – the most obvious one being a lack of authenticity.
A great SEO article is one that the readers can identify with; it speaks to their daily experiences, uses well-known phrases, refers to local icons, etc. A content writer from another continent may not understand your target audiences this deeply. And that's why Textun only hires freelance writers who are native English speakers.
All Textun professional writers are native English speakers from the U.K. or U.S. They know what your audiences want. They identify with their dreams and desires, enabling them to create relatable content.
Custom And Original Content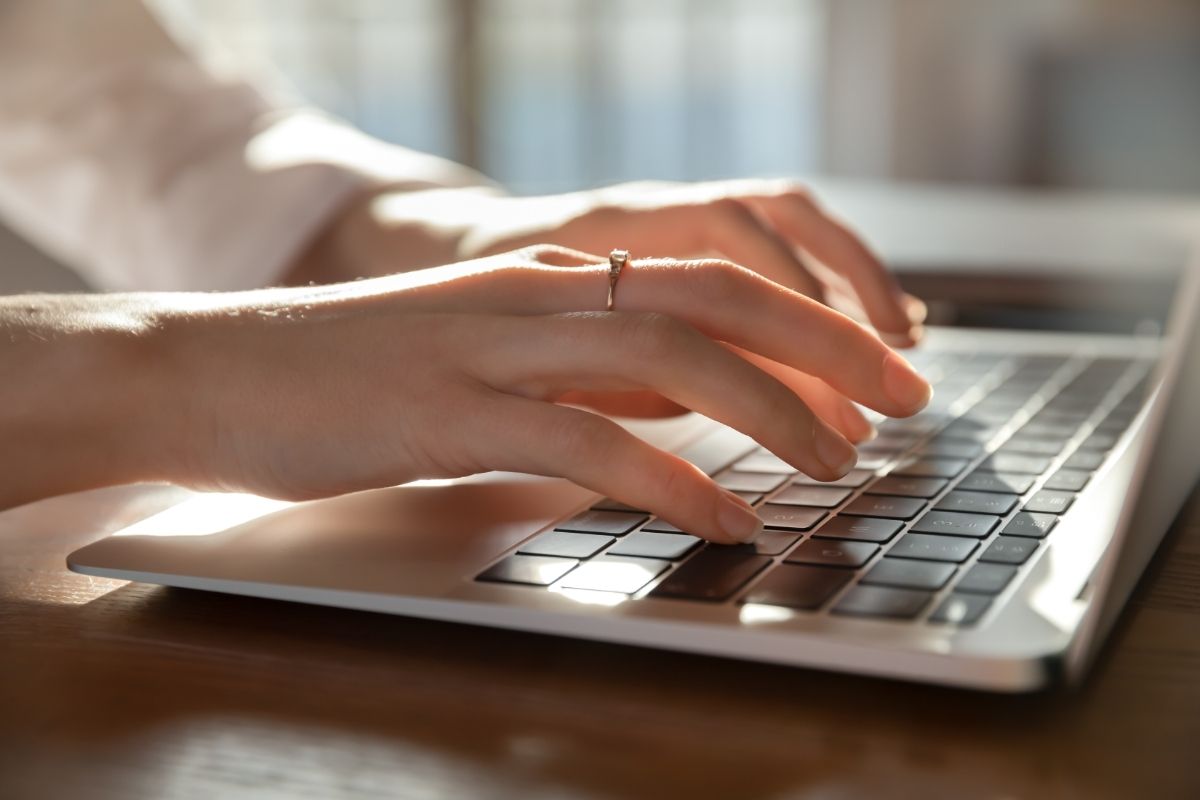 One of the most significant search engine rank algorithms is the value of your content. If the readers find your content useful, they'll read to the end and even move to the next one, and the search engine will automatically rank your page higher. However, if the audience notes that your content has nothing new or valuable, or that it's filled with mere replicas of other blog articles, they won't spend another second reading. And as you rightly guessed, search engines will consider your site valueless and rank it lower.
Before hearing about Textun, you've probably been working with other content service providers. Most of them deliver pretty good content in very short periods. But there's always one challenge – the traffic on your pages is stagnant. If you're having this issue, perhaps you should review your recent articles. You might notice a pattern: they could all be abridged copies of other high-ranking content. Most content creation service providers prioritize timely delivery over quality, leaving their writers barely enough time to research and create original content.
Textun's professional writers conduct in-depth research and deliver unique and informative content. It can help your site register increased engagement, traffic, and higher search engine rankings.
Guaranteed Ownership
You may also love that Textun gives you 100% ownership of your content. Once you've approved and paid for the product review or description, you can use it for any other campaigns.
What Are Textun's Prices?
The content creation service provider has two pricing tiers: the standard tier at $0.035 per word, and the premium tier at $0.045 per word.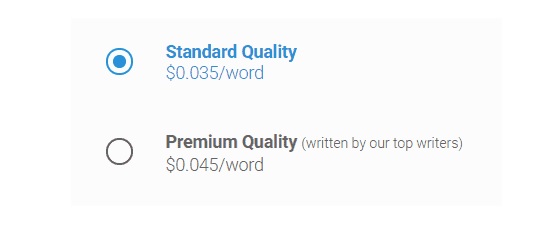 An extract from its website reads: "At Textun, quality does not diminish with the price. We constantly endeavor to keep our prices lower than the competition, but we never compromise on quality and originality." Most people think there isn't much difference between the two tiers. However, the company says it assigns premium tier tasks to its best writers, meaning you can expect higher-quality content from the premium subscription.
Pros and Cons of Textun
Pros
Only hires native English speakers
Short turn-around times
Vets all of its writers to ensure quality
Affordable prices
Cons
Formulaic approach
Doesn't apply most standard SEO techniques like link building and the use of keywords
Doesn't have an images package

Does Textun Provide Value For Your Money?
Most of Textun's customers love the company's work. Here are some of the company's recent customer testimonials:
"Thanks for the work you have done. I've been able to meet deadlines quicker than ever before. You're a wonder, and I've recommended you to all my associates for your great work"
– Nathan Fillmore, Texas,
SEO Specialist
"I would like to say thank you for the articles you have written for me, they are perfect and I did not have to change a thing. The cost is fantastic for what I received, and as soon as I finish typing this, I will be ordering more. I used your service about a year ago and could not remember the name of your company."
Adam Hossack, London, United Kingdom, Travel Website Manager
So, yes, we think Textun provides value for your money. From the client reviews, we can tell it's doing a good job, especially in product reviews. Who knows how much more it'd do with informational content or blog articles?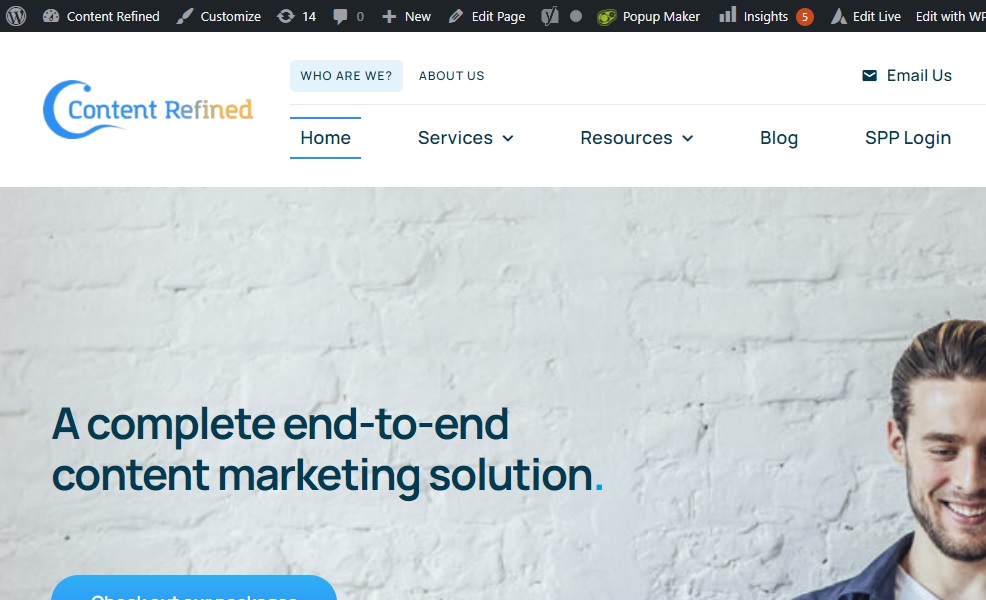 Content Refined is a great option if you're looking for a content writing service provider that gives a personal approach and optimizes content for search engines. Contact us today for a free consultation.