Following COVID-19 and the plethora of companies that initiated either remote or hybrid work structures, the popularity of freelance work has boomed. People certainly saw the potential in their side hustle becoming more than a hobby and something that might sustain their lifestyle without the traditional 9-to-5.

Similarly, with the skyrocketing cost of living, people are also picking up additional jobs to earn extra cash to support their budgets and lifestyles. Freelance working from home suits plenty of people with responsibilities within their home, such as children, and freelance work is the perfect fit.
The vast amount of freelancing opportunities has also created a wide array of freelancing platforms to meet clients' and freelancers' needs. Businesses have various options when looking to start outsourcing freelancing tasks.
When it comes to Thumbtack vs TaskRabbit, both are great options, but when looking to invest, which platform is best for your business needs?
Features of Thumbtack 

Thumbtack was launched in 2008 and boasts around ten million users; the site enables the completion of approximately 30,000 projects daily! The site benefits the consumer and the freelancer, featuring many great tools.
Range of Services
Thumbtack has a wide range of services that are available to search. These services are much broader than professional services and extend to home help, personal training, tutoring, DIY, and general errands. This could be a good fit for a smaller business looking for GC services or quick assistance. On the other hand, if your company is solely looking for professional support such as design work or virtual assistants, you might want to consider something more focused within those paradigms.
Custom Quotes
A great feature of Thumbtack is the ability for businesses to upload their project scopes and have freelancers directly send them quotes tailored to their specific project needs. This is helpful and helps companies ensure they get the best possible price for their project.
Verified, Skilled Professionals
Hiring freelancers can be pretty intimidating, especially when you want to ensure you get a qualified and certified professional for your project. Thumbtack mitigates some of that fear by only allowing certified and rated freelancers and service professionals to respond to advertisements.
This offers great peace of mind for employers to help them feel confident using an online platform to outsource their needs.
Ratings and Reviews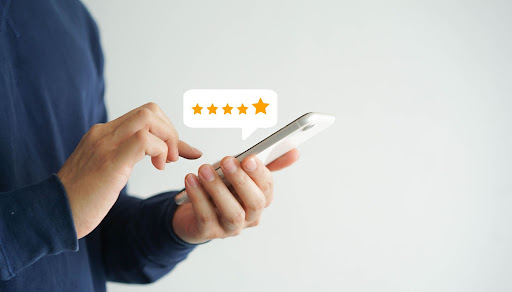 Alongside the already outlined verified status of freelancers, other clients can also leave reviews of the work freelancers produced, the editing process, communication, and the timeliness of the project deliverables. This information is great when selecting someone to execute your important projects.
Messaging and Communication
All messaging and communication take place via the communication channel within the platform. This is helpful as all project scope and delivery dates are recorded via the platform. This helps keep things simple and secure and avoids missing items in emails. Similarly, should a dispute arise, all essential information is stored within the platform, which should help mitigate any issues or disputes.
Secured Payments
Thumbtack helps protect the freelancer and the client by keeping all payment transactions secure within the web or mobile app. It is very reassuring that the chance of fraud is lowered, and businesses do not have to arrange banking details for every project.
Another great feature of the platform is the guarantee to stand by the quality of the product delivered and support the client if the product or service is not at the expected quality level.
Project Scheduling, Management, and Delivery 
All aspects of the project can be arranged and scheduled through Thumbtack, including services and appointments. This makes hiring and engaging talent straightforward.
Similarly, if your business requires the help of multiple freelancers covering various projects, there is a project management function within the platform itself. This is a great feature and enhances the tool's functionality even further.
Why Use TaskRabbit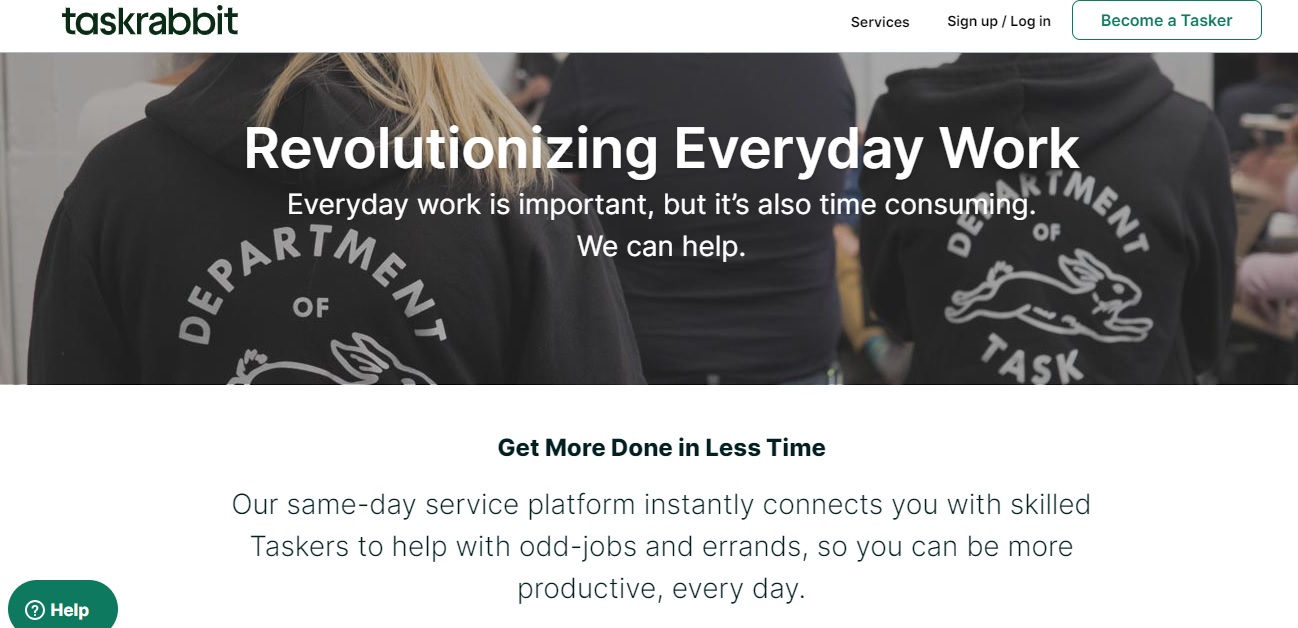 TaskRabbit was founded in 2008 and was based upon an idea generated by the founder wishing that she could send someone out on a snowy evening to pick up some essential items that she had forgotten. In 2023, TaskRabbit had over 200,000 users.
Task Focus
As the platform's name suggests, TaskRabbit focuses on singular everyday tasks or errands. The platform also includes some professional services but is a much better fit for laborious or monotonous everyday tasks, like furniture assembly, odd jobs, or handyman services.
Background Checks
For jobs that require Taskers to have a physical presence in homes, TaskRabbit does require the freelancer to have a background check. Verifying Taskers' credentials helps businesses make the right decision when hiring freelancer support.
Speed of Service
As discussed, the basis of the concept of TaskRabbit was to have someone respond quickly. Speed of service is a crucial and significant benefit of the platform. Taskers can be selected based on their availability to execute certain tasks and projects.
Verified Talent
Like Thumbtack, TaskRabbit also verifies the credentials and qualifications of their Taskers to ensure that businesses are hiring experienced and qualified professionals for their tasks. This might include certifications and work quality.
Similarly to Thumbtack, TaskRabbit also allows past clients to leave reviews for Taskers based on their satisfaction with completed projects. These reviews typically touch upon quality, communication, and ability to meet a deadline. These factors are excellent for a potential customer looking for a guaranteed TaskRabbit Tasker.
Customized Quotes and Task Requests
Another excellent feature of TaskRabbit is the ability to upload the project scope onto the platform and have Taskers tailor their responses, services, and quotes to correlate to the project needs directly.
Scheduling
Like Thumbtack, TaskRabbit allows businesses to schedule their needs and services on their own flexible timeline. This aspect is helpful and probably the main benefit of outsourcing work: to reduce overhead and complete work when it benefits your business.
Another benefit of this approach is completing work when it suits your business's budget.
Transparent Pricing
Users of TaskRabbit have often commented in reviews of the platform that the pricing aspect of budgeting for assignments is transparent and straightforward.
Potential Taskers submit their custom-tailored quotes early in the quoting process, and comparing the options makes it easy to select the right vendor for the job based on their quote, experience, and reviews.
Payment Security
Much like Thumbtack, TaskRabbit also ensures payment safety for both the client and the freelancer by running all of the financial institution information through the platform.
This method protects the client and the Tasker by verifying the payment credentials and reducing the chance of fraud on both ends of the transaction.
Similarly, the background check carried out by TaskRabbit also reduces the chance of poor experiences derived from contacts reached via the platform.
This is important as some companies might be more comfortable with slightly old-school approaches to vendors and paying in cash after completing tasks.
Multi-task Ability
If you have multiple tasks that need completing, TaskRabbit allows you to hire multiple Taskers for several jobs and manage them all from a centralized dashboard.
This is helpful for businesses that have diverse needs and projects.
Support and Resolution
Reassuringly, TaskRabbit offers customer service support and dispute resolution should businesses find themselves in conflicts over the quality or timeliness of projects.
This is helpful and probably eases the minds of businesses contemplating outsourcing their projects.
FAQs
Which platform is a better pick for my business?
Both Thumbtack and TaskRabbit are excellent platforms for outsourcing business needs. However, it is probably best to select Thumbtack if you have a wide array of professional needs or more complex and time-consuming projects. TaskRabbit is very much geared towards smaller tasks and more physical errands that require a local professional or Taskers looking for an odd job to make some extra cash.
So, when it comes to Thumbtack vs Taskrabbit, if your company or business frequently needs the assistance of a virtual assistant or graphic designer, then Thumbtack would be the better choice.
What happens if I am unhappy with my product from the freelancer?
This is a common fear for businesses that the freelancer will not produce results that align with business standards and expectations.
However, both TaskRabbit and Thumbtack have taken proactive steps to avoid this by verifying their talent before allowing them to join the site and allowing clients to leave reviews and star ratings.
If a situation did arise where a conflict needed to be addressed, both sites offer dispute resolution for clients and freelancers to allow them to reach a resolution.