There is so much information lingering in unsaturated data that can be sold to advertisement companies, content creators, big businesses, and small companies.
However, before you can use any of this data, you first have to find a way to sift through the rubble. That is why there are online tools for text analysis. These tools – which include features like text mining and natural language processing through sentiment analysis – can grab keywords and criteria to develop essential knowledge in a targeted area.
In this article, we are going to take a deep dive into the top four tools for text analysis to give you a side-by-side comparison of the best products in the online world:
Lexalytics

Ontotext

MeaningCloud

MonkeyLearn
Benefits of Using Text Analysis Tools
Text analysis is a game changer in the world of marketing, research, sales, and so much more. By using text analysis tools, you can generate detailed and critical information from massive amounts of unsaturated data for text analytics.
These tools will pull keywords from this random text in things like social media posts, emails, comments, surveys, reviews, etc. through methods like text mining, natural language processing, and other sentiment analysis tools. All of this text data information can benefit businesses and increase customer satisfaction.
Why Use Text Analysis?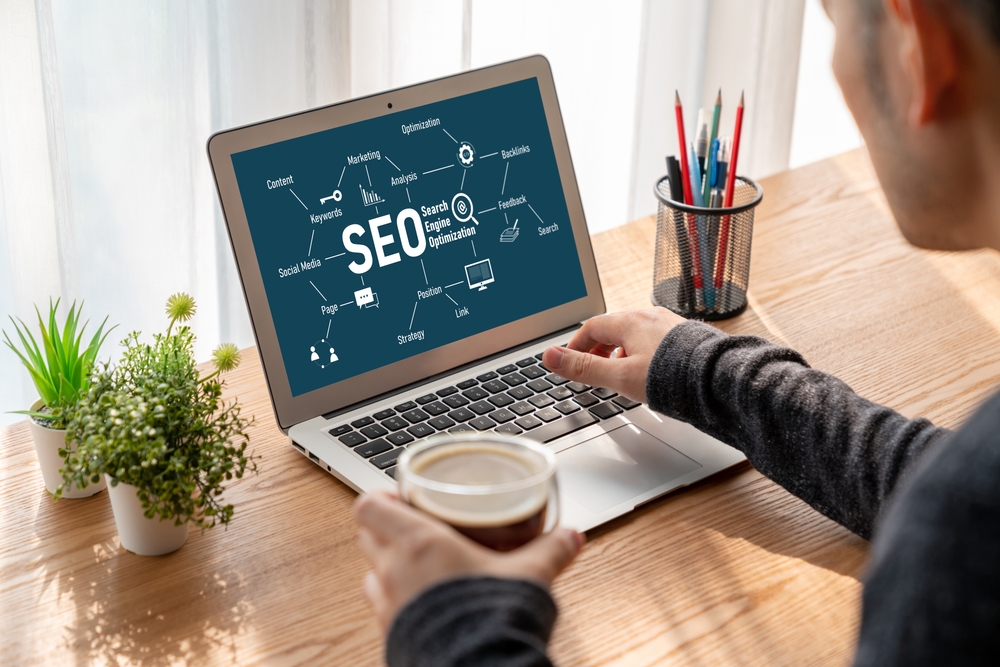 There are numerous ways text analysis tools can benefit pretty much anyone. These text analytics are the perfect way to get a look at mass texts in short form, accessing information, insight, and opinions all in one place.
Although the benefits of text analysis could create an extremely long list, we just want to go over a few of the most prominent roles these tools have.
Understanding your customers – Use this software to understand customers better. Listen to what they have to say and implement this information to better your business and build it around what your target audience is looking for.
Developing successful campaigns

–

By utilizing this hidden text through text mining, you can see what the people want to hear and use it to appeal to their interests.

Promoting new products and services –

You can use text analytics to help develop products and services the masses are looking for. This text analysis software is designed to find the keywords in random statements that give you a glimpse into what the public needs and wants.

Optimizing performance –

Using text analysis, you can "hear" what customers and employees have to say about your company's performance. You can then use that information to improve and optimize how you run things. This is a great way to determine your reputation online.
The Best Tools for Text Analysis
With so many text analysis tools available today, it can be hard to maneuver your way through the list while separating the good from the bad. 
Some of the tools can be tremendous assets to individuals and businesses alike, while others can be hard to navigate and don't perform to the proper standards.
To make the decision a little bit easier for our readers, we sifted through the piles of text analysis tools and found four that really stand out.
Lexalytics
Price: Starts at $999 per month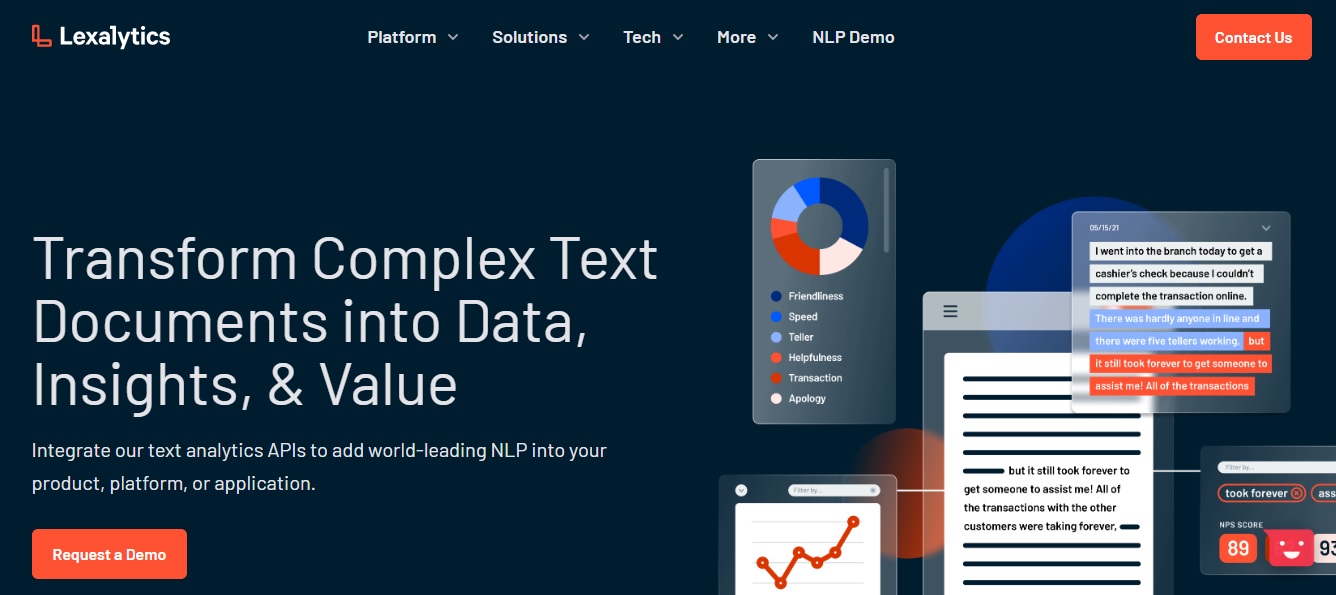 Lexalytics is a well-known text analysis tool that has partnerships with big names such as Microsoft, Hootsuite, and ALTAIR. It is so popular because of its high security and ability to process massive quantities of text data through natural language processing.
This company is one of the leading programs for AI natural language processing, with advanced features you won't find with any other text analytics program. It performs document summarization, survey analysis, social listening, and so much more.
Areas of applications:
Sentiment analysis

Entity extraction

Categorization

Intention detection

Industry configurations

Voices of customers

Voices of employees
Pros:
Pre-built models, themes, and entities for specific users

Supports more than 20 languages

Works with a wide variety of data sources

Offers customization options
Cons:
Best suited for professionals such as data analysts and data scientists

Customization can take weeks to put together
Ontotext (Graph Database Management System)
Price: Custom pricing per customer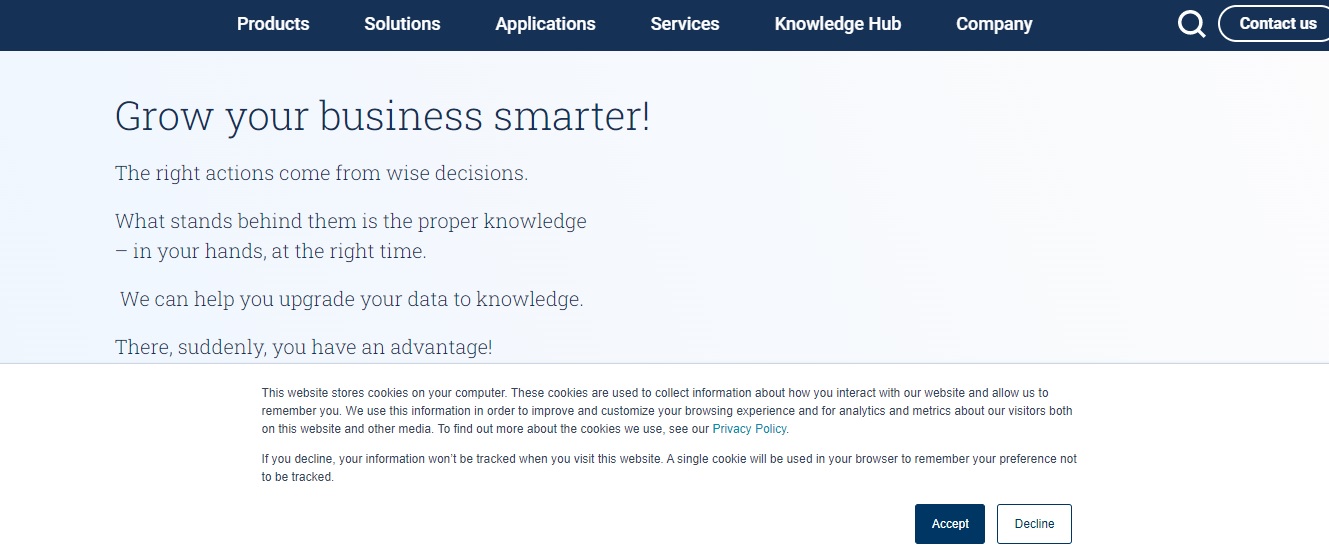 Ontotext is the primary text analytic tool for substantial enterprises and prominent companies to use the knowledge of AI technology to interpret data accurately. 
This text mining program can look at ontologies, rules, content, data, and metadata through natural language processing to develop detailed and informative graphs.
Ontotext offers assistance in the healthcare industry, finances, media and publishing, and the public sector.
Areas of application:
Enterprise knowledge graph technology semantic database engines

Dictionary analytics

Ontology analysis

Taxonomy analytics

Document analytics
Pros:
Creates detailed and easy-to-read graphs on-premise

Easy to install on all operating systems

Great for large businesses and independent developers

User-friendly database
Cons:
Difficult to send large graphs across servers

Graphs could offer more details
MeaningCloud
Price: Starting at $99 per month

MeaningCloud is a text-mining solution for various platforms and needs. This text mining software program provides text analysis features to extract information from places like blog articles, business documents, social media conversations, etc.
It also offers users the ability to add semantic analysis to their apps with plug-ins, web services, and SDKs.
MeaningCloud is one of the best ways to extract meaning from a plethora of unstructured information.
Areas of Application:
People analytics

Social media analysis

Document analysis

Content publishing

Contact centers

Customer voices
Pros:
Works well and has a narrow learning curve

Documentation is straightforward

API feature works great (language detection, categorization, the sentiment of detection of statements)

Integrates with useful analysis programs
Cons:
Can only be used as an add-in tool or API

Additional features come with fees that add up
MonkeyLearn
Price: $299/month per team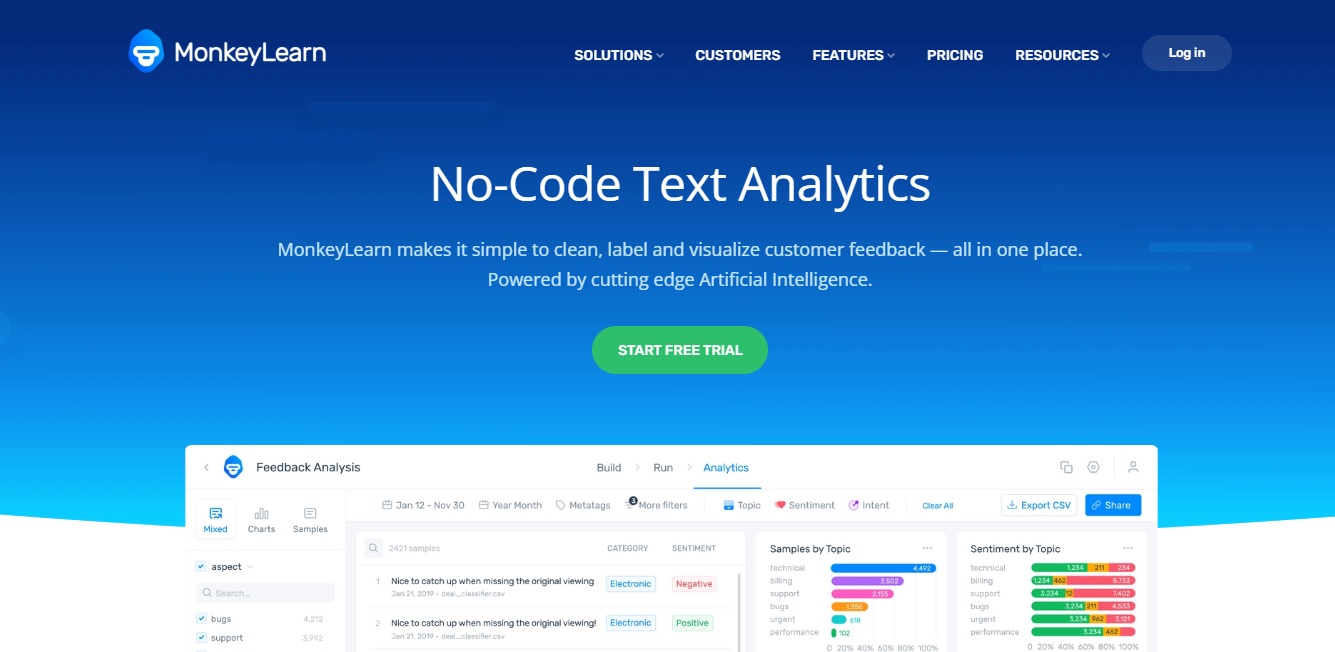 MonkeyLearn is another text analysis software tool that is often used by developers, support teams, and product teams.
This text analytics program is a great way to come up with data filtered from product reviews, conversations, and pertinent surveys to improve the experience of a customer and design superior products.
If you have any issues navigating this text mining software, MonkeyLearn provides customers with helpful FAQs and videos to walk you through the process.
Areas of Application:
CSAT analysis

Support analysis

NPS analysis

Review analysis

Survey analysis

VoC analysis
Pros:
Classifies texts simply in labels

Easy to understand and implement

All-in-one solution

Integrates with third-party tools
Cons:
It is a little pricey, especially for individuals or small businesses

Limited visualization tools
Which Text Analysis Tool Is Right for You?
The text analysis tools we've listed are reliable, reputable, and quality programs that can make marketing and advancing your business much more accessible. Even though each of the brands is an irreplaceable resource, they are only helpful if they offer the specific features you need for content analysis.
To make it a little easier to decide which option is best for you, we decided to assign each data mining tool an award for the area it excels in.
The Best Text Analytics Tool for the Money: MeaningCloud
When it comes to great online software, the cost is everything, especially if you are a smaller business or an individual entrepreneur. While some of these analytic tools are incredibly pricey, MeaningCloud is an affordable way to turn your text into valuable data.
MeaningCloud uses SaaS and on-premises software to extract the most critical information from social media conversations, websites, articles, etc., in various languages and without breaking the bank.
The Best Text Analytics Tool for Ease of Use: MonkeyLearn
Some of the data you extract derives from sites full of information in many areas. Surfing through text to find the most usable words, phrases, and comments can be hard to do.
Luckily, MonkeyLearn brings customers an easy-to-use platform with ways to gather intel and group it together in detailed data through its text mining tools. This makes it extremely easy to determine what the internet wants, needs, and is saying.
The Best Text Analytics Tool for Big Business: Lexalytics
Lexalytics is already being utilized by big corporations like Microsoft to develop data that can be used to target specific audiences. This works to increase sales and gather critical information through text extraction to create creative and useful campaigns and production strategies.
Although this company offers impressive data, it isn't for those new to this type of technology. Lexalytics is made for successful and prominent businesses that have professionals on hand that know how to interpret, use, and benefit from the data.
The Best Text Analytics Tool for Visual Information: Ontotext
If you are looking for a program that was specifically designed to scan nearly every type of online document on the web, then Ontotext has your back.
This software goes through surveys, documents, blogs, online articles, reviews, social media posts, and more. All you have to do is enter specific keywords and other pertinent information you are interested in, and the software will make you a detailed graph depicting the data in visual form.
Conclusion: Which Text Analytics Tool Is the Best?
It is almost impossible to choose which of these quality, reputable, and well-designed text analytic tools is the best available. Each of them offers unique and personalized services and features that are genius in the world of marketing, data gathering, and more.
To choose the best analytics tool for your needs, look for a program that offers features that suit your needs, fits your budget, and provides a platform you feel most comfortable using.