Earning money while traveling is a dream for many people around the world. The only elements that are required to start are a strong internet connection, affiliate knowledge, and a willingness to learn and grow. This guide will first explain how affiliate marketing works and then focus on some of the better affiliate marketing programs for those traveling the world.
What is Affiliate Marketing?
Affiliate marketing is simply a form of online commission sales. In other words, you receive a commission when you refer a sale for another website. Your commission is paid at no extra cost to the customer. The commission is credited to your account when the customer takes some sort of action such as purchasing a product or even making a phone call.
What Businesses Use Affiliate Marketing?
Several types of businesses have different types of affiliate programs. Some examples include insurance companies, online casinos, e-commerce businesses, travel booking websites, and online dating websites. In fact, if a company has an online purchasing option, then there is a very good chance that it offers an affiliate program.
The following affiliate programs will work well for those traveling the world:
Amazon Associates
This e-commerce juggernaut has a more than decent affiliate program. You receive a percentage of all sales you make 24 hours after a customer clicks your referral link.
The part that makes Amazon special is the name recognition combined with the millions of assorted products available for consumers to purchase. The name and brand recognition help improve the conversion rate, and the large selection of products makes finding one to promote incredibly easy.
Further, you get paid a commission on all purchases made within 24 hours of clicking on your link. If a person clicks your link and buys an unrelated $2000 product, then you get the commission for that product.
Booking.com
The hotel booking platform, Booking.com, has a generous commission program that is seemingly built for travelers. The percentage of commission that Booking.com offers is a staggering 25%. 
It gets better though because Booking.com uses a tiered structure. The more affiliate sales you make, the bigger the percentage you receive. The commission, however, does max out at 40% for 501 bookings per month.
Additionally, the signup process is very simple and straightforward, and they approve just about everyone for their affiliate program. They also provide you with a very easy to use WordPress plugin. In fact, the WordPress plugin makes integrating the affiliate offer into your website very easy.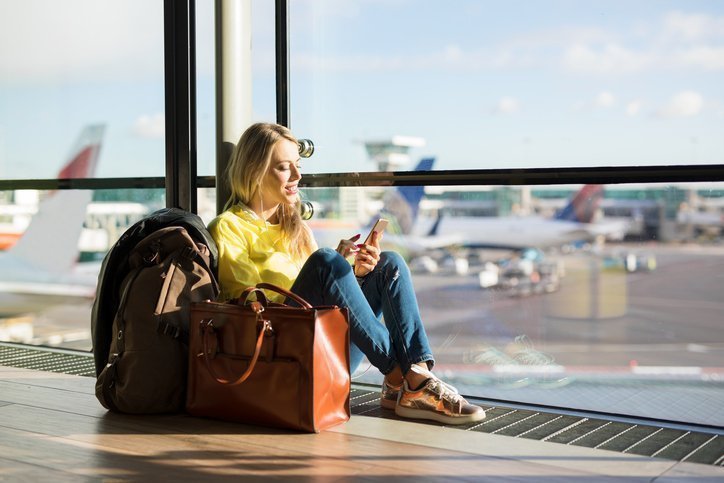 SkyScanner
SkyScanner is a flight booking website, though they offer hotel and car rental options as well. Three things that every world traveler must familiarize themselves with. The primary focus is on flights with their excellent flight search tool.
They do not offer the affiliate program through their own website. Instead, you must sign up for an affiliate account through ClickJunction (CJ). However, do not let that scare you off from promoting SkyScanner products. They have a good reputation in the industry, which will improve your click-through rate for any visitors that you send over to their website.
CruiseDirect
CruiseDirect offers cruises all over the world, which fits in nicely with the travel niche. CruiseDirect also offers a very nice 45-day tracking cookie for their affiliates. This means that if someone clicks a link and purchases a product within 45 days, then you will get a commission.
They offer a 3% commission rate on the total sale. While this may sound extremely low compared to other affiliate offers, you must keep in mind that cruises are relatively expensive. Most cruises will start out around a $1000 for one person, which means that you will usually make around $30 per sale.
Those points combined make CruiseDirect one of the better affiliate options available on the list. The one downside is a low conversion rate due to the higher cost of the product.
Airbnb
First, Airbnb offers a referral program, which works a little differently than an affiliate program. A referral program pays you in credit that is then redeemable for the product you promote. In the case of Airbnb, this credit can be redeemed to pay for Airbnb bookings.
The specifics of the offer are that if you refer someone to Airbnb, they will then receive $40 in travel credit and you will receive $20 in travel credit. You can only receive the referral free from first-time users of Airbnb.
Overall, this offer makes it great for those traveling the world because travelers will frequently use Airbnb and other short-term accommodation options. However, only receiving credits for new signups is somewhat disappointing. Airbnb's referral program should be used as a secondary referral rather than the primary one on your website; this leads into your next point.
You can have multiple affiliate offers
Nothing in affiliate agreements prohibits you from offering multiple different affiliate offers. In fact, you can promote all the companies listed above on your website with no issue. This means you can have Amazon offers for products, Booking.com offers for hotels, and SkyScanner offers for flights.
You can even have different competing affiliate offers on the website. For example, you can promote a hotel through Booking.com, but you can also promote that same hotel through SkyScanner and Agoda for customers that prefer using those platforms. This strategy requires more work, but it will improve your conversion rate of different products.
Final Thoughts
All in all, the four affiliate programs and one referral program mentioned above are a suitable place to start earning income while exploring the world. The offers all directly relate to travel, and you can provide value to your readers. Oftentimes you will be able to experience the different hotels or Airbnb listings. This will encourage your readers to click the link and even make bookings.
Finally, keep in mind that all the offers above can be combined on the same website. This allows you to create multiple different income streams from various sources. Doing so is important in the event that your affiliate account is banned, or the affiliate terms become less favorable.