Introduction
Website owners are becoming increasingly aware of just how big of an impact digital marketing can have on their site's success and profitability. Today, digital marketing strategies such as Search Engine Optimization (SEO) are essential for websites to establish credibility and visibility. To accomplish this, website owners must implement ways to shape the design and content of their website to please online search engines.
Websites need to be particularly aware of Google, whose 3.5-billion searches per day and 1.2-trillion searches per year have made it the king of online search engines. Since so many people use Google to find the products, services, and information they need, it basically controls the flow of internet traffic through the results it displays. Google directs people to whichever sites its algorithm likes best, which are the sites that are listed in its first few results pages.
There are several aspects used by Google and other popular search engines to determine the ranking of a website, but written content is undoubtedly one of the more valued factors. Written information that is relevant, trustworthy, and consistent will please Google. In return, you'll receive a better place on its results pages. Of course, accomplishing this task is incredibly difficult, as the sheer amount of material needed will require a healthy amount of time and effort to maintain. Most website owners aren't writers and often struggle to produce quality written work in a timely manner. Because of the prevalence of this problem, the popularity of custom content providers has grown considerably in the last several years. Now, it's considered an integral part of any organization's digital marketing campaign.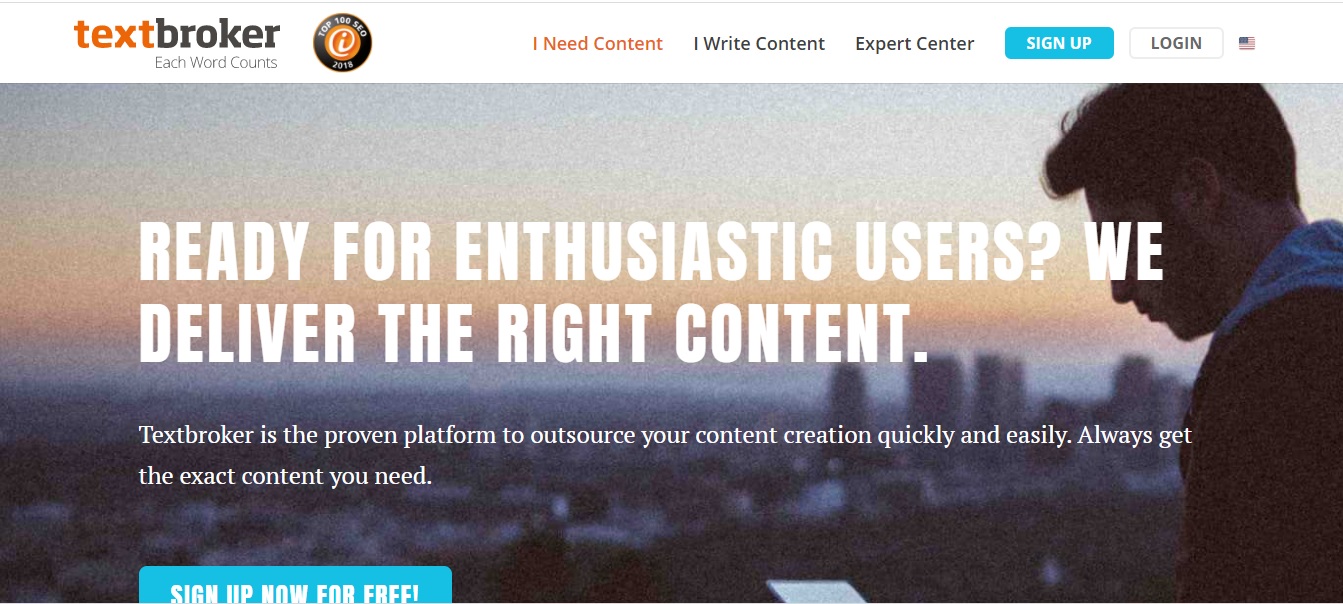 Many website owners outsource their content needs to Textbroker. This company has been in the content business for many years and is one of the best-known names in the industry. Yet despite its longevity and popularity, Textbroker isn't known for having freelance writers who only produce top-notch content. This is mainly because it has a rather large stable of writers, and a lot of them aren't that great. The watered-down content produced by inept writers is making it harder for customers to depend on Textbroker for quality assurance, with many clients opting to look for better alternatives.
Textbroker has confronted this issue not by solving the problem, but by embracing it. It asserts that the poorly written content is simply the result of it being one of the more affordable content providers on the market. This stance doesn't sit well for some clients, mainly because it presents a brand image that makes it difficult for Textbroker to attract better writers and harder for it to attract customers who want only the best content for their site. In fact, many Textbroker clients are looking elsewhere for their content creation needs. Thankfully, there are plenty of other websites like Textbroker that offer high-quality content on a more consistent basis.
Whether you're a dissatisfied Textbroker client or looking to work with a content provider whose staff includes only the best freelancers, you should read this article. We've created a list of alternatives that, unlike Textbroker, emphasize quality over quantity. In this list, you'll find all the important details regarding their service, as well as some pros and cons. This will help aid your search for websites that are like Textbroker, but just a bit better.
WriterAccess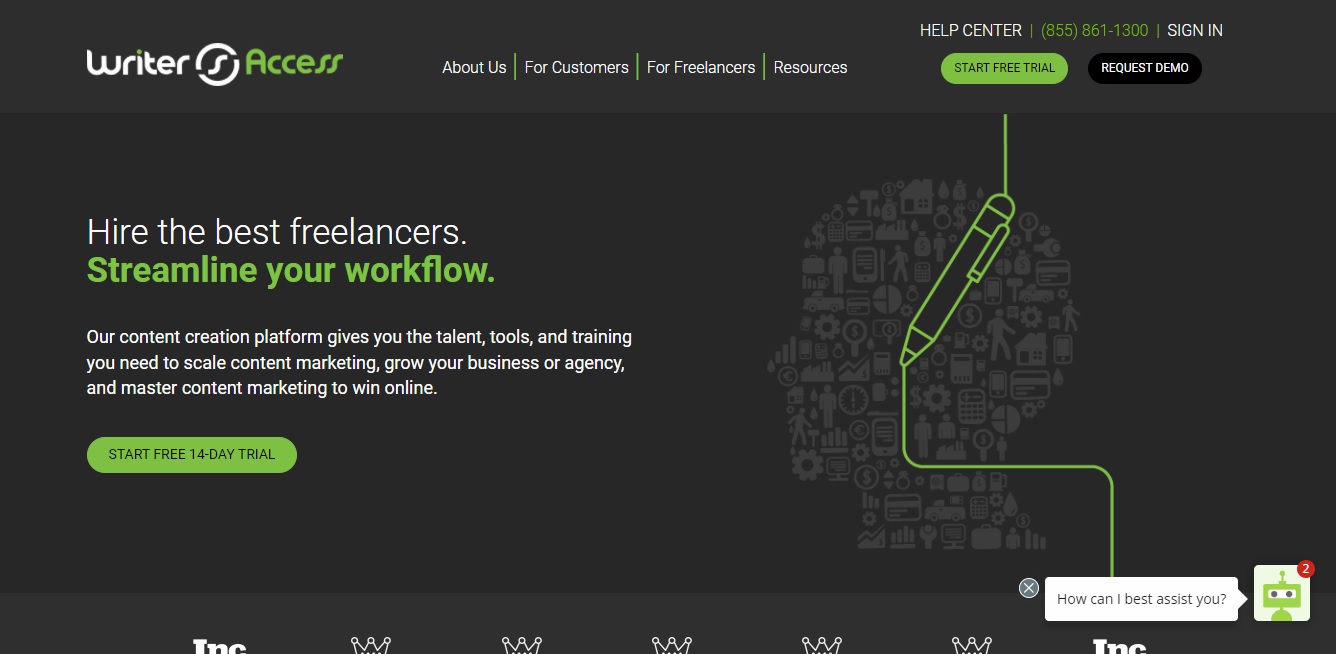 WriterAccess is likely Textbroker's biggest rival. When visiting WriterAccess, the first thing you'll notice is that it has a sensational and rather remarkable-looking user interface. Its overall design motif makes interacting with its tools easy on the eyes. Taking the time to create an artistic and unique user interface is one of the more important aspects of any good content mill. We say this because sometimes you'll need to spend hefty amounts of time using the site, and having a pleasing design to look at makes doing the work a bit more comfortable.
WriterAccess functions like a typical content provider, except for the fact that it handpicks its writers, editors, content strategists, designers, illustrators, and animators. While WriterAccess doesn't really explain how its screening process works, the proof is in the pudding, so to speak. Their writers are some of the most talented and knowledgeable writers in the business. Communication is never a hassle, and their content quality is of the highest standard.
Price
Depending on the features and content included, subscriptions cost $39, $59, or $99. Also, content purchases are separate from subscriptions, meaning you will have to pay the freelancer based on their star level. These star levels are determined by experience and expertise and can range anywhere from two cents per word or $25 per project, up to more than $2 per word or $200 per project. The company also does not pay out your deposit money for orders or projects until you have approved the work. WriterAccess provides a 100% satisfaction guarantee.
Features
Access to strategists, content managers, translators, and copy editors
Casting Call tool helps clients find the best writers for their projects
Tailor assignments and find specialists in a wide variety of industries
Pros
Freelancers are excellent and produce publishable content nearly every time
Wide range of on-demand pricing and membership options
Articles are optimized for SEO and written with your business's goals in mind
Even though WriterAccess takes a portion of the profits, writers earn fair pay according to their experience level, resulting in competitive prices and higher-quality content
Cons
Cost is higher than Textbroker's rates
Content is priced by the word and can vary drastically, which makes budgeting more difficult than with a fixed rate
Constant Content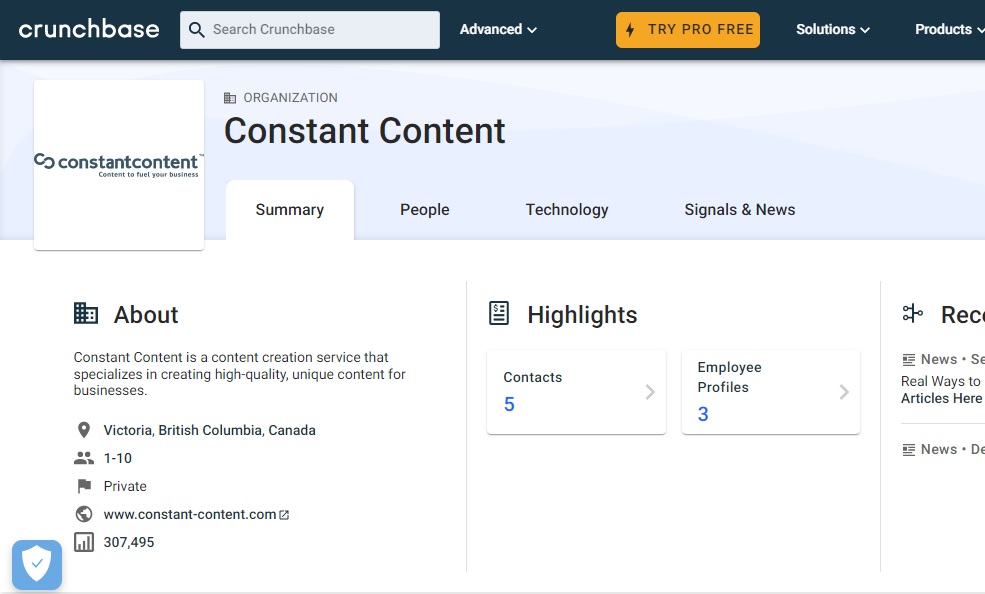 Next up on our list is Constant Content, one of the more trustworthy and efficient content writing services available. They have an extraordinary staff of freelance writers that can handle a wide breadth of topics. It's likely that whatever topics your company needs content for, you'll be able to find a writer on Constant Content with the skills to compose it.
One unique aspect of Constant Content is that, unlike most other custom content writing services, it lets you have more freedom regarding how much you want to spend and which writers you want to hire. The freedom comes in the form of not having a set price per word. Instead, writers set their own price for pre-written catalog content, and customers set a price range for custom requests. Prices for custom content have a bit of wiggle room and price negotiations take place between both parties. Pre-written content prices, on the other hand, are pretty firm. You're also able to preview a few paragraphs of the content before purchasing so you can determine if it's what you're looking for.
Price
As mentioned above, the pricing can vary from writer to writer. Typically, the average price for a catalog article is $40, while the average price for custom content is $120.
Features
Option of publishing content directly to WordPress
Lots of content choices, including sales copies, SEO writing, press releases, product reviews, newsletters, blog posts, white papers, copyediting, and both technical and eBook writing
Nicely organized and easy-to-use content request system and writer search tool
Pros
Easy site navigation, sign up and ordering process
Wide range of writer selection thanks to large staff of freelancers
Choose and customize content to match your budget
Set your own deadlines for content
Cons
Customer Support isn't great and often takes a while to respond
Lack of consistency with pricing and writing quality
Express Writers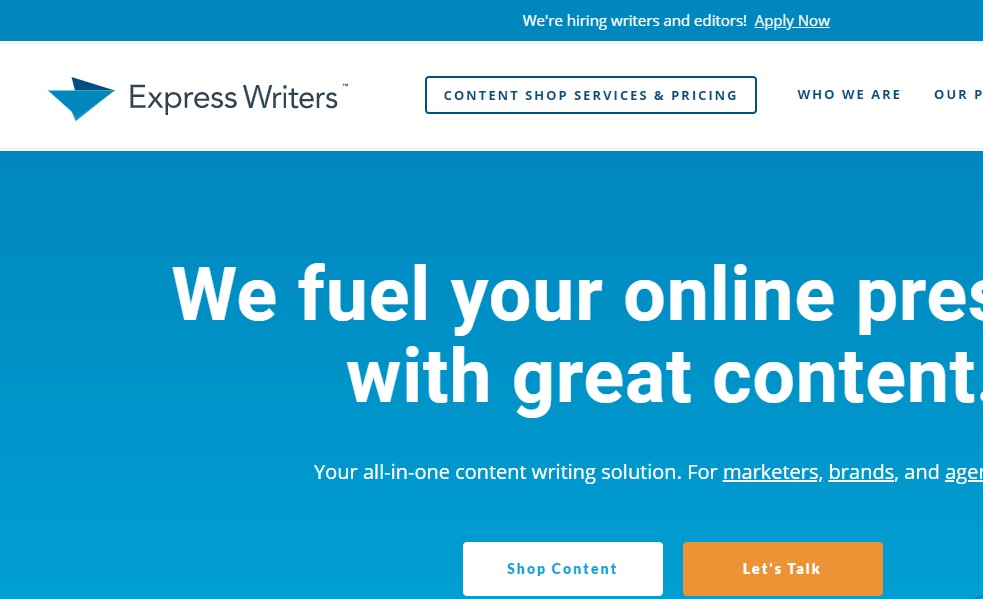 The content creation service offered by Express Writers is a suitable alternative to Textbroker, especially for websites that need high-quality content written by freelance writers with tons of experience.
You're guaranteed to be happy with the content provided by Express Writers because it only employs around 90 content writers. Every writer must pass several writing tests before they're hired. Because of their small but extremely talented writing team, they can offer their clients a more personalized experience. They do this by pairing clients with freelancers who have expertise in the subject/topic of the client's website, or as close to it as possible.
You can also put in requests to continue working with the same writers. But because of their small pool of freelancers, they can't always accommodate those requests.
Price
Express Writers set prices according to the level of content quality. There are four different content levels to choose from: general, expert, specialty, and authority. Prices start at nine cents per word for general content, increase to 19 cents per word at the expert level, 28 cents per word for specialty, and 30 cents per word for authority content. Features also get better with each tier.
Features
Content Shop provides you with examples of every content variety it offers
Can handle design needs, case-study interviews, image sourcing, and illustrations for bigger projects like eBooks or white papers
Pros
Most content is high quality and comes ready to publish, sometimes with screenshots and infographics as applicable
Plenty of online resources, including free eBooks on writing and content marketing
Only hire top 2% of applicants
Cons
One of the moreexpensive writing services
Less than 100 freelancers on staff make content turnaround times longer
WritersDomain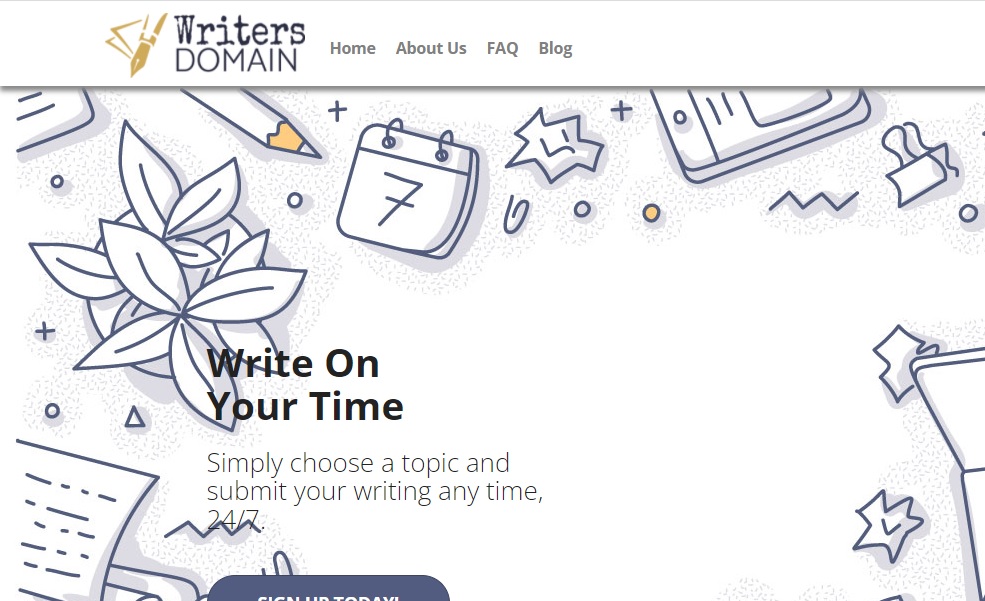 We wouldn't be doing our due diligence if we didn't include a Textbroker alternative that's specifically for writers. Textbroker isn't the only site that is providing writers opportunities to use their content writing skills by connecting them with paying jobs. One such alternative is WritersDomain, which is a hub for freelance writers who want to earn extra money by writing from home in their spare time.
There are a few interesting things that make WritersDomain different from other freelance writer hubs. The first is that writer payment is based on how the client rates the writer's work. To properly explain a unique payment plan such as this, we have provided its own section, which you can find below.
WritersDomain is also unique because it focuses the writing of blog posts solely around a keyword that the writer either chooses or has randomly assigned. Once they have their keyword, the rest is up to the writer. This freedom is nice to have, especially for those who enjoy a more creative style of writing. They can not only make a good bit of money but also practice creative writing skills by producing some amusing blog posts. For example, if they can still obey the rules in the WritersDomain rubric by relating the topic of the blog to the chosen keyword, they can write about aliens in an ancient crypt or how to get a zombie to do sign language.
Writers can only claim one keyword at a time. Once they decide on one, they have eight hours to write the article. However, these rules have a lot of slack since there aren't any penalties for dropping a keyword or letting the eight-hour time limit expire.
In the event the article comes back with a revision request, writers have 24 hours to complete the revisions and resubmit it. Canceling an article in the middle of its revision process will result in a penalty. If a writer drops revisions repeatedly, their account may be subjected to review and suspension.
As you can see, WritersDomain is not your average freelance writing hub, but you may find their unique system works well for your content needs.
Pay Rates
The amount writers earn per article is determined by the satisfaction level of the client. Clients rate their article (using one, two, three, four, or five stars), which then determines how much the writer will make. They're paid more if they get more stars. The pay rate for standard articles is as follows: three-star articles earn $12.25, four stars give $14.75, and five stars pay $15.50. If the article receives a one- or two-star rating, the reviewers send it back for a revision. If, after revising, it still receives a one- or two-star rating, it's rejected.
Pros
Focus is on quality over quantity
Content gives websites an authoritative, helpful, and trustworthy presence
Content is usually exciting, engaging, and includes valuable/useful information
Great customer service that shows they actually care about content and clients
Cons
Longer turnaround time for content
Higher cost than with some other services
Conclusion
To conclude, we would like to note that we tried to include companies with two or three standout characteristics that differentiate them from Textbroker, but not too dramatically. That way, if you decide to switch from Textbroker to one of the companies on our list, you will not have to deal with a steep learning curve.
It's also important to understand that the Textbroker complaints and issues mentioned in this article are likely going to be present in any large content mill. That is simply the nature of the business. The more writers that are employed, the better the odds are there'll be some weaker ones sprinkled in the mix. Despite its problems, Textbroker remains a quality content service for writers and clients alike. Just because it's not a perfect fit for one person doesn't mean it won't work for someone else. The same is true for the companies listed in this article. We all have our own preferences in how we want to use content provider services. Even minor differences in how they work can make big differences in our experience using them, for better or worse.
Fortunately, there are so many content writing sites these days that even if you didn't find one on our list, there's surely one out there that can help you get your content needs taken care of.