Introduction
Google and other search engines are the invisible force that guides people to where they can find the information, products, and services they're looking for. Google is responsible for over 90% of online searches and therefore plays an important role in the success or failure of a website. To help influence how your websites are ranked and positioned on Google's search results pages, digital marketing tactics need to be applied. Ninety percent of clicks occur on the first page of results, so that is where you want your site to be. To accomplish this, your website must contain long-form written content that is relevant to your site's subject matter and contains information that is useful and interesting to people visiting your site. If your website contains content of this sort, it will show Google that you're reputable. In return, your position on the results pages will improve.
In 2011, Google began using its Panda algorithm to assess and rank websites based on whether the content they have is good or not. It basically made the presence of quality content a very important part of its ranking and assessment process. It became rather obvious that the websites that offer visitors fresh, high-quality SEO content filled with relevant and useful information get the best spots on search results pages. Over the past decade, Google's ranking system has continued to focus on website content. That is why custom content service providers and expert content writers are in such high demand these days. In fact, most website owners outsource their content creation to professional services. Sites like iWriter are often your best bet to get authoritative and high-quality content. Churning out the amount of material necessary for improving your ranking is daunting and nearly impossible to accomplish without help.
Though iWriter reviews are generally positive and they remain a popular option for a company's content needs, it's certainly not the only website where you can get effective content and find skilled writers. Whether you're a newbie to content service providers or a veteran looking for something that works similarly to IWriter (only better!) this list of the best iWriter alternatives will help you in your search.
Commonalities
iWriter has been around for a long time and therefore has quite a few things in common with its competition. The alternative sites we're going to be looking at today are:
Constant Content
Content Refined
Express Writers
Writing Studio
WriterAccess
All of these options offer very transparent pricing and have no hidden fees. When you pay for content on these services, you more or less know what you're getting in return. Another commonality is that these services let you choose the quality of writers to some degree. Finally, they all offer a variety of options and services, including access to high-quality freelance writers at affordable prices. As you can see, some of the most popular iWriter alternatives aren't fundamentally different from each other, but that doesn't make them all equal in quality. Each has its pros and cons. Deciding which is the best is largely a matter of personal preference. We'll give you the facts about each alternative content provider and let you decide which one is best for you.
Best Alternatives to iWriter
Constant Content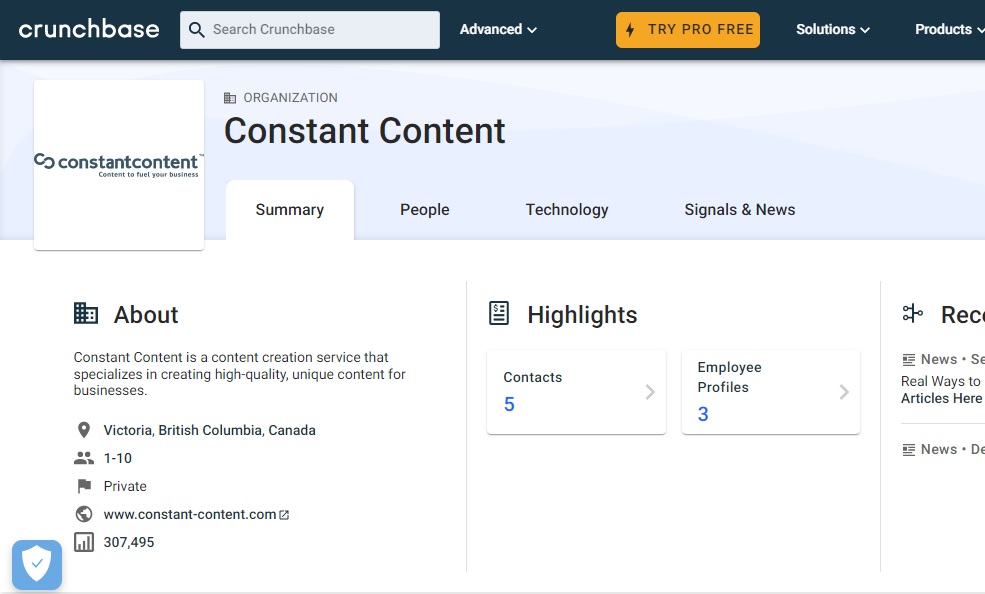 Constant Content is one of the better alternatives to iWriter, mainly because of the rather large catalog of mostly top-notch, pre-written articles for sale. This option is beneficial because it reduces the risk inherently involved in buying content. Each pre-written article has already been checked for plagiarism as well as grammar and spelling mistakes. Its pre-written material is high-quality web content that can be published immediately. Other outstanding features include:
Features and Pros
Customizable solutions for both small and large companies
Dedicated account managers and a large pool of pre-screened expert writers
Can handle large amounts of content
Flexible scheduling
Freelancers with expertise to handle any kind of web content (e.g. sales copies, SEO writing, reviews, press releases, newsletters, white papers, blog posts, copy editing, technical, eBooks)
Streamlined writer request system and author search tools
Pricing based on expertise level of author
Even lower-priced freelancers are heavily screened and usually produce quality content
Negatives
The problems we noticed with Constant Content are similar to those of other content services. However, one of the most talked-about problems is the layout of the website. It is not overly professional in design and looks a bit old-fashioned compared to the competition. Other issues include:
Public requests are slow to be accepted
Editors do not always give clear feedback
Our Thoughts
Constant Content is a solid option to help you grow your website. Its pre-written articles are great and it has experienced writers who create custom content that does not need rigorous editing.
Content Refined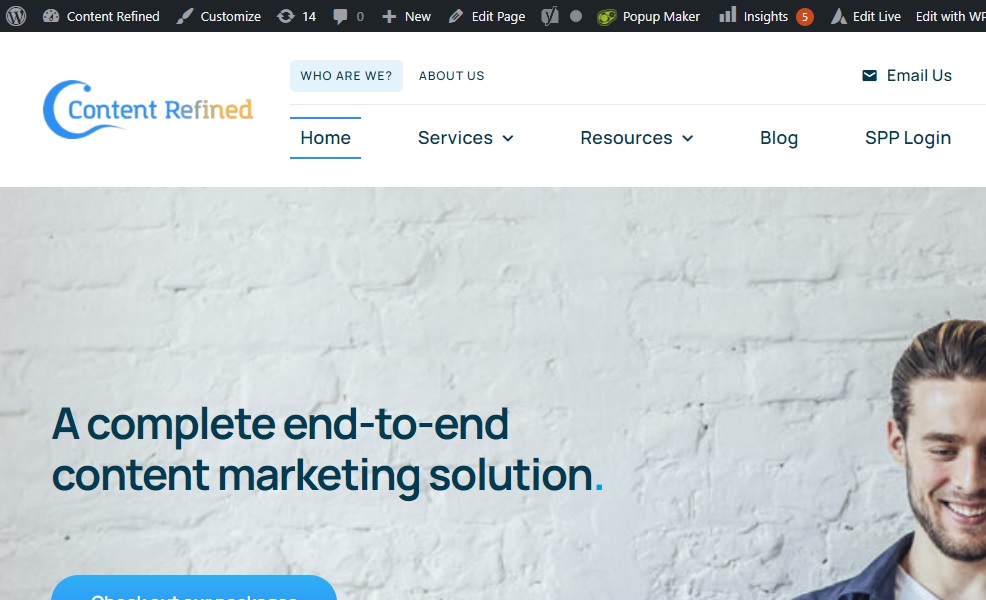 Our next iWriter alternative is Content Refined. Content Refined is committed to delivering consistently excellent content creation results for all its clients. It does not disappoint, and it lives up to its reputation of being an agency that has focused on affiliate marketing and niche sites from the beginning. This strategy gives Content Refined a decisive advantage over its competitors because the content it creates is not only profitable but also improves your website's ranking. It can achieve this because its content is usually filled with strategically placed keywords and information that is very useful.
Features and Pros
One of the greatest benefits of Content Refined is the ease of use and thoughtful design of their comprehensive services. It's also one of the few services that offers packages that do everything content-related for you from start to finish. Other outstanding features include:
Publishing articles as part of their packages rather than as an extra charge
Use of very sophisticated marketing tools
Wide range of unique packages from which to choose
Option for a custom quote
Expert keyword research services and tools
Negatives
We honestly had a hard time finding anything to complain about with Content Refined. We are not alone in this regard as most people have a very positive opinion about their services. But after some extensive digging, here are the few minor issues you may encounter with Content Refined:
Cost is slightly higher than the average custom content service
Some internal/external links seemed random and unrelated to the topic
Our Thoughts
We found that Content Refined met and exceeded expectations. Many of their articles landed just outside the top three search results on Google, and that improved ranking will certainly help bring more visitors to your website.
Express Writers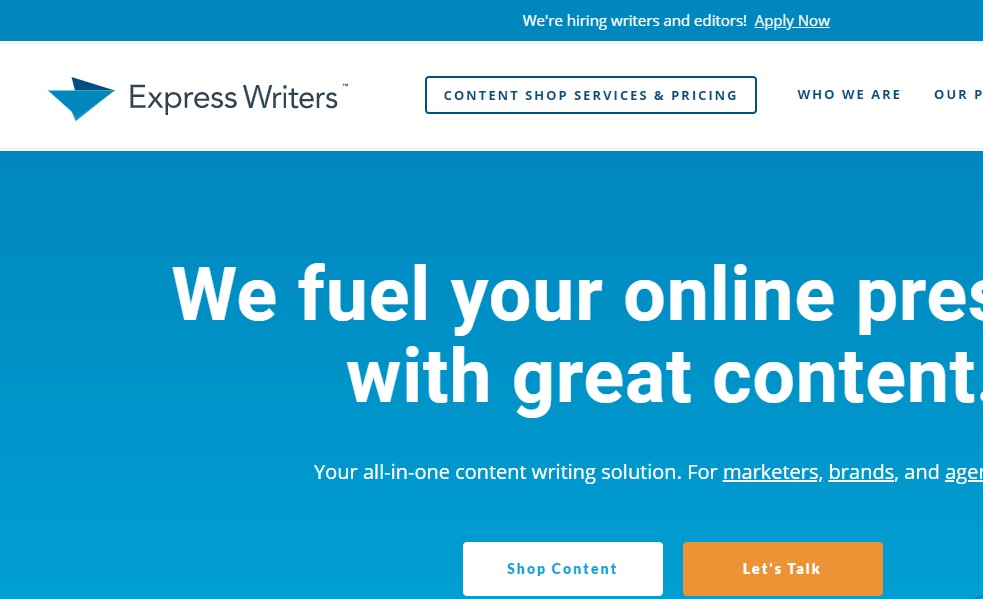 Express Writers made it to our list of the best alternatives to iWriter because of the company's commitment to delivering high-quality content with a more personal touch. When you visit Express Writers' website, you will not find an elaborate design or many extravagant features. What you will find is an affordable platform with a writer pool of around 90 experts who can write SEO blogs, websites, emails, landing pages, social media posts, video scripts, and much more.
Features and Pros
What impressed us the most was that we received some really good content that immediately improved the ranking of our websites. Not only did we get an immediate improvement in our ranking, but that same content continued to help our ranking more than a month later. This longevity is a credit to the selection of keywords and the ability to naturally incorporate them into our content. Other benefits and features of Express Writer include:
Custom design work
Very high content quality and superb SEO effectiveness
Ability to handle a variety of formats with writers that are industry experts
Match with a hand-picked team of content creators who genuinely care
Writers and editors display a strong commitment to quality
Negatives
There's not much negative to say about Express Writers, except that its high-quality content comes with a hefty price tag. Also, don't expect to receive your ordered content as quickly as some of the other providers on this list, as its turnaround time is significantly longer than most other online custom content platforms. Here are a few other minor issues with Express Writers:
Website has a mundane style that is exceedingly plain
Not much difference between some of the quality levels
Our Thoughts
The content from Express Writers is very helpful. The extra time and money you may spend with them will likely be well worth it.
Writing Studio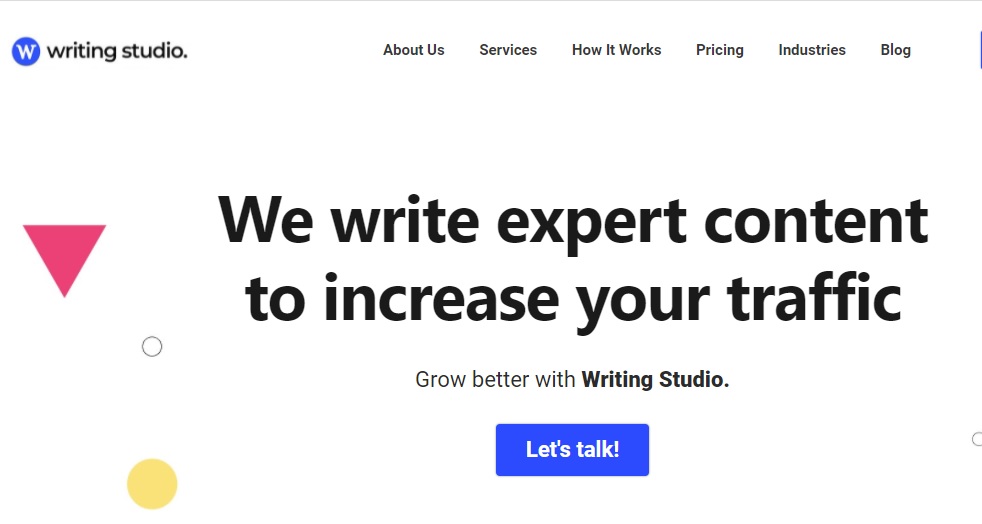 Writing Studio is undoubtedly one of the best alternatives to iWriter. Founded in 2019, Writing Studio is one of the newer content providers on this list, but it by no means functions like a company that's only a few years old. We say this because it can create some of the most informative and meaningful content that is written in a tone that makes it incredibly engaging to read.
Features and Pros
Perhaps the most important aspect of Writing Studio is that it specializes in medical, health, fitness, cannabis, and other types of health-related content. Their writers not only write well, but they're also extremely detailed and accurate due to their academic achievements and qualifications. Other great benefits and features of Writing Studio are:
Help developing ideas for topics and advice on what type of content is most appropriate for your needs
Provided with a dedicated content marketing manager
Up to two free revisions to your content
Quantity discount means the more content you order, the lower the cost
Negatives
The major problem with Writing Studio is that the average cost of its writing services is much higher than most other content mills we have reviewed. Here are a couple of other more minor issues we noticed:
Can't expect very detailed and informative content on topics other than what the company specializes in
Small pool of writers compared to most services
Our Thoughts
Writing Studio is a great content writing company if you need content for one of the health-oriented industries it has experts in. For other topics, it would make more sense to consider one of the other alternatives on this list. It will likely save you money and give you content that is just as informative.
WriterAccess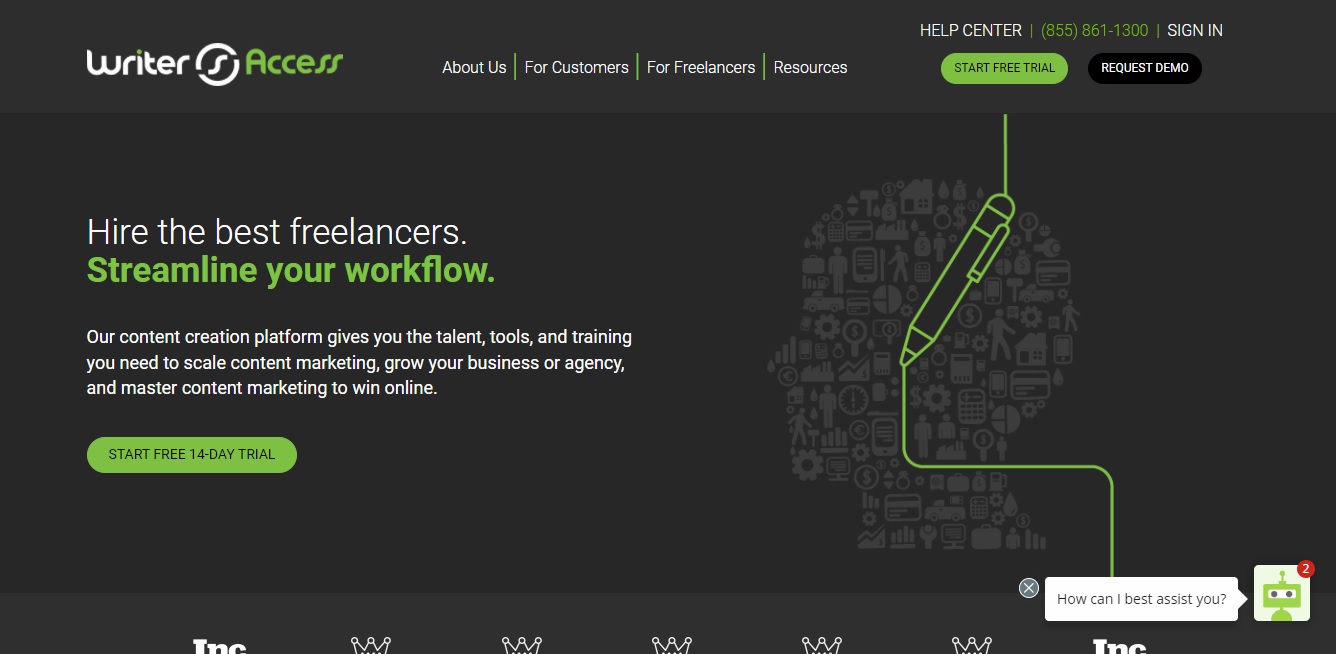 The last iWriter alternative we will cover is WriterAccess. It is one of the bigger custom content providers with a pool of nearly 15,000 writers whose expertise spans a wide range of topics. We found WriterAccess to be very professional. Their freelancers communicate well and produce high-quality work.
Features and Pros
What makes WriterAccess special is that the service uses artificial intelligence to match you with copywriters who meet your specific requirements. It works by using text analytics to find authors that suit your tone and style. If, however, the A.I. fails to match you properly, its advanced search likely will since it has filters for over 200 types of skills and expertise. Other features of WriterAccess include:
Rigorous review of applicants' education, writing skills, knowledge of SEO and social media, and extent of online authority
All writers are native English speakers who reside in the United States, United Kingdom, New Zealand, Australia, Canada, South Africa, and the Republic of Ireland
All content has a money-back guarantee if it's not to your liking
Up to two royalty-free images included with each post
Negatives
One of the biggest problems with WriterAccess is that, despite the crazy intuitive A.I. search tool, you'll probably still have to do a bit of trial and error to find the right freelancer. This is simply due to the huge pool of writers and the fact that WriterAccess doesn't match its writers with clients. You've got to choose one for yourself. Other minor issues include:
Subscription fee as well as paying by the word
Budgeting can be a challenge since the cost per word is variable and not a fixed price
Our Thoughts
WriterAccess lives up to its positive reputation and is one of the best alternatives to iWriter. Its content quality is legit, and we are confident you'll be pleased with the service's results.
Conclusion
Hopefully, this list of the best iWriter alternatives will guide you to finding the best fit for your needs. To be 100% sure you've chosen the best service for your website, we recommend trying a few options before settling on one. That is the only way to know for sure if the content provider will work for you. Usually, people discover new things, both bad and good with each trial.
As far as which one of these content mills we believe is the best of the best, we'd receommend either Content Refined or Writer Access, as these companies were the most proactive in regards to Google ranking stats that we measured.