Content marketing is one of the critical ways businesses increase brand awareness today. High-quality SEO content attracts organic traffic to your website, which translates to increased revenue.
But how do you get quality content on your website? Content creation requires excellent writing skills and time. And not every business owner has the skills or the time to write high-quality content. So, most of them prefer to hire writers.
Professional writers have relevant skills to conduct research and produce great content for your website. These SEO experts work through online writing agencies. One of the best is WordAgents.
An Overview of WordAgents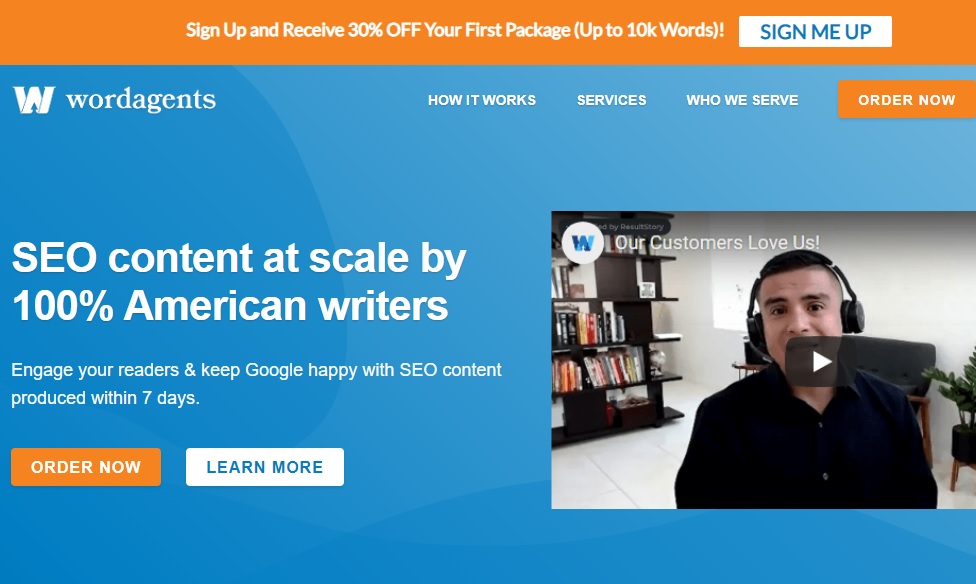 WordAgents is a premium content agency with over 500 writers from North America. The company can help you produce a wide range of content, including blog posts, product descriptions, and SEO articles.
With over 10 years of experience producing great content for clients, WordAgents continues to position itself as one of the best content writing services online. As a client, you only have to wait for seven days to have a content creator deliver you the article. But how much will it cost you? Well, prices vary depending on the number of words.
Pricing Plans
WordAgents has four pricing plans. The price decreases as the number of words increases. Furthermore, you get an additional 5% discount if you have a monthly subscription. Below is what you can expect to pay for each pricing plan.
Bronze
This pricing plan charges $0.12 per word. So, for 1,000-word articles, you'll pay $120. But with a monthly subscription, you get a 5% discount. Therefore, the new cost will be $114 per month for 1,000 words.
Silver
This price applies to a word count of at least 10,000. The price per word is $0.085, which is $850 for 10,000 words. But after the subscription discount, the cost per word becomes $0.081, which is $810 per month for 10,000 words.
Gold
Gold is the most popular pricing plan. The price per word is $0.65, which applies to a minimum of 20,000 words. So, for 20,000 words, you'll pay $1,300. If you subscribe, the price is $0.062 per word or $1,240 per month for 20,000 words.
Platinum
Platinum is the highest and cheapest pricing plan. You only pay $0.06 per word for at least 60,000 words. That amounts to $3,600 for 60,000 words. If you subscribe, the price is $0.057 per word or $3,420 per month for 60,000 words.
What You Get for the Price
For whatever pricing option you select, you get the following:
A guaranteed seven-day delivery; for the one-off Platinum plan, it's a 14-day guaranteed delivery
Two revision requests
In-depth research to ensure high-quality content
Keyword-optimized articles from SEO experts
Proofreading and plagiarism checking
Access to client's dashboard and dedicated customer support
The option to apply credits for additional SEO optimization (which includes MarketMuse, Surfer SEO, Clearscope, and Frase)
How the Process Works
Placing an order with WordAgents is a simple process. It involves only four steps:
First, you have to select a pricing plan depending on the words you want a content creator to write. Then for each package, you can make a single order or use the subscription option to get lower prices.
You'll have to fill in personal information to access the dashboard. Once you have the account, you'll specify the number of words you want for your article. Also, you'll be required to provide in-depth instructions to guide content creators.
Once you place an order, you'll wait for seven days for content creators to write the article. The freelance writers will take the time to research and write quality content based on your instructions.
After seven days, you'll receive your article ready to be published. Plus, you'll have two rounds of editing to ensure the content is perfect for your readers.
Can You Trust WordAgents?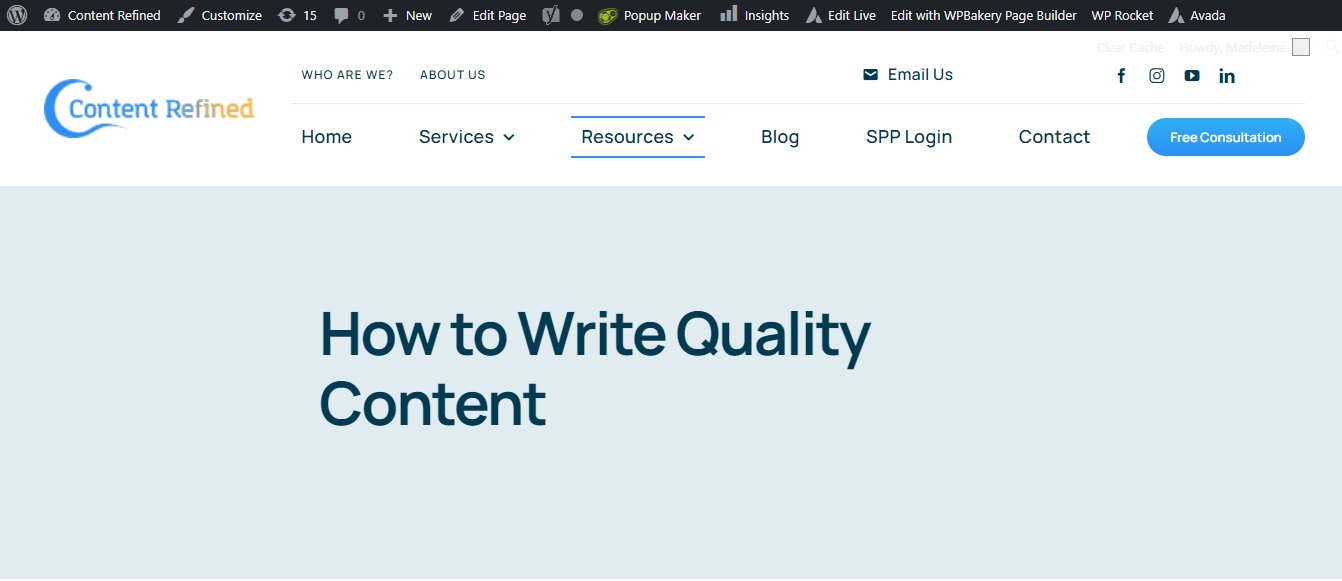 How do you know whether WordAgents will deliver high-quality content? First, WordAgents has a strict hiring policy. The company only hires native English speakers from the U.S. and Canada. Freelance writers must pass a rigorous testing process before gaining approval to work for the company.
This testing process isn't available on platforms like UpWork and Fiverr. Furthermore, WordAgents continues to train its freelance writers to ensure they deliver high-quality SEO content.
The customer terms and guarantees of WordAgents provide a guarantee to clients that the final article will: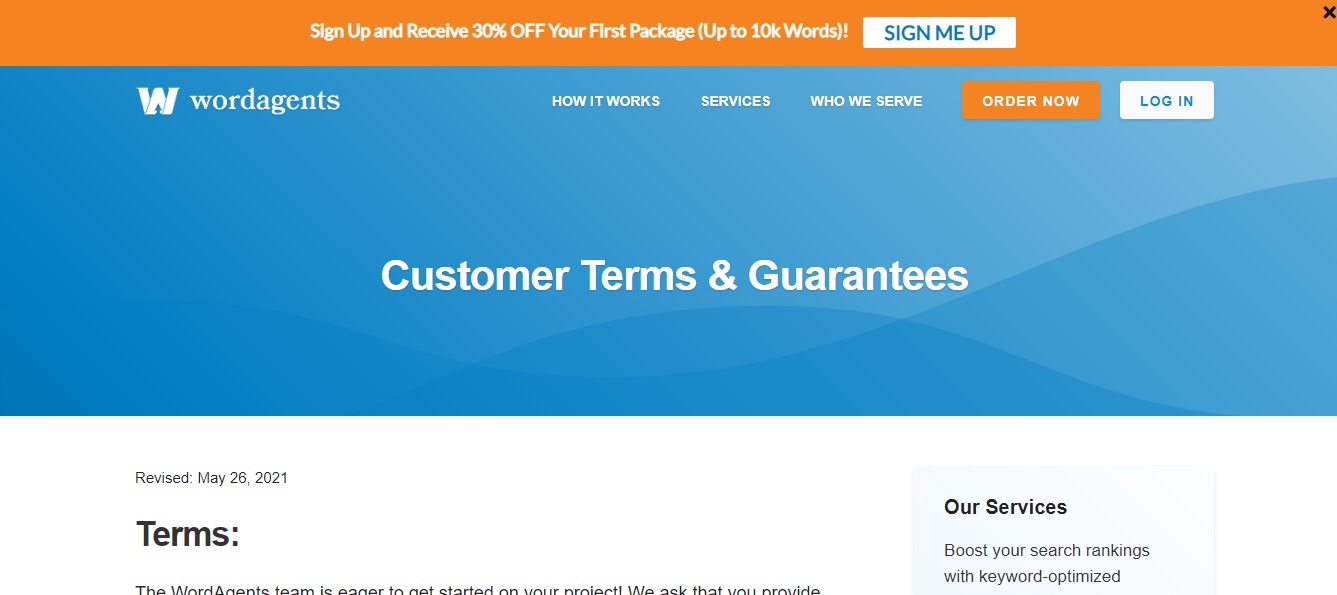 Be factually correct
Follow the client's instructions
Pass Copyscape plagiarism checker
Get a score of at least 90% on Grammarly
WordAgents Reviews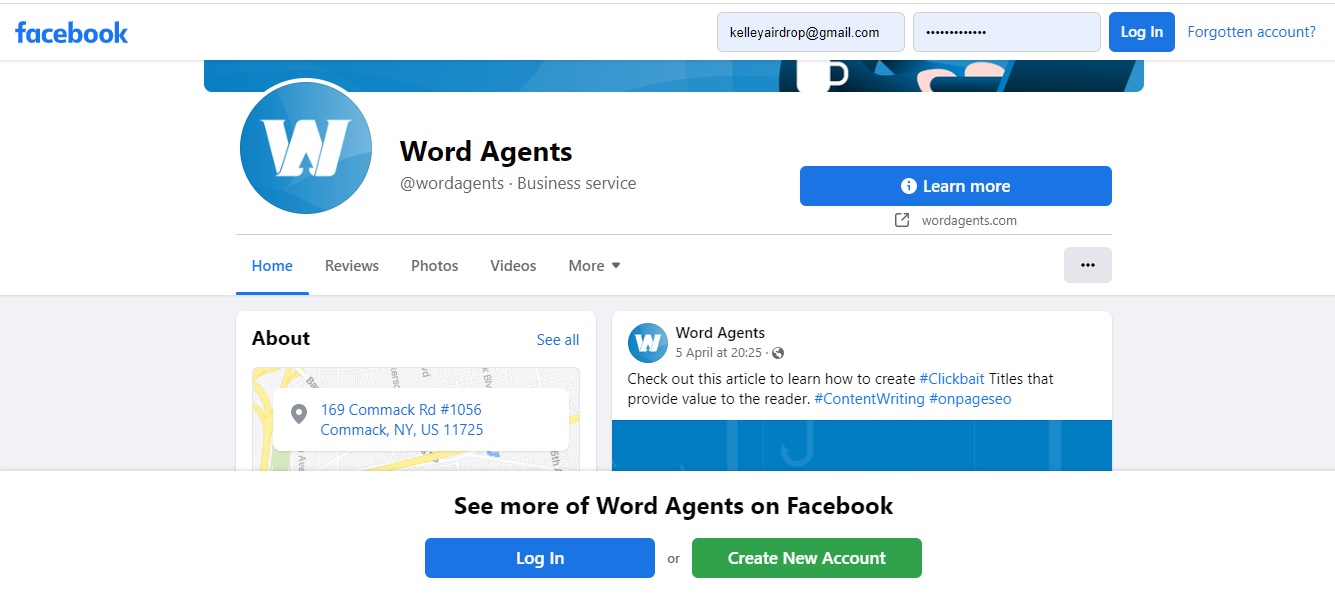 WordAgents has an average rating of 4.2 on Facebook, 3.1 on Glassdoor, and 3.5 on Indeed, meaning the majority of clients are satisfied with the company's services. Freelance writers say they love the company because it provides many working tools and has kind and supportive management.
WordAgents has a broad spectrum of clients, some of whom have been loyal to the company for many years. In summary, here's what the customers say they love about it:
Ability to deliver consistent, high-quality content
Timely delivery of articles
Ability to understand the client's industry
Delivering articles according to what they promise
Supportive team
Pros 
These are the advantages you get from having your content written through WordsAgents:
You can have an article written for any industry. Whether you're a local retailer or an e-commerce website dealing with various products, WordAgents can meet your needs.
You get two editing rounds that guarantee high-quality content. It also reduces the risk of outsourcing web content online.
You can expect delivery of 10,000 words within seven days. But for small orders, delivery is usually sooner, within 48 hours. Also, if you're in a rush, they can accommodate your needs.
WordAgents trains its writers on SEO writing. So, you can get an article optimized for search engines without paying extra, which means your website will be more visible to search engines.
Content writing services are affordable. You can select a payment package that fits your budget. You also get discounts once you subscribe.
Your credits never expire, provided you keep your WordAgents account. You can use your credit any time as you see fit.
Cons
These are the disadvantages of using WordAgents' writing services:
The fees might be higher for clients with orders of less than 10,000 words. Though the charges may seem higher, they're not the highest in the market. And clients get value for money.
You only get two reasonable revision requests, and you must request the revision within 14 days of receiving the article. You can't make any requests that involve more word count or new research.
The company has many writers who may not have the same experience and expertise. So, the quality of the article may vary depending on the content creator who received your order.
Final Verdict
WordAgents produces premium web content for all kinds of businesses. The cost per word varies between $0.06 and $0.12. This price depends on the number of words and whether you have a subscription or not. For clients with large volumes of work, the cost can be reduced by as much as 50%.
All articles are SEO-friendly, with a delivery time of seven days for 10,000 words. With up to two revision requests, you can always get the best content from WordAgents. Best of all, the company has several minimum guarantees that assure you of high-quality content.