Introduction
Optimizing a business' website to maximize its marketing potential typically requires using specific tools, such as a keyword tool, designed for this exact purpose. Successful organizations spend countless hours, dollars, and resources on their websites to achieve essential marketing objectives, so using the best marketing tools makes sense.
Of course, there's the option to do this on your own, but it would undoubtedly take a hefty amount of work. Even if you have the time, money, and effort to spend, it only takes one or two simple mistakes to snowball into significant losses when it comes to your Search Engine Optimization strategy. Odds are that at some point or another, a minor detail like missing text in meta descriptions, duplicate image alt tags, or titles with no keywords will cause you to lose a lot of ground to your competitors. If you're willing to handle all these tasks yourself, then more power to you, but these small details are non-existent when using Wordtracker or SEMrush.
It's time to end the debate about whether you should invest in a little digital marketing help. The truth is when you use the latest digital marketing tools, especially those that focus on Search Engine Optimization (SEO), such as Wordtracker and SEMrush, you will not only save time and money, but you'll almost always have an advantage over your competitors.
Getting Started
Choosing the best SEO tool can be a somewhat convoluted process due to the wide variety of options and the mercurial nature of these occupational tools. Not to mention the need to understand and apply these tools in the most appropriate and beneficial ways.
No matter how experienced your marketing team may be, navigating the daunting landscape of SEO marketing is not an easy or quick feat. With that said, we want to provide you with a comparative analysis between two of the best SEO and keyword research tools on the market today, with plenty of helpful tips sprinkled throughout. This head-to-head match-up of SEMrush and Wordtracker will bring to light the various features of each service, the pros and cons you can expect, and a general breakdown of what they are all about. By establishing a clear understanding of these two products, you will have a solid foundation to begin or increase your website's internet presence.
The Products
We'll start by quickly explaining a little bit about SEMrush and Wordtracker to provide a bit of clarity as to why these services exist.
SEMrush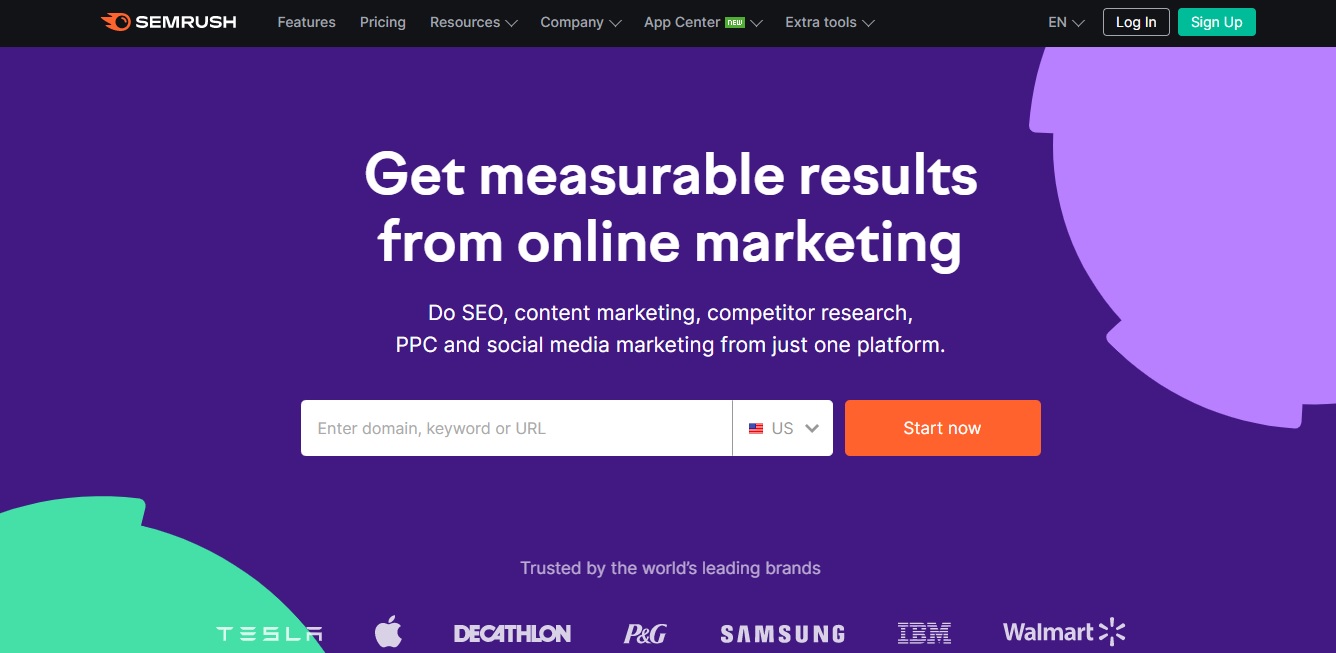 SEMrush is a digital marketing service that uses information and data related to how search engines like Google rank where a website appears on their results pages. These invaluable SEO-related insights are the most efficient and proven ways to create helpful content for successful digital marketing. Because of the various competitive analysis tools used in SEMrush, you can access multiple organized and easy-to-understand reports that are a valuable part of ensuring a site's SEO marketing success.
SEMrush is a unique service because it doesn't focus on any aspect of SEO marketing. Instead, it works like a Swiss Army Knife, with many different tools to accommodate the needs of many kinds of users. Utilizing this all-in-one tool kit platform provides users with the convenience of having all their SEO tools in one place. Here are a few examples of the wide-ranging benefits you'll get with a SEMrush account.
Pros:
With SEMrush's Keyword Magic Tool, you'll have access to its database containing over 95-million keywords from 10 different regions. This data is also up-to-date and accurate since the values and metrics come directly from search engines like Google and Bing. This is better than some other services that get their information by compiling aggregate data from many different services, distorting its accuracy.
SEMrush's Website Auditing Tool scans your website for over 130 distinct SEO-related aspects that provide a thorough website audit. Gainful information collected from SEMrush's website auditing tool not only includes information regarding the status of your site's SEO, but also includes information regarding the more technical performance aspects of your website, like load times and link issues. This tool doesn't just point out your site's problems but will also provide suggestions on how you can go about making improvements and correcting issues and how doing so will benefit the overall health of your site.
The SEO tool SEMrush has a sophisticated backlink checker that tells you everything you need to know about the links pointing to your site. Examples include the link's geographical location, the link type (image, text, video, etc.), and whether it's a do-follow or no-follow link. Every backlink also comes with a rating according to its level of trustworthiness. Lastly, one of the more intriguing features of SEMrush's backlink checker is that you can also use it on your competitor's web pages. Though peering into your rivals' webpages kind of feels like cheating, scoping out those with similar content to yours has the potential to significantly improve your own link-building status. Simply stumbling upon previously unknown potential link-building partners while investigating where their backlinks are coming from is just one example of how this tool can improve your site.
The traffic analytics feature of SEMrush is another very beneficial feature because it delivers meaningful traffic data from its own database and includes statistics from Google Analytics and Google search console. For example, SEMrush's monthly traffic overview reports have page visit totals, durations, the number of monthly visitors, top visited pages, and the bounce rate of your website.
Obviously, it wouldn't be fair to only list the good things about SEMrush, so here are a couple of the more noticeable problems we found.
Cons:
A rather glaring downside of SEMrush is that the user interface has a very steep learning curve. It will take a bit of time and practice to gather your bearings, which can often discourage and confuse people who aren't very computer-savvy or who are new to SEO. In fact, even some of the more experienced SEO folks on our team had to go through the SEMrush academy tutorials to figure out certain aspects of the program. SEMrush also has a ridiculously short inactivity clock that automatically logs you off if you remain inactive for a short period. Though this complaint is a minor inconvenience, the constant task of having to log in over and over can get a bit tiresome.
We also ran into a few data discrepancies during our time with SEMrush. Though things like missing data and overblown numbers were few and far between, they were annoying nonetheless. However, due to the imperfect nature of software and the people who program it, minor glitches are bound to happen occasionally.
Wordtracker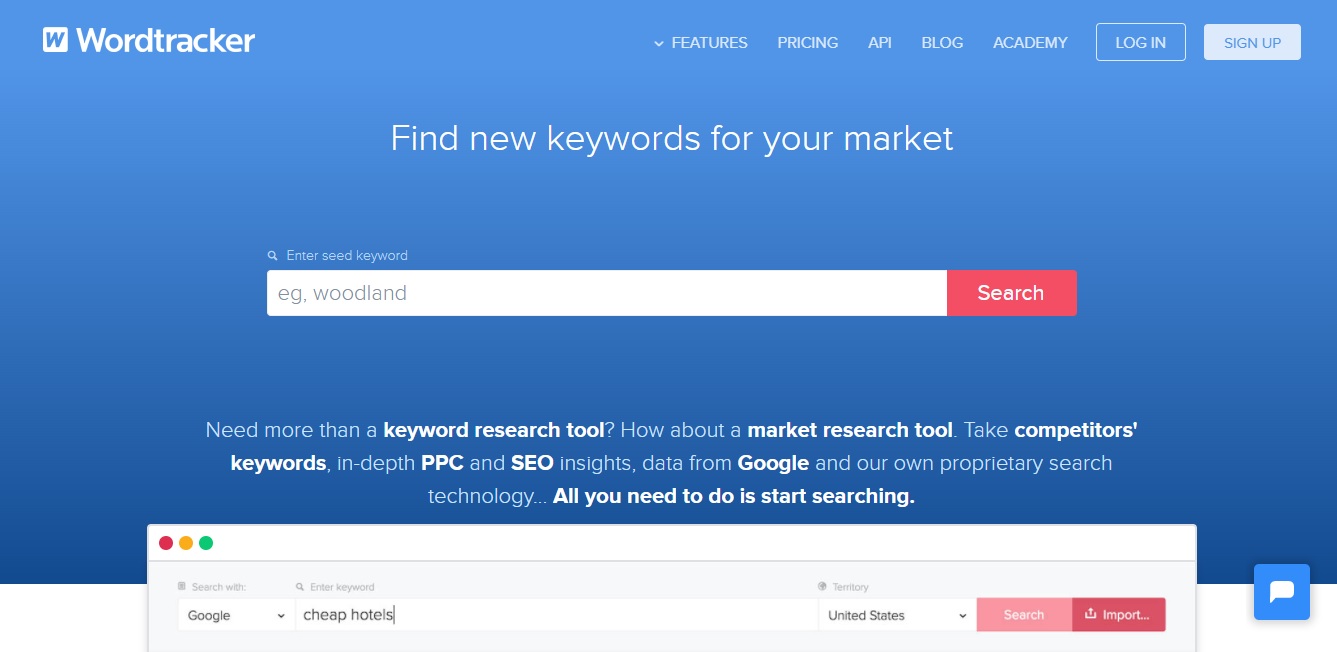 Wordtracker is a digital marketing SEO keyword research tool that plays a large part in fostering the growth of a website since it almost always funnels in more traffic to your Web site. Wordtracker incorporates several tools that provide keyword data and analysis of what search terms your target audience often uses when exploring the internet for products, services, or other content on your website. You can then use this information to adjust your site's content to include these commonly used keywords to specifically target the audience you want to visit your site.
While plenty of other services can accomplish the same tasks as Wordtracker, few can filter their data results from several sources. This stand-out feature of Wordtracker's keyword search tool allows you to precisely select which keyword database (eBay, Amazon, YouTube, Google, etc.) you want to peruse. While Wordtracker's keyword search filtering options are uniquely helpful, it does many other things better than most. Here are just a few of them …
Pros
First and foremost, no words can accurately describe how excellent Wordtracker's user interface is. It somehow managed to design a highly effective keyword research tool with a super low learning curve. Wordtracker's dashboard design puts all the keyword analytic tools right in front of you, so pretty much anyone can immediately begin getting work done without having to fuss around with tutorials or help menus. This functional yet straightforward interface gives you total control over your keyword's searches, so there's rarely any lost time or mistakes that one can blame on the software.
Accompanying Wordtracker's user-friendly design scheme is its shamelessly polite and knowledgeable customer support team. Feeling the need to test out Wordtracker's customer service, we contacted them for help with an admittedly unprepared and ambiguous imaginary issue. To our surprise, they provided some helpful insights in solving our imaginary problem and did so in a very courteous manner.
One of the most fascinating yet underappreciated features in Wordtracker is its Academy. We assumed that The Wordtracker Academy was some sort of overblown tutorial, and we couldn't have been more wrong. First, it's free. Second, the information it contains shows a sincere dedication to the craft of SEO and the role of keywords in digital marketing. The content is well-rounded and loaded with helpful material that will aid anyone who takes the time to check it out.
The guys and gals at Wordtracker know what they're doing. The reliability and reputation of Wordtracker are hard to find in the SEO world. Since the digital marketing industry is relatively new, many other services simply don't have the credentials to prove their products work. Wordtracker, on the other hand, has been around since the late '90s and has been written about and recognized for its achievements in multiple publications.
We really had to work to find some negative things to say about Wordtracker, but here are a couple of the minor issues that irked us ever so slightly.
Cons
Some experienced SEO folks may find the user interface a bit too minimalistic. Though we had a couple of people make this complaint, it's really just a matter of opinion because the minimalistic style still contains all of the necessary tools, so it has no effect on how the service works. Obviously, this is kind of scraping the bottom of the barrel regarding issues with Wordtracker, so we'll just leave it at that.
Another minor issue we noticed was the loading times were occasionally a tad longer than we would've liked. Yet after researching the problem, we found that these were mainly due to an infrastructure overhaul that was going on at the time, so it was likely an isolated issue.
Going Head-to-Head
Aside from sharing some of the same keyword research tools, SEMrush and Wordtracker are pretty different from each other. Therefore, it's best to consider which product suits your needs best, rather than choosing one over the other. Obviously, for those just needing a keyword checker, then your best bet would be Wordtracker because that's what it does better than SEMrush and any other keyword checker, for that matter.
It's important to remember that Wordtracker is for folks who already have a live and functioning website but just need a little help to get their keywords in order so more of the right people can get to their site. For those folks starting from scratch, you want to lean more toward SEMrush because it has every tool imaginable.
Another important consideration is the level of SEO experience you have, as well as the amount of money you're willing to throw down on a digital marketing service. Wordtracker, as mentioned earlier, is very easy to use and quite affordable. This makes it a great choice for people who don't want to spend q lot of money and are looking for something functional yet straightforward that they can play around with occasionally.
SEMrush is the exact opposite and is typically used by the more hardcore types who plan to spend a great deal of time using each tool. The pricing options of SEMrush are not cheap, with plans starting at $120 per month and the highest business package being $450 a month. You get what you pay for with SEMrush, but as you can tell, you better be prepared to log some hours to get your money's worth.
Wordtracker is considerably less expensive, with the lowest price point at $27 per month and the highest at $99 per month. There's also a free version, though it lacks many of the best features.
Lastly, we would highly recommend taking advantage of the free trial periods that both SEMrush and Wordtracker offer. This is a sure-fire way to get a good feel for what these programs can do.
Conclusion
Hopefully, this article has helped clear up any confusion regarding these two products. Our best advice is to simply evaluate your site's SEO, determine your wants and needs, and go from there. A good way to do this is to take advantage of the free trial periods of one or both of these services and run your site through some tools. It's important to remember that Wordtracker is a tool for folks who only need some quality keyword research information to improve the SEO of their site. SEMrush, on the other hand, is used by big businesses like Forbes and PayPal, which require every tool to maintain their SEO status. Of course, this doesn't necessarily mean that smaller companies couldn't or shouldn't use SEMrush, but rather it's just something to think about before you make any decisions.