Introduction
It's a known fact that websites need to develop and use good content marketing strategies to be successful. These include publishing and uploading original, high-quality, and current content nearly every day. Websites that accomplish this find themselves better positioned near the top of search results pages where they reap the benefits of enhanced online visibility, such as:
Traffic growth
Increased customer confidence and loyalty
A competitive advantage
More subscribers and paying customers
Increased brand awareness
A positive business image and reputation
Expanding your industry aptitude
Clearly, it's in your best interest to have enough content, both to improve your Google ranking and to increase your visibility as a business. Plus, in addition to the benefits listed above, customers generally view a website at the top of a search results page as trustworthy.
Although achieving a high level of trust from customers through digital content marketing can be tough and expensive – especially for smaller businesses and start-ups – it's not impossible. In fact, nearly any website can increase its Google ranking thanks to the growing number of custom content suppliers like WriterAccess and Textbroker, which have content for every type of business and budget.
Here, we'll compare WriterAccess and Textbroker – two of the best content providers out there – to give you a better understanding of what you can expect from these companies and how to take advantage of their services in order to improve your site's authority and trust.
Introducing
The best place to start our comparison is to shed some light on how WriterAccess and Textbroker got to where they are today, as it will give us a better idea of how they operate.
WriterAccess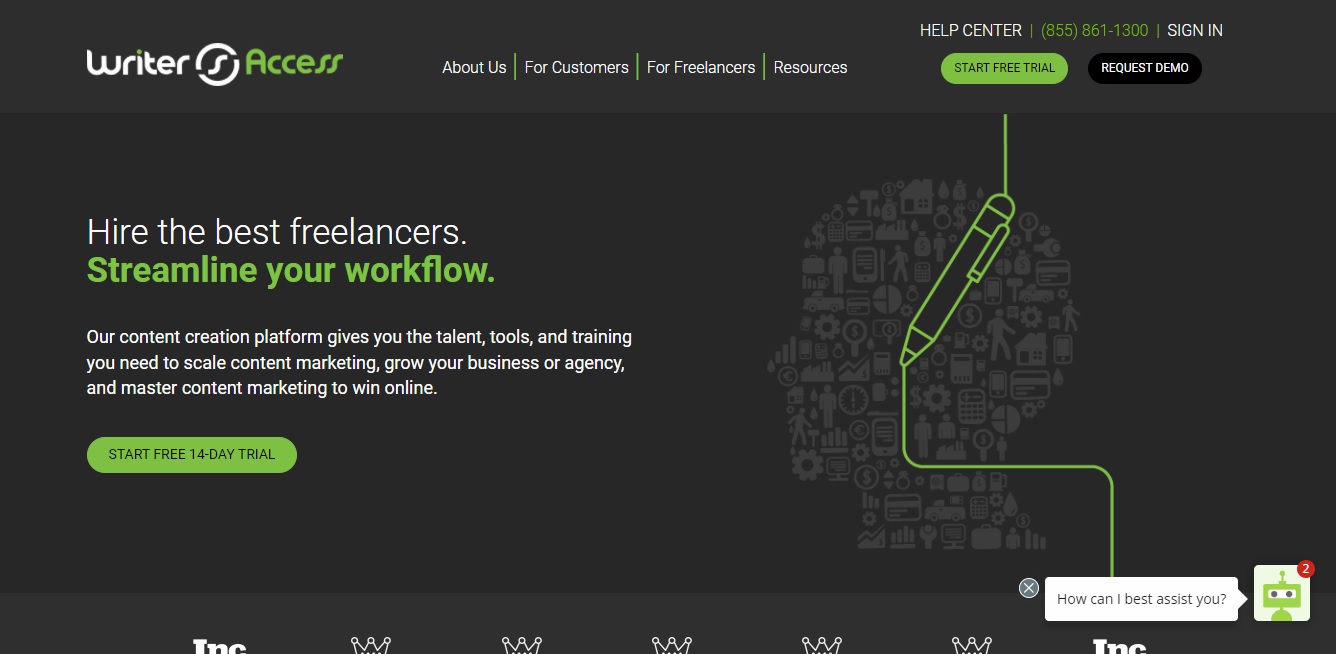 Byron White founded WriterAccess in 2000 under the name LifeTips, with the original purpose of providing visitors with general life advice written and crafted by freelance writers. In 2005, the site recognized the explosive growth of content marketing and thus focused more on providing visitors with a content-creation platform and job board to connect clients needing original SEO content with content writers. Ten years later, the freelance writing site WriterAccess was born with the goal of attracting the most experienced writers and content creators available. It incorporated a transparent pay scale, giving 70% of client payments to talent with the remaining 30% going to the company.
Today, WriterAccess has its headquarters in Boston and ranks as one of the best content writing services around. It's also one of the few that offers clients a pool of freelance writers solely consisting of native English speakers and writers. Its specialized services range from proofreading to editing to translating to creating various forms of web content, including blogs and SEO.
Textbroker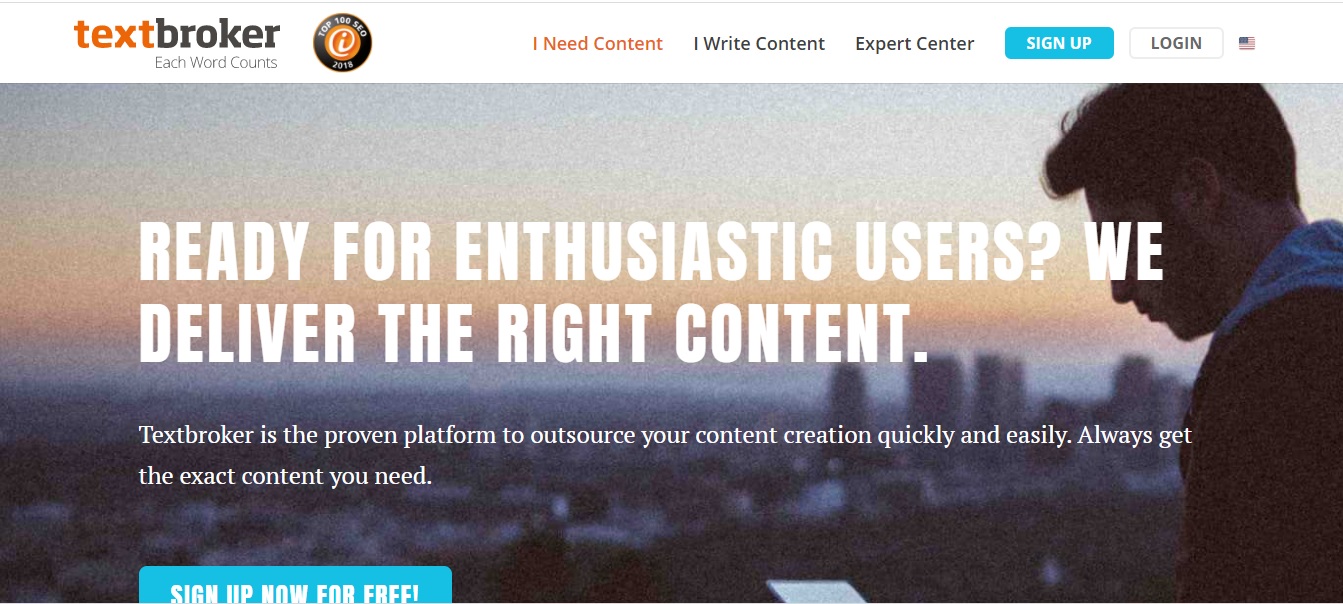 Textbroker began in 2007 as the brainchild of German entrepreneur Jan Becker-Fochler, one of the first to notice how unique content leads to better rankings on search engine results pages. Armed with this strategy in mind, he generated more traffic and more revenue for his clients. This success led to the idea of developing a platform where people can search and pay for authors to write unique content for them. Textbroker resulted from this concept and has since grown to be one of the most popular content writing services available. Continued growth in popularity prompted Textbroker's move from Germany to its new headquarters in Las Vegas, where today it continues to offer freelance services to clients with an emphasis on blogs, SEO, copyrighting, and press releases at affordable pricing. Textbroker also supplies websites with content in a multitude of languages from its pool of freelance writers living in many countries.
Cost
Now that you have a better understanding of how and why Textbroker and WriterAccess became who they are today, we can start comparing the two companies, first by looking at their cost.
Textbroker
Textbroker's pricing system starts with choosing what type of account you wish to use: self-service or managed service. The managed service is for people who wish to outsource all the work involved in their digital marketing strategy by entrusting Textbroker to develop and carry out from start to finish whatever type and amount of digital content your website requires. Larger companies typically use this option, which will cost you a $2,500 minimum deposit for a total of around $5,000 or higher. What you get is:
Personalized care and content from Textbroker's team of expert writers and editors written exactly to your specifications.
A devoted account manager who will supervise your project and make sure they do everything right.
Most folks choose to use Textbroker's self-service option, where the pricing options offer unique flexibility in terms of cost and quality. Having a bit more wiggle room has helped websites with smaller marketing budgets get the content they need without spending too much.
You first choose what type of order you want, either direct, open, or team. A direct and team order is where you choose the writer/team of writers you want doing the work, while an open order lets anyone within your specified quality preference apply. When you place a direct order, you negotiate a price between you and the writer. Conversely, an open order's cost depends on the word count and the quality of the content. Textbroker uses three, four, and five stars as the ranking system for the quality of writing you'll receive, with two stars being the lowest and five the highest. You'll pay:
2.3 cents per word for three stars
3.2 cents per word for four stars
9.0 cents per word for five stars
For example, a 1,000-word blog post costs $90.50 from a five-star writer and $23.50 from a three-star writer. The high-quality five-star articles come with few errors and are typically ready to publish. With anything lower than five stars, you can expect mistakes and plenty of them.
WriterAccess
Like Textbroker, WriterAccess offers a few different options to choose from, with the cost depending on what type of service you choose: subscription, managed service, or separately purchased content. While WriterAccess is like Textbroker in this regard, the major difference between the two is that WriterAccess incorporates an additional subscription-based service where users pay a monthly fee to have access to things like:
Expert editors, writers, and content managers
Image libraries including Shutterstock, Getty, and StoryBlock
Communication tools such as conference calls, Slack alerts, and voice messaging
Of course, you'll only gain access to these tools if you choose and pay for the subscription level containing these perks. The more you pay, the more you'll gain access to. There are three distinct subscription levels to choose from:
"Basic" for $39 a month
"Pro" for $59 a month
"Premium" for $99 a month
Without going into too much detail regarding these tiers, it's fair to say that this subscription-style payment system might not be the best option for smaller websites with smaller marketing budgets. However, for those who can afford it, the various perks included absolutely make working with the freelancers on WriterAccess much easier. Not only is communicating with freelancers simpler, but you're able to better optimize how you want your content done because you can build teams of writers, designers, and editors with some of the higher subscription levels while gaining access to really useful tools like image providers Shutterstock and Getty, as well as publishing platforms HubSpot and WordPress.
Unfortunately, subscribing members to WriterAccess must purchase content separately. The additional cost of content for subscribing members is set by the writer, who determines their own rates. Writers are usually flexible about their set rates, which are often more of a starting point for negotiations. You also have the option to state your budget for a project or request a custom quote when negotiating terms.
WriterAccess also sells content to people without a subscription. With this option, the cost is determined similarly to how Textbroker's self-service system works, via the word count and quality level chosen. Listed below is what you can expect to pay for each quality level:
Two-star quality project for two cents/word
Three-star quality project for four cents/word
Four-star quality project for six cents/word
Five-star quality project for eight cents/word
Six-star quality project for 10 cents to $2/word
Also, like Textbroker, those who have a bit more money to spend can choose to go with WriterAccess's two managed service options. The "Essentials" service, starting at $349 a month, includes:
Talent management
Workflow supervision
Platform integrations
Topic ideation
Workspace integrations
And WriterAccess's "Advanced" service choice, which costs $749/month, includes:
Everything in the "Essentials" package
Blog publishing
Social media publishing
Image research
Agency solutions
Performance setup
There are additional costs associated with these managed services, as you must pay for a basic monthly subscription and purchase each piece of content separately.
Cost Comparison
Compared to Textbroker, WriterAccess gives you more options to choose from. However, unless you plan on using the managed or subscription services, the difference in pricing for content alone isn't all that drastic, and the cost for the highest level of quality is about the same between the two.
Content Variety
Both WriterAccess and Textbroker offer content in a wide variety of categories. The amount and diversity they offer are more expansive than your typical content mill, so you'll be able to find the type of content you're looking for. Also, if you request to have some sort of specialized content written for you, they'll usually find a way to get it done. Listed below are the types of content you'll be able to purchase from both Textbroker and WriterAccess:
Textbroker
Website content
How-to articles
Keyword-focused evergreen content
White papers
Press releases
Product descriptions
Informative articles
Blog posts
Travelogues
Social media posts
WriterAccess
Banner ads
Articles
Brochures
Blog posts
Presentations
Product reviews
Press releases
Newsletters
Video scripts
Best Features
Instead of going over each feature included in Textbroker and WriterAccess, we'll make things simpler and briefly summarize the ones that each service does extremely well.
Textbroker
Unquestionably one of the best features that Textbroker incorporates is its search tool and writer profile pages. Finding the best writer for your website's specific needs is one of the harder things to do when using a content mill because there are a lot of writers to choose from and a good chunk of them are not very good. So, a content provider has to incorporate both a decent search tool and a detailed writer profile page.
The search tool will not be of much use if the information it's searching for doesn't exist. Textbroker accomplishes this better than most other content providers by having their search results and profile pages include more useful information than just names and basic information. Textbroker includes information that allows you to learn about a writer's areas of expertise, how active they've been on the site, and even read samples of their writing. On their profile pages, you can also add writers to your favorites list and invite them to join your team right from their profile page. When searching for Textbroker authors, you're given the opportunity to filter your search by:
Quality level
Category of expertise
Education level
Languages
Preferred content type
Price range
Order rejection rate from 0% to 100%
Other Standout Benefits and Features of Textbroker
You order content as you need it without subscriptions or contracts
Plagiarism is never in the content you receive
User interface and dashboard are intuitive and easy to navigate
Using Textbroker's API will publish your content automatically
You can choose to export orders to your WordPress account (managed service only)
Hire writers with experience in your industry
WriterAccess
One of the primary reasons many websites choose to go with WriterAccess for their content needs is because of the company's freelance writer pre-vetting procedure. Writing skills, education, SEO skills, social media platform knowledge, and copywriting skills are just a few of the criteria used by WriterAccess throughout the application process. All writers must be native English speakers, with WriterAccess only accepting writer applications from residents of the United States, United Kingdom, New Zealand, Australia, Canada, South Africa, and the Republic of Ireland. Clients can also choose to select writers based on their home country.
Besides requiring potential writers to produce multiple forms of photo identification, WriterAccess also monitors if any IP address changes occur during writer logins to assure its writers are located where they say they are. These sorts of comprehensive screening measures are some of the strictest when compared to other content mills, including Textbroker.
Similar to its intricate and all-encompassing screening process used to hire writers, the system used by WriterAccess to assess and assign its writers a specific level of writing quality is just as strict. When WriterAccess assigns freelancers its two-, three-, four-, five- or six-star quality level rating, it's based on a comprehensive review of their profile details, education, word experience, and verified writing ability. Once their quality level is established, a writer's star level can increase or decrease depending on how the algorithm they use scores their completed assignments, as well as how they score on client reviews and blind editor ratings.
Other Standout Benefits and Features
Publishing integrations to places like HubSpot, Hootsuite, Facebook, Twitter, LinkedIn, and WordPress
SEO software and tools for subscribing members such as MarketMuse, GrepWords, BuzzSumo, Surfer SEO, and SpyFu
Access to 250 million-plus images, and image tools like Storyblocks, Getty Images, Canva, and Shutterstock
Verdict
While both Textbroker and WriterAccess have a wealth of fantastic features, we found WriterAccess to be our favorite of the two. Not only was the quality of writing better, but we simply found it easier to find capable writers who we trusted to produce the type of material we needed without having to edit and revise it as much. With that being said, we weren't too excited about the costs associated with WriterAccess, but that was mainly because of our choice of subscription and quality level.
Textbroker is still a pretty good option for those looking to save some money on their content needs, but it's probably a better bet to go with WriterAccess simply because they have only native English speakers. With Textbroker, you don't know what you're going to be getting half of the time. Waiting and possibly paying for revisions is time-consuming, and often the revisions are worse than the original.
Hopefully, you now have a clearer understanding of what these companies can provide to your site in terms of content and getting you better Google rankings.