Freelancing has always been a popular career choice for those workers who value being their own bosses, enjoying the flexibility of picking up contracts as needed and working on their schedule. The outbreak of COVID-19 has led to a complete and utter overhaul of typical office and employment structures. Most companies needed to reduce overhead costs dramatically, which involved relinquishing real estate contracts and reducing in-house services and additional staff.
These changes have led to a dramatic explosion of freelancing options and resources. Some countries have also loosened their visa and tax laws to allow remote workers from other countries to reside within their country, working remotely as long as they contribute to the economy.
With an array of resources at your disposal, which design freelancing platform is better for hiring designers and why? With this question in mind, here are the strengths and weaknesses of both Fiverr and 99designs for hiring freelance talent.
Greatest Features of Fiverr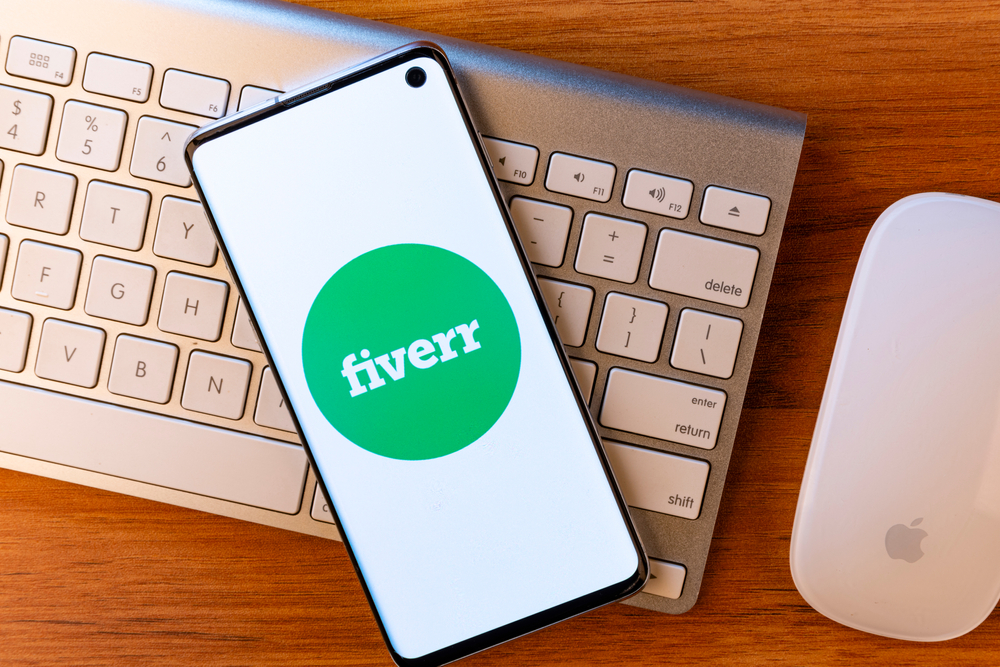 Launched in 2010, Fiverr operates as a digital marketplace for freelance workers. The site takes a commission from both buyers and sellers. Fiverr claims to be the largest online marketplace, with around six million users selling or buying products.
Gig-Based System
Fiverr has an interesting approach to selling work and skill sets as sellers showcase their exemplary work as a gig. These gigs allow buyers to view their style and skillset, leading to a sale.
Buyer Request Jobs
Alternatively to the above method, buyers can also post specific jobs, and designers can tailor specific responses to that request – in a more traditional type of advertisement.
Categories
Although this article focuses on hiring designers, should you need other services such as copywriting or ad hoc marketing, Fiverr hosts and represents all creators! So should your need for services expand, the site you are already registered with has what you need.
Star Rating/Seller Levels
Fiverr operates on a leveling system based upon feedback from past buyers. The star rating is based on past performance, such as work product quality and deadline targets. The star rating system allows buyers to identify high-quality workers quickly! Similarly, both buyers and sellers are reviewed so all parties moving forward can read honest feedback about how they operate.
Payments
Fiverr has been around for over 13 years and is a safe and verified online payment and purchase establishment. They are well-known for supporting both their buyers and sellers when issues arise.
Order Management and Communication
Fiverr has a communication platform through which all job-related communication moves. This keeps communications safe, secure, and on the platform if any issues arise.
Affordable but Fair
Fiverr allows sellers to list their services at what they think it is worth. Sellers can always compare their pricing to people of similar experience to ensure their work reflects the typical market price.
Gig Flexibility
Within the seller-posted gigs, sellers can vary their level of service and hours to projects, so they are a completely custom fit to specific projects. This is helpful to ensure that designers take on only a few clients and deliverables.
Fiverr Pro
This professional, elite freelancer is hand-vetted by the platform to ensure total peace of mind for the clients.
Greatest Features of 99Designs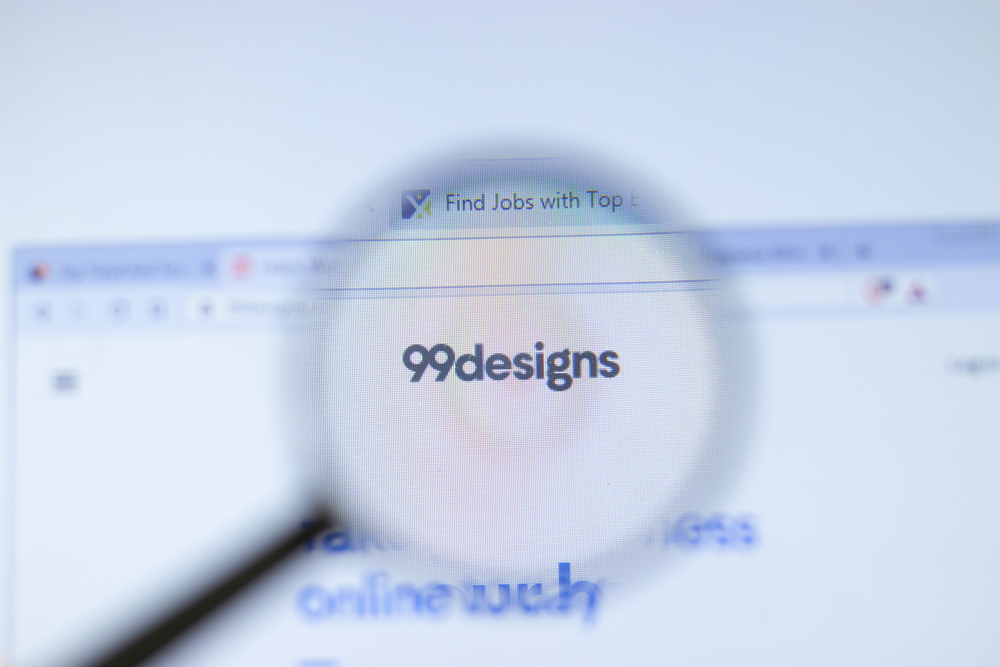 99Designs launched in 2008 and hosts over a million registered users. The site reports paying out 2.5 million for designer's projects per month.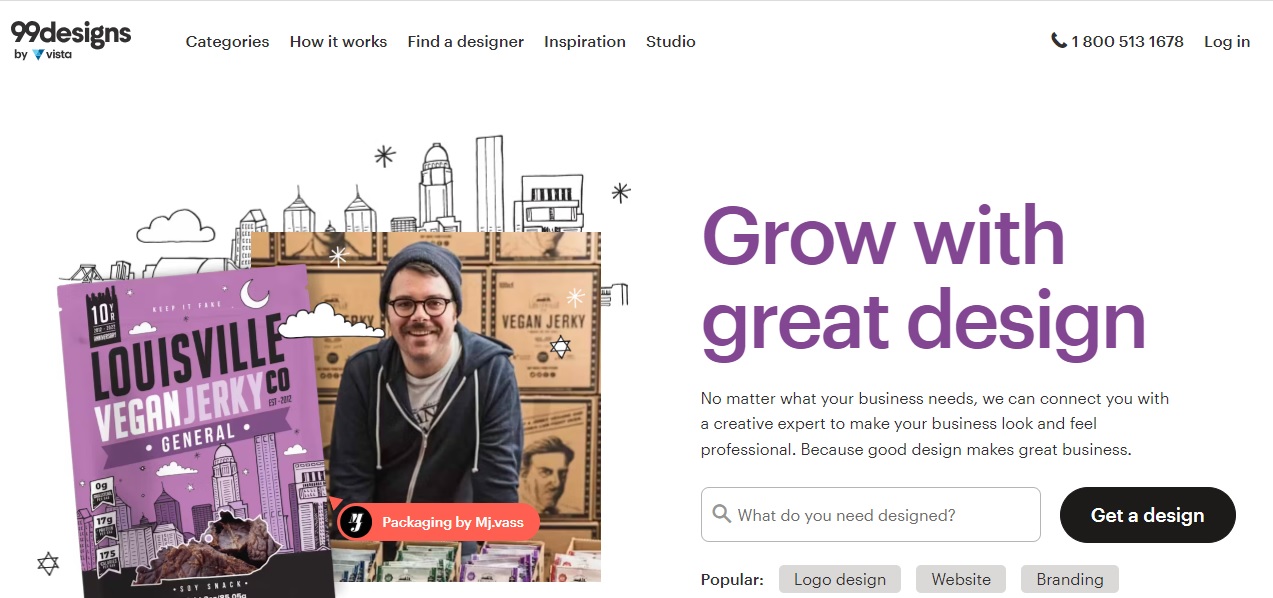 Broad Scope
99Designs offers job listings for various design services, from creating a logo design to flyers to book covers. They have a designer who can complete the job order for any possible design project.
Experience and Skill
99Designs boasts a vast array of talented designers from around the globe, so no matter the job, someone will be qualified to complete your project.
Crowdsourcing
99Designs offers the unique feature of enabling clients to crowdsource their work on their platform. This competitive challenge lures talented designers to submit their best ideas and work.
Customizable Pricing Packages
One of the best aspects of hiring a freelancer is the ability to tailor your expenditure to your exact budget for the specific project. This is an excellent way for smaller businesses with less funding to find talented designers to complete.Similarly, designers have four separate pricing tiers, and buyers can select a pricing tier that reflects their budget and requirements for their project.
One-on-One Work
Once buyers have initiated a relationship with a designer, they can continue working with them via sole sourcing. This is a helpful aspect of the tool that allows trusted relationships to develop, making work exchanges easier.
Robust Feedback
99Designs enables both buyers and sellers to leave constructive and helpful feedback for one another. This open feedback system makes future business exchanges easier based on realistic input for users.
Intellectual Property
Once projects are paid for and released, the intellectual property of the items is transferred to the buyer to use as they will.
Money Back
99Designs offers a price-protection guarantee where buyers are offered refunds if they are unhappy with the services they receive.
Designer Portfolios
On 99Designs, buyers can review designers' portfolios and have a range of options regarding experience and the tier/caliber of the designer that they can engage.
Solid Customer Support
99Designs offers comprehensive customer support for buyers and sellers alike. Customer support can assist with both monetary and technical issues.
Which Platform Is Best for Hiring?
Fiverr offers a wide array of online digital services, so it is excellent for companies looking for many different services, such as copywriting and marketing. 99Designs exclusively focuses on design work. Both forums host a broad array of talented designers, but making an account with either depends on what you are looking for – Fiverr is the better fit for companies looking for other services.
99Designs has the interesting feature of allowing multiple designers to pitch their ideas and portfolios to buyers directly, slightly different from Fiverr's gig system, where creatives can post their skills and buyers browse through a catalog of talent. The Fiverr approach engages interest from designers and those who are excited about the prospect of their project.

Fiverr hosts an all-inclusive line-up of freelancers; buyers can browse their portfolios to assess their quality levels. 99Designs, on the other hand, ranks each freelance designer by their skillset, with three tiers to pick from.
Regarding pricing, Fiverr is open to negotiation, and its rates are low. In contrast, 99Designs runs at a higher price point but focuses on deeper relationships and higher-quality output, which is monitored heavily.
Both Fiverr and 99Designs provide quality freelancers and huge talent. Fiverr is probably best for companies with smaller budgets and companies who require other freelance services to keep everything on one easy site. 99Designs is best suited to those looking exclusively for designer freelancers.
FAQs
How does the design contest model work on 99Designs?
The model is very straightforward; buyers write an outline of the project that they want to have a designer complete, and designers open to new projects submit their pitch. This method is beneficial as only designers interested in the project will pitch their ideas.
Can I work with the same designer on both Fiverr and 99Designs?
Both platforms allow buyers and sellers to establish trusted relationships and repeat business.
Are the designs on Fiverr and 99Designs original?
All work on both platforms should be completely original. Also, once the payment is complete, the buyers own the copyright to all design work and can use it as they wish.
Can revisions be requested on Fiverr?
Yes, buyers and sellers can limit/list the number of revisions allowed on a gig.