Whether we are writing them, reading them, or complaining about the number of them in our inbox, emails are an essential part of our lives. But answering them and addressing each concern takes a lot of time. With each individual email, we wonder whether there is a more efficient way to wade through the mess. This is where email management software becomes a time-saver.
We all have those days when we feel like we barely make a dent in our communications. But there is a more efficient way of doing things. Since we can't eliminate email, we need to look at how to make email more manageable. This is where email management software makes our lives easier by giving us a tidy email account.
What Is Email Management Software?
Email management tools help individuals and companies manage, organize, sort, and send email. Generally, the software focuses on these key areas:
Personal Emails. The tools found here mainly focus on managing your personal inbox in your email account. This helps you to automate your sorting and sending. Email management tools can also unsubscribe you from some emails to make managing the inbox less tedious.
Sent Emails. These tools focus on sending email. It is used for one or several types of communications. There are expanded capabilities involved, like click-through rates, open rates, plus additional metrics that email management tools that just receive email don't contain.
Received Emails. Tools in this area focus on managing all incoming mail from your customers. They are focused on one-on-one interaction.
What Is it Used For?
Email management software is used by individuals and teams. Customers and team members use this tool to ensure all requests are appropriately addressed and handled. It enables your team to collaborate with others, track inquiries, automate email routing, and avoid duplicate replies to queries.
When Should I Begin Using Email Management Software?
Trying to manage large volumes of email is not a viable long-term solution. These types of email applications were created to enable people to communicate with each other on a one-on-one basis. They were not designed to allow businesses to manage large volumes of email.
Even when email solutions were deployed for business, things became tedious and employee productivity suffered.
The following signs are things you can't ignore. This will dictate whether you require an email management system:
The team finds it difficult to assign accountability or ownership of email.
It is challenging to categorize incoming email.
Several people reply to the same email.
Many go unread or are flagged as pending for a follow-up.
Team collaboration is challenging and involves a ridiculous number of forwards.
People can't personalize a team inbox in the best way. This should be by newest/older first, copied emails, and ones awaiting answers.
If this sounds familiar in your organization, you may need to establish a dedicated email management system.
What Criteria Should I Use in Evaluating Each Tool?
A good software will provide solutions like:
Intuitive User Interface. Is the interface attractive, clean, and easy to use? What is the learning curve on this tool? Tickets and requests should be easily shared and organized. There needs to be good personalization, functionality, and shared inboxes available.
Integrations. Most software easily integrates with email. However, even better is when it integrates with your CRMs as well.
Usability. How long does this tool take to learn? Shared inboxes and the ability to manage roles should be easy to set up. Your team will need to have full access to what they need, and the tool you invest in needs to be able to provide this. Members should not have to search for information while dealing with a customer. This just leads to frustration. Additionally, the company should offer great tech support, user support, a knowledge base, and tutorials.
Good Value. Is the price appropriate for what you are receiving? Is it a good price for all the capabilities, features, and user cases that you need it for? Pricing should be transparent, clear, and flexible. The price point also needs to be suitable for the needs of small or large businesses.
The 4 Best Customer Service Email Management Software
There is a variety of email management software when it comes to the customer service industry. Each of them contains different features, with one not being inherently better than another. The difference is in what you need it to do, the metrics required, affordability, and the size of your company.
Best for Customer Experience and Support: Help Scout
Best for: Small to medium-sized companies with large service departments, and large organizations.
Help Scout is designed specifically to aid customer service teams in providing a superior customer experience. This customer support is important when you want to retain an existing database and keep funnelling in new customers.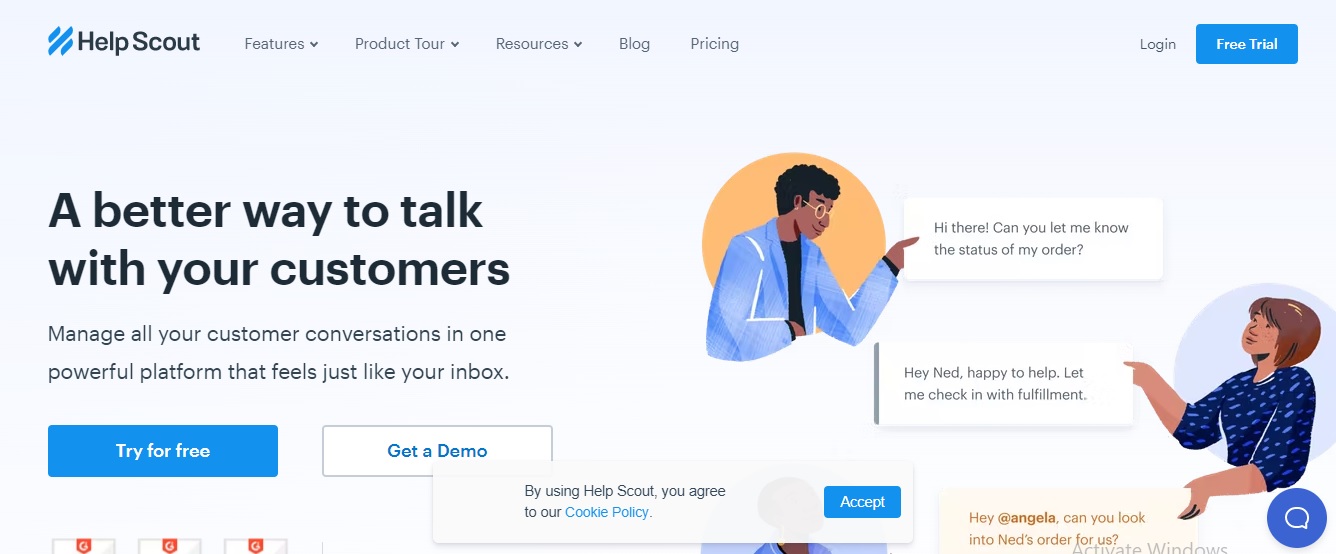 This software provides access to incredible collaboration tools that help in keeping everyone informed of changes and conversations. Plus, it contains collision detection (duplicate responses to a single email), which enhances productivity.
Workflows allow you to automatically assign a customer conversation to a targeted agent or to a certain email inbox folder based on established criteria. It also saves replies, making responding to frequent requests and questions more efficient for the company overall.
The ability to access customer profiles allows everyone to be aware of what has transpired. People can view previous conversations, what business the customer is employed at, the type of account, and additional information that makes interactions smoother. This eliminates frustration for agents and customers for a more pleasant experience.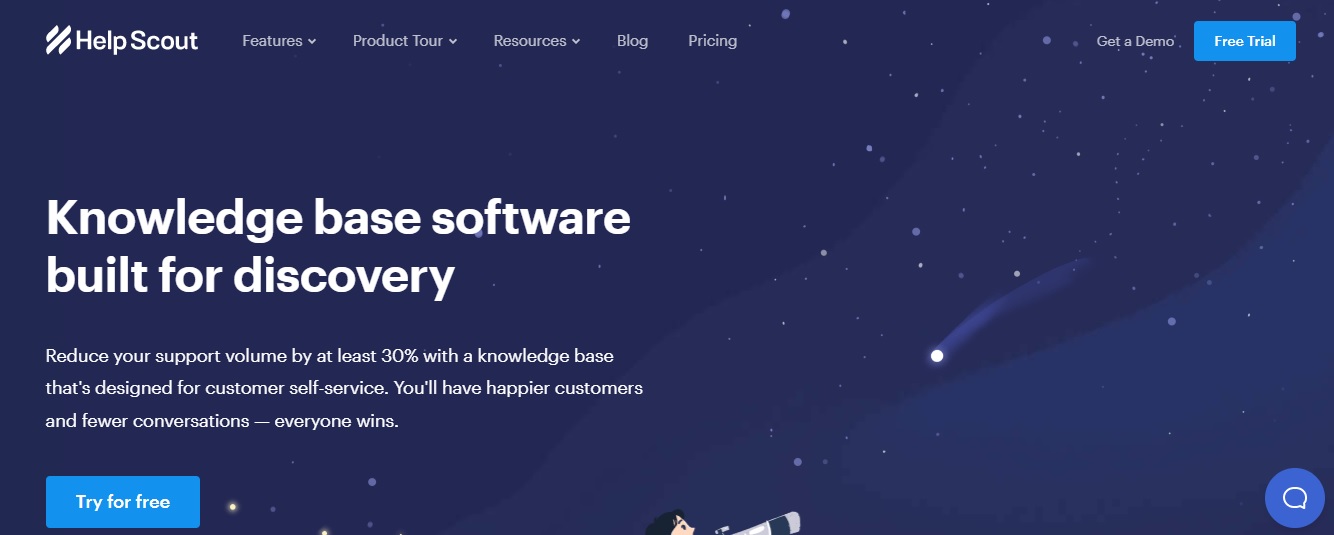 Help Scout is just one aspect of an overall suite of tools generated for customer service. Other notable software includes Docs (helps to build knowledge base) and Beacon (for live chat/in app messaging).
Best of all, it can increase productivity by 52% and is very easy to use.
Features:
Live chat
Analytics
Tools for collaboration
Omnichannel communications
Ticket prioritization and routing
Rule-based automation
Live chat
Best for Collaboration/Workflow Management: Front
Best for: Financial services, B2B tech, manufacturing, logistics, travel, and professional services industries.
Front is a platform for communication and customer requests. It is used by more than 6,000 high-impact teams. It allows you to generate email templates, receive fast integration feedback to help manage workflow, and instantly route messages.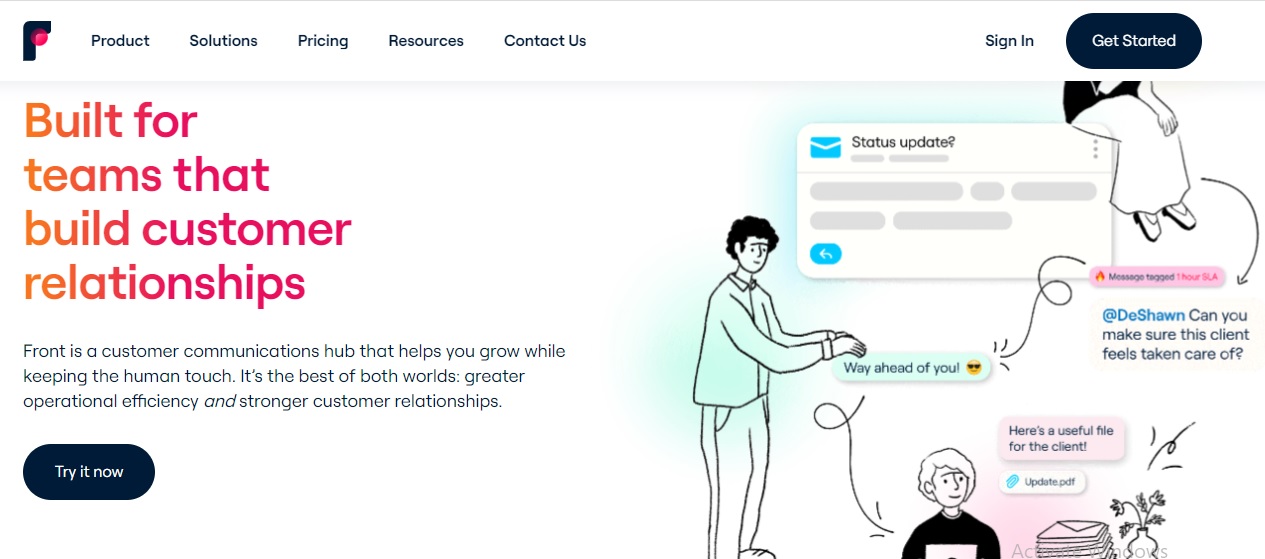 Front's strongest attribute is its collaboration methods via shared messages. It allows you and the team easy access, and you can communicate with each other internally.
What makes Front an outstanding tool is its emphasis on facilitating superior team collaboration. Teams can collaborate on any channel. It also combines support team email, individual email, and team chats in one window.
Features:
SMS, chat, email, and social media ticketing
Limited integrations
Ticket collaboration
Allows for 10 different users
Contains a shared team inbox
Omnichannel ticketing
Has ticketing rule templates
Best for a Customer-Facing Help Desk: HappyFox
Best for: education, retail, travel, IT, government, telecom, non-profits, healthcare, airline, and real estate industries.
HappyFox contains a cloud-based, collaborative ticketing system, offering a quick support interface for customers. It is a trusted brand among Fortune 500 companies like LeapFrog and Lowe's.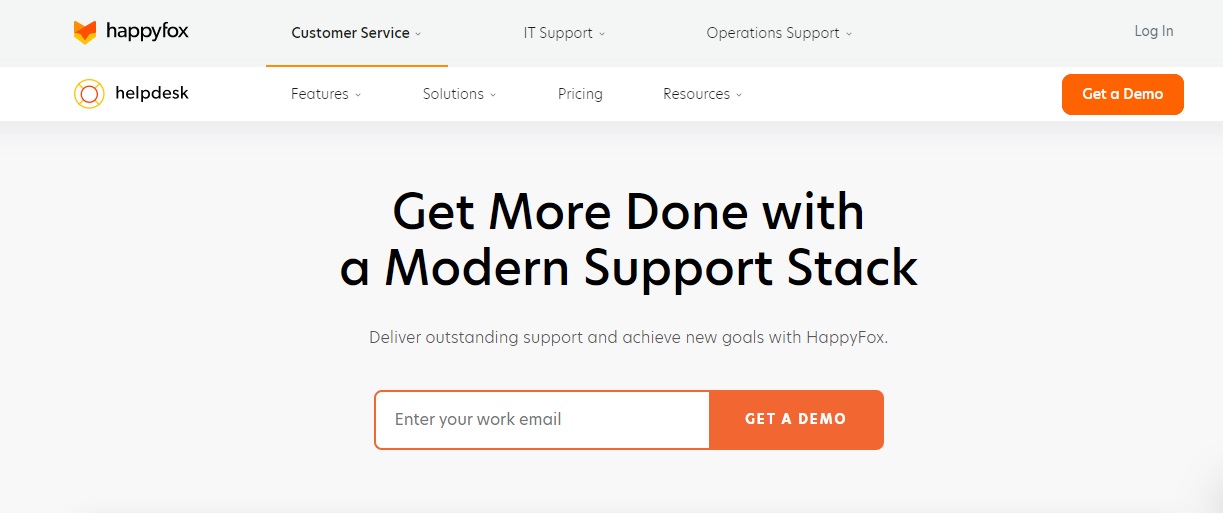 HappyFrog provides a one-stop help desk to assist your team in keeping up with incoming emails, permitting them to remain in control and organized. People will enjoy the simplicity of canned responses in answering repeated questions in addition to its customization and reporting widgets.
When it comes to tasks, they can be assigned to individual team members, plus a time and due date can also be generated. To make things more efficient, you can create a task template and reuse them with tickets.
Pending tasks can be seen in one location. Notifications are given when tasks are due or as they are assigned. Users will be alerted to tasks that are incomplete when the parent ticket is closed.
Features:
Canned responses
Ticketing systems
Reports
Task management system
Automation
Satisfaction surveys
Integrates with Salesforce, Microsoft Teams, Slack, Shopify, Aircall, Facebook, and many others
Best Help Desk Solution: LiveAgent
Best for: Most types of businesses
LiveAgent offers a help desk solution that comes with an email management software. Non-email features are knowledge-base publishing, live chat, and a customer portal along with a community forum. Even without these extras, it is an incredible email management tool. This software combines and organizes emails, social media messages, calls, and live chats in a shared inbox.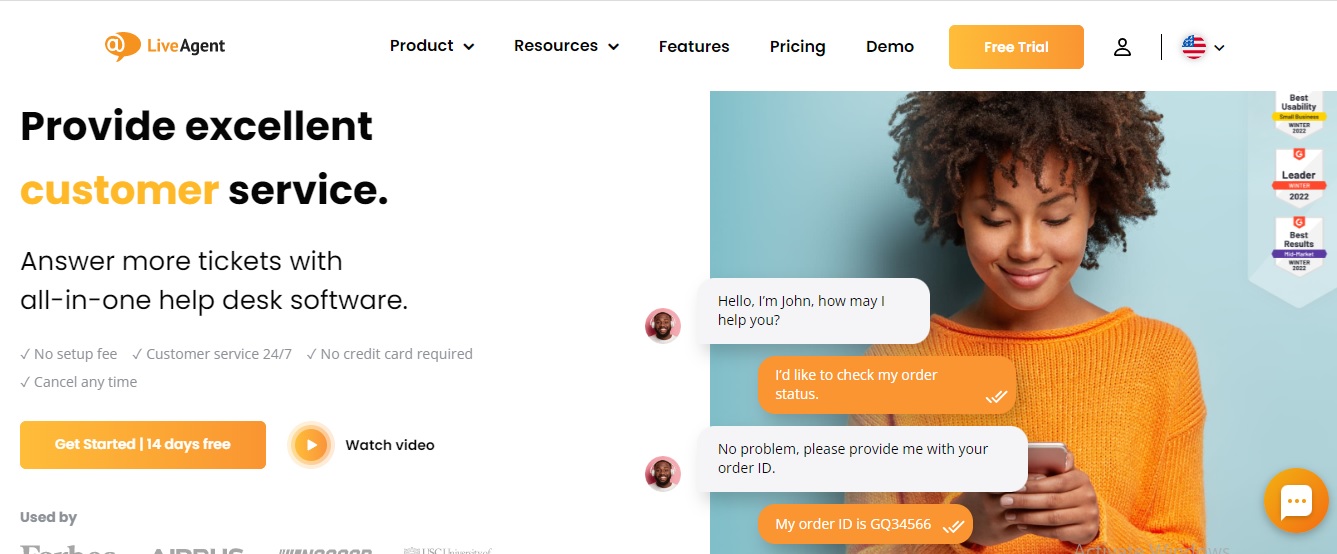 From your shared inbox, agents and administrative staff can establish an advanced automation workflow. They can also configure any integrations, thereby creating a highly customized management system.
Teams of various sizes in multiple industries use this tool for their email management requirements.
Features:
Contact fields
Universal inbox
Tags
Email notifications
Email templates
API and integrations
Email forwarding
Unlimited email addresses
Must-Have Features
If you are searching for email management software for your team, look for the following features while you examine available options:
Collision Detection
When two agents respond to the same customer query, the company is made to look somewhat inept and unorganized. It becomes frustrating for the person receiving the email and wastes time for your team. Collision detection prevents this by generating real-time indicators when another agent has previously replied to the conversation or is still generating a response.
Saved Reply
These are shared responses that team members can add to their email response in a matter of clicks. They are also able to personalize it when required.
Replies that are well-organized, informative, and saved are more efficient for the team and provide faster results for customers. They provide a sense of continuity, with an easy-to-apply language keeping the team informed. This is especially useful if an outage exists or there is a new product being released.
Customer Profile
The best software empowers your team members by using data that paints a picture of the person sending the email and their concerns. With this key information, your agents can assist customers more efficiently and effectively without additional effort required on behalf of the customer. Agents appear better informed and more competent.
Integrations
When software easily integrates with common apps your team and others use, collaboration becomes easier. Communication is necessary in a company for it to succeed. These tools must be able to connect using a seamless workflow for maximum efficiency.
Automated Workflow
Workflows generate supercharged filters/rules that allow the automation of processes. They will allow you to become more efficient and help in organizing tasks. Instead of tagging emails manually and assigning a conversation to various agents, the process can be automated to a certain action based on a series of outlined conditions.
Reporting
The best email management software will provide you with a full analysis. It will give you data that provides you with powerful insights that are relevant to each aspect of your business. You should be able to view open rates plus insights into how the team is performing regarding their responses and statistics.
Metrics should include:
Customer effort score
Customer satisfaction score
Average resolution time
First reply to times
Ticket reopens
Before selecting one, determine which metrics should be tracked. Double check that the email tool can report and measure metrics. Additionally, you can ensure the email solution integrates with analytics tools that meet the company's requirements.
Collaboration
The ability of teams to collaborate is important. Additionally, shared inboxes allow for improvements in flow management.
Personalization
To help team workflow seem less tedious, companies can choose to utilize gamification, awards, custom tags, and bright interfaces.
Autoresponders
This will allow you to notify customers and update them to inform them that their email is received, that you are out of office, etc.
Collaboration Tools
Basic management will allow you to organize email. However, it will not facilitate team collaboration. Seamless collaboration is a must between service agents. This ensures each inquiry is handled in a quick, efficient, and professional manner.
This means that you need a tool with features like collision detection, shared inboxes, and collaboration features which enable the team to work productively. With them, you can improve transparency throughout the service operation. This ensures work is never duplicated and everyone knows what they need to focus on.
How Do You Find the Best Email Management Software for Your Company?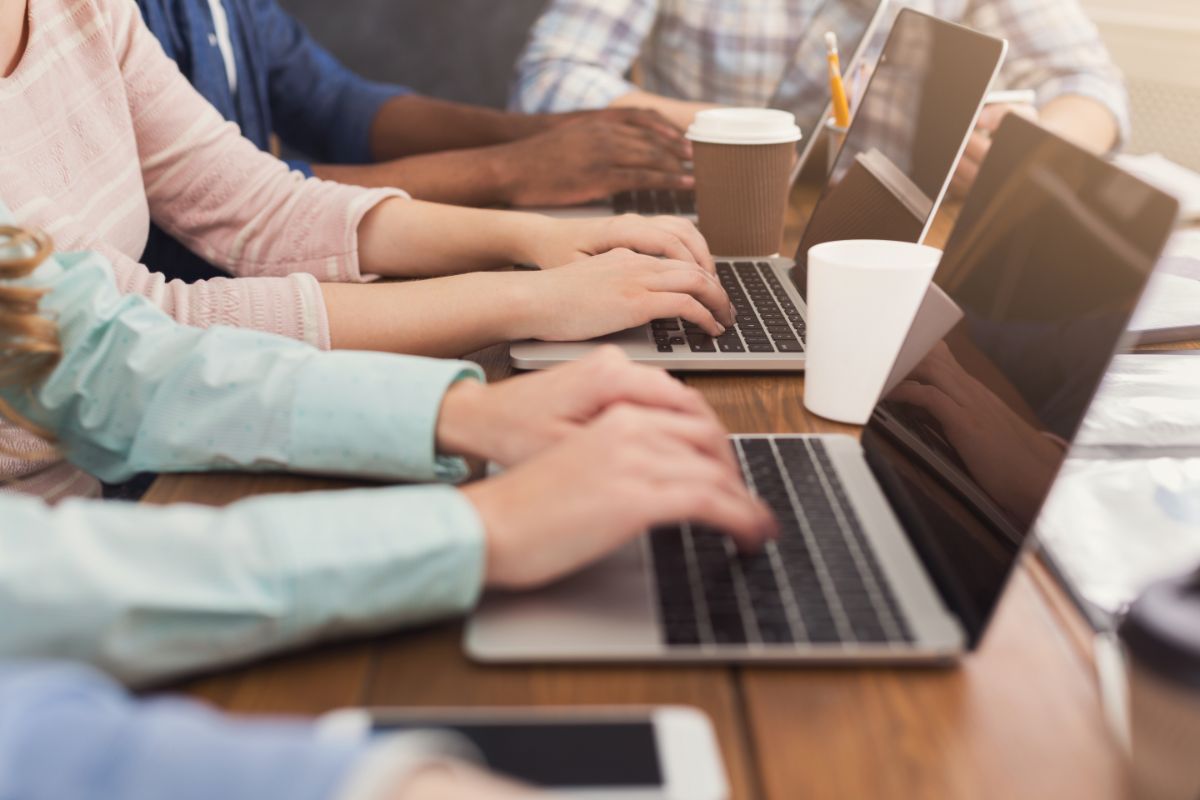 This will be the tool your customer service team relies on the most, and it must be reliable. It should service all their information needs and requirements. It should also be easy to use. Choosing the right product has far-reaching implications. To ensure that your focus remains on the most important aspects, ask the following questions:
How Challenging Is it to Use and Implement?
The most common mistake is to overemphasize licensing cost over maintenance and implementation cost. If the software is challenging to use and incorporate, costs of maintaining and deploying a system outweigh licensing costs.
When possible, try to get your team to trial a product prior to committing to it. Speak with the person responsible for deploying the software to see what projected costs may be. This way, there will be a better reference in comparing different packages.
How Well Will It Integrate with Your Tools?
Email has been around for a long time. Much of its appeal is the ability to be extended into a powerful solution by integrating other software and APIs. Any time another application is considered, it should be relatively easy to see if it integrates with existing tools.
However, refrain from purchasing a product just because it allows for integrations. Make sure that they are good ones. Many are possible to integrate, but they may be difficult to implement or might not work well.
Does it Track the Metrics That You Require?
Many will allow you to analyze and collect data generated through your email interactions. However, they will vary in available metrics. While some may track open rates, they may not track average resolution. This only provides you with half of the overall picture.

It is vital to ensure whatever you use enables you to track the statistics you need. Keep in mind that if the system doesn't track what you need, it may integrate with something that does. You will need to examine this possibility.
How Does the Pricing Work?
Licensing costs may be just a fraction of the overall cost. However, it is still important. Pricing for email management can also vary. One approach may not be better than another. The important thing to consider is how the pricing model affects your return on investment and how it is to be used.
What Are the Benefits?
Even your best agent can only deal with a finite number of queries. However, with a customer service email management tool, the best team members can become even better. With features like spam filtering and advanced searches, less of the team member's time is spent sorting through information. Their focus is where it needs to be – on addressing the needs of the customers.
Rules-based routing and workflow automation mean members can focus on conversations with your customers rather than on email logistics.
Improved Security
Security vulnerabilities exist when information is provided between a company and a third-party system. Email is not an exception to this rule. However, an email management system contains security features like encryption, which makes sure sensitive information is protected.
Scalable Operations
The most impactful solution is the scaling capabilities. Without automations and canned responses, the only option to increase the capacity to answer emails would be to add more employees.
However, increasing workers is the most expensive method to manage volumes of email. Staffing costs begin to increase while seamless collaboration between team members becomes challenging. Email management is useful at scale. It only becomes marginally expensive when email volume increases.
When it comes to an email management solution, you should be able to:
Manage and track large numbers of emails at scale without concern for emails going unanswered
Make sure all incoming tickets are categorized automatically, receive priority, and are assigned to the proper individual
Improve productivity by having easier options to deal with repetitive questions
Have a greater sense of accountability and urgency
Measure the team's overall performance and make adjustments accordingly
Emerging Trends
Customers expect effortless interactions anywhere and anytime they contact you. To meet this expectation, going from email then messaging, then voice and back to the first step needs to be a natural progression. If members want a conversational experience, they require software that provides immediate access to a full customer profile.
Additionally, security and privacy are keys to establishing trust with customers. One breach will undo decades of establishing brand loyalty. According to IBM Security's 2020 report, email was a vulnerability that caused a breach in data in 5% of attacks. The average cost was over $4.75 million.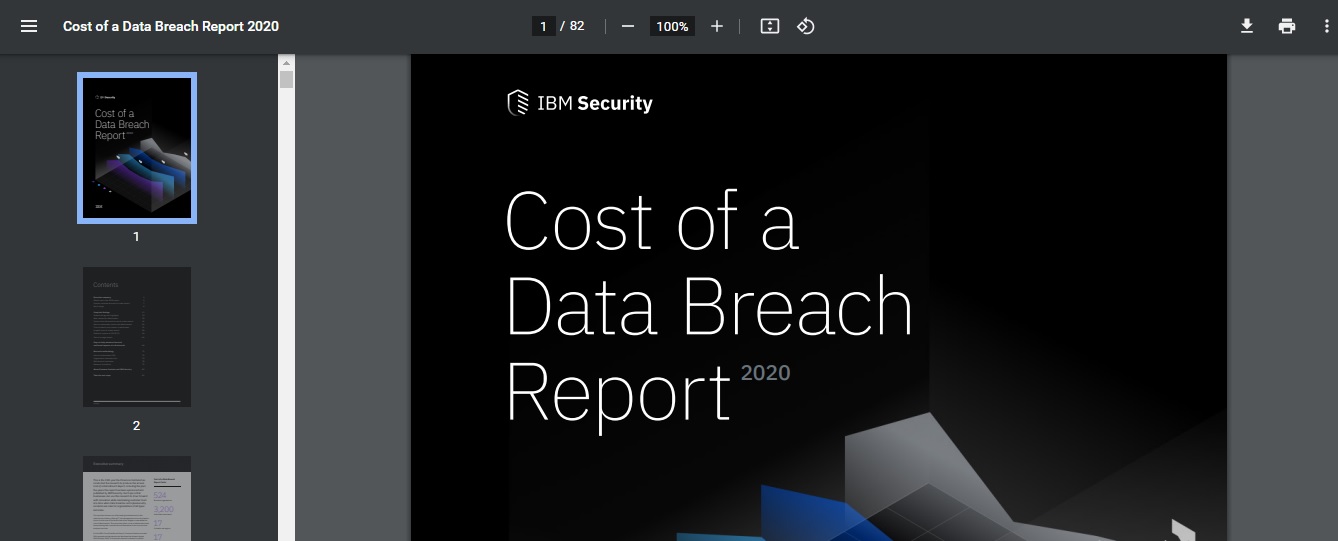 Even if this is never overtly expressed, privacy and security is a fundamental expectation that should never be taken for granted.
When it comes to customers, personalization and self-service are responsible for increasing customer value. It is estimated that 89% of customers will spend additional time with businesses that permit them to locate answers online rather than having to speak with someone directly. Plus, 90% spend more time with places that personalize their customer service.
This makes email the perfect conduit for generating self-service content and personalization.
There is a great deal of information to consider when it comes to purchasing an email management software solution. Every company needs it to remain organized, efficient, and able to effectively communicate with their customers.
The greatest reason for a lack of customer retention rests on customer service experience. A poor experience not only means that you lost a potential sale/customer, but typically they will tell at least five of their friends, acquaintances, or anyone who will listen about the poor service they received. If you think no one will listen or it will have little effect, think again.
Not only will you have potentially lost six customers, but when each of these individuals encounter someone who may need your product/service, they will communicate the same story.
Companies need to handle their customer service emails quickly and efficiently. The best way to increase productivity and efficiency is to use automations. This streamlines the entire process, avoids duplication, and makes things run smoother.