Finding answers to your questions nowadays is just as easy as 1,2,3. With just a click of a single keyword on the internet, a search engine is rushing to provide automatic search results to what you're looking for.
All of these are possible because there are thousands of tools that are available, flexible, and easy to use right within your reach.
We've found the two leading premium research tools in the market and we're talking about Jaaxy and the Long Tail Pro. These two research tools have a higher rank on the reviews of the users on monthly searches because they took on the lead in terms of keyword tools in the internet industry. We got some questions now. Which is better to use, Jaaxy or the Long Tail Pro? 
Getting to Know Jaaxy and Long Tail Pro
These two are both SEO tools that provide customers- especially marketers, bloggers, and even newbies- many reliable sources in just a tap of a single primary keyword in a second. Though they're both ranking high on the SEO results page, let's break down the differences between the two.
Jaaxy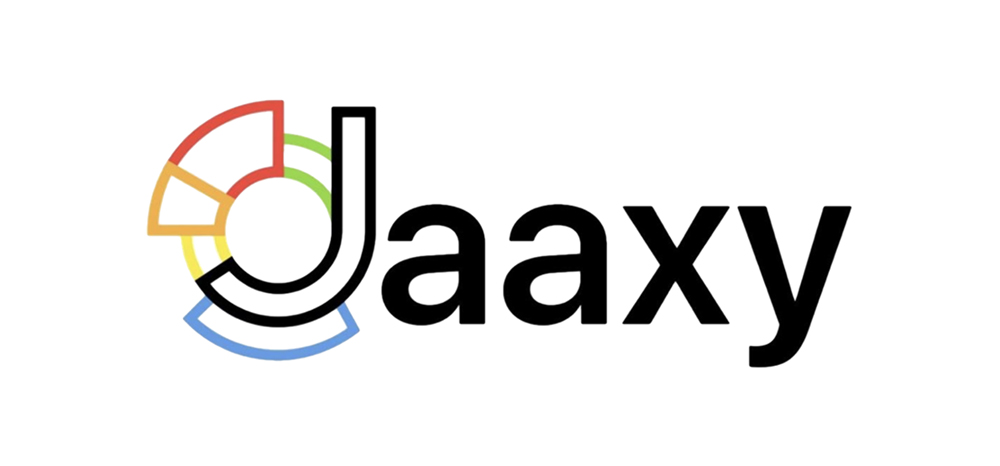 Jaaxy is the leading research tool designed by two affiliate marketers, Kyle and Carson.
They designed a tool to help other affiliate marketers drive high volumes of traffic for their online business.
Jaaxy helps users to do their tasks effortlessly and within their reach. If you're into any form of online marketing or growing your business by affiliate programs, Jaaxy offers many features over other competitors.
Whether you're growing a business, developing niches, or a newbie to this industry, you might need a helping tool where you can save time, something that can provide data for your search keywords, and this is where Jaaxy stands out.
In that primary keyword, Jaaxy will show other lists of targeted results quickly on your search bar in a matter of seconds.
Here's a Quick Background About Jaaxy:
PROS
Free trial with 30 key searches. Completely free
Provide the average number of monthly searches
Traffic data for that keyword suggestion
Suggests available domain for that keyword (.org, .com, etc.)
Jaaxy affiliate program
No need to download it- you can use it as long as there's an internet
An available support team 24/7
Video orientation to familiarize on how to navigate the software
CONS
English language only. No other language is available to choose from.
After a free trial, the two subscriptions are expensive, especially for a beginner.
Long Tail Pro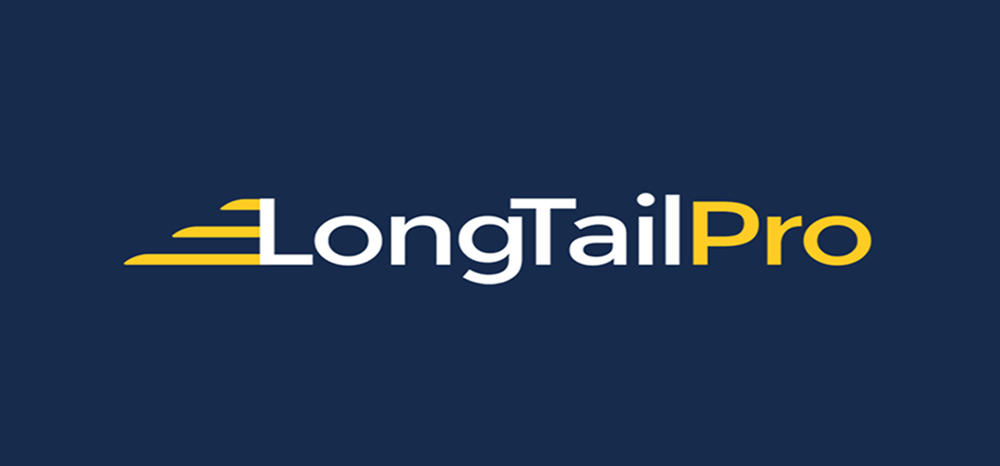 Long Tail Pro created by Spencer Haws from NichePursuits.com, is another premium search engine tool that can help you stand out among other competitors. Just like its name (long tail), it can generate hundreds of long-tail keywords in a matter of seconds from a single seed keyword.
Whether you have an affiliate site, a small business that you want to market, or just beginning to develop your website, having the right keyword is a good SEO technique to land clients on your website.
The best thing about Long Tail Pro is it has a complete package tool that helps entrepreneurs or bloggers to rank their content in SERP or search engine page results which increase sales and conversions.
Since a lot of competition in online businesses nowadays, Long Tail Pro has features of competitor's keywords where it can expose the keyword strategy of your competitor's domain or URL. This is a good way where you can track your competitor's activities, get to know their ideas and why they rank high on the search engine results.
Here's a Quick Long Tail Pro Background:
PROS
7 days free trial
1 seed keyword, hundreds of suggestions
Keyword color indicator. (green, yellow and unshaded)
Competitor analysis mode
Competitor domain/URL
Use your domain for suitable keywords
Detailed SERP analysis
Rank tracker
Video tutorials/Bootcamp/University
Powerful filtering parameters
CONS
Limited free trial only
Subscription pricing is a little bit expensive 
Jaaxy and Longtail Pro: Pricing and Plans
Jaaxy Pricing
PRO at $49/month
All the services in a free trial
Unlimited search volume and search analysis
Manual QSR and domain search
2K site rank analysis
Two times multithreaded search
Alphabet Soup, 15 letters
Enterprise at $99/month
All the services from PRO
30 search results
Automated QSR and automated domain search
5x Multi Thread
5k Rank Analysis
Unlimited keyword list
Alphabet Soup 50 letters
Get to know of their price listing per plan here:
Now that you have an idea how much for each Jaxxy plan, you can try its free trial to get to know more about how their services look like. You may end up subscribing because of their unique features.
Long Tail Pro Pricing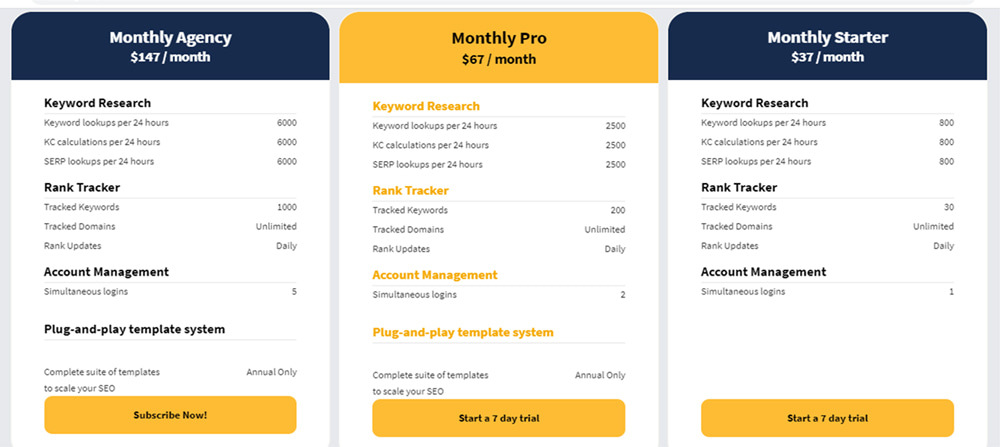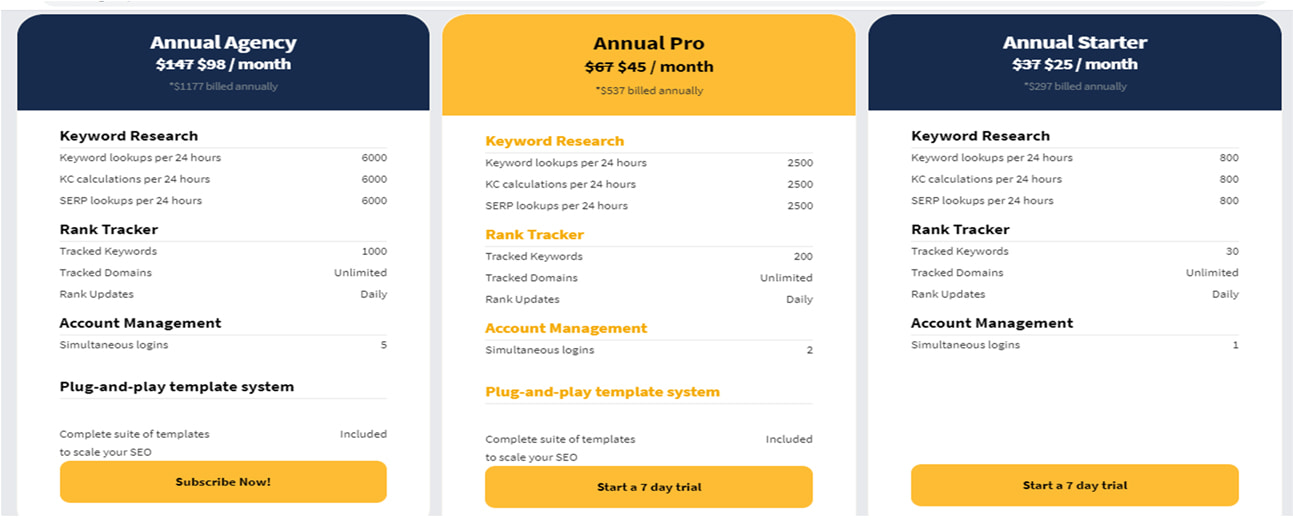 When it comes to pricing Long Tail Pro has a monthly and annual subscription. All subscriptions come with a free trial. When billed annually, the subscription starts at $25/month.
Starter- $25/month
Pro-$45/month
Agency- $98/month
For full details, you may look at their subscription charts:
You may find several reasons to buy the Long Tail Pro plan because of the 7-day free trial offered in each plan to test their services. Compared to other search engine tools, the price per subscription is more reasonable if you can go monthly. However, you can save money if you'll purchase the annual payment method.
Jaaxy and Long Tail Pro: Features
Jaaxy( Features)
Keyword. Jaaxy offers new words after you type in a particular keyword. You may be able to discover tons of brand-new keyword results that can save time on your research gig.
Keyword Data. It has powerful keyword data that provides in just a matter of seconds. Because of its multithreaded search features, it can perform five searches at once, so it means you can save a lot of time searching for an additional word.
Search Engine Coverage. The three most powerful search engines are Google, Bing, and Yahoo. The data coverage of these three well-known industries is covered directly within Jaaxy. So, you can expect an increase in traffic to your website.
Thousands of niches are there, and Jaaxy provides an alphabetized list you can use for your SEO campaigns. Once you search for that niche, Jaaxy will show you the list of possible niche markets that might interest you.
Affiliate Programs. Since Jaaxy was developed by the affiliate marketer for their fellow affiliate marketers, expect the unique program Jaaxy provides. We're all familiar with Amazon, LinkShare, and a lot more. Inside this search engine tool, you can discover many opportunities to earn money in Jaaxy affiliate programs.
Site Rank. For bloggers, marketers, or business owners, having a website is a great way to land sales and conversions. It's hard to determine whether you're ranking on the top or not. Here at Jaaxy, the keyword tracker mode will give you analysis and an idea of how to optimize your site to push through the top.
Competitor Analysis. There's tight competition when it comes to search engine optimization. Jaaxy will give you a cheat on how your competitors perform and why they're on the top-notch.
Over 90 domains are available for every search result you'd make. These unique features of Jaaxy reveal what domains available for that keyword. You will be able to discover a domain that is related to precisely what you're searching for.
Long Tail Pro (Features)
Longtail Keywords. Imagine you are searching for direct and exact answers to what you're looking for. Your choice is to type detailed phrases composed of three or more keywords on the search bar to get exactly what you want.
It is how Long Tail Pro stands out. Using this tool, search engines like Google, Yahoo will provide related keyword results of site pages that have similar keywords on those phrases.
Seed Keyword. Finding the right seed keyword, Long Tail Pro will generate many keyword ideas and phrases that are related to the seed keyword you've started. Long Tail Pro has an idea in targeting keywords that are often searched and have low competition. In this case, Google and other search engines will put you on their top of the list.
Keyword Indicator. One of the unique features of Long Tail Pro is the ability to detect keyword competitiveness through its color code indicator. Just hover over your domain name. Then, input the specific target keyword, and the color indicator will measure the status of each keyword. Green is the easiest, yellow is the average, and unshaded being difficult to reach.
Rank Tracker. When a visitor enters your site, Long Tail Pro serves as an attendant. The built-in rank tracking component will count the targeted keywords in the search bar. Just hit your domain name and enter the keyword phrase, then Long Tail Pro will show you its daily update on that targeted keyword.
Competitor Analysis. Competition on ranking to top page results is tight. If you search specific phrases, you can see the topmost pages on that search engine release. It's there where you can find who is in the lead, what are those main keywords that they're using. Long Tail Pro is a great "spy" to your competitor.
Competitor Domain. Knowing your competitor's domain and URL, Long Tail Pro will help you disseminate your competitor's keywords technique. So you can get an idea from them. Again, this tool serves as an eye to your competitor's world.
Open for Affiliation. To receive the services of any chosen subscription, you need to pay the amount of that specific plan. Not only in Long Tail Pro but for all products, of course. To return the money that you'd purchased, you may try their affiliation program.
In every referral you've made, you can earn up to 30% commission on sales and recurring transactions of Long Tail Pro plans. Social media is a great way of promoting affiliate links.
Jaaxy and Long Tail Pro: Reviews
Between these two incredible tools in the world of SEO, let's hear what experts say. 
Jaaxy Reviews


Jaaxy conquers the world of affiliation because of its time-saving features and beginner-friendly as it's easy to learn. Despite the price costing more for each plan, the services that Jaaxy offers are worth the amount you spend in getting the subscription. 
Long Tail Pro Review


Long Tail Pro ended up with good reviews in finding long keywords and being great in the local SEO market. You can save enough time searching for a long keyword because of this powerful tool, though same as Jaaxy, the price is quite costly.
However, if you choose to bill it annually, you can still save a few things while enjoying their unique features and free trial plan in each subscription.
Who Loves Jaaxy?
Now that we got the detailed features of this amazing search engine tool, we have come up to the point, when and who will use Jaaxy.
The busy business owner loves this ultimate powerful research tool. Jaaxy starts with a primary keyword and then does wonders in an instant. It provides an instant answer right at their fingertip. Someone who wants their business to be known in the online world.
As an affiliate marketer looking for additional income or as a newbie that jumps start to his/her niche. If you're one of these individuals, then no doubt, Jaaxy is for you. 
Who loves Long Tail Pro
Everyone wants to have an accurate answer to what they're looking for. No matter if it takes a few seconds as long as we had accurate and detailed ideas. It makes Long Tail Pro stand out.
You will love Long Tail Pro if you're an SEO consultant since you want to catch accurate and detailed ideas. A small business owner that is looking for a great idea, you will enjoy Long Tale Pro.
If you're a micro-niche blogger, you may want to use your domain or even spy on your competitor. As an affiliate marketer that wants to boost some extra income, you may find Long Tale Pro is instrumental to your business. Long Tail Pro provides not only those single keywords but lots of helpful features.
Jaaxy and Long Tail Pro Finale
Users love both these amazing and useful tools. Not only that they must have most things in common, but each one of them has its own unique features that are both useful to the users depending on what they're targeting.
So go for your niche or business and choose what's best for you. Because in the end, both Jaaxy and Long tail Pro have their own unique design that you'll surely love it.