Introduction
Gone are the days when a website could achieve a better search engine rank by simply filling up your website with below-average written content. Despite this, many website owners still believe that average and outright bad content is better than nothing, so they continue to create or purchase bottom-of-the-barrel content. Unless you're unusually lucky, applying this approach in today's digital marketing arena will likely hurt rather than help your site. The more likely result of using poorly written content on your site is that Google and other search engines will flag it as bad and drop your ranking so far down that it would take a minor miracle to climb back up the search results.
To continue building your website's respectability and Google ranking, the content you publish needs to distinguish itself from the 2 billion other sites out there. Unfortunately, creating original content suitable for your target audience is time-consuming and difficult. Therefore, many websites turn to freelance writers to create content for them. The problem with this strategy is how difficult it can be to find a talented freelance writer that not only has the technical linguistic skills to do the job but can also do it in a way that resonates with your target audience.
That difficulty stems from the fact that Zerys, Content Refined, Textbroker, Contently, and a host of other digital marketing services can provide thousands of writers and editors. But that's a double-edged sword, which can result in poor freelance writing due to the dilution of talent.
Fortunately, since it's Valentine's Day, we'll be happy to play matchmaker and find the perfect person for your freelance writing job. We'll do this by comparing two of the top content creation services available, pitting iWriter and Upwork against each other to see who can provide you with the freelance writer you'll love. By comparing things like quality, timeliness, and cost, you'll not only gain a deeper understanding of what you can expect from the writers of these two popular content writing services, but you'll also be better able to spot good writers and good content.
Sorting the Good from the Bad
Upwork and iWriter are both solid options when looking for good freelance writers to boost your website's quality. Yet, not all the writers on these sites are going to sweep you off your feet. Bad writers exist on both sites, and though both iWriter and Upwork do their best to properly place their freelancers according to skill level, some slip through the cracks. We've had elite-level writers give us poor quality content, and we've had low-level freelancers provide us with gold, but if you don't know what good writing looks like, you can't determine whether the freelancer you hired is any good or not. You first need to know exactly how Google, Bing, and other search engines measure the quality of content.
What's Bad?
Google uses the term "thin content" to describe material that is harmful to your Google rank and have no value to the reader. Thin content can take a few different forms, such as web articles containing numerous words but little substance and originality, or writing that is deceitful and potentially harmful to the reader. Thin content provides little or no benefit to the reader and has the potential to drastically lower your site's credibility. However, ensuring you are not receiving that from your freelancer can be tricky since it can take many forms and is often unintentional. To make recognizing thin content a bit easier, we've listed a few of the more common examples below:
Content with copied and pasted text from other websites
Repeating the same keywords or phrases so often that it sounds unnatural
Content that contains multiple typos, grammatical errors, and low overall readability
Utilizing or attempting to use hacks that game Google's algorithm with link-building schemes and other black-hat SEO tactics
Having text with little or no original content or material written by experts
Lacking content that provides unique answers or solutions to their users' questions and searches
Failing to link content to more authoritative and trusted websites
Excessive links unrelated to your site's niche that contain spam, ads, or material related to porn, gambling, or money lending
What's Good?
Like the lousy material mentioned above, several characteristics of good writing are difficult to spot if you don't know what they are. For a bit of clarification, we've listed below what many digital marketing professionals agree to be characteristics of solid online writing.
Writing includes well-defined and strategically placed keywords throughout the content
Content is structured logically and avoids sounding too promotional
Content is unique with limited or no duplicated text from other sites
Material appeals to the target audience and provides value by providing solutions to problems or answers to questions
Writing is trustworthy and credible among your target audience
Now that you have a better understanding of what good and bad online writing looks like, you'll be able to significantly narrow down your freelancer search.
Two-way Street
When posting a job on Upwork or iWriter, your chances of finding freelancers you'll love are much better when you provide detailed information about what sort of freelance writing you're looking for. In fact, one of the more common mistakes people make is not taking the time to create detailed and crystal-clear job descriptions. Not only will doing this help attract the most fitting people for the job, but it'll save you from spending hours scrolling through pages of underqualified freelancers. This is essential to find even adequate applicants for your job. Listed below are a few tips on what to include in your job descriptions so only qualified freelancers will apply.
Goals and objectives for the project
What special tools or skills are required or might be needed
Description regarding the level of experience you're looking for
Any particulars that involve when the assignment is due and any other expected due dates and deadlines
Pay rates and other payment-related information
Time estimates
Information on your company's culture, values, and any benefits you offer to freelancers
Of similar importance in finding great freelancers on iWriter and Upwork is gathering as much information about your potential hires as possible. This will give you a solid foundation with which to judge whether the person is an appropriate fit. Here are a few things you may want to know before hiring a freelancer:
The amount and type of writing experience they have
Recent work history and education
Reviews and feedback from other clients
Preferred pay rate
Any professional certifications or licenses they have
Location
Speaking of Quality
The quality of written content from freelancers on iWriter and Upwork varies from author to author. Therefore, a bulk comparison in quality level between the two is not possible since we don't have nor want to spend the time and resources needed to accurately compare the work of thousands of individual writers. However, the quality of work from each site is usually going to reflect the amount of money you want to spend. The higher the price, the better the quality will be in most cases.
Although iWriter and Upwork share the same general ranges in quality level, each has unique features that help assess the expertise of individual freelancers. Perhaps the most beneficial of these features is IWriter's public rating system. While most content creation services offer some form of a review component for clients to express how good or bad their hired freelancer performed, most of them are flawed or favor one side over the other, which ends up clouding the accuracy and legitimacy of the review. iWriter's system allows you to rate the freelancer after you have collected an article from them. Whatever score you give will be applied to that writer's overall rating. Only this type of review metric allows you to determine the level of satisfaction people had with a particular freelancer. It also adds some incentive and motivations for the freelancer to perform well.
Upwork also employs a review system, but it's not as comprehensive as iWriter's. What the company does offer is a rather extensive testing section where freelancers can opt to take tests in their subject of expertise and have their scores posted on their profile. This is a great way for you to find good matches for your writing work since the testing subjects cover a wide array of topics.
What's It Going to Cost?
iWriter

The price you'll pay for freelance services from iWriter and Upwork is likely going to be what influences your decision to hire freelancers from either service. With iWriter, you'll be able to hire freelancers and pay them according to four different pricing tiers: Standard, Premium, Elite, and Elite Plus. The cost goes up with each tier and varies according to word count. For example, this is what you'll pay for a 1000-word article at each tier:
Standard: $8.25
Premium: $11.50
Elite: $20.25
Elite Plus: $72
It's important to note that choosing the standard and premium options, in most cases, will leave you heartbroken over the quality of content you'll receive. The difference in price between Standard and Elite Plus is significant and will be the difference in the quality of writing between the two tiers.
Upwork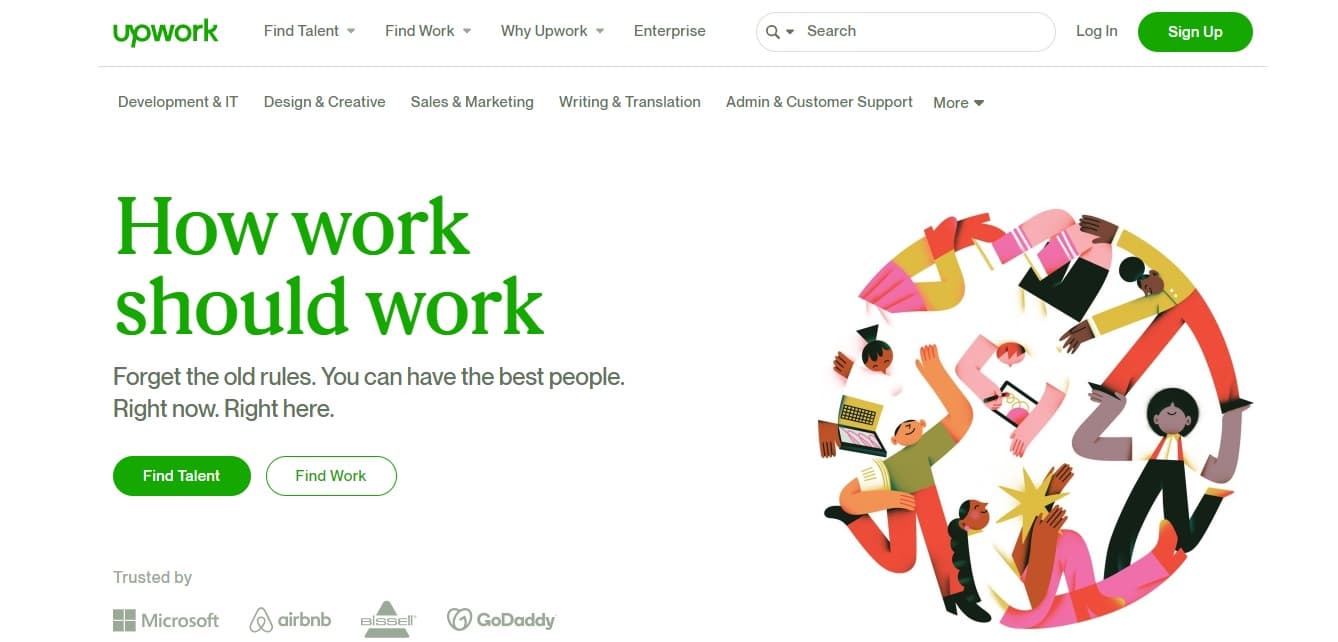 Hiring a freelancer you love on Upwork can be a rather convoluted process, and only the most experienced freelancers and clients can keep track of all of Upwork's fees. In fact, Upwork's fee structure is one of the biggest roadblocks for freelancers who are interested in using the platform because they are largely extracted from the writers, not the clients, who generally pay a 3% service fee.
You will still be able to find a good match for your content needs as Upwork has millions of freelancers, but it's important to price your projects appropriately and with these extra fees in mind. The reason we're not going into greater detail in regards to the actual specific numerical cost of hiring freelancers on Upwork is that it is up to the freelancers to decide how much they want to charge.
Other Factors to Consider
Listed below are a few other important factors to keep in mind when using iWriter or Upwork to hire freelancers. Most of these considerations are true for both services unless noted otherwise.
Freelancers from countries where English is a second language are numerous on these sites. While some are good writers, it's best to be cautious when looking at these potential candidates.
Hiring freelancers on Upwork and iWriter can be a time-consuming process especially if you must find and interview several writers.
Upwork and iWriter are a bit lenient when it comes to who they let work as freelancers, and there are no skill tests involved to qualify to work there.
You typically don't have to pay for any content unless you approve it.
Don't expect much help from customer service as these two services generally stay out of disputes. When they do get involved, they are slow and not overly helpful.
Conclusion
Although it likely won't be love at first sight when using Upwork or iWriter to hire freelancers, if you have a bit of patience you'll eventually find the match you're looking for. The fact that there are millions of great writers on these sites is both a blessing – due to the sheer number of choices – and a curse – due to the time-consuming process of sorting through them – for folks looking to find the perfect match for their content needs. Thankfully, with a little time and effort, you'll be able to plow through the undesirables and find a healthy number of freelancers who you'll love. Just be prepared for some bumps in the road along the way.