Introduction
Freelance work is a valuable part of today's Internet economy. Whether you're a freelancer looking for gigs, or an employer looking to hire a skilled professional for part-time work, the freelance job market has something for you.
The market is growing at such a rapid pace that several online marketplaces have developed. It is where professionals can advertise and offer their services to potential employers. In this article, we'll be checking out two of the most popular marketplaces on the Internet. We'll check out FreeUp vs. Upwork to see which is best for freelancers and employers.
Introducing the Products
FreeUp and UpWork seem like similar platforms at first glance – two online marketplaces full of freelance talent. But the way that both sites operate is very different.
FreeUp is a network with "pre-vetted" freelancers. This pre-vetting is one of the crucial differences between FreeUp and UpWork. FreeUp individually interviews freelancers and selects only the top 1% to join the network (at least this is what they claim).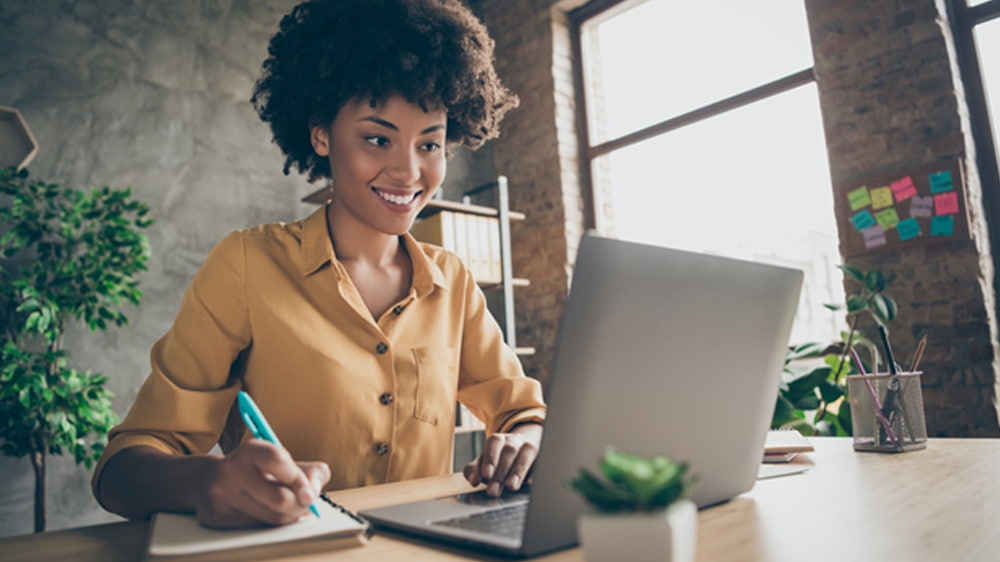 When employers need to hire freelancers, they explain their needs to FreeUp and are matched with freelancers based on their needs. Employers do not individually communicate with freelancers.
UpWork is a more "streamlined" platform than FreeUp, offering both freelancers and hirers more flexibility to work withwho they want. On UpWork, freelancers create a "profile" that details their experience, past work, what they're offering, their price range, and more.
Hirers can message freelancers or post jobs in many different fields. Both sides can reach out to decide terms and establish a working relationship. Below, we'll examine the process in more detail.
Here are some basic pros & cons of each platform, and we'll dive into much more detail about each service offering in the next section:
FreeUp
Pros
Hirers are confident that freelancers have been vetted for quality.
Freelancers can rely on a consistent stream of work.
Many areas of expertise on offer.
Customer support 24/7.
Cons
Can't select freelancers individually.
Selection process is not always clear.
UpWork
Pros
Opportunity for freelancers to market their skills and build relationships.
Hirers can select freelancers most suited to their needs.
Minimum hourly rate prevents "race to the bottom".
Many freelancers are suited to many different areas of expertise.
Cons
Very competitive market.
Often difficult for hirers to verify freelancers' experience.
Features Face to Face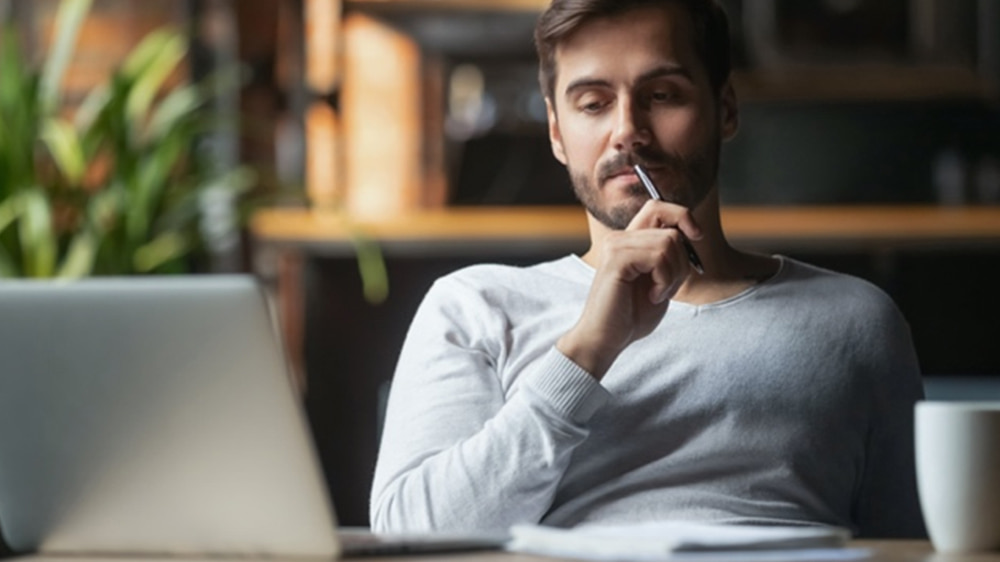 When it comes to selecting the right freelance platform for you, will come down to which platform best suits what you are looking for. It will also depend on whether you are attracted to these platforms as a hirer or as a freelancer.
In this section, we'll take a deep dive into each platform to help you decide. We'll examine the key features and differentiators for both UpWork and FreeUp, so that you can make the proper choice for yourself. Let's start with UpWork:
UpWork
For Freelancers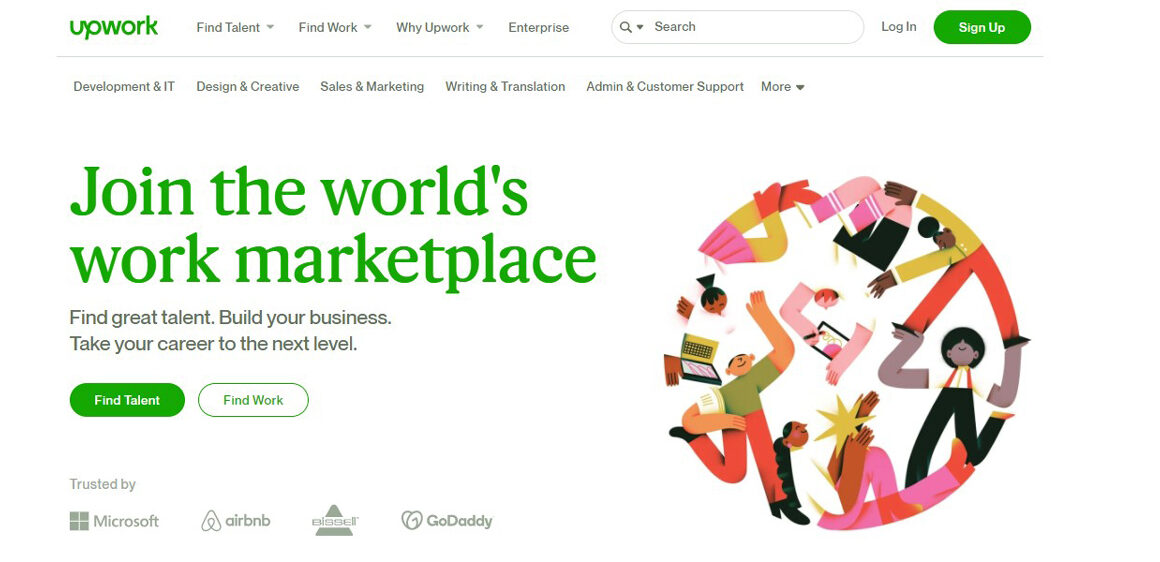 Since UpWork has two distinct user experiences depending on whether you're a freelance professional or looking to hire a freelancer, we'll break down our list as such. Here are the features that stand out as a professional on UpWork:
Sign-Up
Signing up for UpWork is easy, but you should note that not every freelance writer gets accepted. If you fill out your profile accurately and professionally, you shouldn't have a problem starting with the platform. UpWork typically takes a couple of days to review your application before you can get started.
Your "Profile"
Your UpWork experience begins with creating your "profile". Your profile might end up being the most crucial component that dictates your success on UpWork (at least at the beginning).
Your profile is where you advertise your skills, experience, and the type of work you are offering to hirers. An effective profile is crucial to receiving work and building relationships on UpWork.
Your profile contains sections to outline your experience and capabilities. You can input biodata, a profile pic, outline your work experience & education, etc. You can also advertise the type of work you are offering, your price range, and how hirers should reach you. There are also sections for including links to previous work experience and success stories.
A well-crafted Profile is the main competitive advantage for freelancers on UpWork, and it's what will separate success and failure on the platform.
Matching with Hirers
Of course, to find success on UpWork, you need to convince hirers that you are worth hiring. Luckily, UpWork gives you numerous methods of doing so.
Job Board
Hirers can post work to a job board, complete with "tags" for the type of work they need. Freelancers are free to peruse these job boards and message hirers looking for the type of work they offer.
Successful freelancers can craft direct messages. They can succinctly explain why they offer solutions that the hirer may be looking for. When you're starting as a freelance writer on UpWork, this will likely be your best bet at securing business.
Projects
UpWork also allows freelancers to offer Projects. Projects are specific tasks (or projects) that have a defined scope, a defined length, and a defined price. They are a "product" you can offer to hirers to outline what is offered and the cost.
For example, a graphic designer could offer "logo design" as one of their projects, letting hirers know exactly how this will work, how long it will take, and what it will cost to get a logo made.
DMs
Additionally, hirers might message freelancers directly – especially if they have shown success in the past. This success reflects by review scores which will show up as an aggregate on your page. We'll talk more about this in the next section.
For Hiring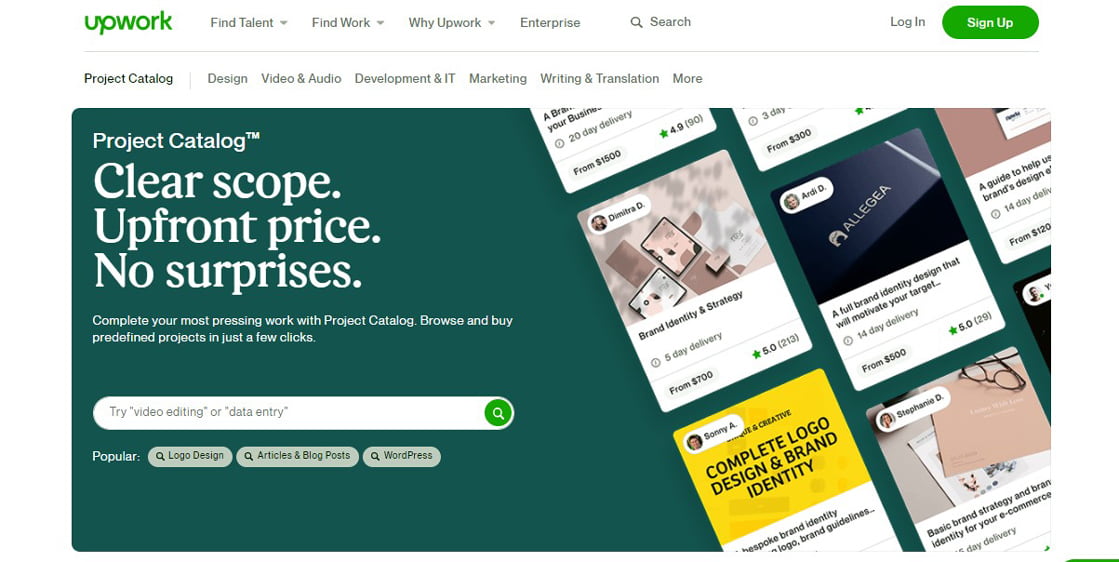 As mentioned, UpWork has a wholly different user experience for hiring and freelancing. Let's turn our focus to using the platform as a hirer:
Advertising Your Work
As a hirer on UpWork, much of the onus is on you to clearly define what it is you're looking for. Freelancers do many separate jobs regularly, so successful hirers need to have a clear set of goals, directions, and specifications about their tasks.
Creating a Posting
UpWork allows hirers to create job postings that give freelancers a detailed understanding of what the hirer needs. Freelancers can examine the posting and reach out to hirers. From there, they can continue the conversation and establish further terms and details. Hirers are free to peruse the freelancer's profile to decide if they would be the right fit.
Creating a robust, detailed job description is the key to finding successful work with UpWork. Communicating your goals and objectives to a competent freelancer ensures that these objectives get met.
Job descriptions can include certain "tags" which help freelancers find them based on the type of work. The more freelancers can find your job posting, the better chance of finding someone you can work with.
Contacting a Freelancer
Hirers are also free to contact freelancers directly. They can browse freelancers in UpWork's Talent Marketplace and find freelancers with all sorts of different work experiences and capabilities.
UpWork is a large marketplace with thousands of professionals who offer a variety of skills and work experience. Many hirers find success by perusing this marketplace to find a professional who offers the work that is best suited to their project.
UpWork's customer review system makes this even easier to navigate. Hirers are free to review each freelancer's performance (and vice versa). Hirers can see an aggregate review score and read past reviews on a freelancer's performance. These subjective review scores are useful for determining the level of work you can expect from a freelancer based on their past performance.
Projects
UpWork Projects offer another, more "streamlined" method of purchasing content from freelancers on UpWork.
Projects allow freelancers to offer clearly defined, clearly priced services rather than creating general services in a specific area. For example, if a hirer is looking to write a blog post on a subject, they can search UpWork for a Project that matches this description.
Projects offer the advantage of clearly defined parameters. Hirers know upfront about a freelancer's expertise, the scope of the work, and the price. Hirers can browse a freelancer's past projects and read reviews to determine whether it's worth the price.
Talent Scout
UpWork offers even more ways for hirers to connect with freelancers! They are essentially a "matchmaking service" offered by UpWork to help hirers find people to hire. This service is closely related to the service offered by FreeUp, below.
With Talent Scout, UpWork has pre-vetted qualified freelancers. It will matchmake their talents with hirers who are looking for their skills. Of course, this service comes at an extra cost, so the hirer will have to decide if this cost is worth the expedited recruitment process.
Pricing
As mentioned throughout this article, UpWork allows freelancers to set their hourly rates, and it's up to the hirers whether they are willing to pay that rate. It's also worth noting that UpWork has a minimum allowed rate. It prevents freelancers from undercutting the competition and ensures that every freelancer is paid fairly.
As a rule, you can expect higher quality work if you are willing to pay more. Quality talent doesn't come cheap, and it's no coincidence that the freelancers with the best review scores often charge higher than average rates.
As a hirer on UpWork, you shouldn't expect quality work at bargain bin rates. If hirers keep these expectations in check, there's a lot of quality they can find on the platform.
FreeUp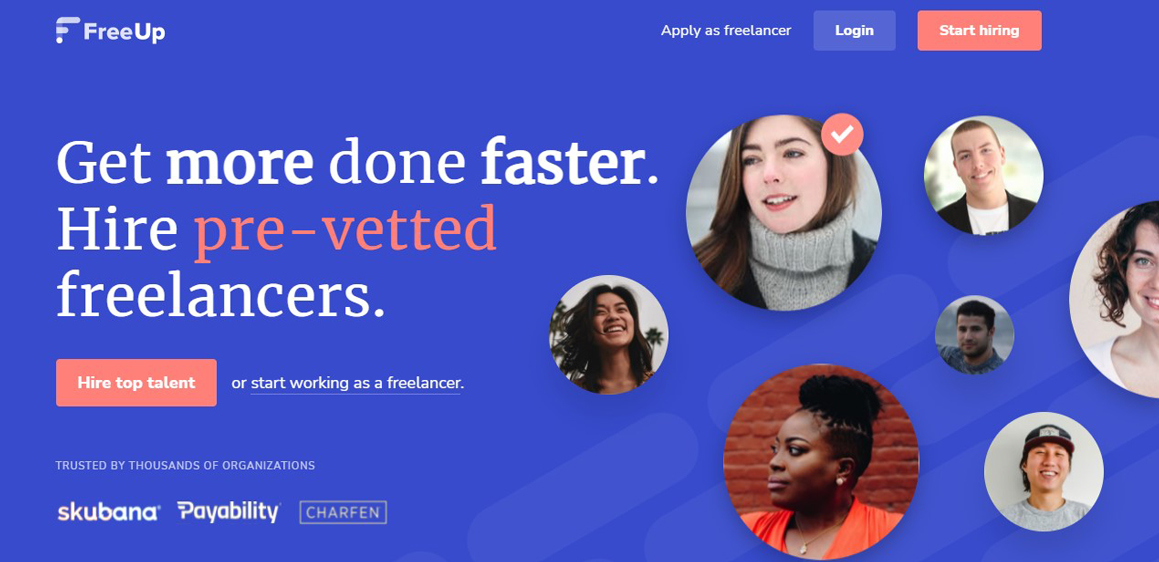 Now that we've comprehensively examined UpWork, let's look at one of their main competitors – FreeUp. FreeUp is less of an online marketplace and more of an online "matchmaking" service between hirers and professionals. Let's take a look at how the process works and some notable advantages of the platform.
Quality Freelancers
What is immediately notable about FreeUp is there is a much more extensive "vetting" process for access to their platform. Unlike UpWork, it's not as simple as creating a profile and advertising your services. Instead, you need to be selected to participate in the platform based on an interview and your experience. FreeUp claims that they only select the "Top 1% of Online Talent".
Freelancers must submit an application to FreeUp detailing their experience and expertise. A recruitment specialist interviews them who makes sure they are right for the role.
In other words, FreeUp's main competitive advantage over UpWork lies in the fact that FreeUp vets candidates for hirers who would prefer not to do it themselves.
Matching with Hirers
Once freelancers are vetted and can participate in FreeUp's platform, where they are matched with freelance hirers based on their expertise. The process for hirers works like this:
Hirers create a quick, free account to sign up for FreeUp. Then, they provide details on the work they want to be done. Like UpWork, the more detail, the better (including details on how much they are willing to pay). A more detailed jobdescription increases the chance that your motivations are understood by FreeUp, who can better match hirers with freelancers.
From there, FreeUp examines its talent pool and gives freelancers access to work that applies to their skill-set. Freelancers are free to reject the project and set their pay rate at a certain range. For most projects, FreeUp can make a match within 24 hours.
Through this whole process, the hirer can freely talk to one of FreeUp's account managers to keep updated on the process and to intervene with any questions, comments, or changes to their requirements. FreeUp offers 24/7 customer support for this reason. If a freelancer quits at any point, FreeUp covers the hirers' costs in replacing them and getting their project back on track.
Price and "Expertise" Levels
To properly understand FreeUp's platform, it's necessary to understand its pricing and "tier" system.
FreeUp charges hirers based on hourly rates, but the hourly rate depends on the type of work you are doing. The more complex the work and the more experienced the freelancer, the more you can expect to pay.
FreeUp separates its talentpool into three "Tiers" – Entry Level, Mid-Level, and Expert. Entry Level ranges from $5-15/hr., Mid-Level from $15-$30/hr., and Expert is $30-$75+/hr.
FreeUp recommends that higher tiers be used for more complex projects. FreeUp has a list of recommended tiers for each expertise level. For example, data entry might require an "Entry Level" tier, while strategy-based projects would require an "Expert" work tier.
As has been a running theme, hirers should expect to pay more for higher quality work. Expert freelancers don't come cheap, and hirers shouldn't expect them to. FreeUp is designed to facilitate quality work at affordable rates, but this doesn't mean that the work is cheap!
Skills on Offer
Like UpWork, FreeUp has an extensive talent pool with freelancers which has a broad range of capabilities and skill-sets. Whatever the project, there is a FreeUp freelancer who is up to the task. Most popular skills include (but are not limited to) graphic design, content writing, video editing, web development, SEO, and more.
Once again, it is important that hirers clearly define the scope of their work so that FreeUp can more appropriately match them with a freelancer who is up to the task.
Which Platform Should You Choose?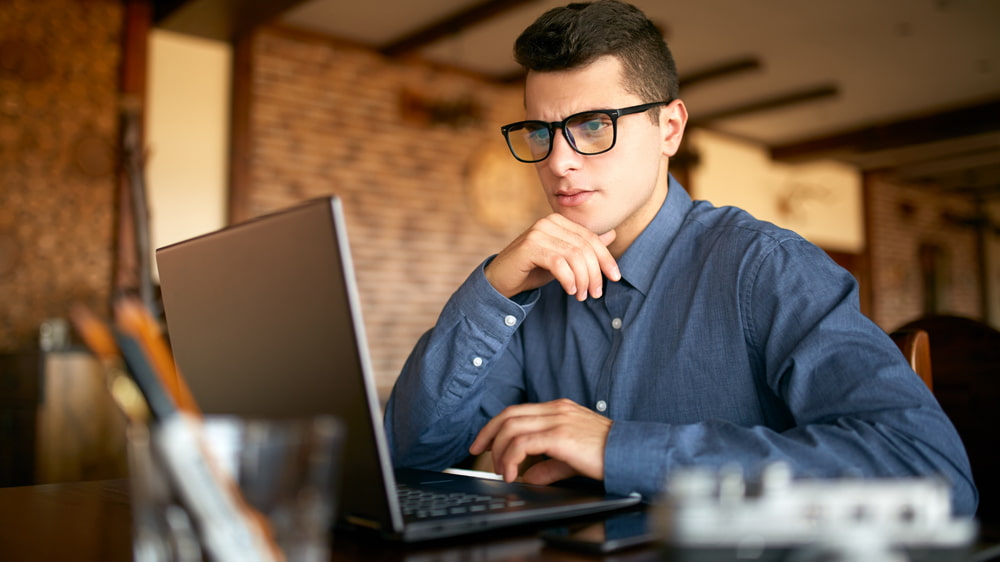 Above, we took you through an extensive run-down of both FreeUp and UpWork. As you can see, the platforms have big similarities and differences, even though they are both geared at matching freelance professionals with hirers. Therefore, the platform you should choose will depend on which one best matches what you're looking for.
UpWork is a much more open "freelance marketplace". Freelancers create profiles advertising their skills, and hirers are free to peruse this network to find talented people and to build professional relationships for further work.
UpWork is suitable for those who want more options at their disposal, both from a hiring and freelancing standpoint. You have more individual autonomy over creating these working relationships, but it's also going to involve more effort on your end.
FreeUp is designed to create a more expedited, streamlined experience. FreeUp pre-vets talent and matches your talents based on what a hirer needs. It's ideal for both hirers and freelancers who don't want to undertake the "matchmaking" process themselves and would prefer the platform did some of this work for them.
Of course, as a hirer, you can expect to pay higher rates, as some of your costs are going toward the matchmaking services.
At the end of the day, both platforms have a lot to offer. As a hirer or freelancer, it is great to have options. It's perhaps most important that you properly advertise your services or your skills so that you can make a proper connection to establish a successful working relationship.
Conclusion – When to Choose FreeUp vs. UpWork
So, the bottom line, which remote work platform do we recommend? Unfortunately, there is no simple answer to this question. Both are quality platforms that allow skilled freelancers to connect with employers to create mutually beneficial work. The best platform for you depends on the platform that best suits your needs.
It is complicated by the fact that each website has two clear user bases – the freelancers and the hirers. So, for our final piece of advice, we'll outline when freelancers or hirers should consider each platform, based on their needs:
Use UpWork as a Hirer If:
You want to personally search for professionals to decide on the best match for your projects.
You want to choose among pre-selected "Projects" with a pre-defined scope and cost.
You want to save money by doing much of the recruitment process yourself.
You don't mind digging harder to find quality freelancers (as they often aren't vetted as extensively).
Use UpWork as a Freelancer If:
You want to create a profile that outlines your skills and experience.
You don't mind networking on your own – messaging hirers, applying to postings, etc.
You want to set your rate and control your workflows.
You are comfortable in a very competitive environment and confident in your ability to stand out.
Use FreeUp as a Hirer If:
You want an expediated matchmaking process.
You don't want to vet freelancers yourself.
You prefer working with an account manager to working with a freelancer directly.
You want a simplified "Tier" system for the level of expertise.
Use FreeUp as a Freelancer If:
You are confident in your skills and your ability to qualify for the platform.
You would prefer that FreeUp matches you directly rather than message hirers yourself.
You are comfortable with workflows that are slightly more outside your control (compared to UpWork).
You're comfortable taking on a broad range of tasks and assignments.