Introduction to SEO Tools
Online marketing is a massive industry that covers just about every section of the business. As such, the importance and prevalence of online marketing tools have increased massively in recent years.
One crowded area of online marketing tools is SEO (or Search Engine Optimization) tools. These tools help your content reach the top of Google search results pages, providing valuable exposure for your business.
In this article, we're comparing two popular SEO tools – Ahrefs vs. MOZ SEO. We'll take a deep dive into each, outlining notable features and letting you know which is right for you.
Introducing the Products
MOZ and Ahrefs are two of many popular SEO tools available to businesses and consumers.
Ahrefs SEO is a paid SEO tool that offers many features to help businesses rank for their desired focus topics on Google SERPs. It's a well-organized SEO tool with many features. It is easy to navigate and easy to pull valuable insights and data sets.
Below, we'll dive deeper into these key functionalities. Ahrefs is a fully paid platform, which offers tiered monthly subscriptions based on your usage requirements.
Pros of Ahrefs
Simple, usable user interface.
Variety of tools ranging from simple to complex.
Access to a wide variety of sites and competitive data.
Offers a "site audit" feature so you know where to start.
Cons of Ahrefs
It is a paid service.
Very competitive space.
MOZ SEO is an SEO toolkit that offers both free and paid SEO tools geared towards businesses, individuals, and more. The free SEO tools are surprisingly diverse, and the paid tools are extensive and deep enough for larger businesses.
There's also a complete "SEO Learning Center" to learn the basics of SEO. Overall, it is a well-rounded tool, and we'll dive into its free and paid offerings below.
Pros of MOZ SEO
A solid mix of free and paid SEO tools.
Comprehensive "learning center" for those who want to know SEO basics.
Deep, accurate dataset.
Trusted by several major companies.
Cons of MOZ SEO
Free tools are somewhat limited (although that's to be expected).
Paid platform is quite expensive (also typical).
Features Face to Face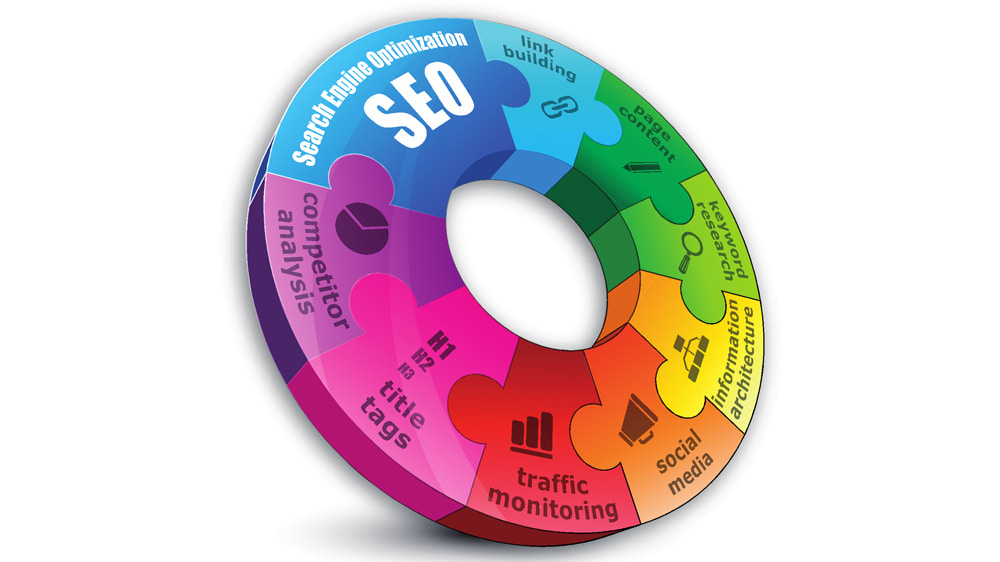 Even within the relatively narrow scope of an "SEO tool" there are many variables and KPIs to consider. Therefore, to analyze each SEO tool effectively, we need to take a deep dive into all the features and services offered.
We'll cover each SEO tool in turn, outlining and evaluating their important service offerings. After that, we'll compare them both to decide which is best for you.
Ahrefs SEO
As mentioned, Ahrefs SEO is a paid SEO tool that offers a wealth of features for managing and optimizing SEO performance indicators. The platform is broken down into five SEO tools, which can all be managed via the Dashboard tool. Let's look at each one:
Ahrefs SEO Tools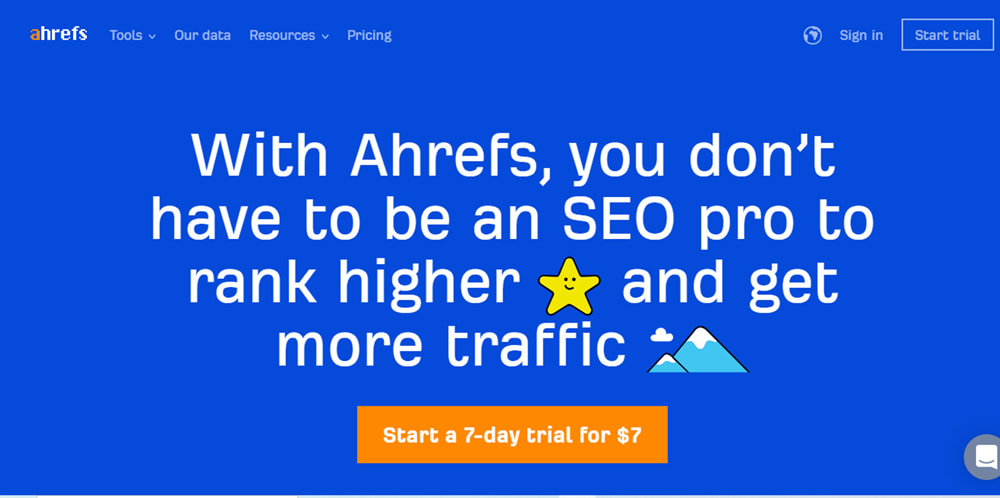 Site Audit
The "Site Audit" Tool is a logical place to begin, as it runs a scan of your website "under the hood" to see where it can be improved and the areas you should focus on. Those just starting in SEO should make use of an auditing tool first.
The Site Audit starts by crawling each page on your website. You're given an overall SEO score which provides a good starting point of reference. From there, info is further broken down into sections and page rankings so you can see where areas of improvement lie.
Site Audit returns a lot of info for each page, which can be a little overwhelming at first. There's information relating to page performance (loading times, CSS or HTML, etc.), social tags, HTML tags, on-page content (too much, too little, keywords, etc.), incoming & outgoing links, localization, and more.
All the information is laid out in an organized fashion. Experienced SEO pros can dig deeper into each data set. It keeps the tool accessible for beginners to seasoned experts.
Overall, the Site Audit is a great tool to have for beginning your SEO optimization strategy. It provides a good reference point of where you stand and what needs to be improved. From here, you can jump into the following tools to make a concentrated effort on each performance factor.
Site Explorer
Site Explorer is a tool that gives you information on organic and paid SEO performance for any site on the Internet. It is a great way to gain valuable competitive insights and see how web pages in your industry are ranking and why they are ranking. It allows you to use these strategies yourself to remain competitive.
The Site Explorer breaks into three areas:
Organic Traffic Checker: Gives you info on competitive keywords for any site and which pages they draw the most traffic.
Backlink Checker: Gives info on your competitors' backlink profiles (which websites and how many are linking to your competitor's sites).
Paid Traffic Research: Learn about your competition's paid search traffic data, including to which pages they funnel their paid search traffic.
Each of these three tools gives you a comprehensive look at how and why competitive sites are ranking. Ahrefs also allows you to dig deeper into any given data set for more extensive metrics. Competitive research is just one part of an effective SEO strategy, but it's a great way to learn and grow valuable strategies and insights.
Keywords Explorer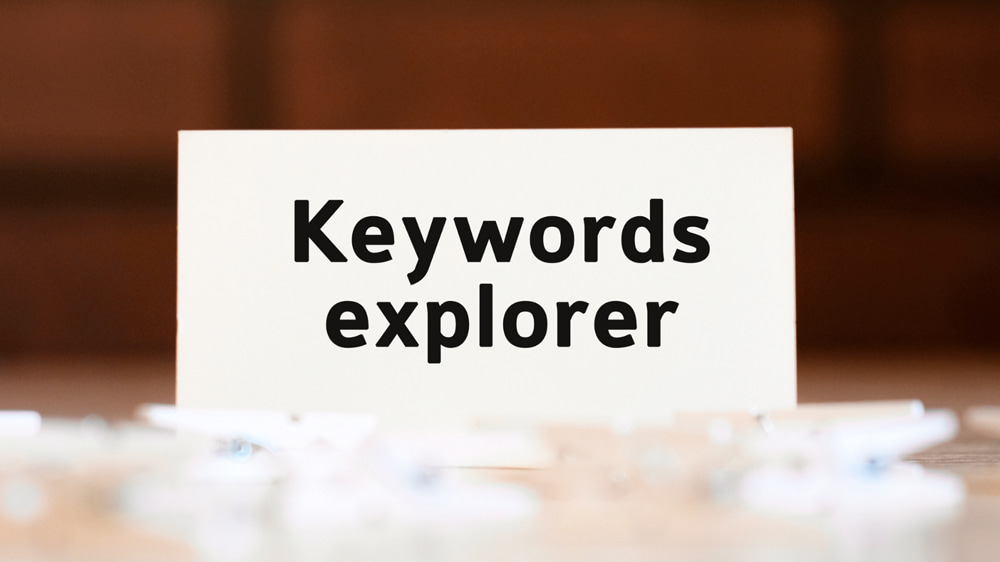 Keywords are perhaps the most well-known SEO strategy. Keywords are specific words related to various topics that help Google return your website in certain search results. Ahrefs uses a large third-party database of keywords to scan your website and see which keywords you are ranking on, and which could be inserted to help you rank higher.
There are several tools and insights at your disposal with Keywords Explorer:
Keyword Suggestions: The tool allows you to input different keywords, and several different "suggested" keywords will return to help you rank on similar focus topics. The keywords are backed by accurate information on search volumes.
You can narrow your search based on location or based on different search engines (Google, Bing, YouTube, etc.). Keyword data is returned and organized as words, phrases, similar terms, search suggestions, newly discovered, and more.
Keyword Difficulty: You can further narrow your keyword search by searching based on difficulty, which is essentially an integrated ranking that tells you how difficult (based on competitiveness) it would be to rank for a specific keyword. If fewer of your competitors rank on that keyword, it is less difficult to rank, and there is an opportunity there.
Advanced Metrics: The Keyword Score can be further broken down into underlying metrics, allowing users to examine specific data based on each keyword. This data includes average monthly clicks, clicks per search, % of clicks, % paid vs. organic clicks, and more.
SERP and Ranking History: Keyword Optimizer can also return a Search Engine Results Page Overview, which gives you the top-ranking webpages for each keyword, as well as a few choice SEO metrics (backlinks, keywords, top keyword, etc.). It provides competitive data for each keyword.
All in all, there's a lot to unpack with the Keyword Explorer. We appreciated that most results were outlaid simply, allowing you to dig for more data as needed.
Rank Tracker
This is a tool for monitoring the performance of your site (and individual web pages). It also allows you to compare its performance against competitors. What we especially appreciate about Rank Tracker is that everything is laid out in an easily digestible format.
To use this feature, you input one or several keywords into the tool, and Ahrefs tracks these keywords over time (for both you and whichever competitors you input). It is a good way to ensure that you keep on track of your SEO progress, especially against your competitors.
It can track your progress on different sections of Google's SERP, including the main page, the "People Also Ask", the image pack, the AdWords, etc.
There are plenty of opportunities to sort this data as you see fit, and there's also the option to set "email reports" to make sure you don't miss anything.
Content Explorer
The Content Explorer is a research tool that allows users to research competing web pages to gain insights on their search traffic and social metrics. It sounds like other research tools mentioned above, but this one takes a special focus on web "content", rather than the webpage overall.
You can take a piece of content from you or your competitors and get info on organic traffic, backlink analysis, social shares, and more. It's a good way to see why a piece of content is popular and to understand how you can make similarly popular content – a "reverse engineering" strategy of sorts.
Content Explorer also returns data on content trends over time. It can give you ideas for future content or for optimizing current content on your website.
Dashboard
Above, we examined the major SEO tools on Ahrefs' platform, and we know it's a lot to digest! The Dashboard tool is meant as a central "hub" for managing all your activities on the platform.
The dashboard contains tools for managing projects, metrics, and all the above tools. Track progress on different web pages, competing web pages, and your overall website. It's a simple interface, and we liked using it, but it does border on the complex.
In other words, to properly make use of Ahrefs, you must be prepared to take the time to learn the SEO tools and learn how to read the various metrics available.
Of course, to properly learn the platform it's best to try it yourself. However, do note that it is a paid platform, which we'll examine next.
Pricing
Ahrefs is a paid platform, and it's not cheap. No quality SEO tools come cheap. The paid plans are organized into "tiers" ranging from Lite ($99/month) to Agency ($999/month). Higher tiers give you more users and more uses for each of the tools. It's complicated, so it's best to check out the details yourself.
Quality of Data
If an SEO service doesn't have significant data to pull from, it is not a productive service. That is the bottom line. If a tool cannot collect information from across the web, then the information won't be as relevant, up-to-date, or authoritative.
Ahrefs collects their data by crawling the web 24/7 and storing terabytes of information on their servers (they have 2500 servers). There is lots of data available including over 8.6 billion web pages, 11.7 billion keywords, etc. There is a lot of data, and we've found it to be reliable.
MOZ SEO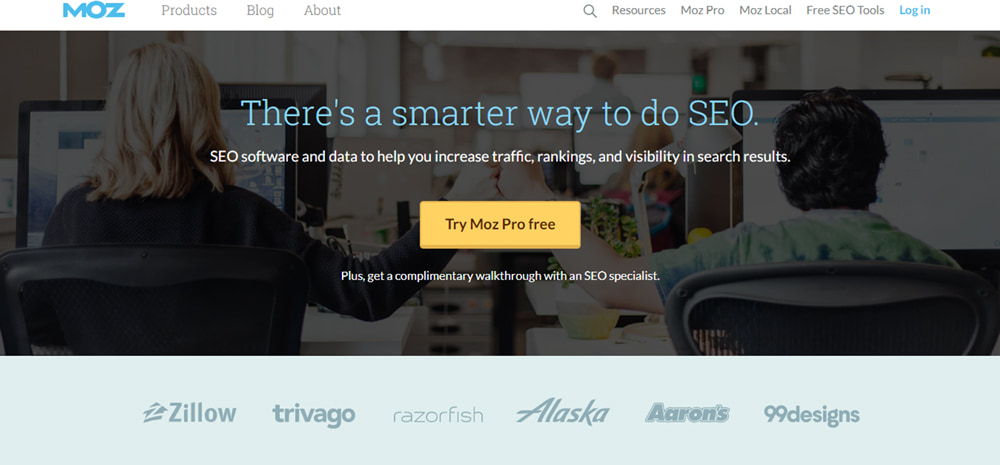 MOZ SEO is next up. Unlike Ahrefs, MOZ SEO isn't a fully paid service. They offer both free and paid SEO Tools. As you can imagine, the free tools are more limited than the paid ones. However, if you don't have extensive needs, then the free tools might be enough. Let's check out the most notable SEO tools in turn:
Free Tools on MOZ
There are some free tools on MOZ, but you should note that you need to register an account for access to them. MOZ's free SEO tools include:
Link Explorer: Link Explorer allows you to enter a webpage into its simple search bar to receive extensive backlink analysis for that site. Once you've inputted the webpage, you get quite a bit of useful data related to the site, including backlinks, broken links to the site, spam scores, link-building opportunities, and more.
It is a quality tool. Although you can't store and track the data like a paid tool, it is still possible to gather valuable information on your own and your competitors' web pages. However, MOZ leaves it up to you to interpret this data.
Keyword Explorer: Like Link Explorer, it lets you enter a keyword into their simple search bar, and you get lots of useful data relating to this keyword. Data includes search volume, expected search volume, Search Engine Results Page breakdowns, keyword difficulty, and more.
It is a useful tool to find competitive opportunities and formulate keyword strategies. We especially appreciated that MOZ lets you export your data into formatted CSVs.
Once again, not as extensive as a paid tool but impressive for what it offers.
Domain Analysis: Like both tools above, enter a domain into the search bar and get info on the domain's metrics. You can even use this to audit your site, getting information on top pages by links, keywords by estimated clicks, lost links, and more. It is a decently detailed audit for a free tool and gives you a glance at your site's (or your competitors) overall SEO.
Paid Offerings
We appreciate that MOZ offers many of its tools for free, but there's no denying that the free tools are less extensive than paid SEO tools. There are limited options for storing and tracking data, and you won't have access to many advanced metrics.
MOZ offers a few paid offerings, with the most popular being MOZ Pro, MOZ Local, and Stat. Let's check them out:
Moz Pro
MOZ Pro is a comprehensive SEO tool kit, offering functionality for tracking, optimizing, and storing metrics. A toolkit is best understood by its individual tools. So, we will look at the top tools offered:
Site Audits: Like similar site audit tools we examined above, this one crawls your website (or any website) to return valuable SEO data related to keywords, redirects, links, traffic, and much more. It presents the data in a readable graph that is color-coded to make it immediately apparent which areas need work.
The tool worked fast and categorized the issues with simple titles, so we knew what was wrong. You can even set pre-scheduled crawls with email notifications to have continual check-ups.
Overall, we were impressed with this one, and beginners will appreciate the direction toward key issues.
Keyword Research: Once again, a common tool in any SEO toolkit is a keyword research tool. MOZ's tool lets you easily search keywords, phrases, and more. You'll get full data on volume, difficulty, traffic, and everything else you would expect from a comprehensive tool.
What we especially enjoy about this tool was its organization. It highlights the metrics that matter and shows you where the competitive advantages lie (based on search volume, difficulty, CTR, and more). It is a great tool for formulating an overall keyword ranking strategy.
Link Research: The Link Research tool is designed for increasing high-quality backlinks pointing to your site and decreasing the bad ones. To do this, you enter the page into the Link Explorer tool (seen in our free tools above), and it returns info on the page's link performance. The paid tool goes beyond this, and compares your page against top performers, showing you where competitive opportunities lie. You can store and track this data, with sections for tracking your outreach efforts.
Rank Tracking: Rank tracking takes a comprehensive look at your site's performance over time as it relates to SERPs, keywords, and more. It presents this data in an easy-to-read chart where you can see how you are doing on different metrics.
This information is useful not only for monitoring your site's performance but your competitors' as well. This allows you to formulate strategies to keep up with current trends.
Moz Local
Moz Local is another paid offering in MOZ's SEO toolkit. It's a comprehensive SEO toolkit geared toward local businesses. There are plenty of tools for managing relevant metrics (such as the ones above). However, it emphasizes tracking variables that are more relevant to local businesses. Here are some examples:
Sync Listings: MOZ Local keeps your business listings updated in all the places it appears online (search engines, social media, various websites, etc.). It provides a significant advantage over manually updating all these listings each time there is a change.
Review Management: Google Reviews are crucial to the success of a small business. The Review tab is located right on the main dashboard and shows you new reviews as soon as they arrive. You can react and respond to customer reviews to improve customer engagement.
Social Media Posting: Moz Local features synchronized posting across various platforms and social media apps. It saves a lot of time and effort for small businesses.
Reporting: There are detailed tools for tracking and optimizing all the metrics above. You can check out the dashboard for information on your social media impressions, your review reporting, your clicks, and more.
Pricing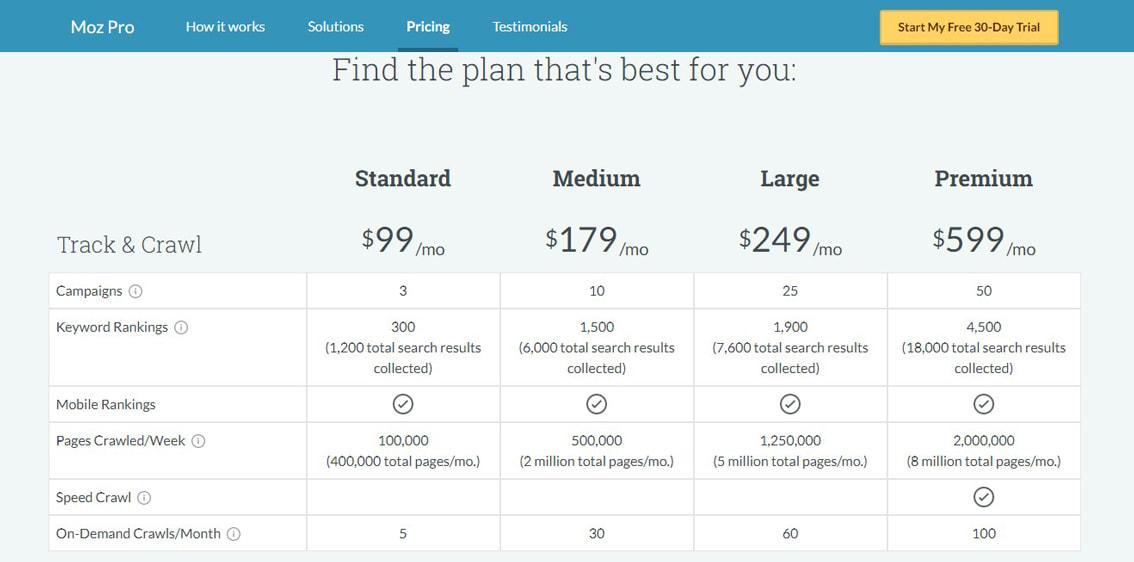 As examined above, MOZ offers more than one paid SEO service. As such, pricing differs depending on the plan you choose (Pro, Local, etc.). Higher tiers offer more access to the platform and more actions/month. For example, MOZ Pro scales from Standard ($99/month) to Premium ($599/month). They also offer 20% discounts if you pay yearly.
Click here for more details on MOZ pricing.
SEO Learning Centre
If you are new to SEO, you will appreciate that MOZ offers a free SEO learning center on their website. It features a comprehensive beginner's guide presented as an hour-long video covering the basics. Additionally, there are courses for diving deeper into each topic, depending on what is most relevant to your business. There is also a wealth of how-to guides, webinars, Q&As, and more.
Quality of Data on MOZ
As we mentioned above, the quality of data plays a crucial role in evaluating the utility of an SEO tool. The more reliable and current the data, the better implications can be drawn.
MOZ SEO draws its insights from a deep pool of data, drawing from a massive database including 43.1 trillion links, 500 million keyword suggestions, 8 million SERPs, and more.
Comparison – Which Should You Choose?
If anything should be clear from our section above, it's that Ahrefs and MOZ SEO have a lot to offer. Both are quality platforms. As is the case with most SEO platforms, the best choice for you is just the platform that aligns with your personal or business goals.
If we are being honest, Ahrefs SEO and MOZ SEO have a whole lot of overlap. Both contain just about every SEO tool that the other contains, even if they have different names for each tool. Both have extensive tools for keyword research, competitive research, link research, rank tracking, and more. Both draw from a massive pool of data, and both are priced similarly.
Your decision may simply come down to which platform offers a more intuitive UI or displays metrics in a visually appealing way.
If we were to sum it up, we'd say that MOZ puts a greater focus on directing you toward variables that matter and assisting you in formulating SEO strategies. On the other hand, Ahrefs does a better job outlining variables and metrics.
It allows you to take deep dives and draw conclusions based on data. However, the difference is narrower than you might think, and both platforms do a great job in both regards.
We don't think you can go wrong with either platform. Once you get either one up and running, you can discover and build successful SEO strategies. After all, SEO platforms are best for discovering data, but it's up to the user to interpret this data and to draw relevant conclusions.
Conclusion
Thanks for reading our detailed breakdown of Ahrefs SEO vs. MOZ SEO. We have taken a deep dive into each platform, and we appreciate you sticking around to the end. The bottom line is that each platform has a lot to offer different users.
We like both platforms a lot, so the best choice depends on your SEO needs. How deep are your analytical needs? How familiar are you with SEO best practices? How many users will you require? All these questions are relevant in making your decision.
To cap it off here's when we think you should use each platform for best results.
Use MOZ SEO if: 
You want to access free SEO tools for link-building, keyword research, and domain optimization.
You want a dedicated paid SEO toolkit.
You are interested in the Local SEO toolkit (SEO for small businesses).
You want a platform that is geared toward highlighting relevant variables.
Use Ahrefs SEO if: 
You want a tool that returns many different SEO metrics on many different variables.
You think the slightly higher price tag is justified.
You want a paid SEO tool.
You want a simple user interface that allows you to draw your conclusions.